Mayweather vs. Canelo Press Conference: Live Updates from Post-Fight Event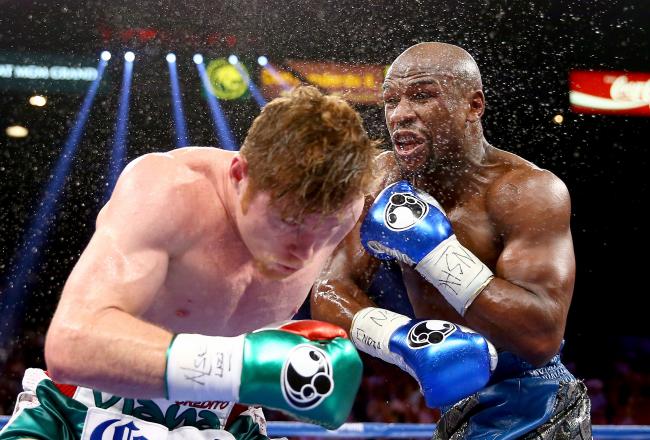 In a career full of virtuoso performances, this one might be the best yet.
Al Bello/Getty Images
Alright everyone, breathe!
"The One" has come and gone.
Floyd Mayweather turned in another virtuoso performance—in a career full of them—tonight defeating Saul "Canelo" Alvarez by majority-decision in a fight that was nowhere near as close as the official scorecards would have you believe.
The fighters have just wrapped up the post-fight presser, and were effusive in their praise of one another.
Mayweather commended Canelo for his heart and determination, and declared that one day he will take the torch as the face of boxing.
For his part, Canelo was visibly disappointed, but praised Mayweather for his speed and ability to blunt his offensive attack.
Mayweather, while stopping short of naming potential opponents, expressed a desire to return to the ring again next May.
Perhaps the big question for that fight won't be who is "The One," but "Who's Next?"
That'll do it for the post-fight presser. We hope you enjoyed all our live coverage tonight of "The One:" Mayweather vs. Canelo.
As always, stay tuned to us here at Bleacher Report for all your boxing news!
Floyd says Manny Pacquiao is not his focus. He's going home, taking a vacation with his family and focusing on Mayweather Promotions.
When pressed on this matter:
"At this particular time I'm focused on taking a vacation, and spending time with my family."
Floyd told me it's up to others to rate his performance tonight.
I went out there 45 times and I won 45 times. You can't overlook any opponent. I knew he was going to bring his A-game.
Says he can't rate himself, he'll let others do that when his career is over.
Floyd says even after injury he still wanted KO.
"I don't know what the future holds right now. I'm not a psychic."
Floyd says he wants Oscar to get home and get back to doing what he does best.
Says he's a true champion and he takes his hat off to him.
Floyd says as he's gotten older his relationship with his father Floyd Sr. has matured, and they work well together with his Uncle Roger.
Says he was happy to be in camp for so much of 2012 and looks forward to returning to the ring in May of 2013.
Floyd when pressed if Canelo won a single round says: "He fought hard."
When pressed again, "He fought hard."
Floyd says he can't give himself a grade yet, but he'll need to go home and watch the tape and see what he can do better.
Says he'll return in May and be better.
Floyd reiterates that he only has 24-months left. So he might as well go for it.
Says he looked at his kids and forced himself to fight through.
Floyd says he thinks he dislocated his elbow after the fifth round and that's why he stopped throwing the jab for a while.
Floyd not worried about CJ Ross's card, says he'll let the commission handle that matter.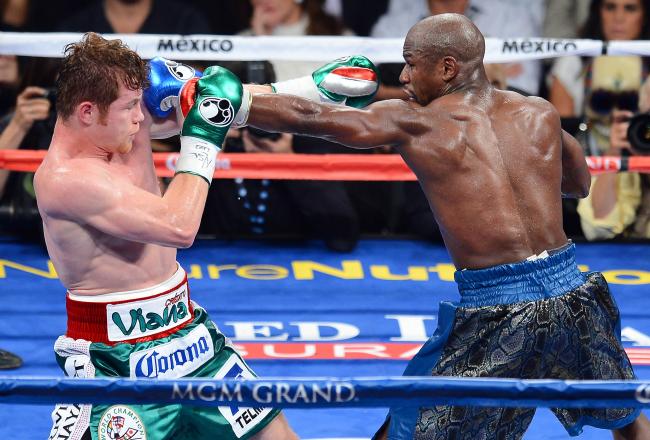 Floyd says Canelo is a strong young champion and he will definitely carry the torch for the sport in the future.
Floyd immediately begins with his trademark:
Hardwork
And the crowd responds...
Dedication
Floyd joins Canelo on the stage, and the two men embrace.
He's talking with him away from the mic now. Both guys are laughing. Looks like words of encouragement.
Classy thing for Floyd to do.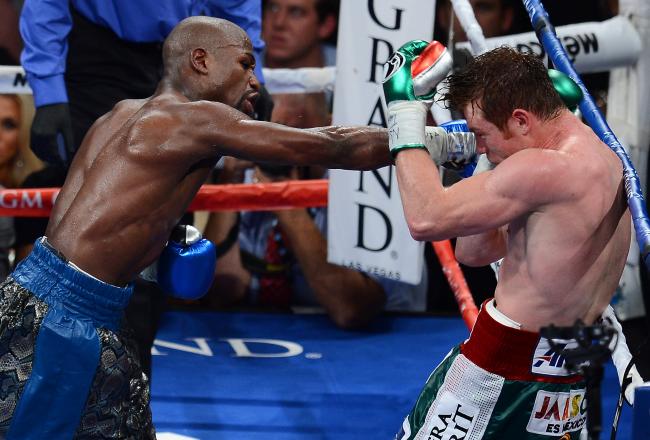 Asked about Floyd's speed:
Canelo: He's very fast and accurate. More so when he's just trying to make points. I didn't really feel his punches. They weren't really that strong.
Canelo thanks the fans for all the support he received.
Says he didn't want to lose, but it happens and it hurts
Canelo now up at the podium, he's speaking in Spanish so you'll need to give us a few seconds for the translation.
Schaefer says Canelo was hanging his head in the locker room after the fight, clearly dejected that he couldn't defeat the pound-for-pound king.
Says he told him that even the Yankees don't win every game, but his future is still extremely bright.
Schaefer told me that he feels Canelo should take some time off after the huge promotional machine that revolved around "The One" and spend some time with his family.
But says the decision is entirely up to him on when he returns.
As I called earlier this week, Schaefer just dropped the possibility of a Canelo-Cotto matchup if Miguel takes care of business against Delvin Rodriguez on Oct. 5.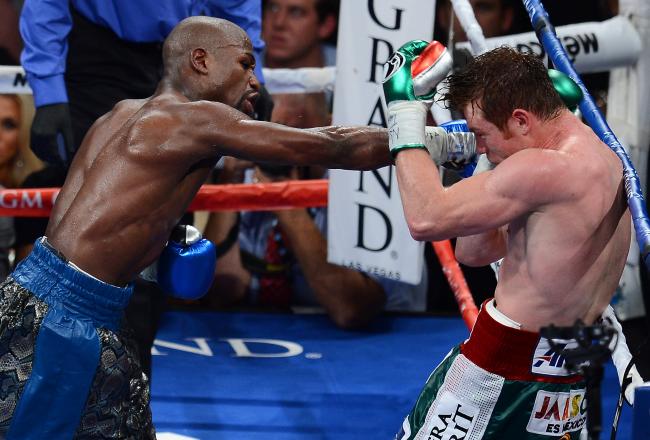 Schaefer asked if anyone else out there can make this big an event with Floyd as Canelo did.
So much of this promotion was built into the assumed risk that Mayweather was taking against Alvarez.
Now that we've dispensed with that, what's next? And for that matter, what's left?
Schaefer: "That's not my job. That's the commission's job. No promoter should have any say in the appointment of officials."

— Scott (@scottchristBLH) September 15, 2013
It's a valid point.
Hopkins says that Garcia's win tonight reminded him of how he beat Trinidad back in 2001.
If you can take a man's best weapon away, and give him movement, you can beat him. That's what he did to Felix, and that's what Danny did to Lucas tonight.
This article is
What is the duplicate article?
Why is this article offensive?
Where is this article plagiarized from?
Why is this article poorly edited?