Heading into Alabama's game at College Station against the No. 6 Texas A&M Aggies, this showdown was billed as a clash of titans.
And these two powerhouses, led by their superstar quarterbacks, did not disappoint.
In the end, the No. 1 Crimson Tide reaffirmed their status as the nation's undisputed top team, as they avenged their home loss to the Aggies in 2012 by defeating Johnny Manziel and company at Kyle Field on Saturday.
Ultimately, both Manziel and his Alabama counterpart in AJ McCarron played starring roles for their respective teams, as the pair combined for an astounding 798 yards passing in what was a wildly entertaining affair.
After what was viewed by many to be the most pivotal regular-season game of the 2013 college football schedule, here are report cards for each of the two standout signal-callers' performances.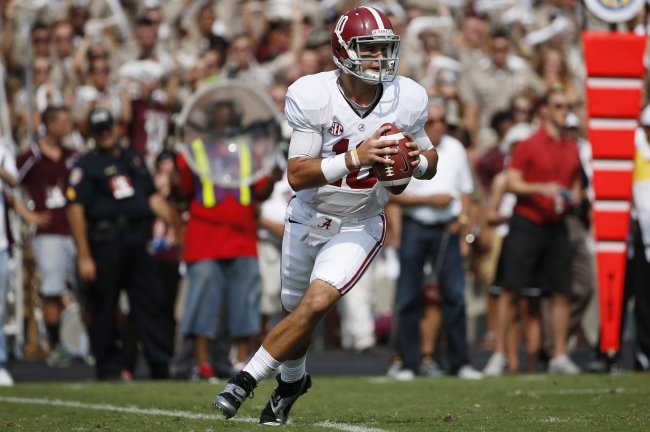 Scott Halleran/Getty Images
AJ McCarron
As has been the case for the vast majority of the last three seasons, McCarron gave his team a chance to win by playing smart, composed football from under center.
No, he wasn't as flashy as the guy standing on the other sideline, but McCarron was clutch for the Crimson Tide and put points on the board when his team needed them most.
During the first half, when the Aggies took the lead and threatened to build upon it, the three-time national champ, once again, came up big and seemingly put the game out of reach by halftime.
After Texas A&M jumped out to a 14-0 lead, McCarron took over and orchestrated four unanswered drives that ended in touchdowns, putting Nick Saban's squad up by 14 heading into the third quarter.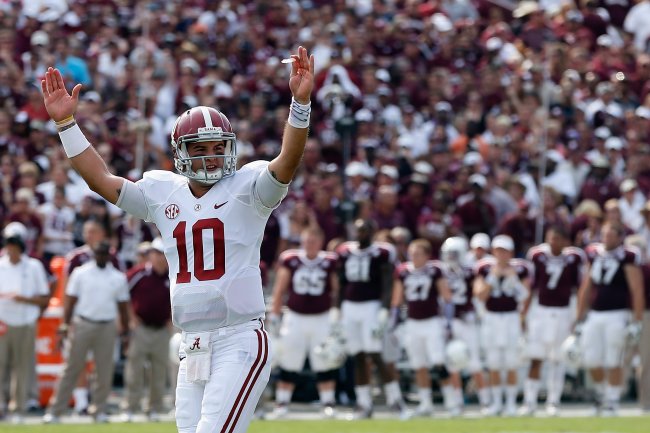 Scott Halleran/Getty Images
And then, when the Aggies clawed back to within seven midway through the fourth quarter, McCarron delivered the knockout punch in the form of his fourth touchdown of the day with just over two minutes remaining, which all but decided the game's outcome.
Overall, the redshirt senior went 20-of-29 for 334 yards, and even if he started slowly, he did what he always does, which is do whatever's necessary to get the win.
Grade: A
No turnovers, four touchdowns and his most offensively productive game with Alabama to date. It also doesn't hurt that McCarron showed his mettle by leading his team out from under a two-touchdown deficit.
Johnny Manziel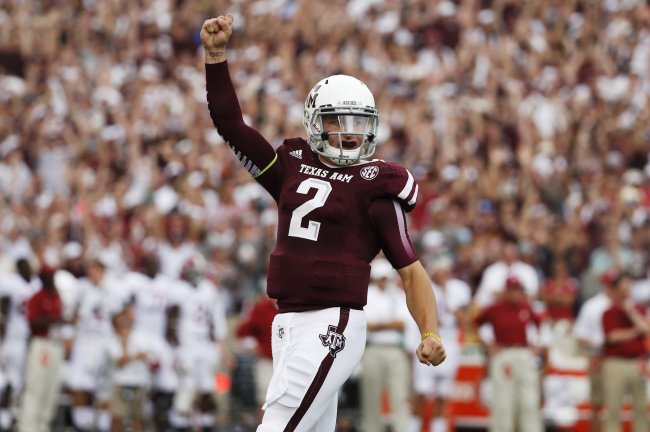 Scott Halleran/Getty Images
For reigning Heisman Trophy winner Johnny Manziel, Saturday featured both dizzying highs and heartbreaking lows for the sophomore quarterback.
First, we'll start with the negatives, which quite simply were his two interceptions, especially because the second one, picked off by Vinnie Sunseri, was returned for a 73-yard score less than three minutes into the second half.
At that point, it seemed the Johnny Football's luck had run out, but as Manziel's done time and time again since arriving at College Station, he dug deep and produced a gritty performance against the nation's best team.
Following the second interception, Manziel was a man possessed, tossing four touchdowns over the final quarter and change of the game and brought the team to within seven of completing what would have been a miraculous comeback.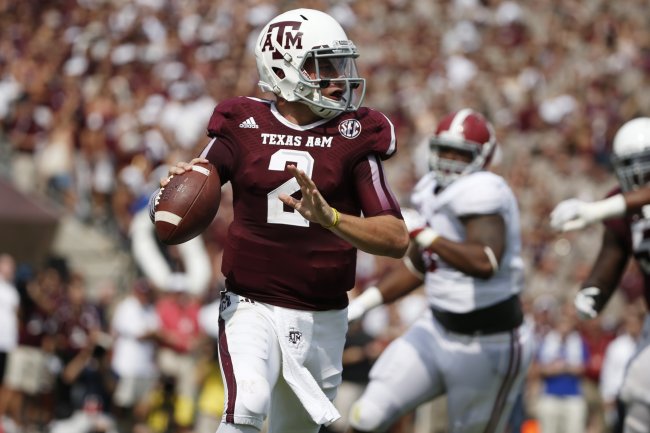 Scott Halleran/Getty Images
With a virtually unthinkable 464 yards passing, plus another 98 on the ground, Manziel demonstrated why he's widely considered to be the most dangerous quarterback in the country, because when he's on, even the most well-coached defense in the SEC can't contain him.
In the end, he wasn't able to lift the Aggies to another victory over No. 1 Alabama, but he's got no reason to hang his head. Despite the turnovers, Texas A&M wouldn't have even been in the game if not for the offensive contributions of Mike Evans and Manziel.
Grade: B+
This would have been higher had he not thrown the pair of interceptions, but nonetheless, Manziel's performance reaffirmed his status as a legitimate Heisman contender and should ultimately tell everyone that, despite what is said about him off the field, this is a guy who shows up to play.