USC Trojans Offense Finally Comes Alive Under Cody Kessler vs. Boston College
Use your ← → (arrow) keys to browse more stories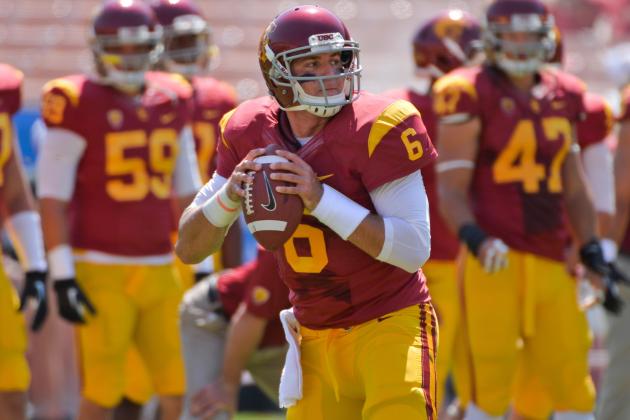 Robert Hanashiro-USA TODAY Sport
Cody Kessler led USC to an impressive win over Boston College, 35-7.
My my, it's amazing how competent USC can look when it has a true starting quarterback and plays to its strengths. Head coach Lane Kiffin said before the game that USC would look a little like its old self today, and he did not lie.
Under the hot Los Angeles sun, the Trojans looked drastically different from the team that lost in embarrassing fashion to the Washington State Cougars a week ago, deftly handling the Boston College Eagles, 35-7.
And for the first time all season, the Trojan defense was not the only story of the game.
Credit first goes to Coach Kiffin, who called a very good game for the Trojans. He heard the smattering of boos from the fans last week for his penchant to deploy the bubble screen, and he responded. On the first play of the game, Cody Kessler heaved a deep play-action bomb to Marqise Lee, and though it fell incomplete, the home crowd cheered exuberantly for the change of pace.
Kiffin said that USC President CL Max Nikias told him before the game to just throw it deep and everyone would cheer even if the play fell incomplete, and he nailed it.
No chants of "Fire Kiffin!" erupted from the fans this week. Rather, cries of "Cody Kessler!" rang out from the student section in full-fledged support of the new quarterback in Troy.
Kessler played an amazing game in his first true go as the starter despite getting sacked twice, completing 15 of 17 passes for 237 yards and two touchdowns. With a more favorable playbook, he showed exactly why he won the starting job over Max Wittek. He displayed confidence and poise in the pocket, patience in finding his receivers and awareness to make plays happen.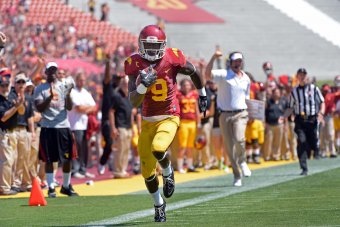 Robert Hanashiro-USA TODAY Sport
For example, on USC's first scoring drive, he scrambled a bit, then dumped it off to running back Tre Madden, who trotted into the end zone. Kessler's only two incompletions came on deep balls to Lee, but his most impressive play of the day also went in Lee's direction. He bombed it 80 yards to the wide receiver, who easily shook a defender and took it to the house, hyping up the home crowd even more.
When Kiffin opened up the playbook, he allowed Lee to finally look like the Heisman contender that he is. Furthermore, he showed that he knows what to do with USC's bevy of offensive weapons.
And to the delight of USC fans, it's play-action passes instead of bubble screens.
Kessler hit a gaggle of targets, feeding passes to six different Trojans on the afternoon.
USC Trojans Who Caught Passes vs. Boston College

| | | | | |
| --- | --- | --- | --- | --- |
| Player | Receptions | Yards | Average | Touchdowns |
| Marqise Lee | 2 | 90 | 45 | 1 |
| Nelson Agholor | 4 | 55 | 13.8 | 0 |
| De'Von Flournoy | 2 | 22 | 11 | 0 |
| Xavier Grimble | 2 | 23 | 11.5 | 0 |
| Randall Telfer | 2 | 17 | 8.5 | 0 |
| Tre Madden | 3 | 32 | 10.7 | 1 |
http://espn.go.com/ncf/boxscore?id=332570030
It wasn't a perfect day for Kessler, but he proved that he does have the skill and the confidence to lead this team.
Aside from Kessler, Madden may have had the most impressive showing against BC. He had his third 100-yard game in three consecutive starts, becoming the first Trojan running back to do so since Marcus Allen in 1981. Should Silas Redd miss more time, Madden continues to leave no doubt that he can lead the Trojans' rushing attack.
Vying to fill the roll opposite Madden for the one-two punch USC wants to establish this season is Justin Davis, the 17-year-old budding phenom. He had a 96-yard day on the ground against the Eagles, scoring a touchdown after bowling his way through the opposing defense for a 39-yard gain.
For the first time all season, USC looks like a team that can contend with the best of them down the road. The offense is finally taking shape and the Trojan defense—which leads the offense in sacks, with 12—is playing lights-out each week.
USC still has much to work on—like eliminating the egregious number of penalties it racked up this week—but if it gets it together now in the early part of the season, the Trojans could indeed be a factor come Pac-12 play.