Alabama avenged last year's loss to Johnny Manziel and the Texas A&M Aggies, overcoming a slow start to win a 49-42 shootout in College Station.
The game received an unprecedented amount of build-up and hype—and even that may be putting it lightly—but it somehow lived up to (and exceeded) expectations, featuring an embarrassment of signature moments, plays and performances.
The result was an epic barrage of tweets and GIFs, as befits a game of this quality and magnitude that took place in the year 2013. Here's how it all went down: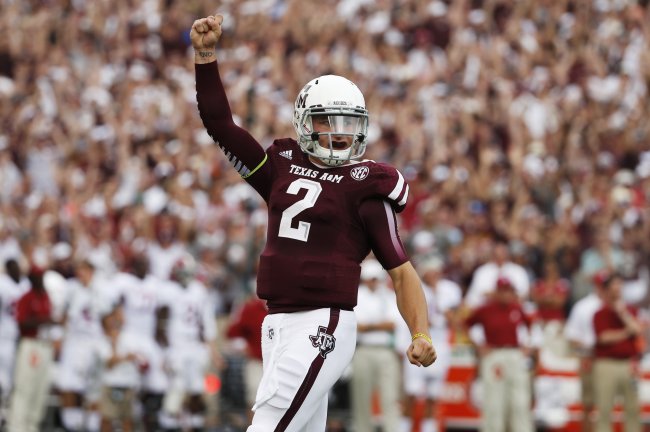 Scott Halleran/Getty Images
As it did last year in Tuscaloosa, Texas A&M—led by Manziel and Mike Evans—started the game on fire, scoring two quick touchdowns to take a 14-0 lead.
On the first drive, Manziel led the Aggies 82 yards in seven plays. He helped them punch it in with a one-yard touchdown pass to Cameron Clear: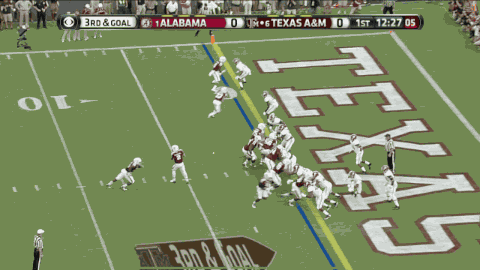 B/R's NFL Draft guru, Matt Miller, lauded Johnny Football for his improved poise in the pocket:
Biggest Manziel adjustment I saw on that drive was him setting his feet and staying calm in the pocket. He's showing his arm here.

— Matt Miller (@nfldraftscout) September 14, 2013
And ESPN Stats & Info. sent a stat that, in hindsight, looks a little funny:
Texas A&M is 8-0 when Johnny Manziel has a passing or rushing touchdown in the 1st quarter.

— ESPN Stats & Info (@ESPNStatsInfo) September 14, 2013
Alabama punted on its next possession, giving the ball back to the Aggies, and Johnny Manziel orchestrated another impressive touchdown drive. This one was capped by a short Ben Malena touchdown run: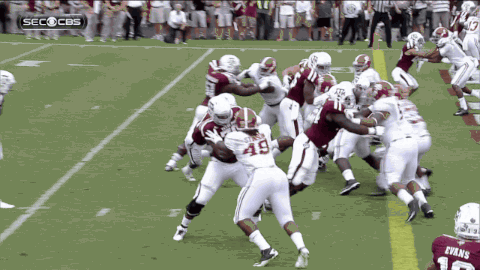 The praise continued pouring in on Manziel, whom CBS Sports' Gregg Doyel also noticed improvement from since last year:
Good grief Manziel is better this year. Holy ....

— Gregg Doyel (@GreggDoyelCBS) September 14, 2013
After the touchdown, Manziel, as he's wont to do, had an interesting celebration, channeling his inner Colin Kaepernick and kissing his biceps:
But that swagger would be short-lived. Alabama rattled off 28 successive points to end the first half. The highlight was a 44-yard flea flicker toward the start of the second quarter, which leveled the score at 14 apiece: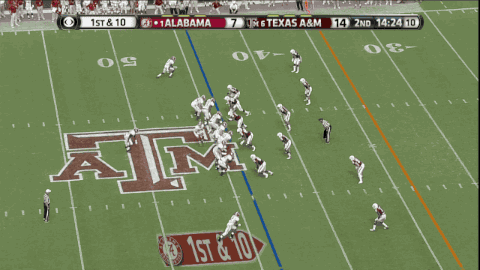 The shootout was officially on—as noted by AP writer Ralph Russo, who implored defense-starved SEC fans to wait for a different game:
FLea-flicker. TD Bama. Beautiful. If you're looking for SEC defense, well, maybe in November when Bama and LSU play.

— Ralph D. Russo (@ralphDrussoAP) September 14, 2013
And Bill Connolly of SB Nation wondered why Alabama, who hadn't spent much time establishing the run, was able to complete the flea flicker with such ease:
Surprised A&M fell for the flea-flicker since they had no reason to think Bama was actually running.

— Bill Connelly (@SBN_BillC) September 14, 2013
After the flea flicker, Manziel tried to put A&M on his back and drive the team down the field. That possession included, perhaps, the most incredible (and lucky) play of Johnny Football's career, which saw him scramble out of trouble and heave an eventual completion into traffic: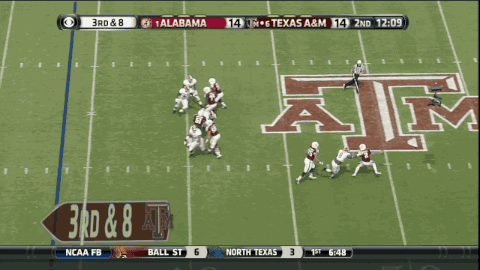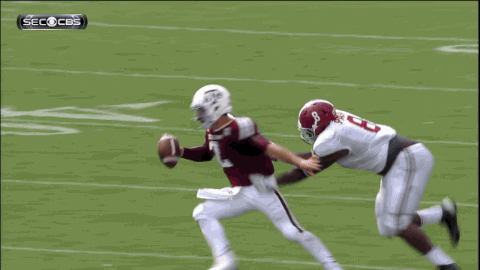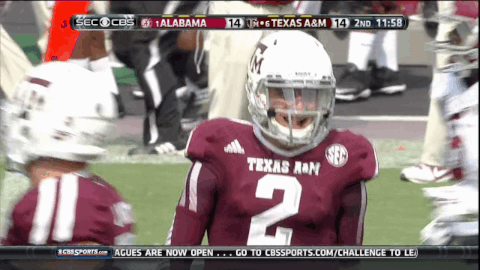 B/R's Matt Miller said what everyone on Twitter was thinking:
Manziel just made the most Heisman play ever.

— Matt Miller (@nfldraftscout) September 14, 2013
And comedian Matt Goldich said what everyone on Twitter wishes they weren't (but might have been) thinking:
How much does Johnny Manziel charge for a signature play?

— Matt Goldich (@MattGoldich) September 14, 2013
Later, when Alabama led 21-14, All-American candidate Ha Ha Clinton-Dix was flagged for college football's new targeting rule, resulting in a 15-yard penalty and (initially) resulting in his ejection from the game.
But because he actually made a legal hit, Twitter exploded with outrage over the decision:
The targeting rule is so dumb I'm surprised Roger Goodell didn't come up with it.

— sir broosk (@celebrityhottub) September 14, 2013
That's terrible. I hate this. That is terrible. Terrible.

— Michael Felder (@InTheBleachers) September 14, 2013
This targeting rule is the worst thing to happen to college football in a long time.

— Matt Miller (@nfldraftscout) September 14, 2013
Ha Ha Clinton-Dix was going for the pick! Terrible call. Must overturn the ejection.

— Todd McShay (@McShay13) September 14, 2013
In a SHOCKER no one EVER SAW COMING, Bama's Ha-Ha Clinton-Dix ejected for crime of going for INT. Save us, replay booth!

— Eye on College FBall (@EyeOnCFB) September 14, 2013
The refs reviewed the play and decided to wave the ejection. Still, even though they admitted their mistake in throwing the flag, by rule they weren't allowed to give back the 15 yards.
Sports Illustrated's Andy Glockner pointed out the farce of that concept:
Waiting for CFB to implement a rule where a TD is overruled but the offense still gets six points.

— Andy Glockner (@AndyGlockner) September 14, 2013
When running back T.J. Yeldon scored at the end of the first half, extending Alabama's lead to 28-14, he did Johnny Manziel's "show me the money" gesture then mimed slashing his throat, prompting a 15-yard penalty for unsportsmanlike conduct: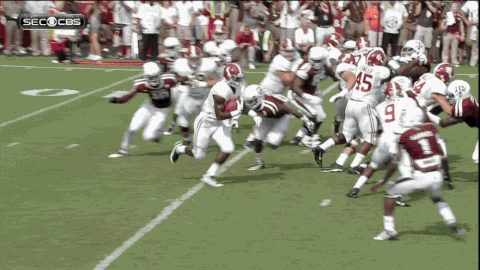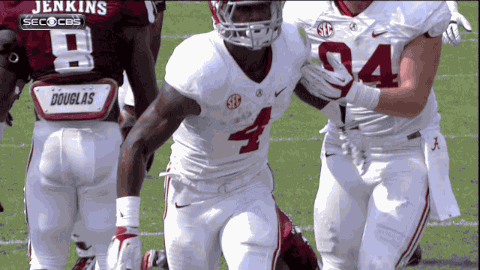 As one might imagine, Nick Saban was none too pleased: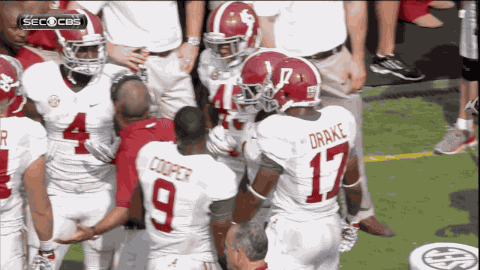 Which prompted B/R's Ben Kercheval to give him a digital eulogy:
And now Nick Saban is going to kill Yeldon :(

— Ben Kercheval (@BenKercheval) September 14, 2013
Texas A&M got what appeared to be a game-changing stop in the second half, forcing Alabama to go three-and-out on the first possession of the third quarter. But on the next drive, Manziel under-threw a pass down the seam that was batted in the air, picked off by Vinnie Sunseri, and returned in spectacular fashion for a touchdown: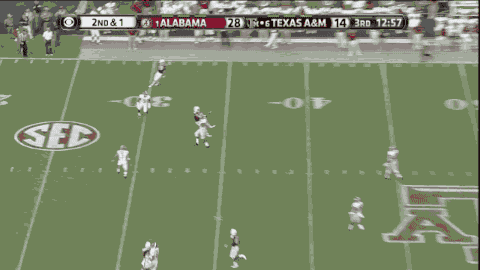 Sardonically mocking how everyone freaked out about Manziel's "Heisman moment," Tuscaloosa News writer Cecil Hurt wondered if this would clinch Sunseri the award:
Vinnie Sunseri's Heisman moment.

— Cecil Hurt (@CecilHurt) September 14, 2013
And CBS Sports' Doug Gottlieb made an apropos comment on Manziel's whiffed tackle:
After watching Manziel try and tackle, I think he would have fit in well with Texas DBs #whiff

— Doug Gottlieb (@GottliebShow) September 14, 2013
The teams traded blows for a while after that, and when the score was 42-28, Alabama drove down near the Texas A&M goal-line. A score would have put away the game, but Yeldon fumbled and gave the ball back to Texas A&M, prompting a predictable bit of commentary:
Alabama is way too deep at TB for Yeldon to make these mistakes and keep his job. He's good. But not THAT good.

— Gregg Doyel (@GreggDoyelCBS) September 14, 2013
Dear TJ Yeldon: "You gotta hold on to the ball" -- Signed, David Wilson

— Jemele Hill (@jemelehill) September 14, 2013
T.J. Yeldon has New York Giant running back written all over him

— Faux John Madden (@FauxJohnMadden) September 14, 2013
After the fumble recovery, Manziel hit Evans for your everyday, run-of-the-mill, 95-yard touchdown pass, channeling even more Johnny Football magic to pull A&M within seven points: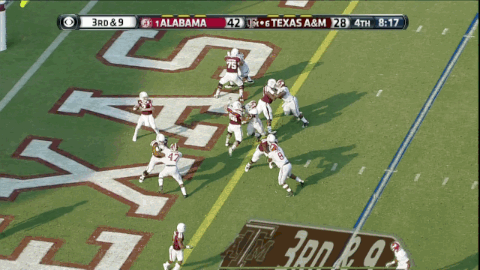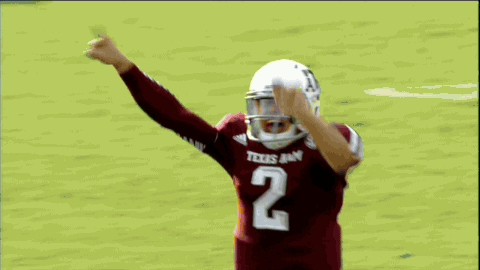 The play left a number of college football writers speechless:
Oh. Buddy. Whew. Buddy.

— Michael Felder (@InTheBleachers) September 14, 2013
................

— Dan Wolken (@DanWolken) September 14, 2013
WUT

— Barrett Sallee (@BarrettSallee) September 14, 2013
Though Grantland writer Jay Caspian Kang was able to compose himself and make fun of the Tide's potential collapse:
LOL TIDE

— jay caspian kang (@jaycaspiankang) September 14, 2013
Still, despite the momentum of a 95-yard play going against it, Alabama responded with a classic Crimson Tide drive, marching 65 yards (after an out-of-bounds kickoff) in nine plays for the game-clinching touchdown.
The drive ate 5:36 off the clock and salted away the game, prompting Matt Brown of Sports on Earth to describe it in frank (but perfect) terms:
What an absolutely dominant drive in every respect.

— Matt Brown (@MattBrownSoE) September 14, 2013
Manziel would lead A&M to one more score, driving the Aggies 75 yards and throwing a short touchdown to Malcolm Kennedy.
By the time they scored, though, there was less than 30 seconds on the clock, and after Alabama recovered an onside kick, it was able to kneel away the game.
Crimson Tide 49. Aggies 42. Ball game. But regardless of who you were rooting for, and even if you were rooting for no one, this game was undeniably one for the ages:
Never said this in seriousness before, but that A&M-Bama game IS what we want football to be. What a treat. #blessed

— Holly Anderson (@HollyAnderson) September 14, 2013
Amen to that, Holly. Amen to that.
You can follow Brian Leigh on Twitter @BLeighDAT or B/R College Football @BR_CFB.