The Thursday night game between the New England Patriots and New York Jets was an ugly one, but there will certainly be plenty of exciting games to watch for the rest of Week 2.
Week 1 certainly provided its own excitement. We got our first look at Chip Kelly's new offense, Peyton Manning's plethora of weapons and, of course, the return of RGIII.
With how wild the first week was, what do the games this Sunday on Monday have in store? Only time will tell, but you can bet that there are going to be some big plays and at least a couple of upsets.
Week 2 Predictions
NFL Week 2 Predictions

| | |
| --- | --- |
| Matchup | Winner |
| Washington at Green Bay | Packers |
| Miami at Indianapolis | Colts |
| St. Louis at Atlanta | Falcons |
| Carolina at Buffalo | Panthers |
| Minnesota at Chicago | Bears |
| Dallas and Kansas City | Cowboys |
| San Diego at Philadelphia | Eagles |
| Cleveland at Baltimore | Ravens |
| Tennessee at Houston | Texans |
| Detroit at Arizona | Cardinals |
| New Orleans at Tampa Bay | Saints |
| Jacksonville at Oakland | Raiders |
| Denver at New York Giants | Broncos |
| San Francisco at Seattle | Seahawks |
| Pittsburgh at Cincinnati | Steelers |
Predictions by Tyler Brooke
Potential Upsets
Detroit Lions at Arizona Cardinals
The Detroit Lions certainly looked like a playoff-caliber team in their win over the Minnesota Vikings, but there are a few things they need to worry about heading into this game as favorites.
Was the hit by Suh a dirty one?
Discipline is going to play a major factor for the Lions, especially on defense. Thanks to players like Ndamukong Suh, this team has been labeled as dirty, and that might be a pretty fair assessment. When you commit 11 penalties for 88 yards in one game, that says something about discipline.
The Lions were also helped quite a bit by Christian Ponder. The quarterback did not look good out there, making some really bad throws and throwing three interceptions. Carson Palmer isn't an elite QB, but he's certainly better than Ponder.
Speaking of Palmer, the Cardinals offense looked pretty solid. They put up 390 total yards of offense, led by Palmer's 327 yards through the air to go along with two TDs and an interception. With Larry Fitzgerald now having a legitimate quarterback throwing to him, this offense will look much improved.
There are questions that both of these teams still need to answer, but this is going to be a big statement game for the Cardinals. As long as Palmer keeps making big throws and finding guys like Fitzgerald and Michael Floyd open, the Cardinals should win this one.
Prediction: Cardinals 28, Lions 24
Miami Dolphins at Indianapolis Colts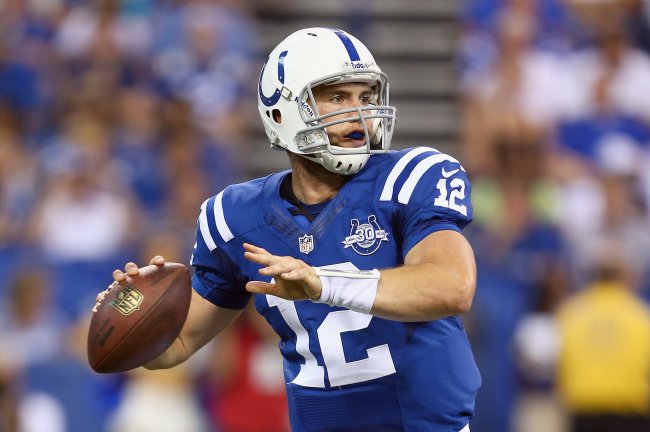 Andy Lyons/Getty Images
There are a lot of people that think Andrew Luck can lead the Indianapolis Colts to a big season and a possible playoff run. Some of those people got awfully quiet after the team's close call against the Oakland Raiders.
The passing game looked solid thanks to Luck and his weapons, but the running game looked like a work in progress. To make things worse, it was recently reported that Vick Ballard tore his ACL and will miss the rest of the season. Mike Chappell from the Indianapolis Star gave a statement from Chuck Pagano.
#colts HC Chuck Pagano: RB Vick Ballard had freak accident at practice. non-contact injury. put foot in ground and knee went out. ACL tear

— Mike Chappell (@mchappell51) September 13, 2013
On defense, things weren't much better. Terrelle Pryor looked way better than he should have as he gave the Colts fits through the air and on the ground. Ryan Tannehill certainly isn't the mobile QB that Pryor is, but it's still a bad sign for this defense heading into the game.
The pass rush for the Miami Dolphins could have a big day against the Colts. Cameron Wake was able to grab 2.5 sacks, and the team put up six total as they were throwing Brandon Weeden to the ground constantly in Week 1. With how bad the Colts offensive line looked in 2012 and the uncertainty of the group heading into 2013, it could be a big mismatch.
Still, the Colts have Luck, and he knows when to take the game into his own hands and simply take over. We've already seen him do it a number of times in his short NFL career, and he will be able to do it again this week if he needs to.
The Colts are on upset watch, but I think that they find a way to hold off the talented Dolphins.
Prediction: Colts 31, Dolphins 28
Pittsburgh Steelers and Cincinnati Bengals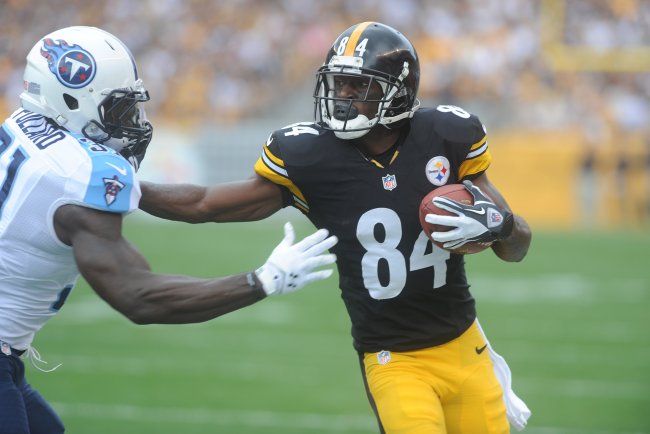 Vincent Pugliese/Getty Images
This rivalry used to consistently have the Steelers as the favorites, but all of that changed after the ugly 16-9 loss to the Tennessee Titans.
Still, it wasn't all bad. The defense still looked tough. The ground game for the Titans averaged just 2.7 yards per carry, while Jake Locker went just 11-for-20 with 125 yards. Pittsburgh is going to need to work on forcing some turnovers against the Bengals to make it a ball game.
The Bengals are coming off of an unfortunate loss to the Chicago Bears that was decided thanks to a critical mental error. Andy Dalton made two errors that led to interceptions, and the rushing game was mediocre after averaging just 3.0 yards per carry.
Ben Roethlisberger will be the key in this game. The Bengals will need to find a way to put pressure on him after failing to sack Jay Cutler a single time last week.
As good as the Bengals look this season on paper, I can't see the Steelers going 0-2. Mike Tomlin will make adjustments and make sure that the offense can get it going and lead this team to a win and the upset.
Prediction: Steelers 17, Bengals 10