Wisconsin vs. Arizona State: Live Score and Highlights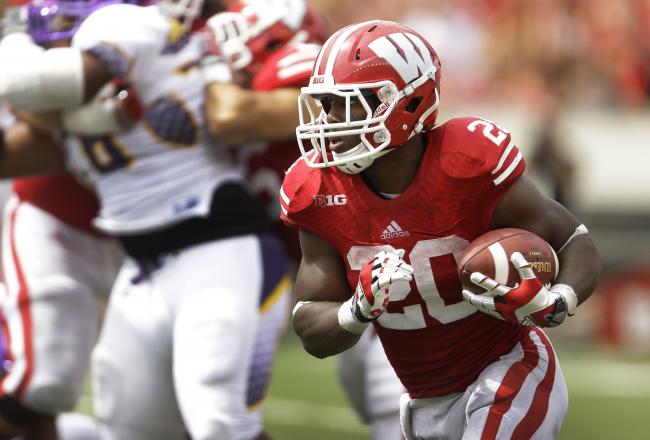 Mike McGinnis/Getty Images
Arizona State 32, Wisconsin 30— Final Score
Arizona State beat Wisconsin 32-20 on Saturday night, in a game that was marked by one of the strangest endings in college football history.
The Badgers drove down the field for the game-winning field goal attempt, but refs oddly took too long to spot the ball, and before Joel Stave could spike the ball, time expired and Arizona State was awarded the victory.
We live-blogged the whole game here:
Here's a video of what happened at the end. It never gets any easier to understand. But you can be the judge.
Thanks so much for following along tonight, and don't let this supremely odd finish ruin your night. Whether you root for ASU, Wisconsin, or some other third party, we can all agree that refs are blind.
We would try to explain the end of Arizona State-Wisconsin to you but we have no idea how. We think the refs won.

— Eye on College FBall (@EyeOnCFB) September 15, 2013
In a very fair point—although what the refs did was egregious—Stave's non-kneel fumble was one of the oddest plays ever.
We would try to explain the end of Arizona State-Wisconsin to you but we have no idea how. We think the refs won.

— Eye on College FBall (@EyeOnCFB) September 15, 2013
When the refs win, the fan typically loses.
Officials waited forever to spot the ball. Just shameful way for game to end. #WISvsASU

— Rittenberg/Bennett (@ESPN_BigTen) September 15, 2013
Yup.
FINAL SCORE – Arizona State 32, Wisconsin 30
Okay. This is one of the weirdest things I've ever seen. Allow me to (attempt) to explain.
Joel Stave put the ball down instead of taking a knee, giving himself up to stop the clock and spot the field goal in the middle of the field. There were four seconds left on the clock.
Anthony Jones stood over the ball, which should have been a defensive delay of game. The official also stood over the ball, telling Wisconsin not to snap the ball yet.
But somehow, someway, as all this was happening, the final four seconds ticked off the clock and Wisconsin was not able to spike the ball. It never got a chance to attempt the field goal.
When it's all said and done this will—not might, but will—go down as one of the all-time biggest officiating gaffes. Like, right up there with last year's Fail Mary in the NFL.
Awful officiating. Unfair shake. Wisconsin fans cannot be happy.
Joel Stave. ONIONS!
Wisconsin takes one from ASU's playbook and runs a back-shoulder throw to Jeff Duckworth for 51 yards on third down.
The play was reviewed, but upheld—Duckworth stayed in bounds the whole way. Wisconsin is already in field goal position, and can now play semi-conservative.
Weird clock management by Todd Graham, who dials up a second-down pass that ends up hitting the ground and stopping the clock.
He took a risk and—once again—it's gonna cost the Sun Devils, who don't convert on third-down and now must punt the ball back to Wisco.
The Badgers take over on their own 17 with 1:36 remaining and no timeouts. Can Stave lead the game-winning drive? A field goal will do it.
A couple of first downs from the Sun Devils, who are coming dangerously close to icing this game.
They've now run over 90 plays on the evening. Wisconsin uses its first time out, but one more first down will clinch an ASU victory.
Touchdown, Badgers – Arizona State 32, Wisconsin 30
Stave, who's already pulled a "Favre" tonight, just pulled a "Roethlisberger." He bounced impossibly out of a sack and completed a first-down pass to James White.
It takes three more plays, but eventually Melvin Gordon punches one in from the goal-line. It's his second score of the night, 66 percent of the way to last year's total of three.
Out of the shotgun on the two-point conversion, Stave is hit and the pass goes wanting. Huge stop by ASU, who can salt the game with a few first downs.
Wisconsin-ASU worth staying up for. Badgers down 8 in 4Q, just pulled fake punt, reverse pass

— J.A. Adande (@jadande) September 15, 2013
Easy to say from the west coast, Ja. Easy to say from the west coast.
HUGE PLAY
After a Wisco three-and-out, Andersen draws up a fake punt. Linebacker Chris Borland flips a pass to Jacob Pedersen for the first down on a well-designed play.
The new head coach borrows a staple from Bret Bielema, who loved to dial up fakes. Abbrederis just hauled in a deep pass, too, and now the Badgers are in the red zone.
Also, Todd Graham finally lined up for a PAT after that score, pushing the lead up to eight points.
Between the pair of missed two-point conversions and the two stuffs on fourth down, ASU has left a lot of points on the field.
It seems ridiculous that this is a one-possession game, but Wisconsin might still be able to steal a win. Who wants to step up and make a play on the outside?
Touchdown, Sun Devils – Arizona State 32, Wisconsin 24
Grice makes a cut-back, Kelly shows some cajones by getting out in front of him, and the the running back slices his way 12 yards for his fourth touchdown of the game.
The play was set up by yet another back-shoulder throw from Kelly to Jaelen Strong, who continues to dominate Badgers cornerbacks in the air.
Inexperience on the outside is starting to catch up with Wisco.
Melvin Gordon has had longer runs, but none tougher than that gain. So physical. #WISvsASU

— Rittenberg/Bennett (@ESPN_BigTen) September 15, 2013
Gordon continues to be a beast, and if he ever found himself in a workhorse-back situation, he'd have to be a Heisman candidate. Maybe he already is.
But it wasn't enough on that last drive, as Stave gets a third-down pass batted down and Wisconsin has to punt.
Can the defense come up with a big stand? It looked pretty gassed last possession, like the Arizona heat is finally starting to catch up on it.
This is like watching an NFL offense all of the sudden. Back shoulder throws galore.

— Craig Morgan (@cmorganfoxaz) September 15, 2013
Touchdown, Sun Devils – Arizona State 25, Wisconsin 24
ASU has looked to the back-shoulder throw all game, but now it's not even trying to disguise it.
A couple of completions and (yet another) defensive pass interference brings the ball down near the goal-line, as the Sun Devils continued to challenge Wisconsin's young corners' ball skills.
Grice punched it in for his third touchdown of the day, but after another failed two-point conversion, ASU leads by just one.
It's left a lot of points on the field tonight.
Field Goal, Badgers – Wisconsin 24, Arizona State 19
ASU gives the Badgers a taste of their own medicine, bending but not breaking and forcing a very important field goal.
Because the Sun Devils went for two last series, a touchdown and PAT would have made this a two-score game. Now Taylor Kelly & Co. can drive down and take the lead.
Stave had all day out there. No pressure on that play. Badgers in business quickly.

— Craig Morgan (@cmorganfoxaz) September 15, 2013
Fair point after Stave hits Abbrederis for 18 yards.
Arizona State's pass rush was supposed to be a legitimate force. It hasn't made much noise since early in the first quarter.
Even Wisconsin's passing game can do well if the QB gets enough time.
Touchdown, Sun Devils – Wisconsin 21, Arizona State 19
As with the first touchdown drive, Arizona State settles into a quick rhythm, controls the tempo and Taylor Kelly looks very, very good. Grice punched it in around the left end.
A sack on the two-point conversion keeps Wisconsin on top. Think Todd Graham regrets going for it on those first-quarter fourth downs?
Could be the difference in the game.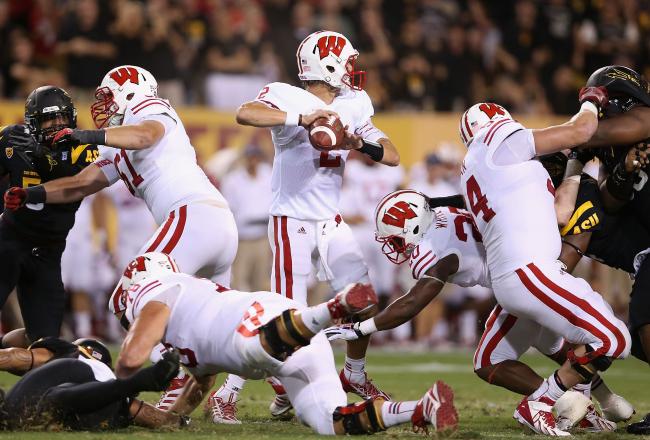 Stave breaks the streak! He hits Jared Abbrederis with an impressive downfield throw.
So as not to confuse the Badgers faithful, however, he follows that up by missing a wide open Jacob Pedersen on a play that might have been a touchdown.
Stave's up and (mostly) down night continues, and ASU gets the ball back.
#ASU has run 62 plays to Wisconsin's 28.

— Vince Marotta (@Vincemarotta) September 15, 2013
In addition to this number, as noted on the ESPN broadcast, Stave's last completion came with 13:47 left in the second quarter.
The Sun Devils are selling out against the run and daring the Badgers to beat them through the air. That might be a popular strategy all season.
Even Tom Brady feels bad for Taylor Kelly right now.
Jaelen Strong drops a pass on 3rd-and-11 and ASU has to punt the ball away. Someone needs to make a play on the outside or the Sun Devils are doomed.
Joel Stave is 5 of 12 for 30 yards and has already been named player of the week for USF.

— sir broosk (@celebrityhottub) September 15, 2013
Close, but not exactly right.
Stave has the lead in a football game right now, which would immediately disqualify him from USF's quarterback competition.
According to the ESPN broadcast, Sutton suffered a mere thigh bruise. He'll be back on the next series.
Meanwhile, ASU has the ball back and is looking to tie the game.
Sutton got blocked hard low on that play. Legal but hard and low.

— Sun Devil Football (@FootballASU) September 15, 2013
The first time he came up gimpy, Sutton was hot and bothered looking for a cheap-shot penalty.
This time, even the ASU official twitter account conceded the hit was clean.
This article is
What is the duplicate article?
Why is this article offensive?
Where is this article plagiarized from?
Why is this article poorly edited?