Ohio State 52, Cal 34—Final
Ohio State defeated the Golden Bears of California Saturday night at Memorial Stadium, with Ohio State quarterback Kenny Guiton putting on a Heisman-worthy performance in the victory.
For the full box score, check out NCAA.com
Ohio State Buckeyes Game Grades

| | | |
| --- | --- | --- |
| Position Unit | First Half Grades | Final Grades |
| Pass Offense | B+ | B+ |
| Run Offense | B+ | A |
| Pass Defense | B- | C+ |
| Run Defense | A | A+ |
| Special Teams | B- | B |
| Coaching | A+ | A+ |
vs. Cal, Week 3.
Pass Offense
Ohio State's passing offense was one of beauty Saturday night. With starter Braxton Miller sitting out because of an injury, the Buckeyes were led by first-time starter Kenny Guiton. Guiton completed 21 of his 34 passes for 276 yards and four touchdowns.
Run Offense
Jordan Hall is going to challenge returning running back Carlos Hyde for the starter's spot next weekend, when Hyde returns from his three-game suspension. Hall carried the ball 30 times for 168 yards and three touchdowns, far outrunning any of the other candidates. Look for Hall to continue to get significant carries.
Pass Defense
The pass defense looked much better in the second half than it did in the first half. Overall, however, the pass defense was poor. Cal's Jared Goff threw for 372 yards and three touchdowns on this Buckeyes squad. Look for Meyer to use next week's Florida A&M matchup as a tune-up opportunity.
Run Defense
The run defense was about the only thing Buckeye fans could count on tonight. The defensive front held the Golden Bears to 127 total rushing yards, spread out over five separate rushers. The staff has to feel incredibly confident about this front.
Special Teams
Again, there is nothing significant to report on the special teams. They looked much better in the second half than they did in the first, but there were no major issues.
Coaching
Flawless head coaching on the part of Meyer and the entire staff. The way these coaches handle the rotation of personnel is outstanding.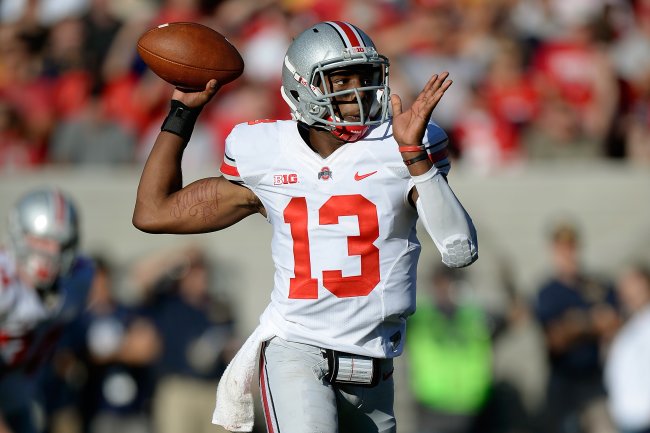 Thearon W. Henderson/Getty Images
First-Half Grades
Pass Offense
Early on in his first career start, Kenny Guiton looked ready to announce his Heisman candidacy. The offense has cooled down a bit, but Guiton and wide receiver Devin Smith have first-half stats that would look less out of place at the end of the game.
Guiton has completed 13 of his 20 passes for 228 yards and two touchdowns, while Smith has reeled in three of those for 179 yards and three touchdowns.
Run Offense
Freshman Dontre Wilson has broken off a couple of nice runs, but Jordan Hall has been the feature back of the night, carrying the ball ten times for 84 yards and a touchdown. The run game looked dominant early on, but like the pass offense, cooled down in the second quarter.
Pass Defense
At times, this secondary looks like the best in the nation. But as the game has gone on, the pass defense has looked weaker. Giving up touchdowns of 61 and 42 yards respectively does not look good. There are no major concerns, but definitely a few questions to answer in the secondary.
Run Defense
Once again, the run defense has looked fantastic, holding the Golden Bears to 48 total rushing yards in the first half, with several impressive plays from freshman Joey Bosa. The run defense is hands down the best aspect of this Buckeyes roster so far this season.
Special Teams
There's nothing particular to note about the special teams, with the exception of the miscue on the game's first punt. An illegal block in the back, leading to a muffed punt and near-turnover really didn't reflect too well on Ohio State. The unit has, however, recovered and had no major issues since.
Coaching
Per usual, the Ohio State coaching staff has been excellent. Head coach Urban Meyer and the rest of the staff have been outstanding with personnel substitutions, and they have a very steady flow going in the running backs rotation.
Follow along with me on Twitter, as I will also be live tweeting tonight's matchup.