Stock Up, Stock Down for Every Major 2013 MLB Award Race
Joe Sargent/Getty Images

There are now less than two weeks left in the 2013 MLB regular season. As you dry your eyes at the thought of it all ending, you can get ready for October by thinking about the surely contentious award races.
Because there is so little time left, it will be hard for any player to drastically alter the way the voters want to go. But we have seen several instances where narratives overshadow everything else happening on the field, so don't expect things to get boring.
We don't play by those rules, though. We want to look at the totality of the 162-game season when examining every major award that will be handed out.
This is the third installment of our MLB awards race stock watch. As always, the rankings are strictly our opinion, and they reflect the way we would vote if we had a ballot. This is not an examination of how the voting will go, because if that were the case, a number of things would be different.
With that said, for the third week, sit back, relax and don't be afraid to share your opinion about anything you see or provide your own winners and losers in each category.
Note: All stats courtesy of Fangraphs and Baseball Reference unless otherwise noted.
Begin Slideshow

»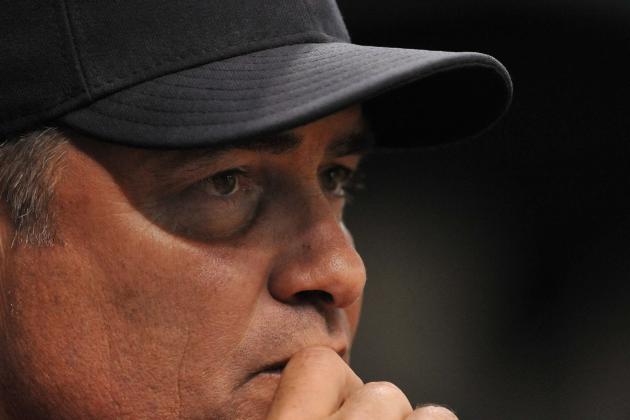 Al Messerschmidt/Getty Images

NL Manager of the Year: Clint Hurdle, Pittsburgh Pirates (Stock: Even)
I still maintain that this award should go to the candidate that best utilizes strategy and tactics in a game, as well as all the stuff behind the scenes that we don't see, which would provide a boost to someone like Washington skipper Davey Johnson.
Since the award is all about which manager's team played better than anyone expected, Hurdle is the man. I don't believe him to be a very good manager, as his overall strategy—more specifically, the use of the bullpen and bunting—leaves a lot to be desired.
But the Pirates are winners for the first time in 20 years!
Other Candidates: Davey Johnson (Washington), Don Mattingly (Los Angeles)
AL Manager of the Year: John Farrell, Boston Red Sox (Stock: Even)
No change here after a fantastic weekend for the Red Sox. Those three wins over the Yankees give them a chance to clinch the American League East later this week, with the magic number at four entering play on Monday.
Farrell, who was frequently criticized for some things about his management in Toronto, has been fantastic in steering the Boston ship back in the right direction after the Bobby Valentine-led team sank like the Titanic after hitting a glacier.
Other Candidates: Terry Francona (Cleveland), Bob Melvin (Oakland), Joe Girardi (New York)
No. 1: Wil Myers, OF, Tampa Bay Rays (Last Week: No. 1)
Myers was actually trailing Kansas City's David Lough and Detroit's Jose Iglesias in Fangraphs' Wins Above Replacement (WAR) by 0.2 on Saturday. Leave it to a good weekend, highlighted by a 2-for-2 effort with two walks and the home run in the video above to push him back to the top of the rankings (2.0).
Lough's case, if he has one, is built largely on defense, where he's rated as one of the best right fielders in baseball. But that .279/.302/.402 line hardly inspires confidence. He's also played 15 more games than Myers.
Myers, meanwhile, sports a very impressive .295/.359/.482 line with a .359 weighted on-base average and average defense in right field. He's still the best choice in a weak AL field.
Stock: Up
No. 2: Chris Archer, SP, Tampa Bay Rays (Last Week: No. 3)
There has been a revolving door behind Myers in the AL Rookie of the Year race. No one seems to want the title of runner-up.
Archer gets the nod this week because he has the best strikeout-to-walk ratio among American League rookie pitchers with at least 100 innings (2.47) and highest ERA+ at 127. I would like to see him have success this month against better teams than Minnesota, but beggars can't be choosers when filling out a ballot.
Stock: Up
No. 3: Martin Perez, SP, Texas Rangers (Last Week: No. 2)
I really had no idea what to do with the No. 3 spot. Jose Iglesias did catch my eye, but it was so hard to reward him when he accrued all of his offensive value during a fluky stretch with the Red Sox. He has hit just .252/.285/.331 since the All-Star break. I don't care how good his defense at short is; that's not going to cut it.
Ultimately, I had to stick with Perez because I've been very impressed with some of the things he's done. He helped Texas to a rare September win over Oakland two weeks ago—the Athletics did beat him on Sunday—with seven innings of one-run baseball and five strikeouts.
Perez also sports a very healthy 113 ERA+ and 2.27 strikeout-to-walk ratio while pitching most of his games in a good hitter's park.
Stock: Even
Rising: Jose Iglesias (Detroit), Dan Straily (Oakland)
Falling: Cody Allen (Cleveland), David Lough (Kansas City)
No. 1: Jose Fernandez, SP, Miami Marlins (Last Week: No. 1)
With his season now over, all Fernandez can do now is sit back and wait for the votes to come in. The good news is, unless Yasiel Puig has a monster finish, this shouldn't even be close.
Fernandez has the best ERA (2.19) and ERA+ (177) ever for a player 20 or under who is qualified for the ERA title (h/t Baseball Reference). If that's not enough, he also leads the NL with 5.8 hits allowed per nine innings and is a close second with 9.7 strikeouts per nine innings.
No matter how you slice it, Fernandez had a truly special year that deserved a lot more attention than it got. We can blame the terrible ownership in Miami for that, but you can't deny Fernandez what is rightfully his.
Stock: Up
No. 2: Yasiel Puig, OF, Los Angeles Dodgers (Last Week: No. 2)
I do wonder how much the media market will play into the NL Rookie of the Year race. Personally, I don't think this vote should be that close considering how great Fernandez was. I can see a 20-10 split among first-place votes, but that should be it.
But we can't underestimate the power of playing in Los Angeles. Puig is going to finish out the regular season and head into the postseason. There is the (false) narrative that the Dodgers turned the year around when he was called up.
Puig has been fantastic with a 168 OPS+ and a .409 weighted on-base percentage. There are few things he can't do on a baseball field, and when he learns to be more fundamental instead of always trying to make the spectacular happen, the sky is the limit.
Stock: Up
No. 3: Julio Teheran, SP, Atlanta Braves (Last Week: No. 3)
It wasn't a great week for Teheran or Los Angeles' Hyun-Jin Ryu, but on the whole I still favor Atlanta's rookie because he holds a sizable edge in strikeout rate (8.24 to 7.28), ERA+ (123 to 118) and (slightly) walk rate (2.32 to 2.39) and is four years younger.
I know that age shouldn't be a major factor in a rookie race, but when two players are this close in performance, it does strike a chord with me. Plus, we are just talking about a third-place vote. The top two candidates have separated themselves from the rookie world; everyone else is just fighting for scraps.
Stock: Even
Rising: Gerrit Cole (Pittsburgh), Tony Cingrani (Cincinnati)
Falling: Hyun-Jin Ryu (Los Angeles), Shelby Miller (St. Louis)
No. 1: Max Scherzer, Detroit Tigers (Last Week: No. 2)
I want to start by saying how incredibly close the race between No. 1 and No. 2 is. I was tempted to call it a tie, but I figured the cop-out police wouldn't like that.
Given how tight the race between Scherzer and Felix Hernandez is, it helps the former's case that he has been able to pitch in the last two weeks to put some distance between himself and the King in the innings race (201.1 to 194.1).
Scherzer's last start, on Saturday against Kansas City, was an incredible exclamation point: 12 strikeouts, five hits and one run allowed in seven innings. While the other contenders are slowing down, Detroit's ace appears to be getting stronger.
Stock: Up
No. 2: Felix Hernandez, Seattle Mariners (Last Week: No. 1)
Until we know when Hernandez will pitch again—which reportedly could happen as soon as Wednesday against, ironically, Detroit—Hernandez drops to No. 2 in the Cy Young stock watch.
Despite not having pitched since Sept. 2, Hernandez still ranks first in expected fielding-independent pitching (2.69), second in fWAR among AL pitchers (5.8), fifth in strikeout rate (9.26) and 11th in innings pitched.
I still think, all things being equal, Hernandez's case is a bit stronger than Scherzer's, but the latter has been able to pitch in the last two weeks to help his case.
Stock: Down
No. 3: Yu Darvish, Texas Rangers (Last Week: No. 3)
Apparently, Yu Darvish's will to win just isn't that strong, because he has lost four 1-0 games this season. His numbers in those four games include 40 innings, 16 hits allowed, 32 strikeouts and nine walks.
Darvish has gotten wild at times, as his 3.16 walks per nine innings are seventh worst among starters qualified for the ERA title. Also, someone with his stuff shouldn't be allowing 1.12 homers per nine innings.
But when a pitcher can back those numbers up with the lowest hit rate in baseball (6.1 per nine innings), a league-leading 11.9 strikeouts per nine innings and 256 punchouts overall, you can live with the flaws.
Stock: Even
Rising: Justin Verlander (Detroit), Hisashi Iwakuma (Seattle)
Falling: Chris Sale (Chicago), Derek Holland (Texas), Hiroki Kuroda (New York)
No. 1: Clayton Kershaw, Los Angeles Dodgers (Last Week: No. 1)
Kershaw is so good—and he has been all year—that he can appear to be on cruise control this late in the season. He went out on Friday against San Francisco and gave the Dodgers seven innings of three-run (two earned) ball, with eight hits and six strikeouts.
Ho-hum, just another day at the office. Considering that the Dodgers can clinch the NL West later this week, Kershaw might have two more starts before the playoffs. Barring a complete implosion, he will be the first starting pitcher with an ERA under 2.00 to qualify for the ERA title since Roger Clemens did it with Houston in 2005.
Add to that an MLB-leading 223 innings pitched, 184 ERA+, 0.928 WHIP and NL-leading 214 strikeouts, and you have the best pitcher in baseball.
Stock: Even
No. 2: Adam Wainwright, St. Louis Cardinals (Last Week: No. 2)
One unfortunate effect of Kershaw's greatness this year—along with the electricity surrounding every Matt Harvey start when he was healthy—is Adam Wainwright's season has gotten a bit lost in the shuffle.
Wainwright doesn't put up some of the gaudy single-game strikeout totals that Kershaw and Harvey do, yet he still has 201 this season. He's going to have some games where he gives up a lot of hits, but that's because he's always around the strike zone and doesn't walk anyone.
By the way, Wainwright also leads the league with five complete games, and he is tied with Kershaw for most shutouts in the NL, with two.
Stock: Even
No. 3: Cliff Lee, Philadelphia Phillies (Last Week: Rising)
Cliff Lee makes his first appearance on the main list after a couple weeks with the risers. He's been fantastic for a Philadelphia team that's going nowhere fast. He actually has a better ERA+ than Wainwright (128 to 124).
The lefty presents a strong case to be the runner-up because the defense that plays behind him pales in comparison to what Wainwright works with, but he's given up seven more home runs in 14 fewer innings.
Lee also ranks fifth in the NL with a 3.00 expected fielding-independent pitching and has a higher strikeout-to-walk ratio than Kershaw (5.84 to 4.28).
Stock: Up
Rising: Jose Fernandez (Miami), Homer Bailey (Cincinnati), Patrick Corbin (Arizona)
Falling: Matt Harvey (New York), Mat Latos (Cincinnati)
No. 1: Mike Trout, OF, Los Angeles Angels (Last Week: No. 1)
I wrote on Twitter early Monday that Trout had reached 10.0 fWAR for the second straight season and that it was the least talked-about great season in recent memory. That speaks to just how little we pay attention to bad teams and, possibly, how much we've come to expect from this young star.
Trout was clearly the best player in baseball last year with a .326/.399/.564 line, 49 stolen bases, .409 wOBA, 166 wRC+ and 10.0 fWAR. He's been better this season, with a .330/.437/.558 line, stellar baserunning with 33 steals, .426 wOBA and 177 wRC+ and solid defense in the outfield.
With all due respect to Miguel Cabrera, Chris Davis and everyone else, there is no more valuable player in the AL than Trout.
Stock: Up
No. 2: Miguel Cabrera, 3B, Detroit Tigers (Last Week: No. 2)
You know what's funny? Cabrera has hit .314/.407/.608 in the second half, and we have been worried about him because of injuries. There are almost no superlatives left to describe what this man can do in a batter's box.
As I have said throughout this stock watch, having Cabrera second in the AL MVP race has nothing to do with him and everything to do with Trout. There is no better hitter in baseball than Cabrera, and anyone trying to dispute that is fooling themselves.
And when the Tigers clinch the AL Central, Cabrera can focus on getting healthy for the postseason.
Stock: Even
No. 3: Josh Donaldson, 3B, Oakland Athletics (Last Week: No. 3)
Josh Donaldson has taken over Adrian Beltre's spot as the best all-around third baseman in the AL this season, which is no easy feat considering Beltre is still having a strong year. But Oakland's best player has been remarkable in 2013.
In fact, it is the all-around aspect of Donaldson's game that pushes him ahead of Baltimore's Chris Davis. Looking at just the offensive numbers, there is no doubt that Davis has the edge, though Donaldson's .386 wOBA and 151 OPS+ are nothing to sneeze at.
But when you combine those numbers with 10 runs saved on defense, 39 plays made out of his zone and a 9.8 UZR, Donaldson becomes the slightly stronger candidate in the MVP field. It also doesn't hurt he plays half of his games in the spacious O.co Coliseum.
Stock: Up
No. 4: Chris Davis, 1B, Baltimore Orioles (Last Week: No. 4)
Davis became just the third player in MLB history to record 50 home runs and 40 doubles in a season when he hit his 50th moon shot of the season on Friday.
The only problem for Davis' historic season is the timing. This season, Trout has further cemented his status as the best player in baseball, and Cabrera has had an even better offensive season than he did in 2012.
In an era where power is a luxury that every team wants to find, Davis has a 50-point edge over Cabrera in isolated power (.355 to .305).
Stock: Even
No. 5: Robinson Cano, 2B, New York Yankees
If we are just looking strictly at positional value, Cano would have an argument as the No. 2 AL MVP candidate this season. But there is more to the voting than just the position you play, and there isn't anything wrong with being fifth among a group this talented.
Cano sticks just ahead of Max Scherzer for this spot because of the season he's having (5.8 fWAR, .310/.383/.516, five defensive runs saved) in the division he plays in. Just think: We could be seeing his final days in New York. I doubt it, but weird things happen in free agency.
Stock: Even
Rising: Max Scherzer (Detroit), Shane Victorino (Boston), Adrian Beltre (Texas)
Falling: Felix Hernandez (Seattle), Jacoby Ellsbury (Boston), Evan Longoria (Tampa Bay)
No. 1: Andrew McCutchen, OF, Pittsburgh Pirates (Last Week: No. 1)
No change at the top of the NL MVP rankings, much to the delight of Pittsburgh. In fact, McCutchen continues to put more distance between himself and the rest of the field with a 1.3 edge over Matt Carpenter in fWAR among position players.
McCutchen has been the most complete player in the NL, leading the league with a 161 OPS+, and he has gotten stronger with a Trout- or Cabrera-esque .367/.455/.598 line in the second half. He had a case to be the NL MVP last year in a crowded field.
This season, there is no doubt that McCutchen is the man to beat.
Stock: Up
No. 2: Joey Votto, 1B, Cincinnati Reds (Last Week: No. 2)
Joey Votto is going to get dinged in MVP voting because he has just 70 RBI despite being a first baseman who hits in the middle of a playoff lineup.
What those people arguing against him won't point out is the players hitting directly in front of him (second in the lineup) have a collective .280 on-base percentage. They also won't note that the reason Brandon Phillips has over 100 RBI is because Shin-Soo Choo and Votto have been on base a total of 592 times.
Is Votto too selective? Maybe. But he's going to lead the NL in OBP for the fourth straight year and walks for the third straight year, and he is third with a .401 weighed on-base average.
Stock: Up
No. 3: Clayton Kershaw, SP, Los Angeles Dodgers (Last Week: No. 3)
I go back and forth between Kershaw and Votto in the No. 2 spot. There isn't anything separating the two besides personal preference.
Kershaw's value might be a little more because the importance of an up-the-middle player and starting pitcher is greater than that of a first baseman. But I can counter that with an argument about having a player with a .300/.400/.500 (or close to it) line.
I've already stated how good Kershaw's season has been in his case for the Cy Young, and those same reasons apply to the MVP race. Sometimes the numbers do all the talking for you.
Stock: Up
No. 4: Paul Goldschmidt, 1B, Arizona Diamondbacks (Last Week: NR)
Goldschmidt is the hitter that people complaining about Votto wish he was. He's turned into an incredible player after being a platoon player the first two years of his career.
But there is a lot more to Goldschmidt than just hitting the ball really far. He's hitting .301/.404/.544 with 32 home runs and 14 stolen bases, he leads the league with 298 total bases, and he has also provided good value on defense with 12 runs saved.
Stock: Up
No. 5: Matt Carpenter, 2B, St. Louis Cardinals (Last Week: Rising)
If you want to know why the Cardinals are so revered in the baseball world, just look at a player like Matt Carpenter. He doesn't boast a great set of tools, as the bat speed is average and there is minimal power.
Usually, those kinds of things would be murder for a second baseman because you have to be able to hit a lot to be a starter at that position, let alone an MVP candidate. But Carpenter has turned into just that by playing up his strengths and hiding some deficiencies.
Carpenter is the only NL middle infielder who ranks in the top 10 in average, on-base percentage, weighted on-base average and weighted runs created plus. Not bad for a 13th-round pick in the 2009 draft.
Stock: Up
Rising: Adam Wainwright (St. Louis), Shin-Soo Choo (Cincinnati), Yadier Molina (St. Louis)
Falling: David Wright (New York), Mat Latos (Cincinnati)
If you want to talk baseball, feel free to hit me up on Twitter with questions or comments.