UCLA vs. Nebraska: 10 Things We Learned in Bruins' Win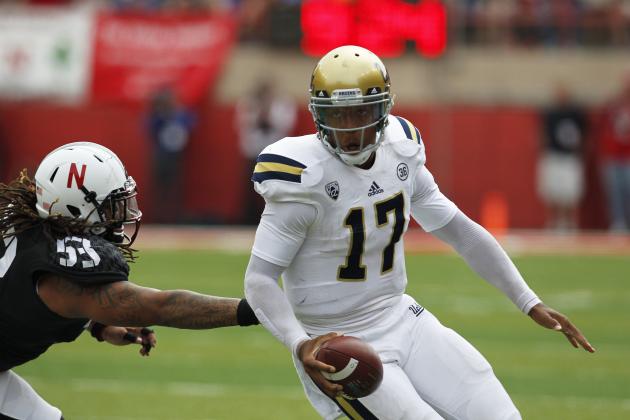 Bruce Thorson-USA TODAY Sports
Hundley evading a Nebraska defender.
The UCLA Bruins scored 38 unanswered points and came back to defeat the Nebraska Cornhuskers in Lincoln by a score of 41-21.
It was a tale of two halves for each football team. Bo Pelini's team came out firing on all cylinders. Before anyone could blink, the score was 21-3 in favor of the home team.
It was, undoubtedly, an emotional beginning of the game for the Bruins. With the thoughts of Nick Pasquale prominently present, UCLA did not perform well in the first half.
The second half was a different story, as UCLA shut out Nebraska. Noel Mazzone's offense also accounted for touchdowns on four straight possessions in the third quarter.
Here are 10 things we've learned about the Bruins in this game.
Begin Slideshow

»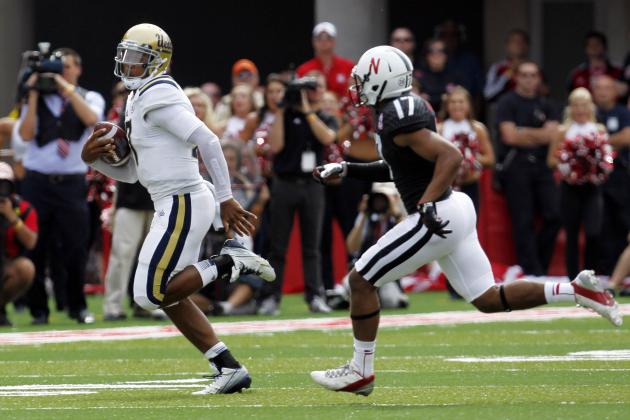 Bruce Thorson-USA TODAY Sports
Shaq Evans had a big game for the Bruins.
It's safe to say that UCLA's coaching staff is a good one.
Against Nevada in the opening week, UCLA was up by only four points at halftime. The Bruins ended up winning the game by 38 points.
Similarly Saturday, the Cornhuskers had a 21-10 lead at the break. Taylor Martinez was tearing the Bruins up through the air. There also was next to no pass rush for the majority of the first half.
The Bruins made the requisite halftime adjustments. In the second half, UCLA shut out Nebraska. After having 196 yards in the first half, the Cornhuskers only got 135 the rest of the way.
Martinez finished with minus-13 yards rushing. As a group, UCLA held Nebraska to a 3.0 yards-per-carry average.
Oh, and the Bruins scored 38 unanswered points on Nebraska's defense. Thirty-one of the points scored came in the second half.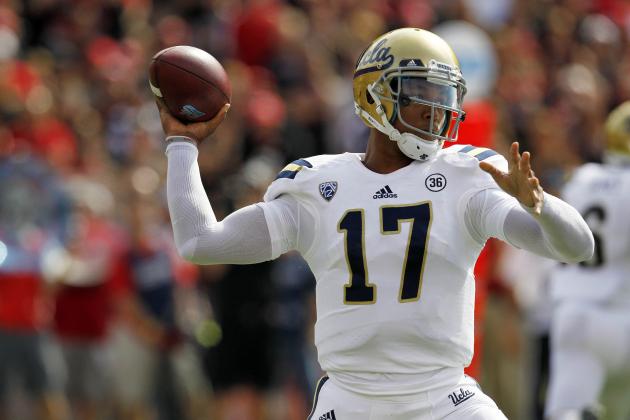 Bruce Thorson-USA TODAY Sports
QB Brett Hundley had a great day.
UCLA's signal-caller did not have a good start to the game.
Within the first three possessions, he was noticeably rattled. Nebraska was bringing immense pressure off the edge. Hundley reverted back to his play from last year and seemingly held on to the ball far too long. As a result, he was sacked for negative yardage.
After a first-quarter interception, he seemed to settle. His ability to scramble for yardage, perhaps, got him in a rhythm.
In the second half, he was clinical in his dissection of Nebraska's secondary. Hundley's eyes were constantly looking downfield for targets. As the run game became successful, it opened up things in the pass attack.
He finished the day 16-of-24 for 294 yards and three touchdowns. His poise in the midst of a raucous crowd truly did show the type of demeanor needed to win on the road.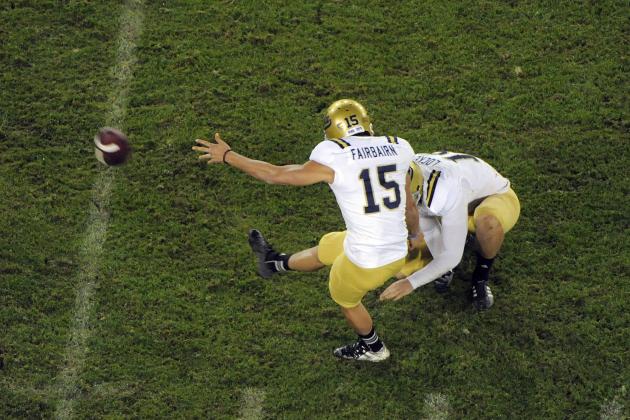 Kyle Terada-USA TODAY Sports
Fairbairn missed two field goals today.
The special teams monster reared its ugly head yet again.
Kicker Ka'imi Fairbairn was 2-of-4 on field-goal attempts. Fairbairn did not convert on a 54-yard attempt that many college kickers would likely miss. However, his consistency needs to get better. There will be a significant moment this season in which UCLA will call upon its kicker.
Punter Sean Covington was average on day. He did blast a 67-yard punt on the first kick of his collegiate career. However, he also dropped a snap. The botched snap ultimately resulted in a Nebraska touchdown.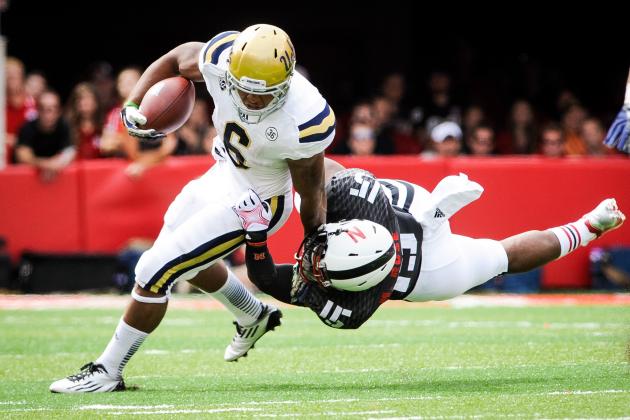 Eric Francis/Getty Images
James had a solid game against the Cornhuskers.
UCLA did not rush the ball effectively in the first half. Starting tailback Jordon James reverted back to his form of last season and looked tentative hitting the hole.
Save for a 10-yard touchdown run by Paul Perkins, the unit performed poorly.
In the second half, James performed much better. He had a 38-yard scamper on the first drive of the second half. The drive ultimately culminated with a three-yard rush for a touchdown.
Perkins flashed the ability to catch the ball out of the backfield. Dually, Perkins did a nice job blocking.
James rushed for 105 yards on 22 carries. Brett Hundley also flashed his mobility, running for 61 yards on 19 carries. Malcolm Jones and Steven Manfro were also effective in limited time.
The unit, as a whole, rushed for 210 yards on 53 attempts.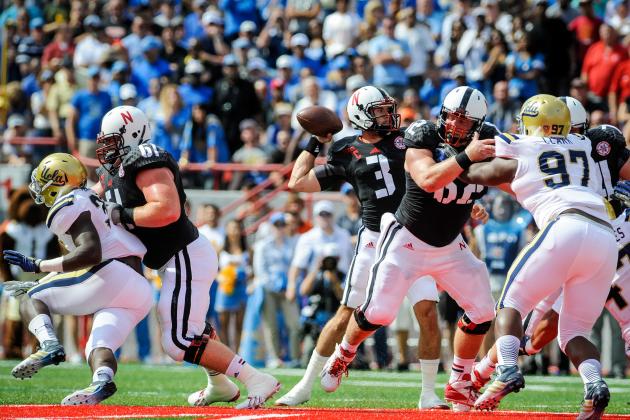 Eric Francis/Getty Images
Martinez had trouble in the second half throwing the football.
There's no doubt that Myles Jack will one day be an All-Conference performer in the Pac-12.
The Bellevue, Wash., native was an absolute stud on Saturday. His quickness and agility caused problems for Nebraska's skill players. He was instrumental in pressuring Martinez heavily in the second half.
At times, the true freshman was matched up with wide receivers in coverage. It's not very common to see an outside 'backer matched up with wideouts in space.
He's already taken over a starting spot in only his second collegiate game. If he continues on this trajectory, there's no telling how good he could be.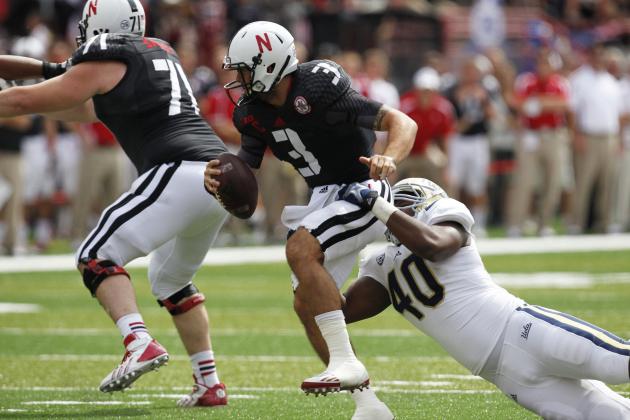 Bruce Thorson-USA TODAY Sports
Keenan Graham sacking Taylor Martinez
It's quite apparent that UCLA's defense is very athletic.
Numbers don't quite quantify the overall ability of this group. Anthony Barr was virtually everywhere in this game. Although he didn't register a sack, he was constantly making plays.
Myles Jack, Eric Kendricks and Jordan Zumwalt all had a hand in limiting Martinez to minus-13 yards rushing. Zumwalt, in particular, was very disruptive on the day.
The defensive line was also getting constant pressure, especially in the second half. Both Seali'i Epenesa and Keenan Graham registered sacks. Ellis McCarthy was very active, and Eddie Vanderdoes slammed Martinez to the ground on one play.
It's evident that the athleticism on this defense is far different than it was under the previous regime.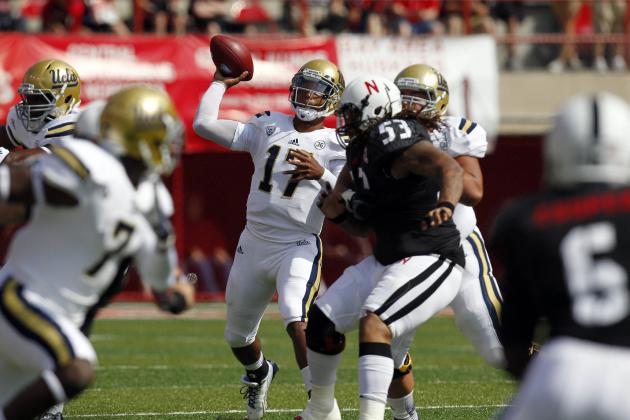 Bruce Thorson-USA TODAY Sports
QB Brett Hundley had a fantastic day.
Nebraska did a very good job at blanketing the Bruins in the first half.
Pressure from defensive ends Avery Moss and Randy Gregory did not offer Hundley much time to throw the football. In the second half, the Bruins came out on a mission.
Hundley completed passes to nine different receivers. Offensive coordinator Noel Mazzone was adept at constantly pushing the tempo. The run game was prominently featured in the second half. With the continual running of the football, Nebraska's defense got tired quickly.
Additionally, Mazzone made a concerted effort to stretch the field vertically. The main beneficiary from this strategy was receiver Shaquelle Evans. He ended up with 97 yards receiving and touchdown for the game.
On the day, UCLA racked up 504 yards of total offense.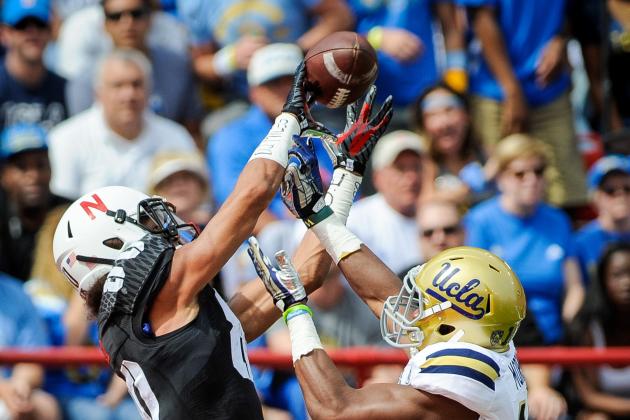 Eric Francis/Getty Images
DB Fabian Moreau trying to make a play on the ball
UCLA's secondary is a cause for concern, to an extent.
In the season opener, Nevada did little in the way of testing the unit vertically. It was generally expected that Nebraska would do so with a talented wide receiver corps.
Taylor Martinez had a lot of success in the first half. There were countless times where receivers were seemingly wide-open. There were multiple blown coverages resulting in three passing touchdowns.
Not to pick on Fabian Moreau, but he did not have a great game. Nebraska was consistent in exploiting the perimeter, and Moreau had trouble getting off blocks. He also was embarrassed by Kenny Bell in the open field. Bell juked Moreau and ran up field for extra yardage.
The silver lining is the unit will get better. The more experience the green secondary gets, the better the secondary will be going forward.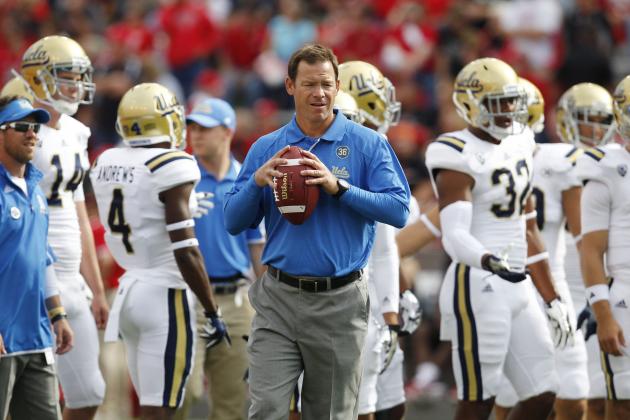 Bruce Thorson-USA TODAY Sports
Mora having fun on the sidelines before the game.
Jim Mora is a leader in every sense of the word.
At halftime, he would have been justified in demonstrating some emotion. His team was not playing nearly as well as it could. During an interview at halftime, he remained cool and controlled. In a sense, he was confident that his team would win the game.
His impact on this program has been noted. He's a very respected man, and his players seemingly would do anything for him.
Mora was interviewed after the game. As expected, he was emotional. The team had been through a lot in this past week.
Per Chris Dufresne of the Los Angeles Times, Mora tearfully looked directly into the camera and said to the parents of Nick Pasquale, "We did it for your son. We did it for your son."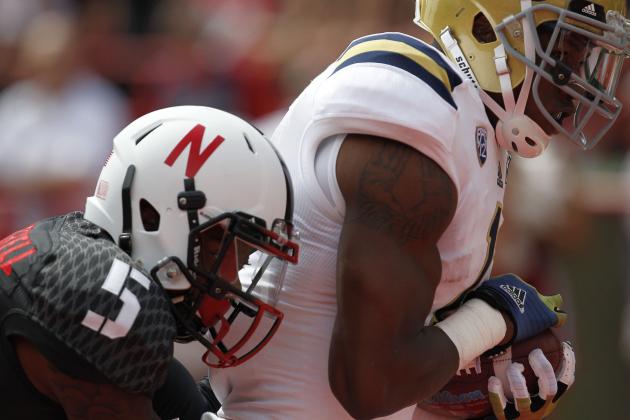 Bruce Thorson-USA TODAY Sports
Shaq Evans had a big game against the Cornhuskers.
The passing of Nick Pasquale had a massive impact on this team.
Jim Mora's bunch came out tight in this game. There was minimal intensity across the board and a general lack of sharpness from all units.
In the second half, something finally clicked. The team was able to settle down and truly focus on the task at hand. Being able to come back from a 21-3 deficit on the road against a formidable opponent, and then score 38 unanswered points, is utterly astounding.
This picture of Brett Hundley says it all. I don't believe anyone will question the overall character of this squad.