Louisville vs. Kentucky: 10 Things We Learned from Cardinals' Win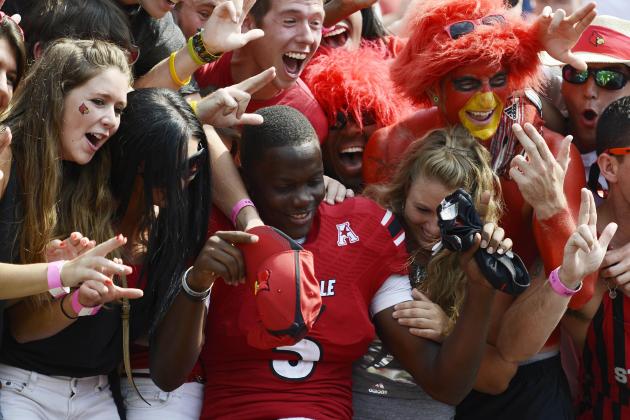 Jamie Rhodes-USA TODAY Sports
Quarterback Teddy Bridgewater can celebrate his third-straight Governor's Cup as Louisville's quarterback.
The Louisville Cardinals beat the Kentucky Wildcats for their third-straight Governor's Cup under quarterback Teddy Bridgewater.
Both the No. 7 Cardinals and their superstar quarterback struggled at the onset before pulling away from their rivals in the second half. The win is their fifth-straight dating back to last season and will keep them firmly ensconced among the nation's top-10 programs.
After smoking Ohio and Eastern Kentucky, this was the first real challenge for Louisville. They pulled away late, but we learned a lot about this team from how they responded to some adversity.
Begin Slideshow

»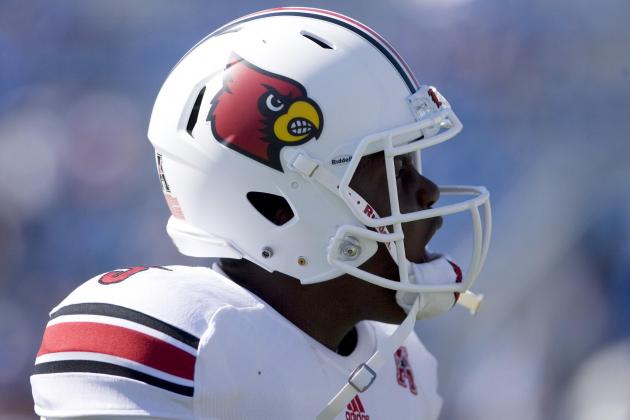 Mark Zerof-USA TODAY Sports
Teddy Bridgewater was sharp, though not unbelievable, against the Wildcats.
As usual, Teddy Bridgewater was sharp in picking apart the Kentucky secondary. However, he did make some uncharacteristic mistakes.
In the last two games, the star quarterback threw nine touchdowns and completed almost 80 percent of his passes. Against Kentucky, he looked average. He missed DeVante Parker multiple times, especially on deep balls and started much slower than you would hope in a rivalry game.
Is there any reason to worry about Teddy Touchdown? Not at all. He sharpened up in the second half, showing off both his arm and athleticism to put the game out of reach.
He will be fine and remains the most polished passer at this level of play.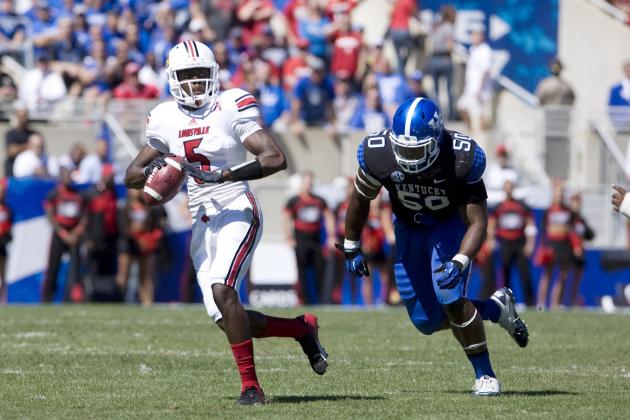 Mark Zerof-USA TODAY Sports
Teddy Bridgewater does a lot of things well. Sliding is not one of them.
There is a lot to love about Teddy Bridgewater. He is accurate, has a cannon for an arm, he plays smart and has underrated athleticism.
His sliding is another issue altogether. Bridgewater had two nice runs in which he needed to slide, and both were ugly head-first flails.
This is certainly picking a nit on a fabulous player. It would just be difficult to see him get hurt doing something that should be routine at this level and the next.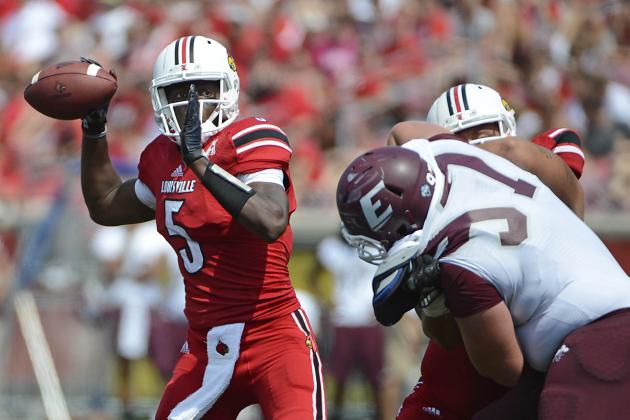 Jamie Rhodes-USA TODAY Sports
Teddy Bridgewater may not win the Heisman Trophy, but a BCS bowl is still a near-certainty.
With a weak schedule and an average performance, Teddy Bridgewater's Heisman chances took a blow against Kentucky. But this team is still a virtual lock to return to a BCS bowl.
Bridgewater may be the most talented player in the country, but the Cardinals' weak schedule demands that he be lights out on a weekly basis. His 16-of-28 performance for 250 yards and a touchdown was solid, but it was nothing compared his electric start to the season.
However, Louisville still plays a soft schedule and is as safe a bet as any to go undefeated. Undefeated teams go to BCS bowls, and some late-season blowouts will keep the national championship in the Cardinals' wheelhouse.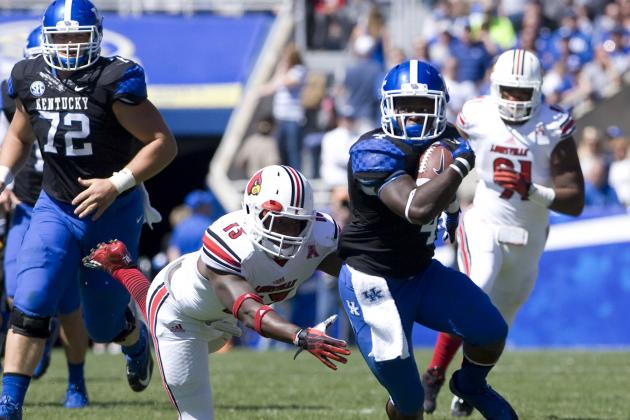 Mark Zerof-USA TODAY Sports
Jojo Kemp gashed the Cardinals for 80 yards on just five carries.
The Cardinal defense has some work to do before it can compete on a national level. Fortunately there is plenty of time for improvement.
The Cardinals gave up 376 yards of offense to the Wildcats and were fortunate that was all. The Kentucky receivers dropped a lot of balls, many of which were big-gainers and/or scoring plays. Despite of those missed opportunities, the Wildcats tried to make things interesting late in the fourth.
It is just Week 3, so there is plenty of time to fix whatever errors occurred. Charlie Strong and his staff need to make sure these issues are addressed before the stretch run.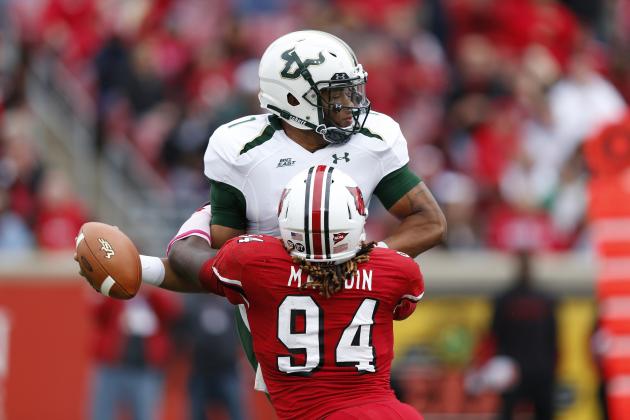 Joe Robbins/Getty Images
Lorenzo Mauldin had a career-day rushing the Kentucky quarterbacks.
The Cardinal defense did have a star player in winning the Governor's Cup for third year in a row: Lorenzo Mauldin.
The junior defensive end was a stud all afternoon, making a living in the Wildcat backfield. The 6'4" and 243-pound junior finished with a sack and two forced fumbles, but even those numbers fail to give justice to his performance.
Mauldin has shown flashes in the past. If he can continue to give this kind of effort, he gives Charlie Strong's defense a much-needed threat off the edge.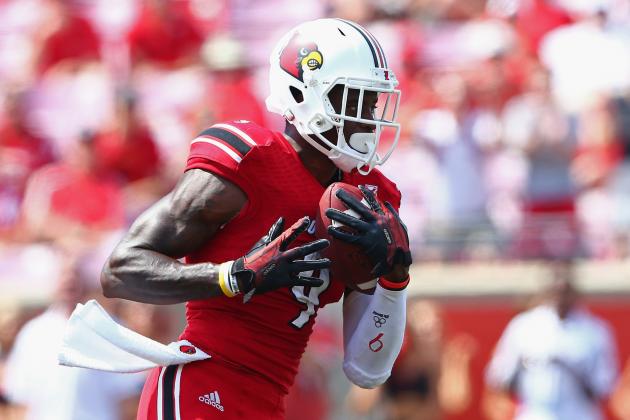 Andy Lyons/Getty Images
Parker had his ninth-straight game with a touchdown against the Wildcats.
A lot has been made of the weapons at Teddy Bridgewater's disposal. Against the Wildcats, it was clear that DeVante Parker still spearheads that group.
Statistically, Parker's 50 receiving yards and lone touchdown made for his slowest game of the season. On tape, he was much more impressive, beating his man at will and reeling in an great fade for Bridgewater's lone touchdown of the day.
Other than a bad first-quarter fumble, Parker looked great. He also has a touchdown in nine consecutive games, which is four shy of Jarrett Dillard's NCAA record.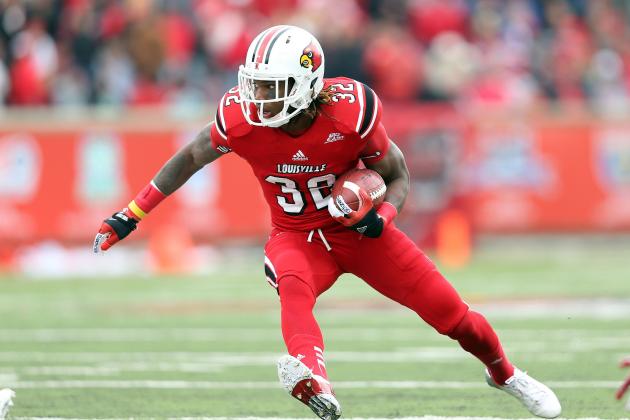 Andy Lyons/Getty Images
RB Senorise Perry cruised to 100 yards against the Wildcats.
After getting only 78 rushing yards in last week's win over Eastern Kentucky, it was clear the Cardinals needed more production out of the backfield. Senorise Perry provided just that in the Governor's Cup.
Prior to the game, many were calling for transfer Michael Dyer to take over for Perry. Instead, the senior cracked the century mark on only 11 carries and scored two touchdowns. The first touchdown was a one-yard dive after a 27-yard burst and the second was a 36-yard sprint to ice the game in the fourth.
Every defense the Cardinals face will be coming hard after Teddy Bridgewater.
Having a player like Perry to slow down the pass-rush and allow the star signal-caller to utilize the play action will make things much easier for this entire offense.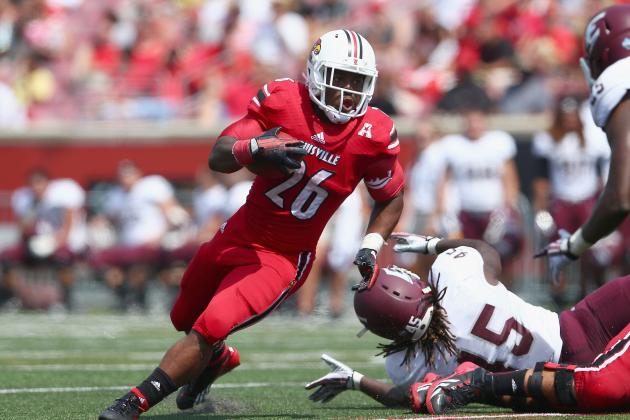 Andy Lyons/Getty Images
The Cardinals are still waiting for Michael Dyer to take command of their backfield.
Getting his first start in the Cardinal red, transfer running back Michael Dyer looked poised for a breakout game against the Wildcats. It appears Louisville will have to wait on such a performance.
A national champion at Auburn, Dyer is easily the most talented player in this backfield and has the potential to be one of the best in the country. He got his chance against Kentucky, then was stymied for the first three quarters of the game.
Though he was able to get two long runs in the fourth, it was a disappointing effort from Dyer. He is a big-time talent, and the Cardinals will be less than they can be until he plays up to his potential.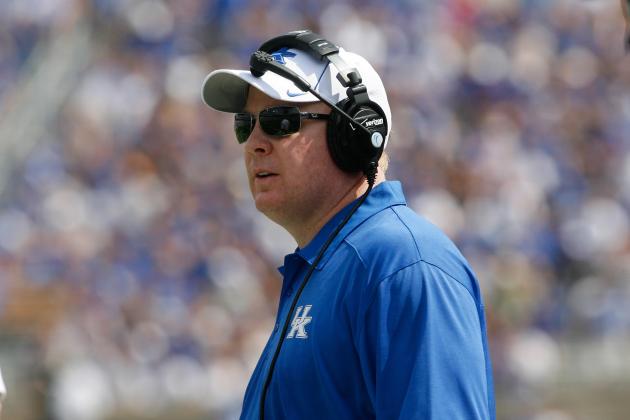 Mark Zerof-USA TODAY Sports
Even in defeat, Mark Stoops got a solid showing from his Wildcats.
Kentucky may not be ready to contend at a high level, but the program took a step in the right direction by hiring Mark Stoops.
Even with all of the drops, the Wildcats over-performed in their first Governor's Cup under Stoops. They frustrated Teddy Bridgewater to a 1-of-4 first quarter and held a 3-3 tie for much of the first half. Had some of those drops been completions, this could be a different post-game conversation.
What makes the 2012 Wildcat team different is that they play with much more pride than last year's group that went 1-11.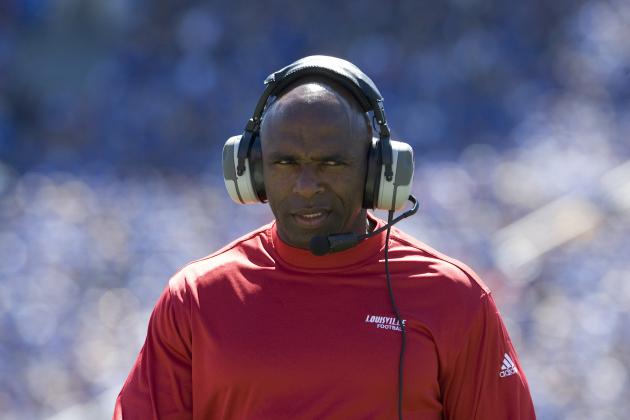 Mark Zerof-USA TODAY Sports
Charlie Strong's squad is still deserving of its top-10 ranking.
Overall, this was ho-hum victory for the Cardinals. In a rivalry match for a 33-inch trophy, it is important not to overreact and dismiss this Louisville team.
Teams get up for rivalry games. Especially lesser ones that have an opportunity to knock off a top-10 team, like Kentucky in this year's Governor's Cup.
The Wildcats had a nice plan to deal with Teddy Bridgewater and found a way to move the ball against a smart defense.
In the end, it was obvious they were outmatched.
Just because Louisville struggled early does not mean they are way overrated. Yes the Cards play a weak schedule, but you cannot underestimate the value of having a coach and quarterback that are among the best in the nation. These Cardinals are in the top-10 to stay.