UCF vs. Penn State: Live Score and Highlights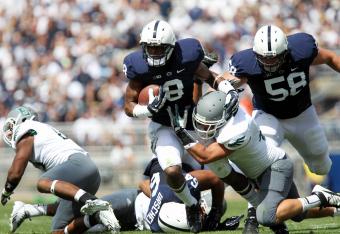 Matthew O'Haren-USA TODAY Sports
UCF 34, Penn State 31 — Final
Blake Bortles threw for 288 yards and three touchdowns, Storm Johnson trucked for 117 yards and a score and the Central Florida Knights marched into Happy Valley and upset the Penn State Nittany Lions.
Several big plays helped UCF jump out to a three-possession lead and—despite a late surge from Penn State—they were able to hold on after the Nittany Lions relied on their defense to get a stop rather than trying an onside kick.
The defeat came at the expense of some great offensive performances by Penn State. True freshman quarterback Christian Hackenberg threw for 262 yards and one touchdown, tailback Zach Zwinak found paydirt three times and rushed for 128 yards and wide receiver Allen Robinson hauled in nine catches for 143 yards and a score.
However, a late fumble by Zwinak during a late Nittany Lions drive wound up suffocating their comeback bid.
Thanks for hanging out with us tonight—we hope you enjoyed the blog. Stay tuned for the 10 things we learned from this evening's contest.
And as promised, here are ten things we learned from tonight's game.
As it did all day long, Penn State's defense fails them, and UCF runs out the clock to pull off the upset in State College.
UCF 34, Penn State 31 — Final
That'll do it. Bortles hits Allen for a first down following Penn State's final timeout. O'Brien's faith backfires.
But what do I know? Penn State kicks it deep, and will for some reason trust its defense to force a three-and-out. It's their only hope.
With only one timeout remaining, Penn State will likely need to go for the onside kick here.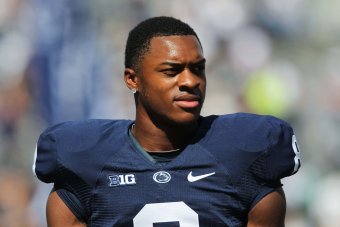 Matthew O'Haren-USA TODAY Sports
Hackenberg finds Robinson in the end zone for a touchdown! A monumental error on special teams for UCF leads directly to a Penn State touchdown, and the Nittany Lions still have a pulse!
UCF 34, Penn State 31 — 2:51 remaining in the fourth quarter
Oh wow.
UCF comes out to punt. Snap goes over his head. Wow. Disaster.

— Paul Tenorio (@osknights) September 15, 2013
Victory is becoming less likely for the Nittany Lions. They would need a score and a successful onside kick.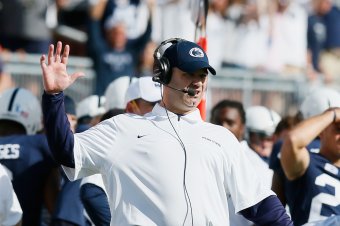 Rob Carr/Getty Images
Never mind. Bortles throws again, but this time he hooks up with Rannell Hall for a crucial first down. Tick, tick, tick.. .Penn State has to call its first timeout.
That was a brutal time for Penn State to have its first turnover. But inexplicably, the Knights go to the air on second down, and the incomplete pass stops the clock. 4:50 remaining with UCF up 10.
Potential dagger alert.
Zwinak coughs it up, and UCF recovers.
Over a minute to run three plays on this drive for Penn State and they aren't even huddling. Not really a great hurry-up.

— Travis Johnson (@bytravisjohnson) September 15, 2013
As effective as Zwinak has been this evening, Penn State will have to slowly abandon the run game with time becoming its biggest enemy.
The clock is about to become a factor.
That drive took 5:16 off the clock.

— Travis Johnson (@bytravisjohnson) September 15, 2013
The Nittany Lion defense finally bears down, but not before UCF gets within Moffitt's range. He drills a 36-yard field goal to bring the lead up to 10.
UCF 34, Penn State 24 — 8:10 remaining in the fourth quarter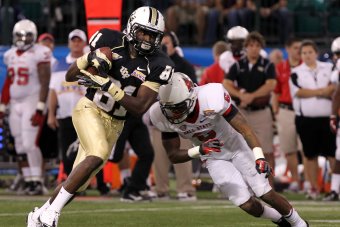 Kim Klement-USA TODAY Sports
That was a massive third-down conversion for the Knights. Bortles finds Breshad Perriman for the fourth time today, putting UCF at Penn State's 27-yard line.
Bortles is a bit shaken up, but UCF finally gets some love from the officials. A pass interference call on third down will keep the Knights' drive alive.
The crowd is really getting behind the home squad and you can feel the tides turning here in the fourth quarter.
Blake Bortles took a monster hit on the incomplete pass. It's loud in here.

— Paul Tenorio (@osknights) September 15, 2013
Very much so.
Seems unfathomable watching this that Penn State is very much still in it. All it takes is a stop & a TD. Feels like they are gettin crushed

— Chris Adamski (@C_AdamskiTrib) September 15, 2013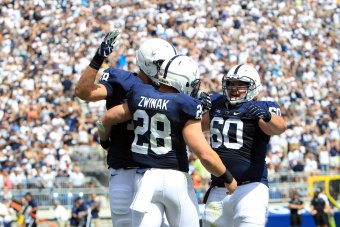 Matthew O'Haren-USA TODAY Sports
After two failed attempts, Zwinak marches into the end zone for a touchdown! All of a sudden, it's a one-score game.
UCF 31, Penn State 24 — 13:35 remaining in fourth quarter
The officials have not been seeing eye-to-eye with UCF in the second half.
UCF called for pass interference in the end zone. Sorry, I think that's an awful call.

— Paul Tenorio (@osknights) September 15, 2013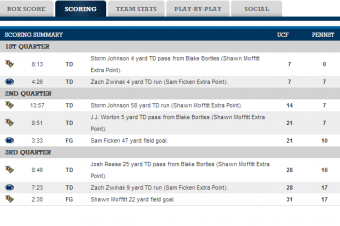 Would you like a scoring recap? Sure you would.
Penn State is amassing an impressive drive—it's been the Zach Zwinak show, and his 38-yard run puts the Nittany Lions inside the red zone. That's the end of the third quarter.
End of 3rd Quarter — UCF 31, Penn State 17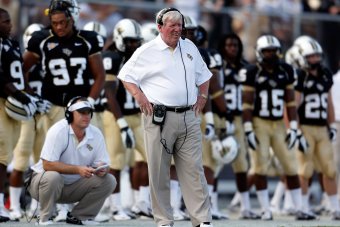 J. Meric/Getty Images
George O'Leary... um... wasn't pleased with the way that drive turned out.
The Knights have to settle for a field goal. Shawn Moffitt knocks it in from 22 yards out. Could that series of events swing the game?
UCF 31, Penn State 17 — 2:30 remaining in the third quarter
This article is
What is the duplicate article?
Why is this article offensive?
Where is this article plagiarized from?
Why is this article poorly edited?