Boston College vs. USC: Live Score and Highlights
USC 35, Boston College 7—Final
In what was probably a pivotal game for the home team, the USC Trojans knocked off the Boston College Eagles.
The Trojans, desperate to recover after a devastating loss to Washington State and surrounded by persistent rumors of internal strife, needed to silence critics across the nation—but more importantly, those in their own stadium.
While not every Kiffin and USC critic will be satisfied with this win, it certainly can't hurt the Trojans' cause.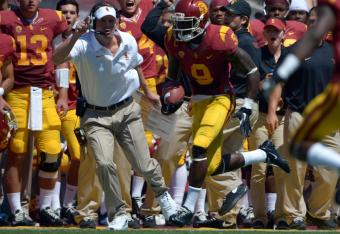 USC today looked like a completely different team from last week's Trojans.
USC put together an offensive performance that looked like those of the USC teams of the early 2000s. With over 500 yards of total offense and 35 points, USC never let Boston College into the game today.
Perhaps more importantly, USC quarterback Cody Kessler showcased some skill under center, completing 15 of 17 passes for 237 yards and two touchdowns. Kiffin, for his part, opened up the playbook a little more today, having Kessler take some deep shots down field—many of which paid off with big plays or touchdowns.
While this certainly isn't the end of the criticism for USC or Kiffin, a must-win situation resulted in a win for the Trojans, and the season is still definitely salvageable.
That's going to wrap it up for our live blog of Boston College at USC. Thanks for checking in with us, and be sure to follow along with all of the college football coverage on Bleacher Report.
Some final stats:
| | | |
| --- | --- | --- |
| | BC | USC |
| 1st Downs | 12 | 21 |
| 3rd down efficiency | 4-13 | 5-10 |
| Total Yards | 184 | 521 |
| Passing | 83 | 264 |
| Comp-Att | 11-24 | 17-19 |
| Yards per pass | 3.5 | 13.9 |
| Rushing | 101 | 257 |
| Rushing Attempts | 26 | 43 |
| Yards per rush | 3.9 | 6.0 |
| Penalties | 1-5 | 10-95 |
| Turnovers | 0 | 0 |
| Fumbles lost | 0 | 0 |
| Interceptions thrown | 0 | 0 |
| Possession | 23:24 | 36:36 |
FINAL SCORE: USC 35, Boston College 7
Stay tuned for some final stats and thoughts on today's big win for the USC Trojans.
USC now has over 500 yards of total offense today.
That certainly helps make up for last week, but it's going to take a lot more than this to make USC fans forget about that ugly loss to Washington State.
Even USC's second and third defensive teams are holding BC in check now.
Seriously, who guessed this was possible today?
USC 35, BC 7. Max Wittek gets a series as the backup QB and runs in a TD. 4:22 to go...

— USC Trojans (@USC_Athletics) September 14, 2013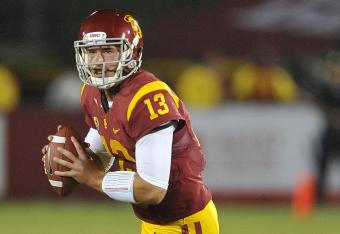 Touchdown, USC!
Max Wittek takes two big pops at the goal line but pushes the ball into the end zone. Trojans lead, 35-7.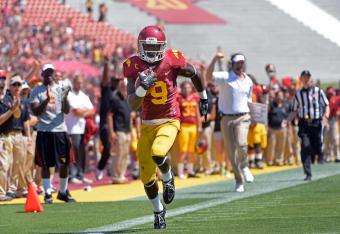 USC now starting to run clock and escape their own stadium with a win—and without getting booed off the field.
How's this: 2-of-2 for 27 yards. Not too shabby for Wittek so far.
Don't hold your breath, though.
Now the offensive backups—including Max Wittek—are coming onto the field.
TOUCHDOWN, Boston College!
Tyler Rouse runs for 29 yards for his first career score, and the Eagles are on the board, 28-7.
USC is starting to rotate in a few backups, while BC is putting together a nice drive and threatening the goose egg.
When you have a punter that averages over 51 yards per punt on seven kicks (Boston College), you feel pretty good about your special teams.
But what does it matter if your defense allows the opposing offense to take the ball 94 yards in eight plays for a touchdown?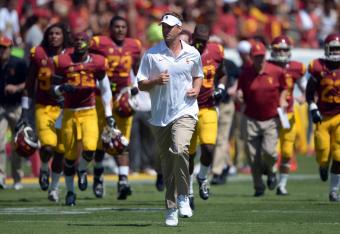 USC now has 425 yards of total offense.
I'm not sure whether I should be shocked or completely not surprised. It's a very unsettling feeling.
Touchdown, USC
Justin Davis puts on a show, again bobbing and weaving, finding his way into the end zone to extend Southern Cal's lead to 28-0.
Tre Madden gets a slew of receiving yardage on another screen.
See, USC fans? Screens can work!
Fourth quarter, and SC is still bombing it down field.
Marqise Lee watches the ball just glance off his fingertips inside the 5.
It's the end of the third quarter, and USC is looking like USC, leading 21-0.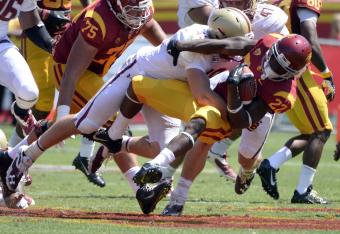 Justin Davis weaves through the BC defense, and that's USC football.
Where has that been?
Still pitching the shutout...And Freese with another spectacular punt for BC.
It helps that the Trojans seem completely unwilling to return a punt today.
SC gives up a big play (24 yard run), but the Trojans still look pretty solid on defense. With the penalties not giving the Eagles much help, BC is having a lot of trouble getting out of its own territory.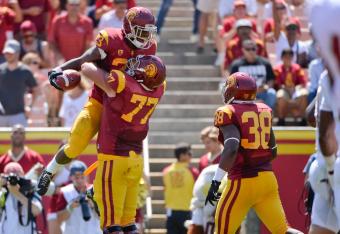 Madden now has 95 yards rushing with a touchdown and 11 yards receiving with another score.
TOUCHDOWN, Trojans!
Tre Madden into the end zone again, and SC has opened up a 21-0 lead.
Bubble Screen!
And it gains 10 yards, too!
This article is
What is the duplicate article?
Why is this article offensive?
Where is this article plagiarized from?
Why is this article poorly edited?