UCLA and Nebraska: Live Scores and Highlights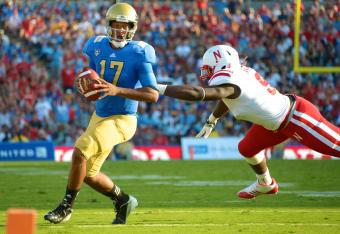 UCLA 41, Nebraska 21: Final
A tough nonconference affair took place in Lincoln between the Bruins and the Cornhuskers. After playing a dreadful first half, the Bruins absolutely dominated Nebraska. UCLA scored 38 unanswered points in order to win the contest.
The box score can be found here.
Please share your thoughts on the game below!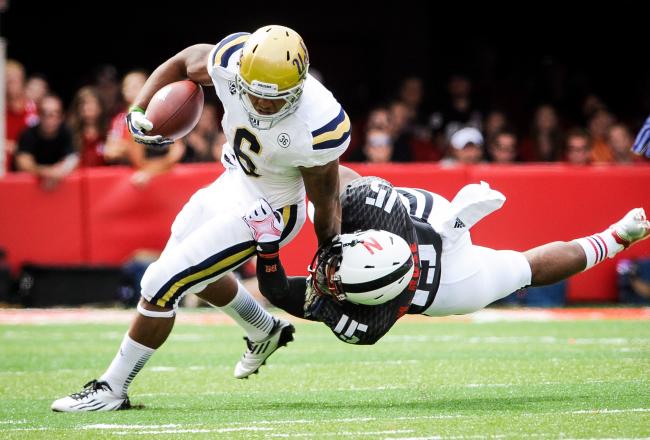 Final: UCLA 41, Nebraska 21
The Bruins scored 38 unanswered points en route to a big victory on the road.
It's a disappointing effort for Nebraska. After a very good first half, Bo Pelini's team laid a proverbial egg in the second half.
Happy for Jimmy Mora's Bruins roaring back at Neb after last week's tragedy. Good guy, good coach.

— Skip Bayless (@RealSkipBayless) September 14, 2013
Controversial pundit Skip Bayless shares his thoughts on the game...
Field Goal!
UCLA 41, Nebraska 21
The Bruins tack on three more points. Unless Nebraska can score three touchdowns in one minute and 57 seconds, the Bruins will head home with an impressive victory.
In the battle between the Pac-12 and the B1G, it looks like Round 1 went to Larry Scott's conference.
Who do you guys think will win in the later games?
Washington or Illinois?
Arizona State or Wisconsin?
Cal or Ohio State?
The record crowd in Lincoln is starting to file out of Memorial Stadium.
You gotta wonder how hot the seat is getting for Bo Pelini. Defensive coordinator John Papuchis has not been a fan favorite in Lincoln.
Could he be the sacrificial lamb?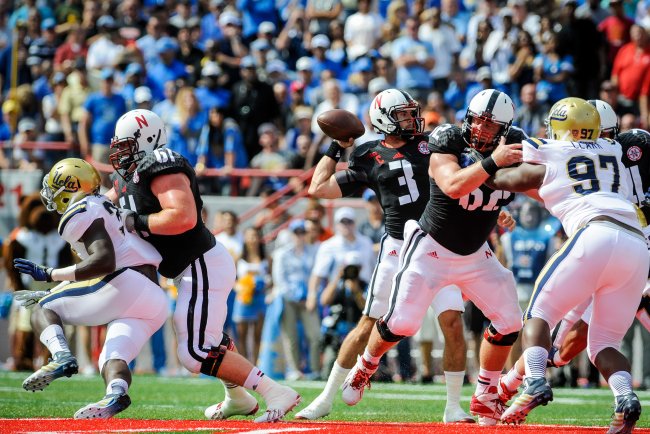 Eric Francis/Getty Images
Regardless of the outcome, it's quite clear that Taylor Martinez has improved considerably as a passer.
Nebraska has won 14 straight nonconference games at home. The Cornhuskers have also gone 17-1 under Pelini in these types of contests.
Anthony Barr splits two defenders and causes Ameer Abdullah to fumble. The Bruins recovered the football.
Nebraska is not in a good spot right now...
UCLA's Brett Hundley holds up an "R.I.P. #36" towel in honor of Nick Pasquale, their WR who passed away this week. pic.twitter.com/YyqlxM88pt

— Bleacher Report (@BleacherReport) September 14, 2013
The passing of Nick Pasquale is the obvious motivation in this game for the Bruins.
Hundley is going OFF! #UCLAvsNEB

— Rece Davis (@ESPN_ReceDavis) September 14, 2013
ESPN commentator Rece Davis gives high praise to UCLA's signal-caller...
The third quarter mercifully ends for the Cornhuskers.
If they are to get back in the game, Martinez needs to run the football. He's too talented with his legs to not utilize that element of his game.
Touchdown!
UCLA 38, Nebraska 21
F-back Nate Iese catches a three-yard pass off of play action, and the rout is on. The Bruins have scored touchdowns on all four possessions in the second half.
After being down 21-3, the Bruins have scored 35 unanswered points.
Wow.
Bo Pelini shows some backbone and goes for a fake punt in Nebraska territory.
For some inexplicable reason, an offensive lineman was the one to run the football. The Cornhuskers were just short, and UCLA takes over in Nebraska territory.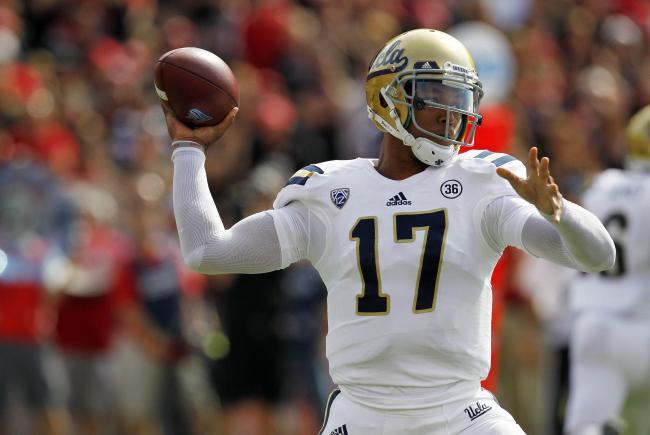 Touchdown!
UCLA 31, Nebraska 21
Fullback Phillip Ruhl hauls in a 12-yard pass for a touchdown, and the Bruins are on an absolute roll right now.
UCLA has scored 28 unanswered points. Nebraska looks like it forgot that there was a second half.
Nebraska's defense gets a much needed stop on third down...until the Cornhuskers commit a roughing-the-passer penalty.
It's been a tale of two halves for these teams so far.
Nebraska's offense is abysmal right now.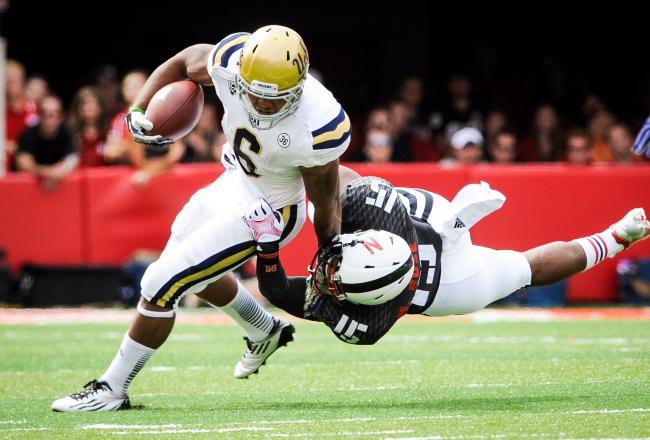 Touchdown!
UCLA 24, Nebraska 21
On a beautiful throw by Brett Hundley, the Bruins take the lead. Receiver Shaq Evans was able to evade the defender and catch the 28-yard pass for the score.
UCLA has now scored 18 unanswered points.
It's time for "T-Magic" to get some production on offense for the Cornhuskers.
Not sure what Jim Mora told UCLA at the half but it's working.

— Arash Markazi (@ArashMarkazi) September 14, 2013
ESPN LA sportswriter Arash Markazi mentions the obvious...
Nebraska's offense is stagnant right now. The Bruins just forced a three-and-out and will take over on offense.
One would think that Nebraska would look to integrate Martinez more in the run game.
Touchdown!
Nebraska 21, UCLA 17
Jordon James caps off a strong drive with a three-yard touchdown. UCLA's offensive line has also done a nice job giving Hundley time to throw the football.
For the day, James has 15 carries for 70 yards.
Momentum has clearly shifted right now.
James must've heard me call him out, considering that he just rushed for a 38-yard gain.
The Bruins now take over on offense, looking to cut into Nebraska's 11-point lead.
It'll be interesting to see who starts at running back for the Bruins. Jordon James did not look good in the first half. In limited time, Paul Perkins looked good.
Anthony Barr has been flying around the field on this opening drive.
This article is
What is the duplicate article?
Why is this article offensive?
Where is this article plagiarized from?
Why is this article poorly edited?