Stoke City vs. Manchester City: 6 Things We Learned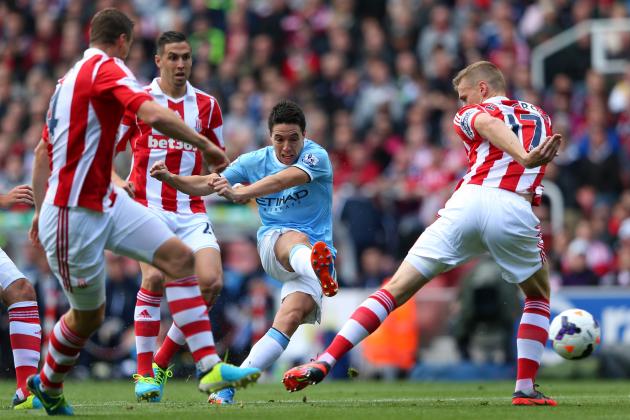 Alex Livesey/Getty Images
City seemed to spend much of the match outnumbered around the ball.
For a relatively nondescript early season fixture, Stoke City vs. Manchester City was chock full of storylines.
Stoke manager Mark Hughes downplayed any lingering resentment about his dismissal from Manchester, but he would only be human if he felt some vengeful pangs.
Embattled City keeper Joe Hart lined up opposite Asmir Begovic, the man erstwhile City manager Roberto Mancini wanted to depose Hart for.
And there is that little detail of City's never having won a Premier League match at the Britannia.
Some derbies do not have that much going on even before the ball is touched into play.
Begin Slideshow

»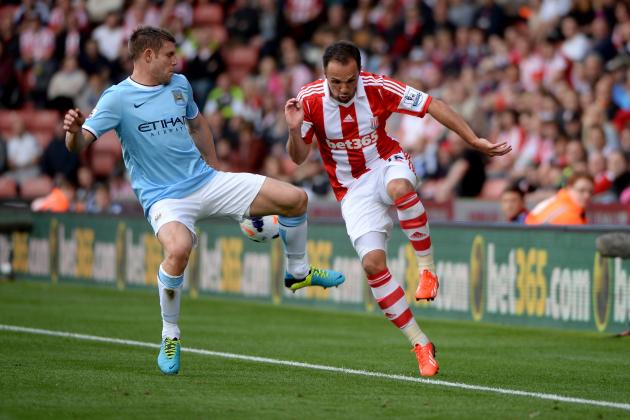 Ross Kinnaird/Getty Images
Milner was just one of six changes in the City XI.
City played like strangers against Stoke because, from a match perspective, they largely were.
Stevan Jovetic made his debut in sky blue. Alvaro Negredo made his first City start. James Milner, Jack Rodwell and Samir Nasri featured prominently in the midfield with starts of their own.
And Javi Garcia, inexplicably, lined up next to Matija Nastasic at centre-back. More on that in a bit.
Six changes from the XI that started two weeks ago against Hull City meant the Citizens were to a significant degree making it up as they went along. It showed.
Neither Negredo nor Jovetic, fearsome strikers in their respective leagues last season, looked much like scoring.
Nasri, Rodwell, Milner and Yaya Toure were inexplicably bossed around the Britannia midfield by the likes of Charlie Adam and Steven N'Zonzi.
It is all well and fine that City have a Champions League match in three days and the first derby in a week.
That does not excuse starting such a toothless, disconnected side on the road in the Premier League.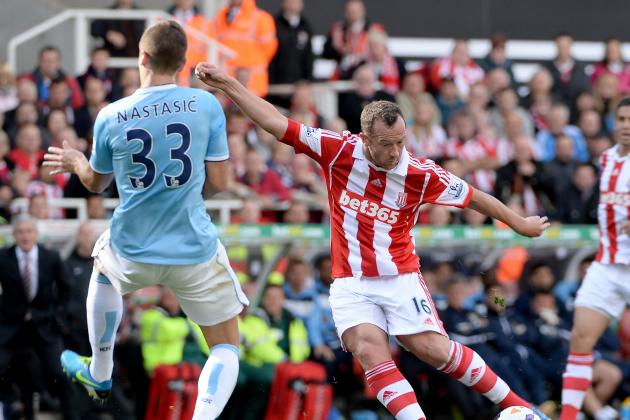 Ross Kinnaird/Getty Images
Nastasic was on an island much of the day on City's back line.
Any time the City team sheet does not include Vincent Kompany, City fans should grab their paper air sick bags and prepare for hyperventilation if not outright nausea.
City manager Manuel Pellegrini started midfielder Javi Garcia at centre-back again today. It is getting to the point where one wonders whether City are trying to punish Garcia or make him want to quit.
Garcia was woefully out of position a few times, the worst occasion coming in the 14th minute as Jonathan Walters got behind him for a good chance on Hart's goal.
He also needlessly conceded possession in a dangerous spot in the 64th minute, by which time the match commentators were openly questioning why he was still out there, even feeling a bit sorry for him.
Matija Nastasic played extremely well. If he hadn't, City would probably never have escaped with the stolen draw.
Obviously, the injuries to Kompany, Martin Demichelis, Micah Richards and normal left-back Gael Clichy have City's back line in some disarray.
But Garcia at centre-back is a ticking time bomb City keep watching instead of defusing.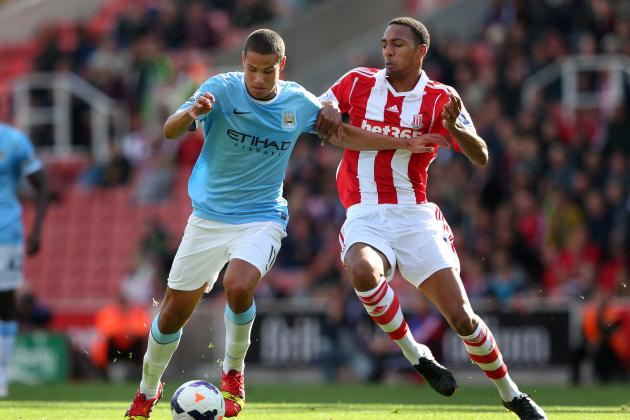 Alex Livesey/Getty Images
City had a lot of the ball but did almost nothing with it.
New manager, new aggressive style of football, same old City.
Roberto Mancini's teams were criticized for keeping the ball upwards of 65 percent of the time and never threatening. If you did not know better, watching City against Stoke you would think Mancini was still in charge.
City had possession against Stoke for 58 percent of the time, but created only three shots on target.
Passing the ball around in a triangle at midfield for a minute helps possession statistics but, if anything, it hurts the effort to win.
Stoke's midfielders and strikers were provided with ample recovery time in the worthless moments that City held the ball without moving forward. Stoke's defenders were often free to pick out pretty faces in the crowd.
Road matches in the Premier League often dictate conservative play. But City's display at the Britannia was cautious to the point of absurdity.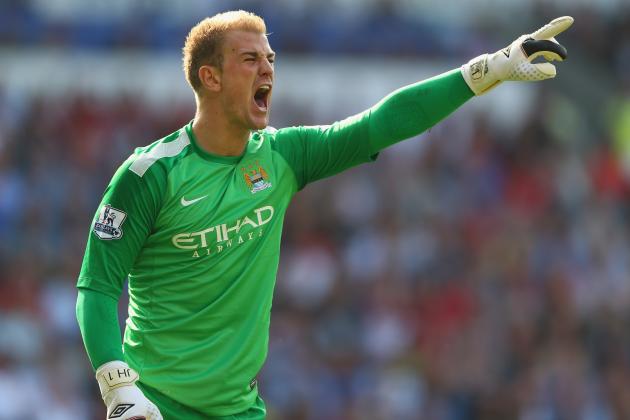 Michael Steele/Getty Images
Hart might have a bit of post-traumatic stress disorder after the Stoke match.
For all the palaver about Joe Hart's failing form, if not for a couple of poorly defended set pieces at Cardiff City Hart might have been sitting on three straight wins entering play at Stoke.
Hart's performance at Stoke should buy him at least three days' grace, as he made crucial, spectacular point-blank stops on the all-too-many occasions where his defense completely neglected their duties.
Further, Hart was far more decisive and intentional with his actions. Watching him play with that assured mien was a pleasure, particularly given some of his less assured days in recent times.
Stoke keeper Asmir Begovic had a comparatively boring day, which he no doubt welcomed.
Begovic might even have had a stray thought along the lines of "thank heavens I did not sign with City."
Regardless, Hart's rock-solid performance between the sticks should be a confidence builder for both the keeper and his side as Champions League play beckons.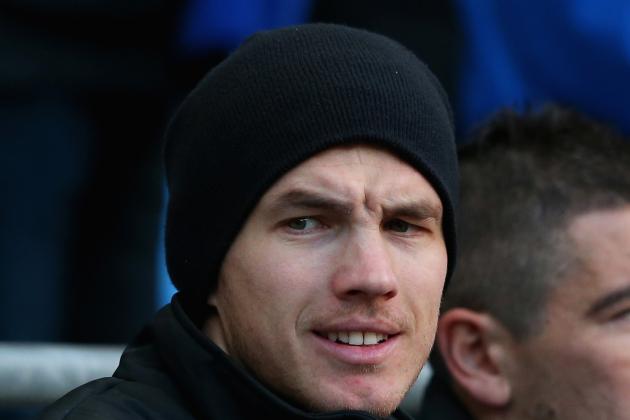 Alex Livesey/Getty Images
Edin Dzeko might be spending a lot of quality time with his knit hat and coat in coming days.
City have four strikers. Three of them (Alvaro Negredo, Stevan Jovetic and Sergio Aguero) played against Stoke.
Edin Dzeko, after three consecutive Premier League starts, did not.
The bad news for Dzeko is that it may have taken him only five halves of football under Manuel Pellegrini to play himself right back into a substitute's position.
The good news for Dzeko is that none of the strikers who played instead of him at the Britannia did much to bury Dzeko on the bench.
Pellegrini may well wonder after watching his impotent strike force dither around the pitch all afternoon whether anyone in sky blue can play this game.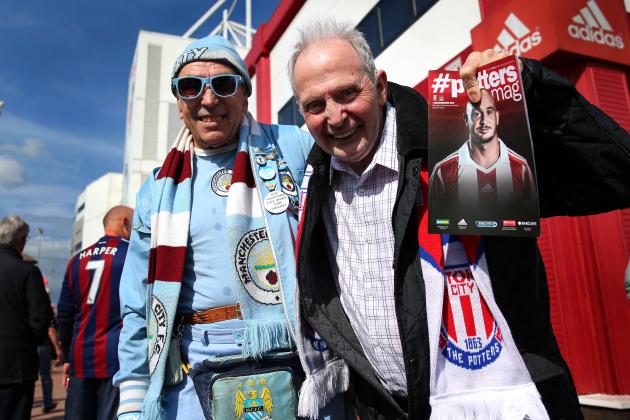 Alex Livesey/Getty Images
Any time you travel in the Premier League, danger is at your door.
City should burn the film from this Stoke match after viewing it once as an example of how not to play Premier League football.
In the moment, this fairly abject performance from City feels sad and ominous, particularly with a Champions League match and a derby in the immediate future.
But you know what? In a few weeks' time, a point at Stoke, who have started the season fairly brightly in their own right, might look like a very credible result.
Particularly for a City side who are still so clearly trying to figure out who they are.