If the thrilling double-header that kicked off this year's Monday Night Football programming is any indication, we're in for an exciting ride for the rest of the NFL's 2013 prime time matchups.
During the premiere action, we saw a team recover from a 21-point deficit to win, and we saw another fall just short of coming all the way back after going down by 24 points. Washington will get its chance to make up for their slow start in Week 1 by meeting the San Francisco 49ers in Week 12 on MNF.
But that's not the only exciting matchup left on the docket. We'll highlight two other games that could be show-stealers and provide you with a schedule for every remaining game in the text below.
*Note: all MNF games air on ESPN
Remaining 2013 Monday Night Football Schedule

| | | | | |
| --- | --- | --- | --- | --- |
| Week | Away Team | Home Team | Date | Time (ET) |
| 2 | PIT | CIN | Sep. 16 | 8:40 p.m. |
| 3 | OAK | DEN | Sep. 23 | 8:40 p.m. |
| 4 | MIA | NO | Sep. 30 | 8:40 p.m. |
| 5 | NYJ | ATL | Oct. 7 | 8:40 p.m. |
| 6 | IND | SD | Oct. 14 | 8:40 p.m. |
| 7 | MIN | NYG | Oct. 21 | 8:40 p.m. |
| 8 | SEA | STL | Oct. 28 | 8:40 p.m. |
| 9 | CHI | GB | Nov. 4 | 8:40 p.m. |
| 10 | MIA | TB | Nov. 11 | 8:40 p.m. |
| 11 | NE | CAR | Nov. 18 | 8:40 p.m. |
| 12 | SF | WAS | Nov. 25 | 8:40 p.m. |
| 13 | NO | SEA | Dec. 2 | 8:40 p.m. |
| 14 | DAL | CHI | Dec. 9 | 8:40 p.m. |
| 15 | BAL | DET | Dec. 16 | 8:40 p.m. |
| 16 | ATL | SF | Dec. 23 | 8:40 p.m. |
NFL.com
Week 9: Chicago Bears at Green Bay Packers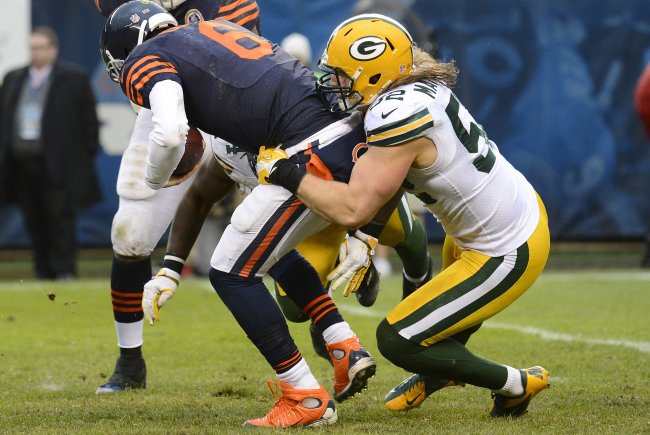 Mike DiNovo-USA TODAY Sports
Divisional rivalries with playoff implications are never matchups to underestimate. That's especially true when two storied franchises—possibly competing for their division title—square off in a pivotal mid-season contest.
How many sacks will Green Bay record on Jay Cutler?
Green Bay and Chicago have been battling it out for the honor of representing the NFC North in the playoffs for the last decade. This year will be one of the most competitive seasons between the two bitter rivals.
Jay Cutler has some weapons, a new offensive system installed by rookie head coach Marc Trestman and a revamped offensive line. Will that be enough to defeat Clay Matthews and a Green Bay Packers pass rush that has caused them fits in the past?
Last year, nearly half of Matthews' 13 sacks were recorded against the Bears.
Add in the elements that come into play when visiting Lambeau Field in November and this one is sure to be a classic representation of the rivalry we've all come to love.
Week 12: San Francisco 49ers at Washington Redskins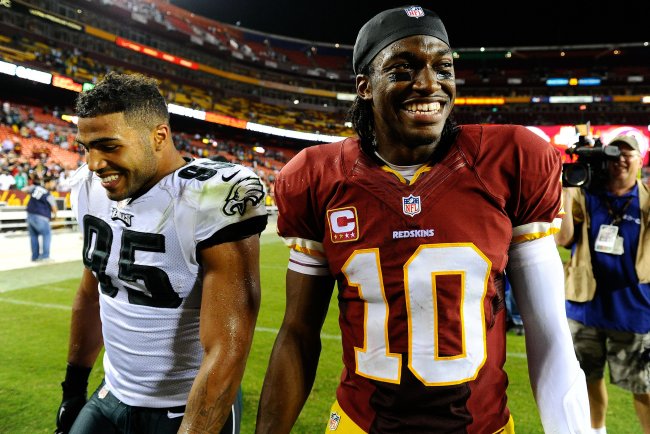 Brad Mills-USA TODAY Sports
What happens when you mix two of the most dynamic quarterbacks in the league and put them on a national stage? We saw what Mike Vick and Robert Griffin III were able to do under the lights in Week 1, but this matchup could be even more explosive.
Colin Kaepernick is slowly becoming an efficient passer and he has proven to be as an excellent mobile quarterback. The dual-threat he provides matches Griffin's, making this game a can't-miss classic in the making.
Which quarterback will rush for more yards?
Defense wins championships, they say, so it will be interesting to see how the Redskins fare by this time of the year. Injuries hurt them a lot last year. We'll see how both teams look when this matchup comes along.
Can the Redskins perform better than their first MNF performance in which they were gouged for 26 first-half points by the high-tempo Eagles offense? Whatever happens between now and then, there's little chance you won't be watching this high-profile showdown.
Week 16: Atlanta Falcons at San Francisco 49ers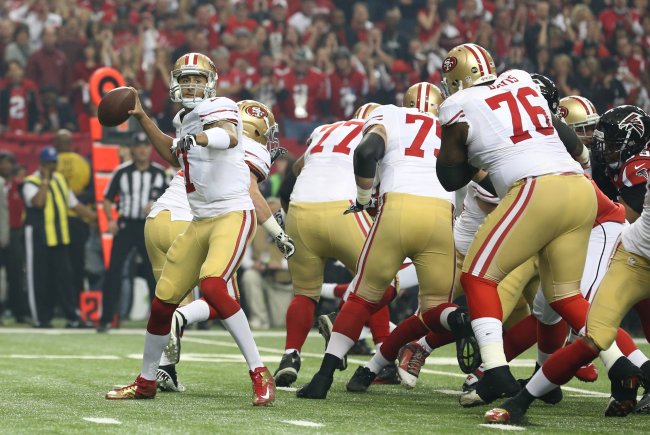 Matthew Emmons-USA TODAY Sports
A rematch of last year's NFC Championship Game will round out the MNF slate in Week 16 as there is no Monday night game in the final week of the season.
Despite an early loss on the road to the New Orleans Saints, the Atlanta Falcons figure to be in the playoff hunt when Week 16 rolls around. Alternately, the San Francisco 49ers look as polished as ever coming off of a win against the Green Bay Packers in Week 1.
Who wins this late-season showdown?
As a result, the implications of this game could be huge. If both teams continue their current success, they could very well be playing for home field advantage in the postseason in this exciting MNF finale.
If the Saints continue to rise and the Seattle Seahawks edge the 49ers, we could also be looking at a game with Wild Card consequences. This game will be a critical contest in the final stages of the 2013 season.