Jon Jones: The Greatest of All Time?
Brad Penner-USA TODAY Sports
In the fight world, there is a grotesque fascination with one phrase: The Greatest of All Time.
Type it into Google and I am sure that you will find forum threads from all over the internet on whether Joe Louis or Muhammad Ali was the Greatest of All Time. Then someone will bring up Rocky Marciano, or an elitist will bring up Jack Johnson or even Sam Langford and say that they could paste the fighters of today.
Not a day goes by that I do not receive a question along the lines of, "Hey Jack, who would you say is the greatest fighter at x of all time?" These range from the open and vague to the bizarrely specific. "Who is the greatest right-handed southpaw in lightweight history?"
And why shouldn't fans have this fetish for absolutes? One on one combat is the single most absolute of activities. Fights decide who is the better of two men; if you lose you are the weaker man, and if you win you are the stronger.
Of course, that is not how fighting really works. A fight is a one-off event and a lot more enters the cage than the men seen walking into it. Hundreds of man hours are put into each fighter's performance; not just his own, but his team's man-hours.
The question which comes up in forums time and time again, and the question which I am concerned with today, is whether Jon Jones is the greatest light heavyweight, or even the greatest fighter, in this sport's short history.
It all depends on what you're ranking—skill, athleticism or achievement?
There are only a few light heavyweights whom one could argue exceeded Jones in any area and those would, for most people, be Chuck Liddell, Wanderlei Silva and perhaps Mauricio Rua and Quinton Jackson.
Skill and Technique
In terms of skill, we are living in a different era from the days of Liddell and Silva. When those men were dominating on different sides of the world, they were considered incredible strikers because they had knockout power.
The attrition tactics which Jones and so many other UFC champions use today—low kicks and body shots, especially—were barely present at all when Silva and Liddell took their titles, and were only starting to become more popular when PRIDE was bought out.

It is easy to forget that when Silva and Liddell excelled in PRIDE and the UFC, respectively, it was more than enough to simply be good at two areas of the mixed martial arts game. Because Liddell could stay on his feet and had heavy hands, he was untouchable. Similarly, Silva was an ultra-aggressive striker with enough of a ground game to get by.
Today's mixed martial arts competition has turned into a real tactical battle. Each fighter can do well enough in each area of combat (for the most part) to have a good go at each, and should the fight be going south in one area, they may attempt to transition the entire fight to another.
Jones is, along with Georges St. Pierre, the most well-rounded fighter to grace MMA to date. Not only can he wrestle better than anyone in his division, he can out-strike the best there, too.
Wanderlei Silva was never in complete control of where the fight was taking place, which necessitated his aggression when the bout was actually on the feet. Chuck Liddell could control where the fight took place against grapplers, but often his takedown defense involved him opening up his defenses on the feet.
The two outside contenders for "greatest of all time" consideration, Mauricio Rua and Quinton Jackson, suffered similar deficiencies, particularly later in their careers. Shogun was a whirling dervish on the feet and had some neat trips and great ground-and-pound, but he could not stop a takedown to save his life. Jackson could keep his hands high to box and still stuff even Jones' takedowns, but was absolutely stifled if he could not get into swinging range.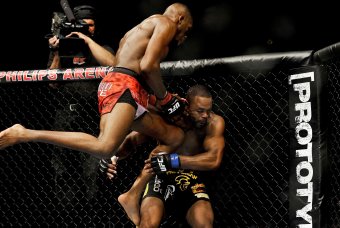 Paul Abell-USA TODAY Sports
Jon Jones is the first great light heavyweight who is in complete control of where the fight takes place. One of the reasons that my Killing the King: Jon Jones was so difficult to write was that there is no simple answer to his effective use of reach and great wrestling.
In technical ability alone, as you would expect in a rapidly evolving sport, Jon Jones is by far the best-rounded light heavyweight to date. His ability to fight to a different gameplan in each fight is also something which could not be seen so readily in the fights of Silva or Liddell.
Athleticism and Build
This is an interesting one to consider. Obviously, there hasn't been a light heavyweight built like Jon Jones. There aren't even that many human beings built like Jon Jones with his Sonny Liston-esque wingspan.
An 84-inch reach on a 6'4" frame is certainly disproportionate and unique, but also Jones is incredible athletically. His success as a wrestler will testify to that, but his brothers, Arthur and Chandler, with whom Jones obviously shares a huge amount of his genes, are both successful players for NFL franchises.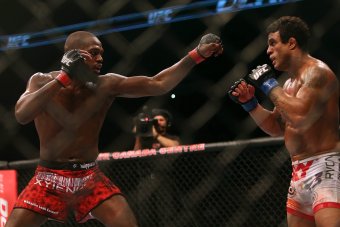 Tom Szczerbowski-USA TODAY Sports
When Jones began to excel in MMA, we were fed the lines about super-athletes and how they were now coming to MMA. In truth, Jones could be the first of many, but there just isn't enough money here to draw athletic youths away from more lucrative career paths from which they will get more esteem or the chance of a scholarship.
Compared to the wild young man from Curitiba who got into fighting because he was short and fat, Jones is obviously more in line with a traditional sports star.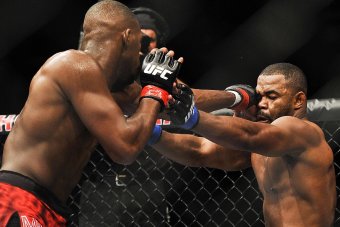 Paul Abell-USA TODAY Sports
Jones is, athletically and physically, a big fish in a small pond in today's mixed martial arts picture.
Young men who can compare to him in athleticism or physical gifts will simply not be forthcoming unless they truly love fighting more than the prospect of excelling in another sport, or until purses in the UFC become more respectable.
Achievement and Competition Fought
This, more than anything else, is what most people think of when rating a fighter pound for pound or claiming that they are the greatest.
Considering that Jon Jones is now suffering from having cleared out all the familiar names in his division, it is fairly safe to say that he is accomplished against top level competition. Jones demolished Shogun, Jackson, Machida and Evans—undoubtedly the biggest names in his division.
Recently, however, Jones has been given the kind of irrelevant tune-up fights that Wanderlei Silva is so often criticized for receiving in PRIDE. Of course, Chael Sonnen and Vitor Belfort are a little bit more dangerous than Kanehara ever was, but the matches were still irrelevant and did little to improve Jones' list of accomplishments.
Where Silva went on a four-year undefeated streak against names such as Dan Henderson, Kazushi Sakuraba, Hidehiko Yoshida and Quinton Jackson, there were also a great many filler fights in that time.
In the meantime Chuck Liddell was being fed grapplers who wouldn't trouble him on the feet so that he could continue to sprawl on people and knock them out when they got tired or desperate.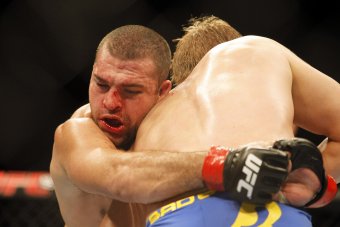 Joe Nicholson-USA TODAY Sports
But then two of Jones' biggest wins are over men who had been through more than a decade of fighting before they met him. Certainly they had proven themselves in the division at the time, but equally, how weak is a division if the same names can be in the Top 10 for so long with so few notable new fighters coming through.
Jones was part of a batch of new light heavyweights who got us all excited, yet so many of the others utterly failed. Who remembers Luis Cane or Sokoudjou?
Is Jones the greatest light heavyweight in MMA history, then? Certainly he's held the belt for the longest since the UFC bought out PRIDE. He has a more impressive set of skills and ability to fight to a gameplan than any previous champion, and he's beaten many of the old favorites. It's hard to argue against those credentials.
On a bittersweet note, however, Jones' success highlights not only the lack of athletically gifted young prospects coming to MMA, or the changing nature of the game, but the remarkably stagnant nature of the light heavyweight division. With so few young light heavyweights coming up, we have to wonder where Jones goes if he can keep wiping out named opponents.
Pick up Jack's eBooks Advanced Striking and Elementary Striking from his blog, Fights Gone By.
This article is
What is the duplicate article?
Why is this article offensive?
Where is this article plagiarized from?
Why is this article poorly edited?