What to Watch For in NFL Week 2
Jim McIsaac/Getty Images
Week 2 of the NFL is chock-full of juicy matchups and intense heavyweight battles.
Find out which looming questions could be answered after Sunday, as well as what to watch for among this week's thrilling gridiron storylines.
In this edition, I dig deep into some of the most enticing plots while also pointing out what could be the keys to victory in some of the hottest NFL rivalries.
This slideshow is certainly much more than alluring imagery and safe opinions. So read on to find out all the things you should be paying attention to this weekend as you channel surf through what's sure to be an impressive lineup of NFL action.
Patrick Peterson vs. Megatron: The Showdown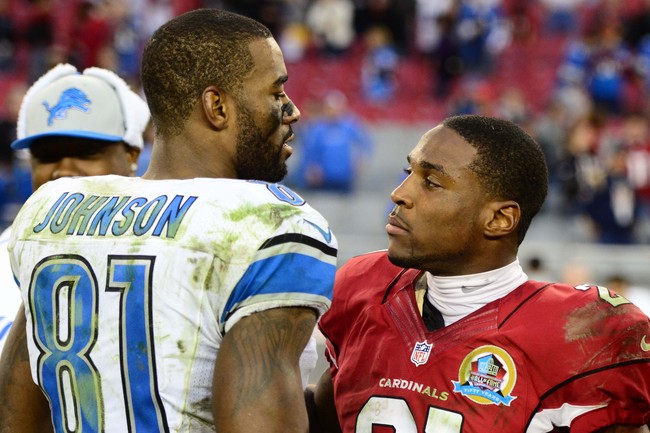 Mark J. Rebilas-USA TODAY Sports
Before the beginning of the season, I made a fairly bold prediction that Patrick Peterson was going to emerge as the best all-around cornerback in 2013. His first two seasons have shown his ability to improve his game significantly. It's actually very reminiscent of the way Deion Sanders grew into a similar role when he entered the league in 1989.
Though Sanders may have a slight edge in speed, Peterson is significantly more physical, with a much bigger frame than Prime Time ever had.
Each can make game-changing plays and shut down opposing weapons. Last week, Peterson held his opponents to only two receptions for 27 yards and no touchdowns, according to Pro Football Focus (subscription required).
He is ready to take the next step in his development and solidify his position as the best in the business for years to come.
Meanwhile, Calvin Johnson has already etched his name atop the NFL's all-time "superfreaks." This is a man (if he even qualifies) who was uploaded into tangible flesh through a 3D printer connected to the Madden create-a-player tool. In other words, he's unstoppable.
The only person who has successfully slowed Calvin Johnson at times is the guy throwing him the ball.
Come Sunday at 4:05 p.m. ET, two world-class athletes and top-notch football talents will collide for four quarters of mano-a-mano.
Don't count out the possibility that Peterson will take on the sole responsibility of covering Megatron without any assistance above the normal call of duty. Safeties could be instructed to play him as they would any other receiver in terms of double-teams or bracketing coverage his way.
This is a great test for both of these mega-playmakers, and it will be undoubtedly entertaining.
The winner of this head-to-head matchup could end up deciding the outcome of the entire game.
Can the Philadelphia Eagles Continue Their Offensive Success?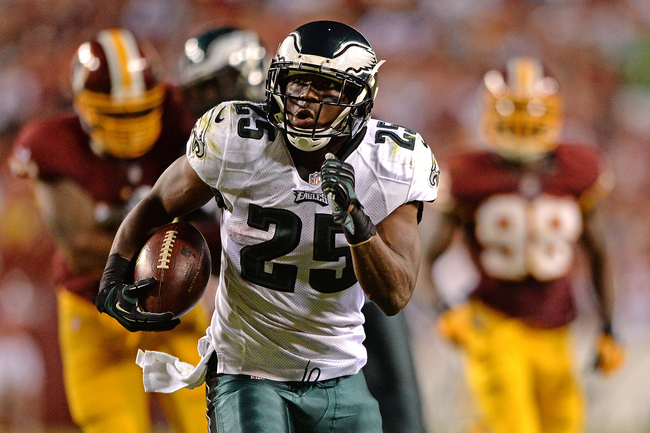 Patrick Smith/Getty Images
We've finally been exposed to a full game of Chip Kelly's new turbo-charged offense, and boy, what a show it was. The speed of the game transformed the experience of live football into something more akin to watching the condensed version of NFL.com's Game Rewind.
We know the Philadelphia Eagles intend on utilizing this high-tempo strategy for the unforeseeable future. But the big question everyone should be asking is whether or not teams can and will adjust to this frenetic pace as they put more of their tendencies on film.
If the opposition catch up to the Eagles offense (which is not a foregone conclusion), it's highly unlikely that it'll happen as soon as Week 2, especially considering their opponent is the San Diego Chargers.
Even if the Bolts manage to put together a decent game plan, they're too severely lacking in the talent department to finish this game in the win column. Slowing this Eagles offense to less than 40 points would be a promising feat, and one not likely to come to fruition for the Chargers at this juncture in the season.
Looking closer at this matchup and the development of Coach Kelly's fascinating circus offense can serve as a foreshadowing of future matchups against more talented defenses.
Will the Chargers unlock a new recipe for success against the Eagles, or will the gap between this system and NFL defenses seem to grow even bigger?
The Manning Bowl '13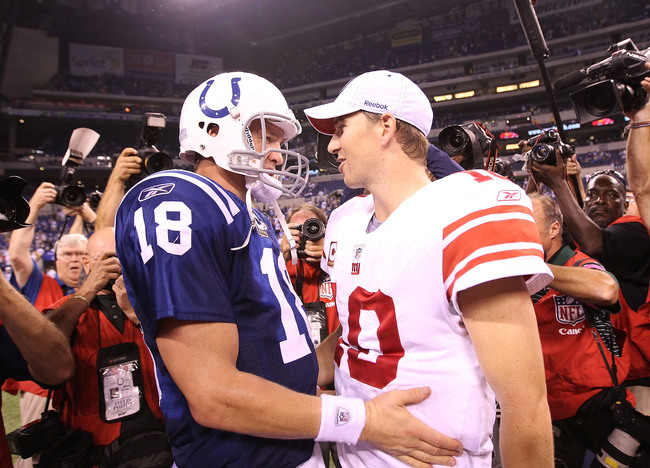 Andy Lyons/Getty Images
This is a must-watch game if for no other reason than the possibility that it may be the last of the Manning brother matchups. There's really no telling whether Peyton Manning will decide to play one more year or if he'll hang up the cleats after losing in yet another heartbreaking playoff upset.
Perhaps I'm not giving the great Peyton Manning enough credit by assuming he'll falter in the playoffs given the talent surrounding him in Denver. This is quite possibly the most talented team Manning has ever been on.
In any case, Peyton's younger brother Eli has to be somewhat concerned by his team's six-turnover meltdown in Dallas last Sunday night.
It's unlikely that the less talented brother and the less talented team overall will actually prevail at home in New York. But those exact back-to-the-wall conditions often ignite something special in Eli's often-placid demeanor.
Another critical element to consider here is the weather. There's rain scheduled for Monday in New York, which could arrive a day early, much to Peyton's chagrin. In rainy weather, we have to give the edge to Eli. Peyton has a history of struggling against the elements, and he may be faced with just that come kickoff. Eli at least has more familiarity with cold, wet conditions and seems less affected by them.
Can the Ravens Rebound from a Disappointing Week 1?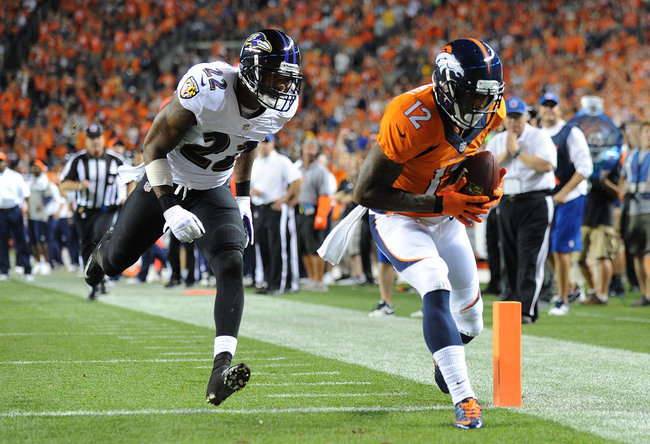 Dustin Bradford/Getty Images
For the first half of the NFL's season opener between the Baltimore Ravens and the Denver Broncos, Baltimore seemed to be holding its own against the favorite to win the AFC. But suddenly, the game got unbelievably out of hand, and Peyton Manning dissected that Super Bowl-winning defense like few (if any) teams have ever been able to.
Was this a sign that the massive exodus of talent, leadership and experience out of Baltimore has been the team's undoing?
I think not.
However, the Ravens clearly missed both Bernard Pollard and Ed Reed at the safety positions, as new starters Michael Huff and James Ihedigbo struggled against Denver's potent passing attack.
First-round pick Matt Elam (safety) and second-rounder Arthur Brown (Linebacker) obviously weren't ready to shoulder the pressure of a game against Manning. This could explain why both youngsters didn't start the game or even saw much action.
Over time, these players will play a more significant role in the defense as they get their feet wet and acclimate to their new environment. That time could begin on Sunday against the Browns.
The Ravens' biggest issue, though, may be on the offensive side of the ball, as Joe Flacco continues to wonder who he can throw the ball to aside from Torrey Smith. To make matters worse, Baltimore's offensive line looked less than stellar a week ago, giving up a ton of pressure on its franchise quarterback, who was sacked and pressured consistently throughout the night.
The Cleveland Browns come to town with gobs of pass-rushing talent and a strong desire to get their first win.
Both teams should be fired up and focused as they each fight for redemption, all the while hoping to avoid the ridicule of being 0-2.
Look for leaks in the Ravens' protection as Flacco struggles to find a reliable target. As a result, Ray Rice will be asked to do much more than he's capable of without a passing attack to keep defenses off balance.
The Ravens need to improve their play at safety. If Elam isn't given more of a shot to impress against Brandon Weeden and the Browns, it could be an ominous sign that he isn't ready for the NFL limelight.
Whoever ends up losing this intriguing matchup will certainly have a lot of explaining to do, as it will start the season with back-to-back losses.
Though the Browns are much improved from 2012, they still need to learn how to win those critical games, the ones that can determine a team's overall mentality for the rest of the season. The Ravens understand how to do this, and must if they hope to silence the early criticism regarding their championship defense tour.
EJ Manuel vs. Cam Newton: Battle of the Big-Bodied Athletes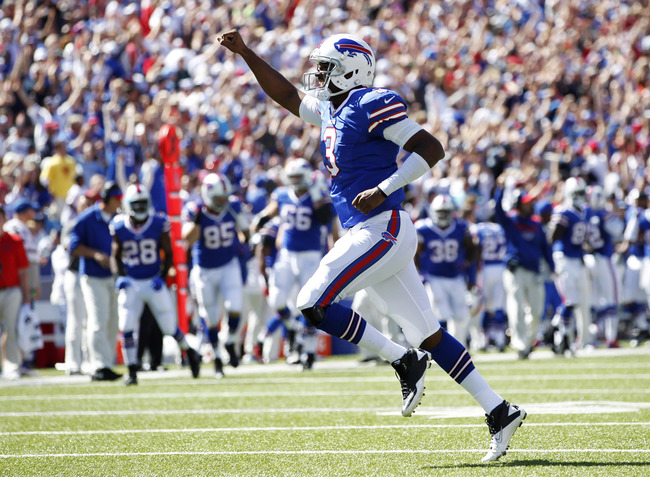 Kevin Hoffman-USA TODAY Sports
"Big," "strong," "fast," "athletic" and "incredibly young" are all adjectives that only begin to sum up the two quarterbacks who will be carrying their teams on their backs in hopes of achieving their first victory of the season.
For rookie EJ Manuel, this would be his first win as a starting quarterback—something he came surprisingly close to getting a week ago against the New England Patriots.
It's worth mentioning that Cam Newton has failed to develop beyond his stellar rookie performance that set an NFL record for most passing yards by a rookie. This record has since been broken by Andrew Luck, though it's impressive nonetheless.
Newton's apparent plateau could be the result of an offensive coordinator who lacks creativity, though last year's play-caller is now the head coach of the Cleveland Browns. His stagnation might be due to a struggling offensive line or perhaps an obvious lack of talent at the receiver position. However, it's most likely a combination of all of these.
Still, there are also some questions surrounding Newton that are more internal than external. Is he accurate enough? Can he read defenses?
As NFL coordinators accumulated tape on Newton's tendencies over the last two seasons, it seemed as though his limitations as a pocket passer became more exploited as time went on.
Then there's Manuel. He is built similarly to Newton and has comparable athletic ability, yet he is a more polished passer than the Panthers signal-caller at that time in his career. He is extremely accurate with his intermediate throws and shows greater potential to transition into a pass-first type quarterback than his upcoming opponent. Even his leadership abilities seem more natural and easier to get behind.
Manuel also has the benefit of having gotten his first full NFL game out of the way and can build off of the lessons learned from that invaluable experience.
All things considered, he played extremely well for a guy who missed a ton of practice and half of the preseason due to minor knee surgery.
This should be an evenly matched game that will be decided by the quarterback who can make the most plays with the fewest errors. Which of these big-bodied athletes will prove most valuable to their up-and-coming organizations?
Is Alex Smith More Than a Game Manager?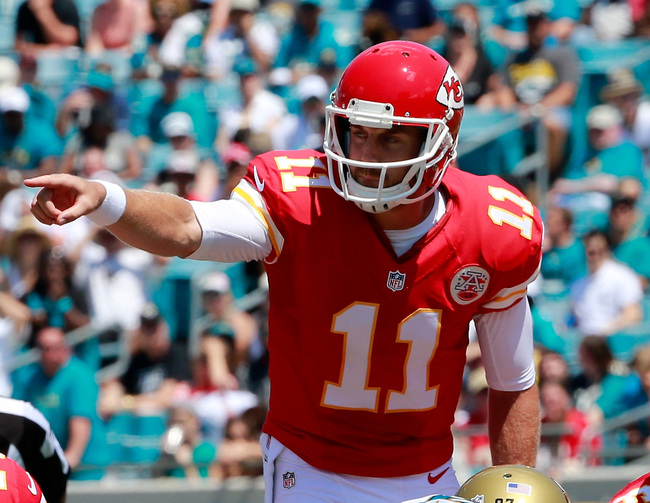 Sam Greenwood/Getty Images
Perhaps to the surprise of nobody except for Kansas City Chiefs offensive coordinator Doug Pederson (who claimed his quarterback was "the best in the league," per Randy Covitz of the Kansas City Star), Alex Smith had a typical Alex Smith day on Sunday. This is not to say he played poorly in any way but rather that he continues to demonstrate nothing beyond a consistent ability to be a game manager.
After all, quarterback in today's NFL can throw the ball 34 times for only 173 yards in the air?
To his credit, the ability to avoid critical mistakes and not lose the game is indeed a valuable asset for any NFL quarterback. But he also seems to lack confidence in his abilities to push the ball down the field and hit receivers on the outside. This is something he displayed consistently while in San Francisco and was never able to develop beyond it.
So did the Chiefs merely recruit a savvy game manager who has learned how to play within his limitations over time, or did they steal away a soon-to-be-elite NFL quarterback?
To put things into perspective, Smith has exceeded 300 yards passing on only three separate occasions in his 81 career games. Furthermore, he has never thrown more than 18 touchdown passes in a season.
This week's game against the Dallas Cowboys should be a big test for the Chiefs, as they face a significant upgrade in competition after beating the lowly Jaguars. In order for them to come out on top in their home opener, Smith will need to get the ball downfield more than he did in Jacksonville. If he simply plays not to lose against Tony Romo and the Cowboys' talented receiving corps, Smith could be setting his team up for failure.
Sure, the Chiefs only allowed two points against the Jaguars, which made Smith's conservative approach favorable, but this is not going to be one of those games where they can win by playing overly cautious on offense.
Keep an eye on head coach Andy Reid's plans for the Chiefs offense and how Smith fits into or dictates those plans moving forward.
Will Smith finally prove he can carry a team with his arm when he needs to? We should get somewhat closer to knowing the answer to that question after Sunday's game.
Will Mike Wallace Be a Decoy Against the Colts?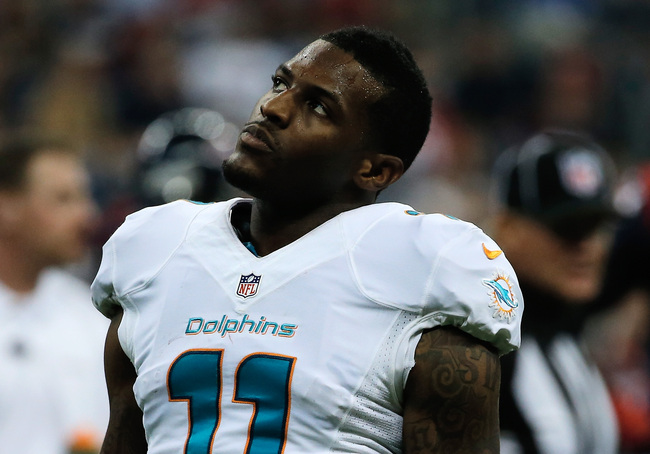 Scott Halleran/Getty Images
Last week against the Browns, Miami Dolphins wide receiver Mike Wallace was targeted five times for only a single catch for 15 yards, including a dropped pass, according to Pro Football Focus (subscription required).
Wallace seemed despondent following Miami's win over the Browns: "Ask Coach. It's not my game plan," he said when asked about his performance, via Andrew Abramson of the Palm Beach Post.
On Sunday, the Dolphins head to Indianapolis looking for their second win of the season.
Wallace should be an interesting name to keep an eye on as we see how the Dolphins plan on utilizing their $60 million weapon. If he fails to see more targets in Week 2, we could be looking at a highly volatile situation brewing in Miami.
Maybe Wallace is unfamiliar with head coach Joe Philbin's propensity to send discontent receivers packing without a moment's hesitation. If he wants to continue living the good life in his new home in South Beach, he might want to show a little restraint before his emotions cascade onto the pages of every newspaper in Miami.
The Colts are not known to have much of a secondary, though we can expect former Dolphin Vontae Davis to be matched up on Wallace for most of the day. This matchup should favor Wallace in a big way. If he isn't given at least three deep balls in this game, it would be hard not to think Miami is misusing its most expensive weapon and one of the most dangerous deep threats in the league.
We could see Wallace visibly frustrated early on if he continues to serve primarily as a decoy. If nothing else, this should at least make for good TV as the drama unfolds.
San Francisco 49ers vs. Seattle Seahawks: Which Team Is the Most Physical?
Physicality will be the name of the game when the Seattle Seahawks go toe-to-toe with the San Francisco 49ers on Sunday night. There are undoubtedly several aspects to the game worth noting that should play into the outcome of this heavyweight bout, but perhaps none is more critical than the battle for the most physically dominating team on the field.
Normally you don't associate the Northwest or Northern California with a high level of intimidation or physicality. So it might come as a surprise that the two most forceful teams in the NFL reside in those typically docile locales.
Bragging rights are at stake in this one. Each team takes great pride in its physical style of football and substantiates that in its own unique way.
The 49ers built the most dominating offensive line in football, one that could rival that of the Cowboys from the 90s. Frank Gore is also one of the more powerful runners in the game, and the 49ers' crop of linebackers could be the most intimidating group in years.
The Seahawks, on the other hand, have aggregated the biggest, tallest, strongest and perhaps most talented secondary in the country. This has been done so effectively that it could be the beginning of a new trend among NFL defenses.
Brandon Browner is doubtful for the game on Sunday, per Bill Williamson of ESPN, which could be a big factor considering what Anquan Boldin was able to do last week against the Green Bay Packers.
Marshawn Lynch holds the title as the league's most bruising runner. Without discussion, there's no back in this league that can inflict more physical pain on a defense than Beast Mode can. But he is not alone back there. Each member of the Seahawks backfield is strategically built in the same bone-crushing mold.
Backup Robert Turbin could be nicknamed "Swole Daddy T" for having the biggest biceps in running back history. He can get the tough yards while keeping the Seahawks from overworking their thoroughbred.
Behind Turbin may be the next big stud in the years to come. Christine Michael is a not a ball-carrier to be taken lightly. In fact, nothing about him is light. This densely packed weapon of mass destruction can either run you over or run right by with equal parts speed and power.
So when thinking about how this game will unfold, remember this: No other aspect of this rivalry will shine through more than the old-fashioned elements of smash-mouth football.
The favorable matchups on the outside will be limited for Seattle. The Seahawks must be able to establish a running game to compete on Sunday night. Lynch has a proven track record of being able to move the chains and rise to the challenge of this intimidating rivalry. If he finds a way to keep this offense, multidimensional the Seahawks might just stand a chance.
Ryan Riddle is a former NFL player and current Featured Columnist for Bleacher Report. He also co-hosts the radio show Football Debate Central at ProFootballCentral.com
Keep Reading