Oklahoma State Will Investigate Allegations Made in Sports Illustrated Report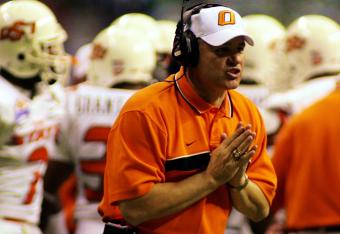 In a video statement released Friday night by Oklahoma State University, school president Burns Hargis acknowledged that his office is aware of the damaging allegations brought forth by a five-part Sports Illustrated exposé on the football program.
"We must review these accusations expeditiously, but thoroughly, determine the truth and take whatever measures are appropriate," Hargis said in the two-minute, 44-second video, according to the Associated Press (h/t Sports Illustrated).
UPDATE: Monday, Sept. 16
From Kelly Hines of TulsaWorld.com:
OSU has hired Chuck Smrt as its independent investigator into SI allegations. Smrt spent 17 years on NCAA enforcement staff. #okstate

— Kelly Hines (@KellyHinesTW) September 16, 2013
Gundy: "I support a quick and complete review. I am proud of our football program. And I can assure everyone ...

— Kelly Hines (@KellyHinesTW) September 16, 2013
... we are committed as coaches and staff to winning the right way."

— Kelly Hines (@KellyHinesTW) September 16, 2013
Original Text
Hargis, who called the allegations "disturbing," indicated that the school plans to work in accordance with the NCAA on its investigation. Universities have in recent years been working more closely with the NCAA when potential rules violations come to light, both as a sign of goodwill and to possibly receive a lessened punishment.
Texas A&M and the NCAA most recently worked together in suspending Heisman-trophy winner Johnny Manziel for the opening half of their Week 1 game against Rice, amid allegations that he received money for signing autographs for brokers.
Sports Illustrated's report threatens to be far more wide-reaching and damaging for the Cowboys program.
Staff writers George Dohrmann and Thayer Evans (along with others, like Melissa Segura) produced the five-part series of reports on Oklahoma State, which alleges a decade-long run of malfeasance from the football program. The possible violations include grade tampering, improper cash benefits being given to players, drug-testing violations and possible sexual improprieties with campus hostesses during recruiting visits.
The series encompasses so much detail that it had to be broken down into separate reports, with each level of impropriety getting its own feature. With overarching labels like "Money," "Academics," "Drugs," "Sex" and "Fallout," the Sports Illustrated piece outlines a program that lacks institutional control.
It alleges both willing ignorance and brazen NCAA violations committed under the regimes of both Les Miles and Mike Gundy. Dohrmann and Evans, who conducted their investigation over a 10-month period, claim that some players raked in upwards of five-figure "salaries" during their time with the school, via either cash payments or fake jobs.
Other allegations include tutors doing homework for struggling players, grade changing and recreational hard drug use, including cocaine.
While these allegations are yet to be corroborated—some players named in the story have denied involvement—Oklahoma State has been proactive in getting ahead of any possible NCAA investigation. Athletics director Mike Holder even went as far as to "thank" Sports Illustrated for exposing the situation:
The Okla State AD to SI: "In a way, I guess I should thank you."

— Peter King (@SI_PeterKing) September 10, 2013
If found guilty of these violations, Oklahoma State could face steep NCAA penalties, including the loss of scholarships and banishment from bowl games.
Staunch in his stance that he would get to the bottom of the allegations, Hargis said that he promises a "comprehensive" review of the situation, according to the Associated Press (h/t the Washington Post). However, until concrete evidence comes to light on the alleged malfeasance, it seems the school is sticking next to Gundy.
"I believe Coach Gundy has guided the program in a way that exemplifies and reinforces the values of hard work, fair play and personal integrity," Hargis said. "Certainly at Oklahoma State we want to win, but we want to win the right way."
The Cowboys, who are ranked No. 12 in the country, play Lamar on Saturday at Boone Pickens Stadium.
Follow Tyler Conway on Twitter:
This article is
What is the duplicate article?
Why is this article offensive?
Where is this article plagiarized from?
Why is this article poorly edited?

Oklahoma State Football: Like this team?