Air Force vs. Boise State: 10 Things We Learned in Broncos' Win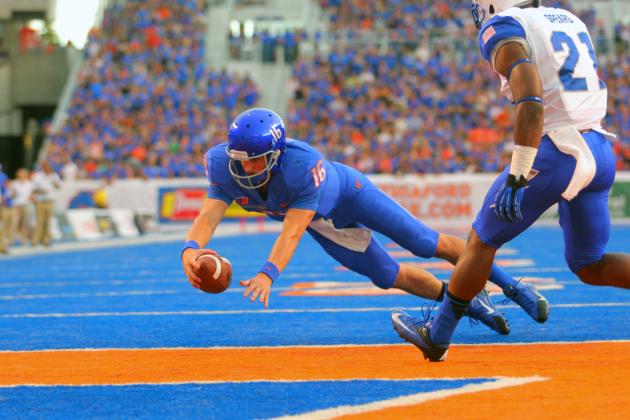 Brian Losness-USA TODAY Sports

Boise State (2-1, 1-0 MWC) hosted Air Force (1-2, 0-2 MWC) Friday night in a Mountain West showdown.
The game started sloppy, but the Broncos came out in the second half with excellent adjustments and an incredible offense.
Head coach Chris Petersen and his team led 21-17 at the half, but outscored the Falcons 21-3 in the last two quarters.
The final score of 42-20 was probably not indicative of how dominant the Broncos were in the second half, as they did have some miscues.
Twice Chris Petersen's team turned the ball over in the red zone. Had they scored those two touchdowns, this game would have been an even bigger blowout.
Let's look at the 10 things we learned in the Broncos win over Air Force and try to discern what it might mean for them going forward.
Begin Slideshow

»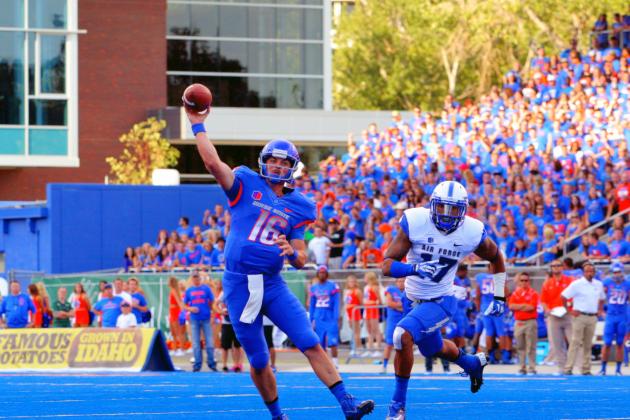 Brian Losness-USA TODAY Sports

Joe Southwick played an incredible game tonight. Could it be the 'stache?
The senior quarterback went 27-of-29, which was a passing completion percentage single game school record.
Those completions were good for 287 yards and a touchdown. He did also throw an interception in the end zone.
One of the most effective things he did, besides the amazingly accurate passes, was the ability to scramble when the Broncos needed a big play.
Southwick ran six times for 53 yards and a single rushing touchdown.
All of this seems to be because he has the mustache mojo going. Boise State fans are hoping he never shaves it again.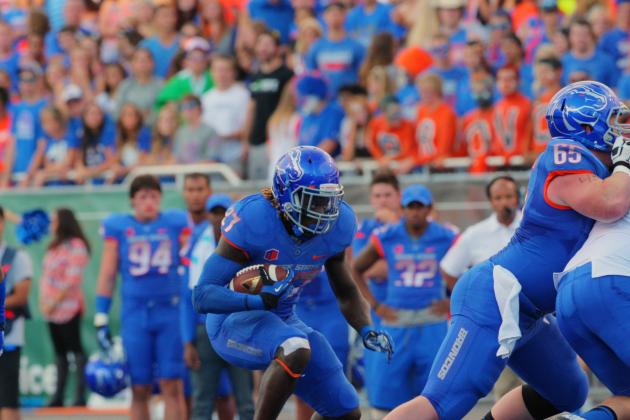 Brian Losness-USA TODAY Sports

Jay Ajayi had another very good game.
On the night he carried 17 times for 125 yards and four, yes, four touchdowns.
During the game on ESPN, the camera caught Ajayi drinking pickle juice. It is supposed to help with dehydration, or at least that's what some claim, but no matter what it does it is clear he should keep drinking it.
However, he might want to make sure he wipes the excess off of his hands after taking a sip, as he fumbled twice in the game as well.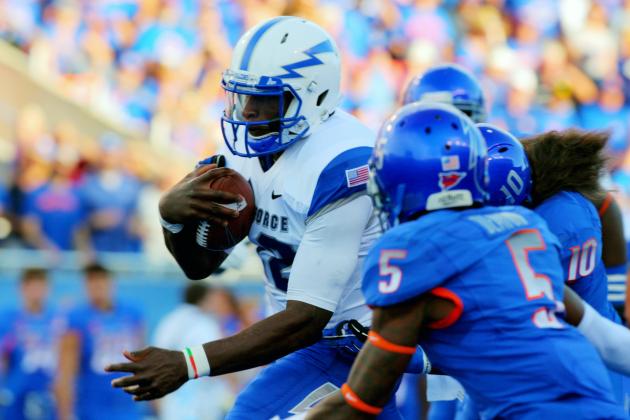 Brian Losness-USA TODAY Sports

The defense of the Broncos has struggled so far this season in the area of tackling. They struggled a bit in this game too, but it was much better overall.
It looks like the young defense is starting to wrap up. It was no doubt a focal point in practice last week. They will need even more improvement as they take on Fresno State next Friday night.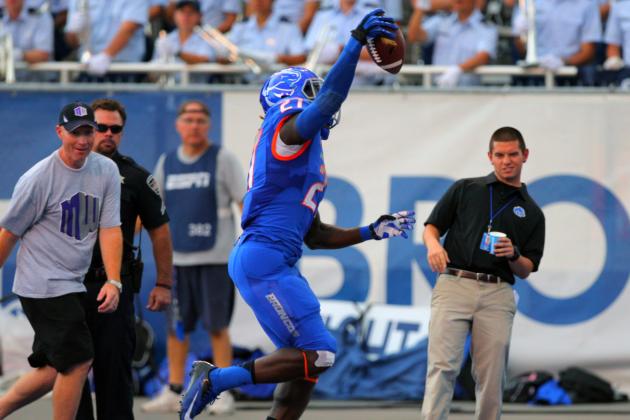 Brian Losness-USA TODAY Sports

As mentioned in previous slides, the Broncos offense played great.
With 533 yards total offense in this game and 472 in the last, Boise State has rolled up over 1,000 yards in two games and 105 total points.
That sounds much more like a Chris Petersen offense than six points against Washington.
This bodes well for the Broncos, as they have several weapons on offense that seem to be stepping up and getting better every game.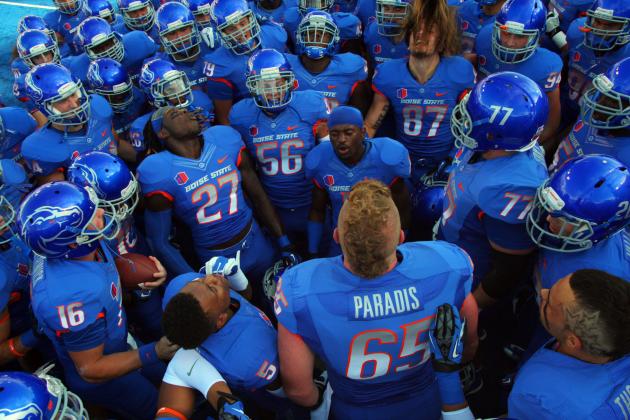 Brian Losness-USA TODAY Sports

The game was a mixed bag for the Broncos. They did some good things, but still showed their youth.
They did get better as the game progressed, but they will need to get much better in the coming days.
Still, head coach Chris Petersen has to be happy with some of what he saw tonight. The Broncos were hustling to the ball, they looked in decent condition and the offense is looking better every game.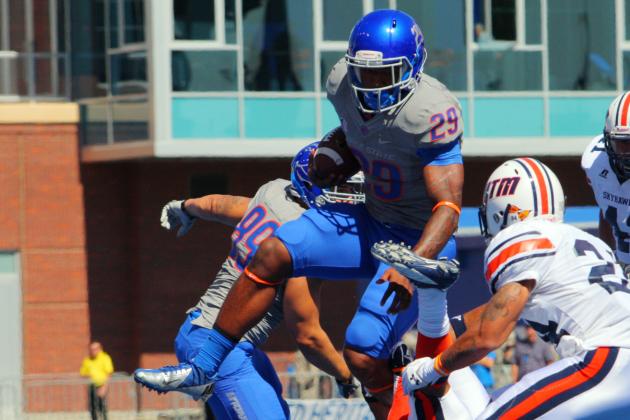 Brian Losness-USA TODAY Sports

True freshman Aaron Baltazar is a beast.
He carried 11 times on the night for 47 yards, but it was how he did it that was so impressive. He also looks like he knows how to hold on to the ball.
Every game it seems like this freshman does something else to make the coaches trust him and cause fans to be excited.
He is going to be a special player for the Broncos.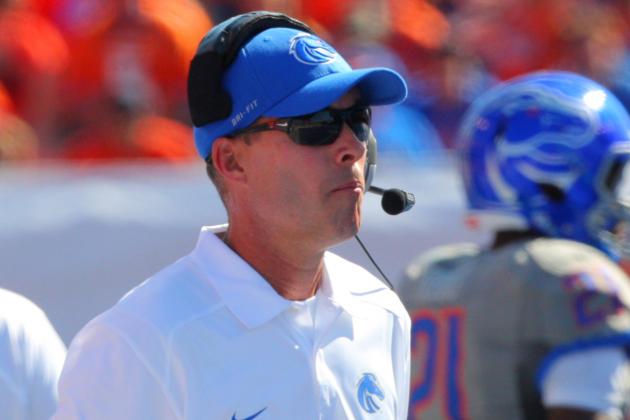 Brian Losness-USA TODAY Sports

Last season there were a few games where Boise State seemed to have trouble in the second half. This season against Washington, the Broncos didn't seem to make any effective adjustments at the break.
Tonight however, whatever the coaching staff did at half time worked.
The Broncos defense held Air Force to a single field goal after the break. In the five drives the Falcons had in the second half, Boise States' defense forced three punts, an interception and that lone field goal.
It was a great adjustment, and it should give the team, the coaches and the fans some confidence going forward.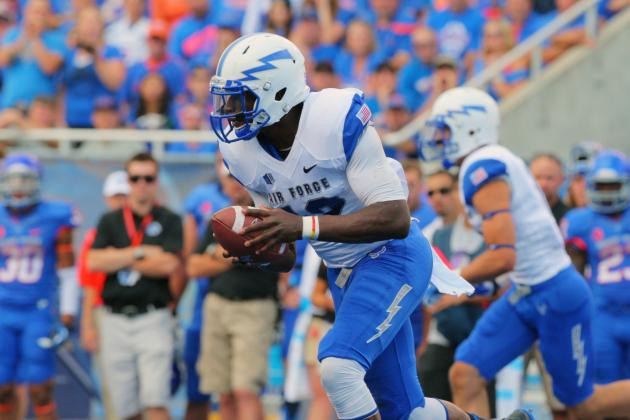 Brian Losness-USA TODAY Sports

Even with stepping up in the second half, it was clear that this young defense needs to get better.
The Mountain West has some potent offenses, and if they don't get better, no matter how good Joe Southwick and the boys are doing on offense, they won't be able to keep up with the likes of Fresno State, Utah State and Wyoming.
If the Broncos want a Mountain West title, it starts with getting better on defense.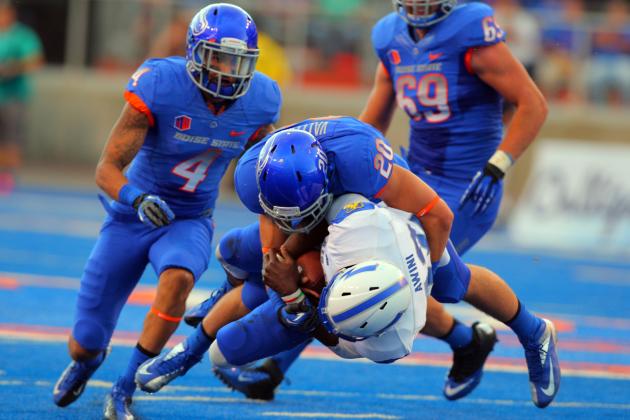 Brian Losness-USA TODAY Sports

On the topic of the defense getting better, no group needs improvement like the secondary.
Next week Boise State takes on Fresno State and senior quarterback Derek Carr.
Air Force quarterback Jaleel Awini only threw nine times. However, he connected on four passes and three of them were dropped passes from wide open receivers.
The Broncos' secondary needs to step up in a hurry.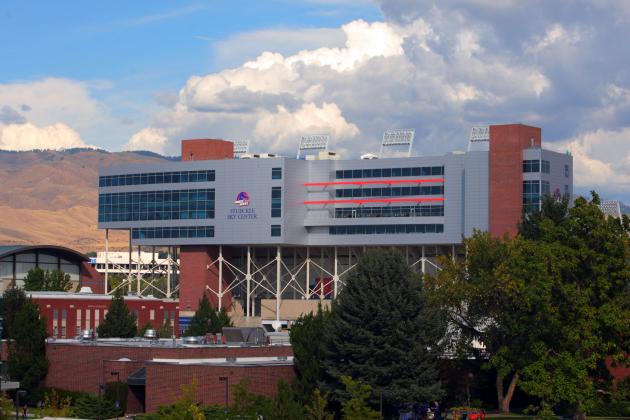 Brian Losness-USA TODAY Sports

When you look at the numbers, this game looks like a total mismatch.
Of course, if you are a Boise State fan, it didn't feel like that in the first half. However, the second half was quite different, and looking at all the figures, it is quite surprising what Boise State did on the night.
On Defense Boise State got better as the night went on. It held Air Force to just 287 total yards in the game. That calculates out at 99 yards passing and 188 yards rushing. The defense also held them to just 17 first downs in the game.
On offense, the Broncos rolled up 533 total yards with 304 yards passing and 229 yards rushing.
Another surprising number is that Boise State controlled the ball for 30:16, while the clock chewing triple-option of Air Force had a time of possession of 29:44.