Mayweather vs. Canelo: Money Worth $41.5 Million Payday for Saturday's Fight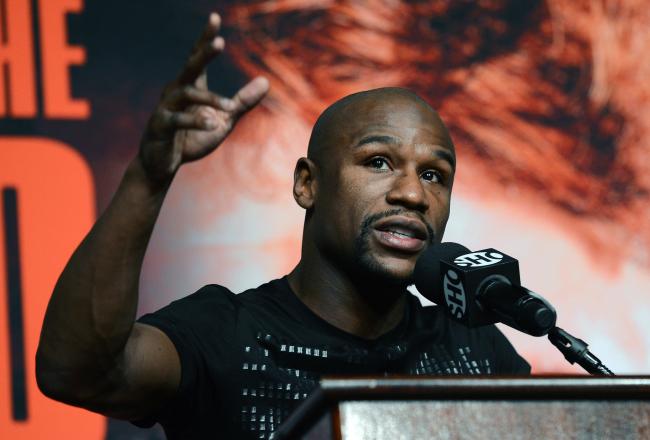 Ethan Miller/Getty Images
Floyd Mayweather is getting paid a very large amount of money to fight Canelo Alvarez on Saturday, but he's going to be worth every penny as millions of people tune in to the pay-per-view fight.
This fight has gained so much hype, it's being called "The One". It certainly appears to already be living to the hype, as Mayweather was able to break the record for the largest payout ever for a boxer, according to Dan Rafael of ESPN.
Mayweather's contract also filed & he's indeed getting all-time record $41.5 million. Congrats to @FloydMayweather on the record. #TheOne

— Dan Rafael (@danrafaelespn) September 11, 2013
Some are likely skeptical that Mayweather is even worth that much for one night, but he most certainly is. By the definition of capitalism, Mayweather is worth whatever he's paid, and apparently one fight is worth $41.5 million.
So how does a fight like this bring in so much money? There are a number of ways. To start things off, the fight will apparently break the live gate record, bringing in over $19.9 million according to USA Today. The fight will break the previous record by $1.5 million. Tickets sold out in less than 24 hours, and based off of the max capacity of 16,800 people, the average ticket price would be somewhere around $1,184.
The pay-per-view sales of the fight are also expected to be massive. A report by Kurt Badenhausen from Forbes.com reported that Golden Boy Promotions chief Richard Schaefer expects a PPV record, saying:
"I have 2.6 million [PPV buys] in my mind. Records are meant to be broken," says a hopeful Schaefer, whose company is co-promoting the fight with Mayweather Promotions. Schaefer acknowledges 2.5 million will be tough to top, but says that even at 2 million buys "The One" will set a PPV revenue record. The addition of high-def telecasts has allowed carriers to jack up pricing to $74.95 for the HD telecast on Showtime PPV, which 60-65% of fans buy instead of the standard telecast. The average cost for the Floyd-Canelo bout is expected to be $70 resulting in $140 million in revenue if two million fans make the purchase.
Other streams of revenue from the fight include merchandising, international TV and several other streams. According to this infographic by Bleacher Report's own Jonathan Snowden, the fight could bring in as much as $1 billion in revenue.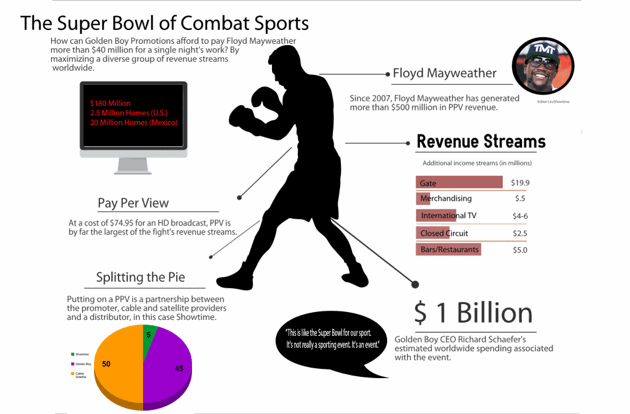 The fight will not only make the promoters and fighters even wealthier, it will also directly bring in revenue to the city of Las Vegas. Hotel rooms will be booked, casinos will be packed and plenty of people will be spending quite a bit of money during their time in Sin City.
Canelo won't be left out of the big payday either. Dan Rafael also reports that Canelo will be getting paid somewhere around $12 million for his participation in the fight.
Contracts are filed w/ NSAC. Canelo making $5M on fight night, but it's misleading. Guaranteed WAY more from PPV. I'm told $12M. #TheOne

— Dan Rafael (@danrafaelespn) September 11, 2013
People can criticize the big payout all they want, but the truth is that Mayweather will be bringing in enough money to all involved parties to be worth the big payday.
Mayweather enjoys counting his money, so let's see what he does after getting paid a cool $41.5 million.
This article is
What is the duplicate article?
Why is this article offensive?
Where is this article plagiarized from?
Why is this article poorly edited?