Akron vs. Michigan: Live Score and Highlights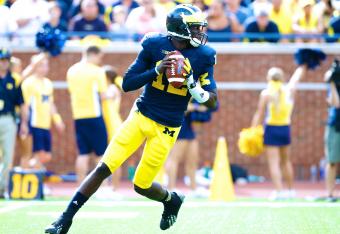 Michigan 28, Akron 24: Final
Team 134 should consider itself very lucky after Saturday's near loss to Akron.
Unranked, overlooked and considered heavy underdogs, the Zips held their own during their 28-24 loss to Michigan at The Big House in Ann Arbor.
Zips quarterback Kyle Pohl will most certainly gain attention due to his stellar performance against the No. 11 team in the nation. Pohl threw for 311 yards and two touchdowns. But he also threw two early picks.
Devin Gardner wasn't the Devin Gardner of Week 2. Michigan's redshirt junior threw for 248 yards, two touchdowns and three interceptions. He was pressured all day by an aggressive Akron defense that seemed intent on making life difficult for four quarters.
Visit NCAA.com for the official box.
Be sure to check out the 10 things we learned about today's game.
Follow Bleacher Report's Michigan Wolverines football writer Adam Biggers on Twitter @AdamBiggers81.
Michigan's 28-24 win (sort of loss) to Akron speaks volumes about Team 134.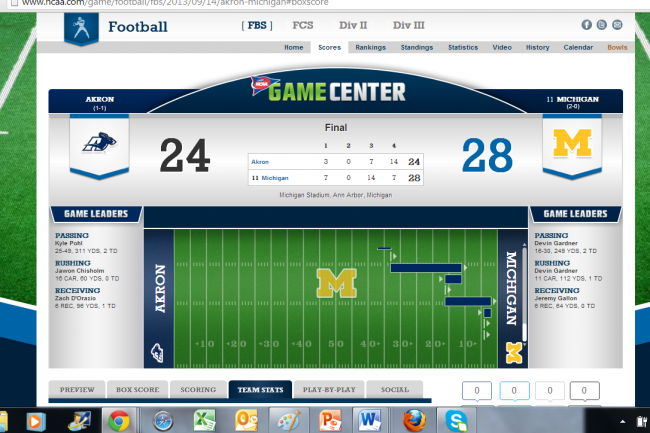 Screen shot of the final courtesy of NCAA.com
Michigan 28, Akron 24: Final
I'm floored after that play. Hate to see teams lose this way. But then again, if you're a Michigan fan, you hate to see your team win this way.
It's only fitting that the final play of the game decides the outcome. Akron stood strong today. What an effort from Pohl, Dillard, Smith...everyone. Never saw this coming.
This quote comes courtesy of former Booth Mid-Michigan sports editor Bruce Gunther, who also happens to be my former boss.
"Lloyd Carr has to be thinking, 'This would let me off the hook for Appalachian State.'"
Akron deserves to win this game. No argument there.
Zips coaching staff will question missed FG before halftime and blunder with play-action on the goal line.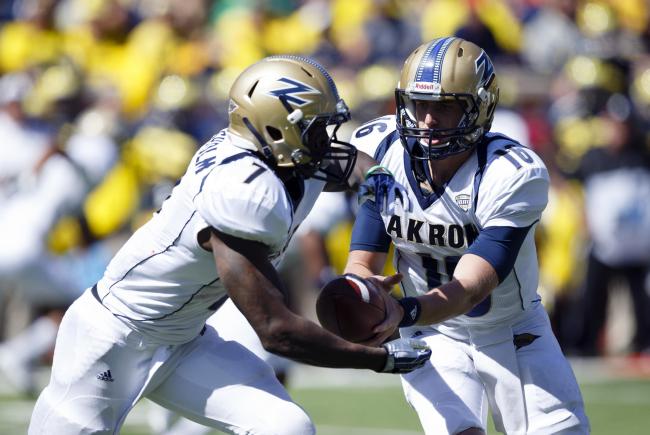 One of the main differences in this game is Akron's success on third downs. Offensively, the Zips are 9-of-17, which isn't bad when looking at Michigan's defense.
Blake Countess' interceptions help, but offsides penalties don't. Akron doesn't need his assistance; it's doing just fine.
Jordan Lewis just saved a touchdown. Nice tackle by the freshman DB. If Michigan wins, his play will be one of the reasons why.
Michigan 28, Akron 24 (2:49, 4th Quarter)
Well, it wasn't Gardner to Gallon as anticipated. But it still works for Michigan. Fitz Toussaint may have just scored the deciding points in this one. But don't count out Akron. The Zips have marched down the field, too.
A pass-interference call (questionable) set up the run by Toussaint.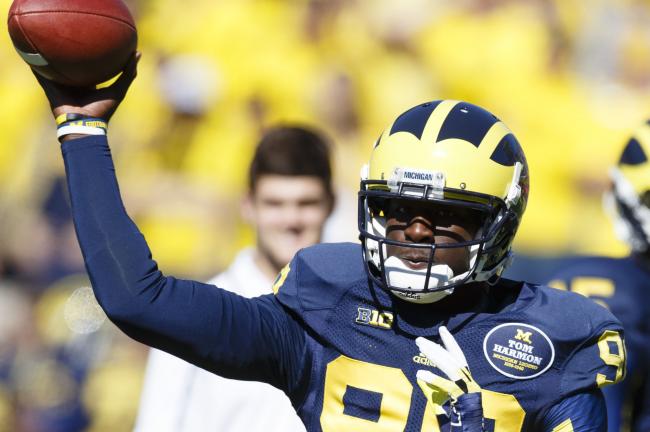 It's going to be Gardner to Gallon for the rest of the game. That's the only quick option at this moment. Michigan's offense hasn't shown that it's more than that QB-WR tandem thus far.
It was an electric combo against Notre Dame—it'll have to be that and more to beat Akron.
Akron 24, Michigan 21 (4:00, 4th Quarter)
Zips quarterback Kyle Pohl appears to be a on mission. Tyrell Goodman's first catch of the year has been the biggest one of the season for his team.
This is stunning.
Hate to say it, but I called it.
Akron QB Kyle Pohl just laced one down the right sideline to L.T. Smith, who has two absolutely huge catches today. Touchdown is being reviewed. Looks like he got in to me, though.
Kyle Pohl will be the most talked about MAC player of the week. Book it. This guy has been more than a manager—he's been a leader for Akron.
According to a BTN graphic, Akron hasn't won on the road since 2008. The Zips are certainly playing like they want that to change.
Coach Terry Bowden's staff has done a great job at remaining calm and organized, minus the play-action call during the last drive that cost the team a touchdown (most likely).
Still waiting for the down-field missile. I have a feeling that it's coming soon. Don't be surprised to see Akron pull something crazy as the clock continues to shrink.
I couldn't resist using this fan's Tweet. But whose funeral is he talking about?
Big turnout for a funeral. RT @umichfootball Michigan Stadium Attendance: 107,120

— Robert Hilton (@HiltyBob) September 14, 2013
If you're not rubbing, you're not...playing football?! Taylor Lewan trades a little paint with an Akron defensive lineman. Let's go racing, boys. OK. I'm not very good with the NASCAR jokes. I think that's what they say before each race.
Akron probably just cost itself a win with that play-action nonsense. No reason to put the ball in the air.
I said this earlier, but it didn't happen. Like last time, I mean it: If Akron scores, The Big House will be silent. What a showing from the Zips today. Michigan has to take a serious look at itself after today. Part of the blame goes on coming down from the Notre Dame game—but that's no excuse.
And L.T. Smith just stretched out to make the catch of the day from quarterback Kyle Pohl. What poise. What touch. What. A. Catch. The Zips are knocking on the door for another one.
Now is a good time to change the pace.
Michigan Stadium Attendance: 107,120

— Michigan Football (@umichfootball) September 14, 2013
Lewan walked off the field under his own power. That's a good sign. Close call. The Zips defender was pushed into back of Lewan's knees. It was a purely accidental play that's part of the game, unfortunately. These guys take a push to the knee from another heavyweight, and it's always an issue of concern.
Taylor Lewan is on the ground, writhing in pain. Not a good sign for the offensive line. If the All-American senior goes down, the O-line goes with him.
Michigan 21, Akron 17
Devin Gardner's second pick-six in two games. What is going on with this guy? He looked so polished against Notre Dame. Today, he looks like a guy who's new to the position and barely experienced enough to manage a home game against a perceived lower-tier opponent.
Justin March's 27-yard interception just turned this game around for the Zips, who are playing Michigan for the first time.
Maybe that's why they're so confident?!
This article is
What is the duplicate article?
Why is this article offensive?
Where is this article plagiarized from?
Why is this article poorly edited?