Jets vs. Patriots: Full Roster Report Card Grades for New York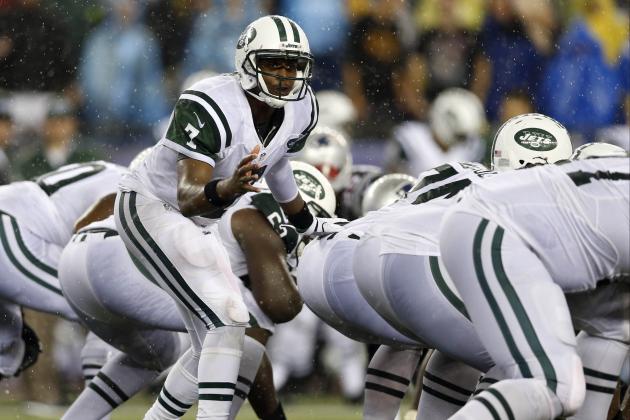 Greg M. Cooper-USA TODAY Sports

The New York Jets have come back to earth following an ugly 13-10 loss to the rival New England Patriots, but there were certainly a lot of winning performances from many players on both sides of the ball.
While Geno Smith and his wide receivers came up short, the running game came alive after being nonexistent in Week 1. The defense may still have some issues in coverage in the back end, but there is no denying that the Jets have one of the best fronts in the AFC.
Here are full roster grades for the Jets heading into Week 3.
Begin Slideshow

»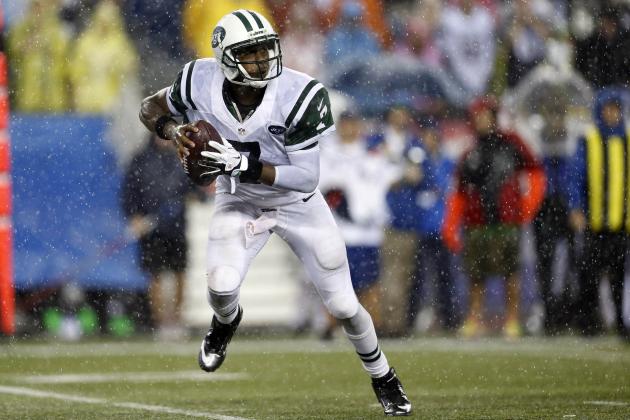 Greg M. Cooper-USA TODAY Sports

Geno Smith: C

Smith took a step back in his second start, as his tendency of holding onto the football for too long in the pocket led to a handful of sacks he should not have taken. His three turnovers were the difference in the game.
However, for as many plays as he left on the field, his wide receivers were dropping or fumbling away even more quality throws that should have been completed.
While Geno certainly deserves some of the blame for the Jets' offensive struggles, an adequate performance from his supporting cast may have resulted in a win—and we would be talking about how Geno Smith is 2-0 rather than dissecting his faults.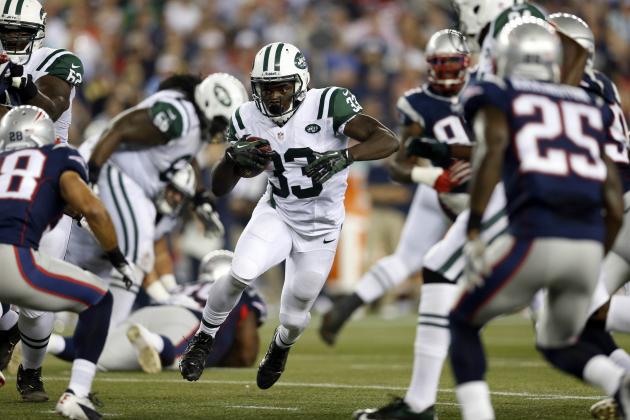 Greg M. Cooper-USA TODAY Sports

Bilal Powell: B-

Bilal Powell did not put up overly impressive statistics (3.7 average), but he had a few timely runs, was effective on a couple of screen passes and was the only Jet to find the end zone.
It was another solid (if unspectacular performance from the reliable Powell, but he may start to lose some playing time if Chris Ivory is able to build off of his impressive performance.
Chris Ivory: B

This was easily Ivory's best game as a Jet. He showed off his physical style in a 52-yard performance in which he averaged 4.2 yards per carry.
Ivory is not as good in the passing game as Powell, but he showed that he is much stronger between the tackles, able to drag defenders for extra yardage.
Ivory has been a disappointment through the preseason and the first week of the season, but he earned a larger allotment of carries (13) than what he got on Thursday night.
Tommy Bohanon: C

Tommy Bohanon only had four carries, but one of them was for a key first down. Through two games, the rookie has at least shown that he is capable of being a starting fullback in the NFL.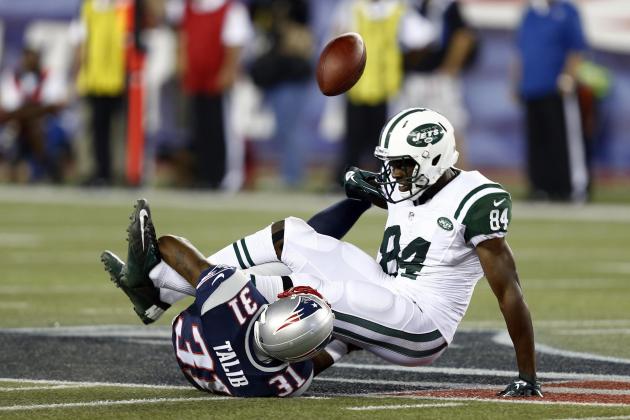 Mark L. Baer-USA TODAY Sports

Santonio Holmes: C

It was another quiet night for Santonio Holmes (just three catches), but it is clear that he is still not back to his old self after suffering from a Lisfranc injury last year.
Holmes did, however, have a clutch third-down grab near the sidelines, showing off the great body control that allowed him to make his famous catch in the Super Bowl.
It may be a while before Holmes is back to the dynamic player we are used to seeing, but he can still be a viable target while he continues to heal. His production should increase with each week.
Stephen Hill: C-
For a player who is trying to overcome a poor public image, Stephen Hill did just about everything possible to strengthen the negative perception of him.
Hill dropped a handful of passes and fumbled his first completion of the game. Despite his huge frame, he was tackled by a small defensive back in open space less than a yard away from the first-down marker.
Hill did show off his leaping ability on a long reception late in the game, and he was not aided by stellar quarterback play, but drops and concentration issues continue to be a problem for the former second-round pick.
Clyde Gates: D

Clyde Gates got himself in position to make a lot of huge receptions, but he simply dropped just about every chance he had to make a game-winning play. His end-zone drop could have been the difference in the game.
Blessed with great speed, Gates is making visible improvements in his route running. Still, Gates can run the greatest routes in the world—but none of it matters if he is going to keep dropping passes.
The Jets certainly missed the sure-handed Jeremy Kerley after watching Gates drop just about every pass that came his way.
Ryan Spadola: D

The preseason sensation finally got to see some regular-season action because of the injury to Kerley, but all he did was contribute to the drop count. Ryan Spadola did not record a reception.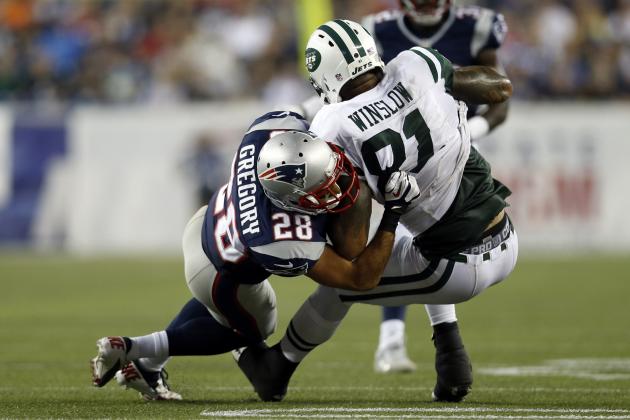 Greg M. Cooper-USA TODAY Sports

Kellen Winslow: C
Kellen Winslow cooled off after his breakout Week 1 performance, only catching three passes for 16 yards. Even more disappointing was how he had a chance to have another big day working against the slower linebackers for the Patriots.
Winslow deserves credit for being a part of the strong running game as a blocker, but expectations for Winslow are back down to earth after an underwhelming night as a receiver.
Jeff Cumberland: F

Known as more of a receiver than a blocker, Jeff Cumberland was virtually invisible on Thursday night. He had no receptions despite getting one more snap than Winslow (38).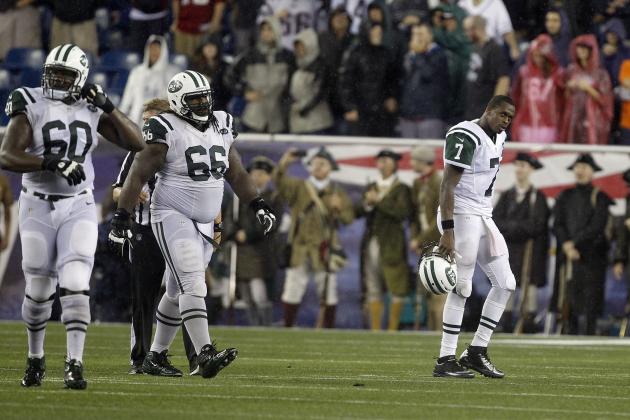 The Star-Ledger-USA TODAY Sports

D'Brickashaw Ferguson: B-

It was an unusual night for D'Brickashaw Ferguson. Known as a stellar pass-protector and an average run-blocker, Ferguson was actually terrific as a run-blocker and suspect in protection.
According to Pro Football Focus (subscription required), Ferguson allowed a rare sack and two hurries. Smith did not give him a ton of help by holding onto the ball; for a player of Ferguson's caliber, this was an "off night" in protection.
He was, however, very solid in the run game and was a big reason why Ivory was able to average over four yards per carry.
Vladimir Ducasse: A
By far, the biggest surprise of the night was how well Vladimir Ducasse handled Vince Wilfork at left guard. He even "pancaked" Wilfork on at least one occasion.
Ducasse was all but labeled as a bust as a former second-round pick, but he has held his own as in his first season as a full-time starter. Perhaps the light has finally flipped on for Ducasse after all.
Nick Mangold: B+

Nick Mangold had another solid night grading out positively in PFF's ratings. He did allow one quarterback hurry, but he had a clean sheet otherwise in protection.
Mangold's biggest error was diving at Aqib Talib's legs too late after the final interception—which he will likely pay for with a hefty fine.
Willie Colon: B

Willie Colon turned in a solid performance as both a pass- and run-blocker. He did not allow a sack, but he did let some pressure get by that resulted in two quarterback hurries and a hit. He was also hit with two penalties (one of which was an ejection for touching a referee at the end of the game).
Austin Howard: B-

Austin Howard was far from being a liability at right tackle, but he was the weakest link of the five offensive linemen. He allowed a sack and two hurries in pass protection while grading out as the weakest run-blocker on the line for the Jets.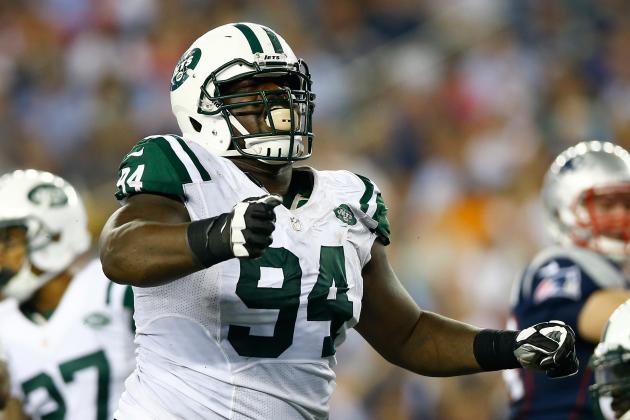 Jared Wickerham/Getty Images

Damon Harrison: A+

Damon Harrison continued to build off of his tremendous performance in the season opener, dominating the line of scrimmage in the run game.

Harrison took all but eight of the snaps at nose tackle and appears to have stolen the starting job from Kenrick Ellis, who is dealing with back problems. The Jets have now stopped two stud running backs, Doug Martin and Stevan Ridley, in consecutive weeks thanks largely to the play of Harrison.
Kenrick Ellis: B

The Jets are easing Ellis back into his role, as he only played eight snaps. He was effective with one solo tackle, but he is not quite dominating up front like Harrison has of late.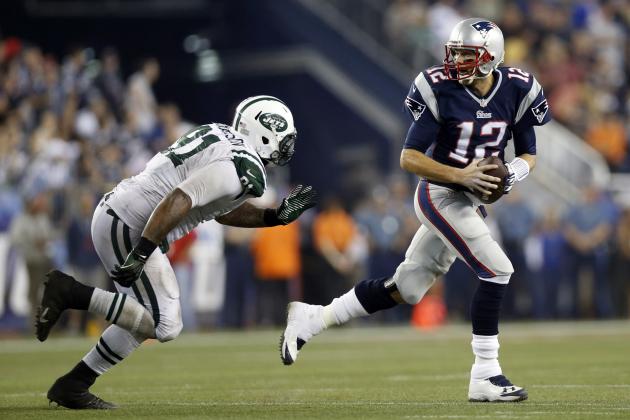 Greg M. Cooper-USA TODAY Sports

Muhammad Wilkerson: B-

Muhammad Wilkerson was a part of another week of dominant run defense, but he was not as effective as an individual as he usually is.
He is facing a lot more double-teams this year, which is making it more difficult to make more impact plays. Wilkerson recorded just two tackles in the game.
Wilkerson was also quiet as a pass-rusher, recording just one quarterback hurry.
Sheldon Richardson: A-

Originally drafted to be more of a situational pass-rusher, Sheldon Richardson is quickly becoming one of the most dominant defenders on the team. Not only is Richardson delivering as a pass-rusher (three quarterback hurries) but he is holding up in the run game as well—an area of the game that he was somewhat lacking from his days at Missouri.
The fact that Richardson is developing into a well-rounded player so quickly gives the Jets even more flexibility on the front line.
Leger Douzable: C

Leger Douzable played in just 11 snaps and recorded one tackle. He is still a rotational player at this point.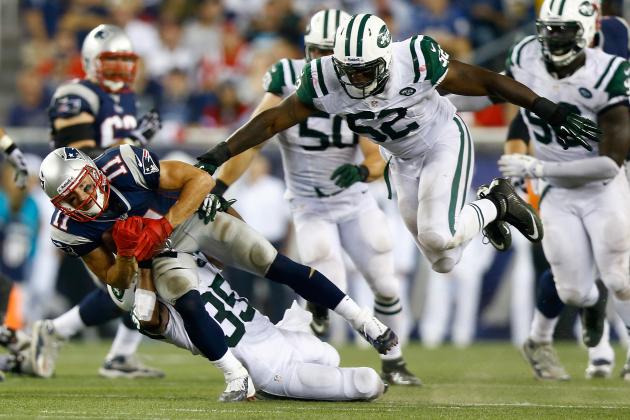 Jared Wickerham/Getty Images

David Harris: B

David Harris may never be able to live up to his bloated contract, but he has appeared to have returned to form as a formidable run defender this season.
The Jets are keeping Harris out of situations where he has to cover, allowing him to focus on run responsibilities and blitzing. Harris helped bottle up Ridley with five tackles and had a quarterback hurry.
Demario Davis: A-

Demario Davis has all but solved the Jets' speed issues at linebacker, as he has taken over all the responsibilities in coverage from Harris. He gave up just two completions for 15 yards.
According to Pro Football Focus (subscription required), Davis was the best run defender on the Jets as well.
Davis has developed into the multidimensional linebacker the Jets have been in need of for a long time.
Calvin Pace: B

It was a relatively quiet night for Calvin Pace, spending most of his time setting the edge on run downs. He was, however, actually strong in pass coverage, allowing just one catch for four yards.
Despite his age (32), Pace is moving around much better in space than he was a year ago.
Antwan Barnes: C-

Antwan Barnes had a bit of a "down" game after a fast start to the season last week. He graded out negatively in the run game (via PFF) and recorded just one quarterback hit.
Barnes was brought on to be a situational pass-rusher, and it appears as if the wear of being a full-time player in relief of the injured Quinton Coples is taking its toll on other aspects of his game.
Garrett McIntyre: B+
Garrett McIntyre is slowly starting to get more playing time than Barnes in the base defense, and not just because of his ability as a run defender. He recorded the team's only sack on Tom Brady and had three other hurries.

Ricky Sapp: C

Ricky Sapp played in just three snaps but recorded one tackle.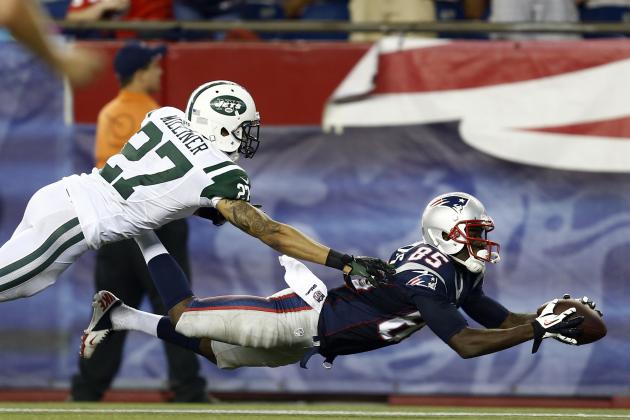 Mark L. Baer-USA TODAY Sports

Antonio Cromartie: C

Antonio Cromartie's slow start has carried over to Week 2. Despite having a lot of favorable matchups against a depleted Patriots' receiving corps, he was picked on, especially early in the game. He was targeted six times and nearly let up a long touchdown but was spared by a rare errant throw from Brady.
Cromartie is far from being a liability, but the Jets expect more out of a player who was so dominant a season ago.
Dee Milliner: C-

Dee Milliner was the most targeted of all the Jets' cornerbacks, and for good reason. The rookie only gave up three catches, but it could have been much worse—he was beat badly on a long touchdown pass that was ruled incomplete on a challenge.
Milliner's performance wound up getting him benched, likely because he was not playing as physical at the line as Rex Ryan demands from his cornerbacks.
Milliner has a lot of ability, but he seems to be in a little over his head as a starting NFL corner this early in his career.
Kyle Wilson: C
Kyle Wilson actually put up a solid outing at cornerback in place of the struggling Milliner, but where Wilson erred was at punt returner in place of the injured Kerley.
Not only did Wilson fair catch a handful of punts that he could have easily returned, he was hardly effective when he did return them. He mistakenly "forgot" to return one punt, but he was so ineffective as a returner that the Jets decided to use an 11-man block near the end of the game.
Wilson's game looked a lot worse than it really was, but he seems to make a few mistakes every single game.
Darrin Walls: B+
Darrin Walls was actually the Jets' best cornerback of the game. He made a great play on a long pass defense when filling in for Milliner, pinning his receiver to the sideline and nearly making an interception.
After such a strong preseason, Walls has earned the starting cornerback job that will likely go to either Wilson or Milliner simply because of where they were drafted.
Ellis Lankster: C

Ellis Lankster played just three snaps and recorded one tackle.
Isaiah Trufant: C
Isaiah Trufant also played in just three snaps, but he was beat on a third-down completion.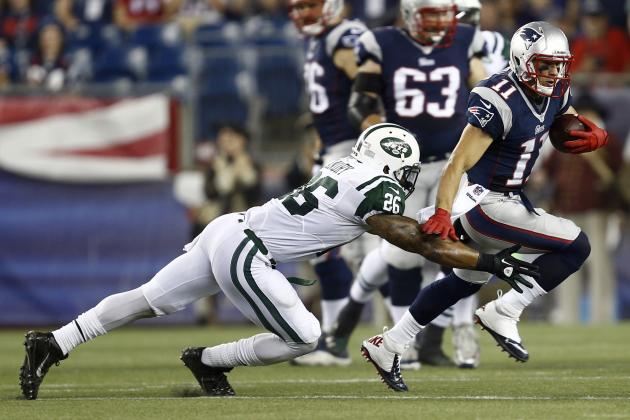 Mark L. Baer-USA TODAY Sports

Dawan Landry: C

Dawan Landry did not have his best night in coverage, but he was not put in a great position to succeed. He was often assigned to cover Julian Edelman in coverage, which is not a good matchup for a player who is supposed to be more of an in-the-box run defender.
Landry was much better against the run, however, notching five tackles.
Antonio Allen: C

Like Landry, Antonio Allen was also forced to cover faster wide receivers and was beat more often than not (he benefited from a lot of drops).
Also like Landry, Allen was much more effective against the run with seven tackles of his own.
Jaiquawn Jarrett: C

This was a very quiet game for Jaiquawn Jarrett, who played in just 18 plays and recorded just one tackle.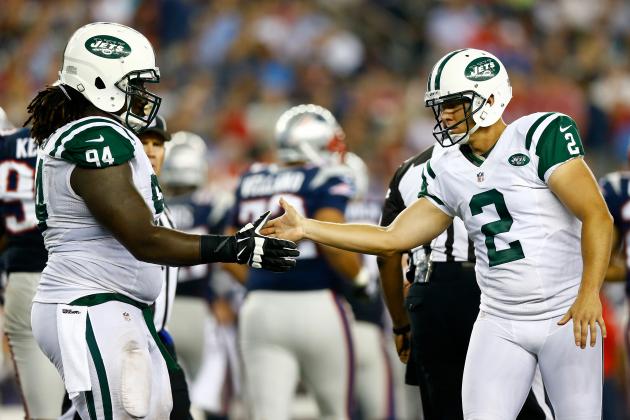 Jared Wickerham/Getty Images

Nick Folk: A

Nick Folk was perfect on his kicks (one 37-yard kick and an extra point) and had good distance on his kickoffs.
Robert Malone: C

After a strong showing in the opener, Robert Malone had an inconsistent follow-up performance. Most of his (many) punts were solid, but he had a couple of short kicks that helped Edelman make a few nice returns on.
Advanced statistics provided by Pro Football Focus (subscription required).