Floyd Mayweather Will Knock Out Canelo Alvarez Late for Marquee Victory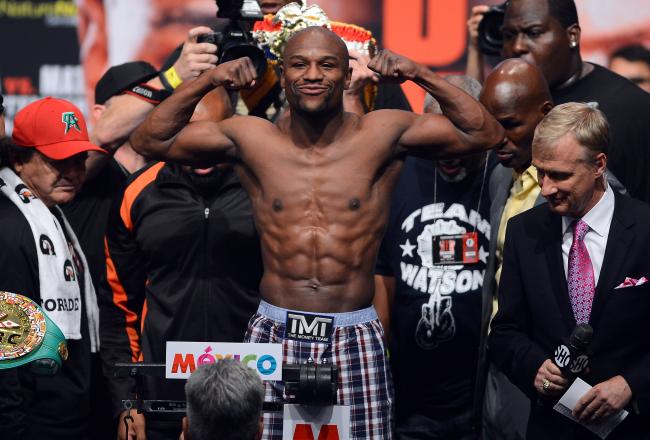 Ethan Miller/Getty Images
Conventional wisdom says Floyd Mayweather won't knock out Canelo Alvarez when the two hit the ring for "The One."
After all, Mayweather is a defensive fighter who picks and chooses spots while safely avoiding the offensive output of his opposition, ultimately dragging fights out and wearing his opponent down before scoring the win.
Mayweather has won 44 matches in his career, but only 26 have come via knockout.
Now, this Alvarez kid? He's the guy who knocks people out. In 42 victories, he has knocked out 30 victims, using a brutal offensive style to simply overwhelm the opposition through a flurry of combos and power punches he lands over 50 percent of the time.
Funny thing is, with the way these two styles contrast, it'll be Mayweather scoring the knockout via his defensive approach.
Mayweather is the type who out-thinks his opponent in the ring. He adapts as the match goes on while surviving on sound defense that allows all punches to connect only 17 percent of the time. This grind-it-out style frustrates opponents and works to exhaust them at the same time.
For example, look to Mayweather's victory back in May over Robert Guerrero. The fight began even, with Guerrero attempting an aggressive style similar to what Alvarez is set to use Saturday. By the mid rounds, Mayweather had timed Guerrero's advances perfectly and began landing punches at will, ultimately riding out the strategy to a victory by decision.
Canelo is no Guerrero, but Mayweather will be sharper now that he had a tune-up match of sorts.
Meanwhile Canelo will be stuck battling the catchweight, which is two pounds under 154 pounds—the weight he's accustomed to fighting at. His trainer, Ronnie Shields, says via ESPN The Magazine's Pablo S. Torre that Canelo will be back to at least 164 pounds by the time the fight rolls around, but what impact will that have on Canelo?
That's gaining at least 12 pounds in a 24-hour period. Meanwhile, Mayweather will continue to hover comfortably around the catchweight at tip-top shape.
Alvarez has battled stamina issues in the past, and dropping to an uncomfortable weight before jumping back up and going the distance with Mayweather will only further those issues—meaning Alvarez needs to end it early.
Which he won't.
It's been attempted in the past. Rather, it's been attempted 44 times.
Mayweather will weather the storm through the first few rounds as per the norm and then begin seeking a knockout, something he's vowed to do via Dan Rafael of ESPN:
You know, a lot of times I hit these guys and I make them go into survival mode...Even in the Robert Guerrero fight, I was looking for the knockout, but I hurt my hand. So I wasn't impressed with myself, because I didn't get the knockout...This time around, I'll be looking for the knockout...
While Mayweather has only knocked out an opponent once in his last five matches, the perfect combination is in place for "Money" to floor Alvarez for the count.
Will Mayweather knock out Canelo?
Not only is Alvarez inexperienced, he's at a disadvantage thanks to the catchweight—the price of being allowed to fight Mayweather—and he's not used to a stage this big.
At face value, it's easy to think that if one man is going to score a knockout in the big fight, it'll be Alvarez. Dig deeper and it's Mayweather who can avoid the knockout blows while dishing one of his own thanks to the perfect storm of circumstances in his favor.
The victory will be huge for Mayweather, and it will announce to the world that he still has "it" while he looks for his next major bout.
Note: All statistics are courtesy of CompuBox.
Follow B/R's Chris Roling on Twitter for more news and analysis @Chris_Roling
This article is
What is the duplicate article?
Why is this article offensive?
Where is this article plagiarized from?
Why is this article poorly edited?