Jim Furyk shot 12 under par on Friday to post the sixth 59 in history, as noted by the PGA Tour, but he isn't the only hot golfer heading into the weekend at the 2013 BMW Championship.
History. Jim Furyk is the sixth player in #PGATOUR history to shoot 59. #FedExCup

— PGA TOUR (@PGATOUR) September 13, 2013
Conway Farms Golf Club has proven itself to be a course where low scores are within reach for those golfers who can get on a roll. Co-leader Brandt Snedeker shot eight under par on Thursday to lead the charge, and five golfers scored five under par or better on Friday.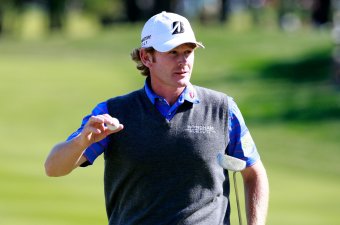 Sam Greenwood/Getty Images
This sets up what should be an exciting weekend of golf.
Snedeker and Furyk are tied atop the leaderboard at 11 under par, with tour veteran Zach Johnson sitting in third place by himself, three shots back at eight under par.
This tournament will determine the final 30 for the Tour Championship, which kicks off next Thursday as the final event on the FedEx Cup schedule. Nobody wants to miss out on the action, which means the competition this weekend will be intense.
Here's a look at the golfers who enter Saturday's third round with some excellent momentum after hot rounds on Friday.
Jim Furyk
Twelve. Under. Par.
In one round.
Many tournaments finish all four rounds without hitting that mark, but Furyk was unstoppable on Friday. As noted by Justin Ray of ESPN, he was 11 under par through 13 holes, which is about as perfect as you'll ever see in real life:
Jim Furyk (-11 through 13 holes) now needs to play the last 5 holes in 2-under to shoot the 1st 58 in PGA TOUR history.

— Justin Ray (@JRayESPNGolf) September 13, 2013
Most people who play the Tiger Woods video games don't even shoot that low.
By the time he was finished, Furyk posted just the sixth 59 in history, as was noted in the opening, but it was the first time anyone had ever fired a 59 in a round during which they also carded a bogey, as noted by Ray:
Jim Furyk: 1st player in PGA TOUR history to have a bogey in a round and still shoot 59.

— Justin Ray (@JRayESPNGolf) September 13, 2013
This round will go down in history as one of the greatest of all time, but Furyk can't rest on his laurels. He's tied with Snedeker atop the leaderboard, and he has a history of playing poorly in the final rounds of big tournaments.
Jordan Spieth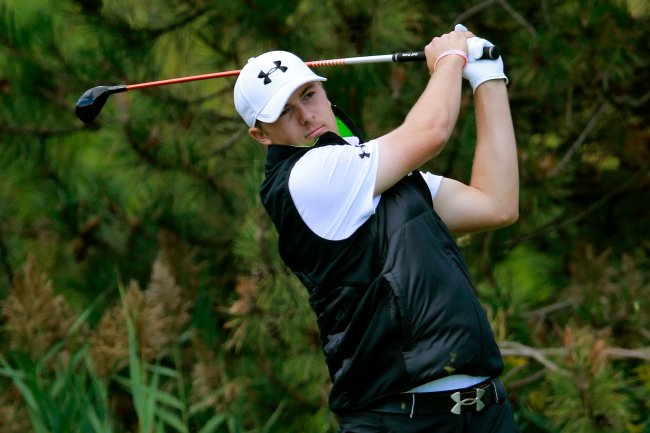 Sam Greenwood/Getty Images
While Furyk was deservedly making headlines, Spieth was quietly putting together another stellar tournament. Prior to the event, he posted top-four finishes in two of his last three tournaments, and he's in great shape for another top finish this week.
The 20-year-old superstar in the making posted an impressive 65, which puts him in great position this weekend.
By the time he was finished with 11 holes, Spieth had already posted six birdies, which was tied at that point for the lowest score of the day, as noted by the Longhorn Network:
Jordan Spieth going low at the BMW Championship. He's -6 through 11, tied for the best round of the day.

— Longhorn Network (@LonghornNetwork) September 13, 2013
A couple of late bogeys marred what was otherwise a brilliant second round, but Spieth matched them with two birdies to finish with his final score of six-under par.
He's currently tied with five other golfers in fourth place, and given the way he's been playing this year, nobody should be surprised if he's right there in the thick of things on Sunday afternoon.
Jimmy Walker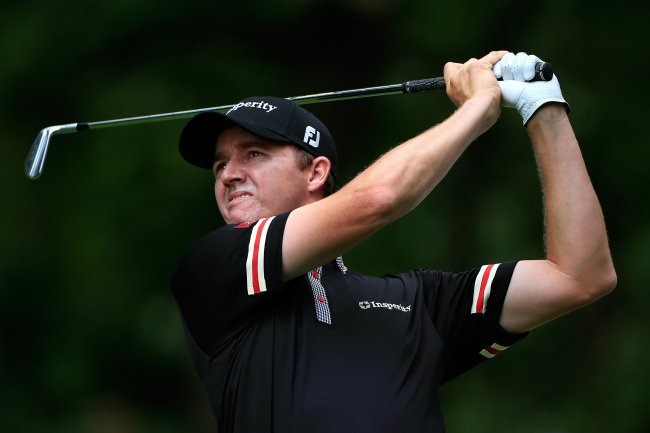 Michael Cohen/Getty Images
Walker is a veteran with a dozen years under his belt, but he's never before won on the PGA Tour. This season marks his best showing as a pro, as he's notched one second- and third-place finish in 2013.
Needless to say, winning the BMW Championship and earning a trip to the Tour Championship would be the most impressive thing Walker has ever done, and after matching Spieth with a 65 on Friday, he actually has a chance to make it happen.
As noted by Fantasy Golf, Walker carded eight birdies in the second round:
Jimmy Walker: Walker finds eight birdies in second round - http://t.co/GbCmXsdlEF http://t.co/NUm2rQFOIM

— Fantasy Golf (@FantasyGolf) September 13, 2013
Like Spieth, he logged two bogeys to sully his scorecard, but heading into the weekend, he's tied with four golfers in ninth place at five under par.
If he were to finish in this exact spot, Walker would be just shy (No. 32) of making it into the Tour Championship, which features the top 30 golfers in the FedEx Cup standings. It's going to take a couple more strong showings for this career journeyman to reach the next level.
Follow me on Twitter: @JesseReed78.