Canelo Alvarez Makes Weight but Needs More Mass to Defeat Floyd Mayweather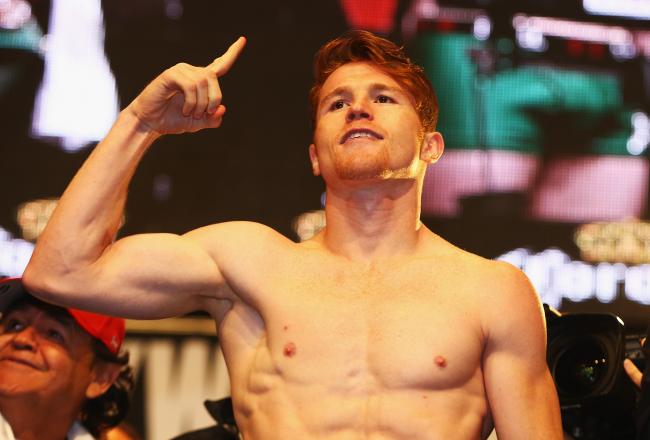 Al Bello/Getty Images
The biggest controversy surrounding Saturday's matchup between Floyd Mayweather and Canelo Alvarez was the 152-pound catchweight that each fighter would need to meet to participate in the bout.
It's an issue because that was a tall order for Canelo to fulfill, who normally fights at 154 pounds.
Fans of the hotly-anticipated matchup can breathe easy, because Canelo weighed in at a clean 152 pounds on Friday per ESPN:
Canelo Alvarez weighed in at 152 lbs. Floyd Mayweather weighed in at 150.5 lbs. LIVE weigh-in on ESPN right now.

— ESPN Stats & Info (@ESPNStatsInfo) September 13, 2013
So now things are official between the two.
One problem—Alvarez needs to put some mass back on in a hurry.
He is at a huge disadvantage here, and he has been since the terms of the fight were announced. As Bob Velin of USA Today elaborates, Canelo and his camp believe they were forced into the catchweight to give Mayweather an advantage. Mayweather and his team confirmed that notion:
We just took advantage of a situation. It's no different from basketball, football or baseball. You're always going to put your opposition at a disadvantage, if you can. You break 'em down and you go in for the kill...this is business at the end of the day, and we're going to hold his feet to the fire, and his manager the same way.
Therein lies the issue—Alvarez wanted a shot at being the first to take down Money Mayweather, but to do so he needed to give Mayweather what he wanted.
Alvarez now has to gain back mass he would typically fight with in a hurry. His longtime trainer, Ronnie Shields, claimed recently that Canelo would be back to his typical fighting weight of 164 or more pounds by the time the match rolls around on Saturday per ESPN The Magazine's Pablo S. Torre.
Canelo better be if he wants to stand a chance.
It's no secret Canelo is comfortable fighting in the 160-pound range and uses his weight advantage paired with his knockout power to simply bully the opposition, hence his 30-career knockouts.
If Alvarez, his nutritionist and staff for some reason fail to add back the necessary weight, it's going to be a long day at the office in one of the decade's biggest bouts.
Check out this stat from ESPN's Andrew R. Davis, who neatly describes how Canelo has developed into one of the best in the business at adding weight after the final weigh-in:
Both camps would claim that those numbers favor their fighter, but what can't be denied is that adding weight back will provide Canelo superior strength. In his past seven fights, Alvarez has gained an average of 13.1 pounds between the weigh-in and fight night, bulking up to as high as 172 against Trout.
Thirteen pounds would place Canelo at 165 pounds, which would mesh well with his aggressive style. Canelo is not suddenly going to become a lighter fighter both in weight and terms of style—he needs to overwhelm the elusive Mayweather to notch a victory.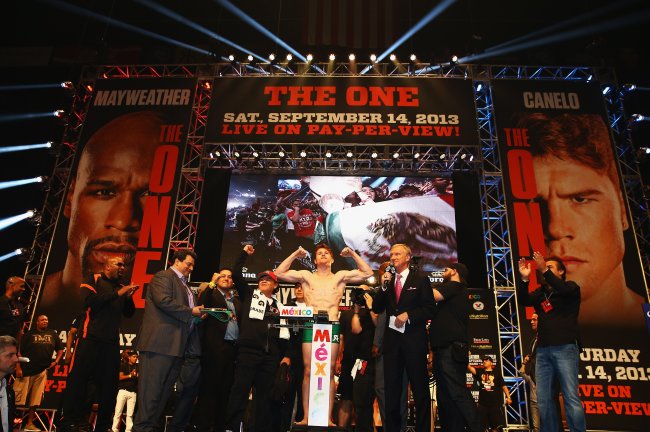 Al Bello/Getty Images
Even that is putting it, well, lightly.
Mayweather's defensive style, which allows less than 20 percent of all punches thrown his way to connect, means Canelo needs to barrage Money early and often. Canelo's more than capable, as he has landed over 50 percent of his power punches.
That's an impressive figure, but it will mean nothing if Canelo does not have the weight behind the swings.
Canelo needs that strength to bully Mayweather against the ropes or into a corner to prevent him from escaping and landing a devastating counter—a trademark he has established through 44 victories.
One half of the drama is over. Canelo made weight, but how his body reacts over the next 24 hours as he attempts to pack mass back on will dictate the outcome of the fight as much as the happenings in the ring.
Note: All statistics are courtesy of CompuBox.
Follow B/R's Chris Roling on Twitter for more news and analysis @Chris_Roling
This article is
What is the duplicate article?
Why is this article offensive?
Where is this article plagiarized from?
Why is this article poorly edited?