Ranking the Rotations of Potential 2013 MLB Playoff Teams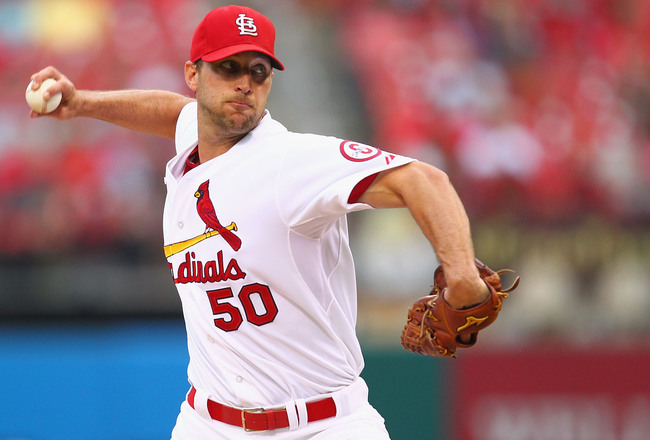 Adam Wainwright leads an otherwise inexperienced St. Louis Cardinals rotation.
Dilip Vishwanat/Getty Images
Gaining admittance into the MLB playoffs, securing some sort of home-field advantage and advancing as deep as possible all hinge on a team's starting pitching.
Most contenders have relatively strong rotations, but these rankings reflect the variance in the depth and quality of each staff.
The importance of a fifth starter is reduced once October begins, yet rotations' weak links can still have a major influence of the playoff seeding in both leagues during the coming weeks. As a result, the No. 5 guys for these 15 relevant teams were all taken into consideration (albeit to a lesser extent than their rotation mates).
Read on to find out where the division leaders and wild-card hopefuls rank relative to one another in this vitally important aspect.
*All stats courtesy of FanGraphs unless otherwise noted. Updated through the games of Sept. 17.
15. Cleveland Indians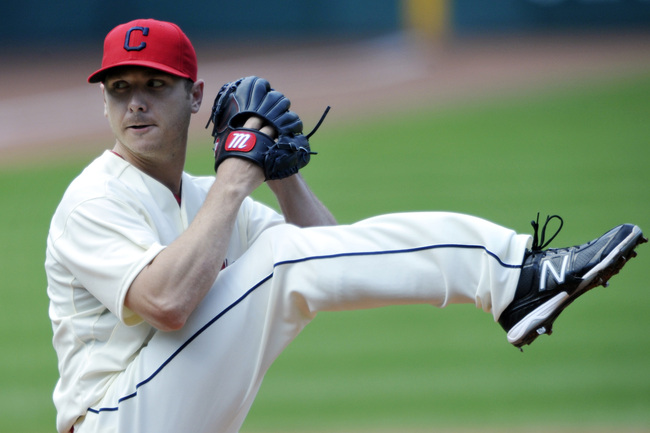 Scott Kazmir in 2013: 4.34 ERA, 3.78 FIP, 8.75 K/9 in 145.0 IP.
David Richard-USA TODAY Sports
Rotation Ace: RHP Ubaldo Jimenez
Justin Masterson has obviously spent much of 2013 impressing atop the Cleveland Indians rotation, but he last pitched on Sept. 2.
Sheldon Ocker of the Akron Beacon Journal reports that the right-hander is progressing in his recovery from a strained oblique. However, he's unlikely to make another start in the regular season. What a bummer for the Tribe as they fight for a wild-card berth.
Very quietly, Jimenez has maintained a stellar 2.52 earned run average in his 20 starts since Memorial Day. The caveat is that he's only lasting about six innings per outing in that span, seldom coming close to a complete game.
Command is always a concern for the 29-year-old, although he has issued only three walks through his first three September starts.
The Rest: LHP Scott Kazmir, RHP Corey Kluber, RHP Zach McAllister and RHP Danny Salazar
None of these alternatives have been in the rotation for the entire season. Kazmir comes closest with 27 total starts, but his inconsistency from game to game leaves him under-qualified for the No. 2 role.
Salazar possesses electric stuff as his 11.95 K/9 would suggest. The Indians continue to closely monitor his usage, being that he's a Tommy John survivor enduring the heaviest workload of his professional career.
14. Baltimore Orioles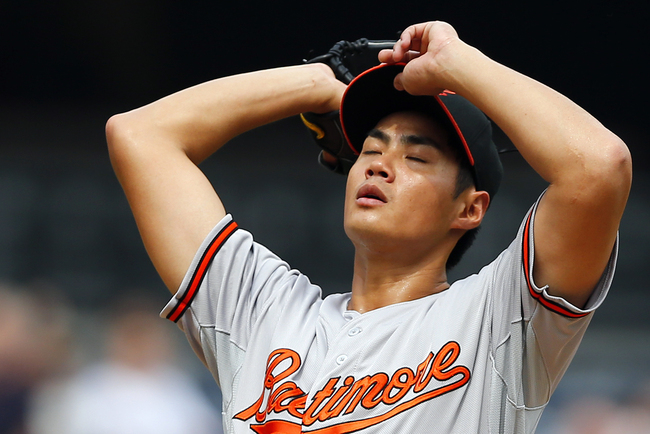 Wei-Yin Chen in 2013: 3.99 ERA, 4.10 FIP, 6.66 K/9 in 121.2 IP.
Rich Schultz/Getty Images
Rotation Ace: RHP Chris Tillman
Tillman ranks a close second behind Adam Jones as a reason why the Seattle Mariners sorely regret paying a king's ransom for Erik Bedard back in Feb. 2008.
The right-hander debuted at age 21 and struggled in parts of three seasons. He averaged merely five innings per start from 2009-2011 with a 5.58 earned run average and 1.45 strikeout-to-walk ratio.
However, since returning to the Baltimore Orioles rotation midway through last summer, he's been way more consistent (3.46 ERA, 2.53 K/BB).
Despite the improvement, Tillman remains vulnerable to the long ball and unable to generate timely swings-and-misses.
The Rest: LHP Wei-Yin Chen, RHP Scott Feldman, RHP Miguel Gonzalez and RHP Bud Norris
With a 65.4 quality start percentage, Gonzalez edges out Chen for the team lead. Ideally, a rotation has someone who's providing adequate length and quality at least seven out of 10 times.
None of these will overwhelm you with their pure stuff, although they partially compensate with solid command. Each member of this trio owns a sub-3.00 BB/9 in 2013 (Feldman slightly worse than that since arriving in midseason trade).
O's manager Buck Showalter has doubts about Gonzalez making his next scheduled start after suffering a mild groin strain in his last outing, according to Eduardo A. Encina of The Baltimore Sun.
If Norris arrived to the majors with any franchise besides the Houston Astros, he would probably be pitching out of the bullpen by now. He hurled back-to-back quality starts upon joining the O's, but has done so only once in his past six opportunities.
13. New York Yankees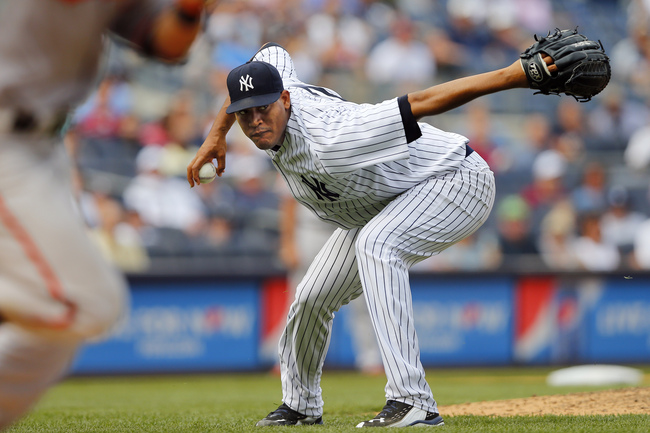 Ivan Nova in 2013: 3.36 ERA, 3.54 FIP, 7.59 K/9 in 123.1 IP.
Rich Schultz/Getty Images
Rotation Ace: RHP Hiroki Kuroda
Kuroda was on the fringe of the American League Cy Young Award race for much of the summer, but he's finishing on a sour note. The 38-year-old has posted an earned run average north of five in each of the past two months.
If nothing else, he can be trusted to consume plenty of innings. For the third straight season, Kuroda is closing in on 200 innings pitched. The only two starts of his 2013 season that lasted fewer than five innings were ones in which he left early to address minor injuries.
The Rest: RHP Phil Hughes, RHP Ivan Nova, LHP Andy Pettitte and LHP CC Sabathia
This certainly isn't Pettitte's first pennant race. The 41-year-old, who has the most career strikeouts in New York Yankees history, paced him well this summer, allowing him to do his best pitching down the stretch.
New York ranks so low on this list due to the big question marks at the back end of its rotation: Hughes (5.07 ERA) and Sabathia (4.90 ERA). No other contender regularly starts a pair of pitchers who struggle so regularly.
12. Kansas City Royals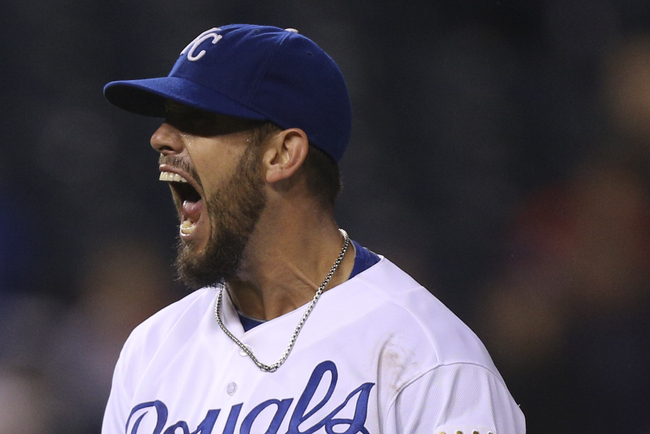 James Shields in 2013: 3.33 ERA, 3.52 FIP, 7.75 K/9 in 213.2 IP.
Ed Zurga/Getty Images
Rotation Ace: RHP James Shields
You cannot say many bad things about Shields.
He's the quintessential workhorse, leading the American League in innings pitched and seemingly always finishing in the top 10 in that category. Despite a career-worst 2.78 BB/9 in 2013, he still intimidates opposing baserunners as well as any right-hander in baseball.
Shields' past eight outings include a 10-run meltdown against the Detroit Tigers, the only exception in a streak of quality starts. In his two most recent trips to the mound, the right-hander limited the Indians to three runs over 14 innings in what were basically must-win scenarios.
The Rest: LHP Bruce Chen, RHP Jeremy Guthrie, RHP Ervin Santana and RHP Yordano Ventura
Meanwhile, the supporting cast hasn't been quite as effective as the Kansas City Royals had hoped.
Chen is a prime regression candidate down the stretch, his 3.11 ERA rapidly approaching his 4.04 FIP. Anybody who initially doubted that signing Guthrie to a $25 million contract was ill-advised, just take a look at his MLB-worst 4.80 K/9 and .289 batting average against this season.
The refreshing surprise has been Santana, who's inducing more ground balls than ever before and operating with new-found confidence in his secondary pitches.
11. Pittsburgh Pirates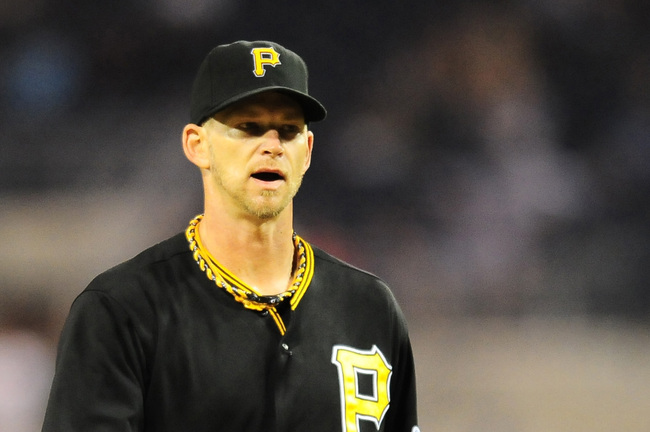 A.J. Burnett in 2013: 3.43 ERA, 2.77 FIP, 9.77 K/9 in 176.0 IP.
Christopher Hanewinckel-USA TODA
Rotation Ace: RHP A.J. Burnett
Burnett hasn't turned in a scoreless start since the third week of April, and he's more than a full year removed from tying together a complete game.
Even so, the 36-year-old is the closest thing the Pittsburgh Pirates have to a rotation leader.
On the other hand, he excels at generating swings-and-misses, particularly with runners in scoring position.
The Rest: RHP Gerrit Cole, LHP Francisco Liriano, LHP Jeff Locke and RHP Charlie Morton
Cole has shed his training wheels and blossomed as a member of Pittsburgh's pitching staff. Each of his past six efforts on the mound have been quality starts and his strikeout rate is steadily creeping up with more experience.
Although we've seen that Liriano is capable of dominance (especially against left-handed batters), his implosions can be brutal. He has surrendered seven earned runs or more on two separate occasions in 2013.
One important fact about the Pirates is frequently overlooked—their knack for inducing ground balls. That's obviously the best type of contact for a pitcher.
In terms of ground ball rate, Burnett and Locke rank second and fifth, respectively, among the 81 qualified MLB starters.
10. St. Louis Cardinals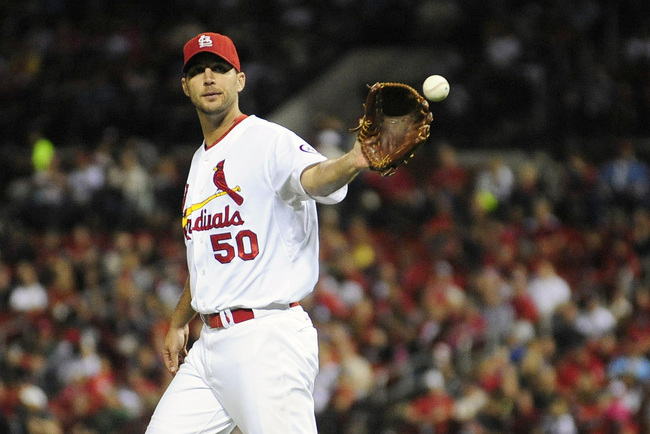 Adam Wainwright in 2013: 2.96 ERA, 2.58 FIP, 8.16 K/9 in 221.2 IP.
Jeff Curry-USA TODAY Sports
Rotation Ace: RHP Adam Wainwright
Wainwright is the National League's version of James Shields, only slightly more dominant.
He's walking half as many batters while whiffing them at a similar rate. Although the 32-year-old doesn't often pick-off baserunners, he gets through his delivery quickly to deter them from stealing.
Aside from leading the majors with five complete games, Wainwright is battling back and forth with Clayton Kershaw for the distinction of pitching the most innings and spinning the best curveball.
The Rest: RHP Joe Kelly, RHP Lance Lynn, RHP Shelby Miller and RHP Michael Wacha
Looking strictly at earned run average and batting average against, you might confuse Miller for being the co-ace of the St. Louis Cardinals and someone of Wainwright's caliber.
However, wasting pitches is his fatal flaw. According to MLB.com, Edinson Volquez is the only qualified starter in the Senior Circuit who works harder each inning.
Contrary to what we saw from Lynn earlier this summer, he hasn't improved at all since 2012.
Seldom does a pitcher pair a 2.74 ERA and 1.40 WHIP. Despite a solid ground ball rate, Kelly cannot be expected to maintain that, either.
Wacha's performance is undeniably impressive, but let's not overreact to a tiny sample size.
9. Oakland Athletics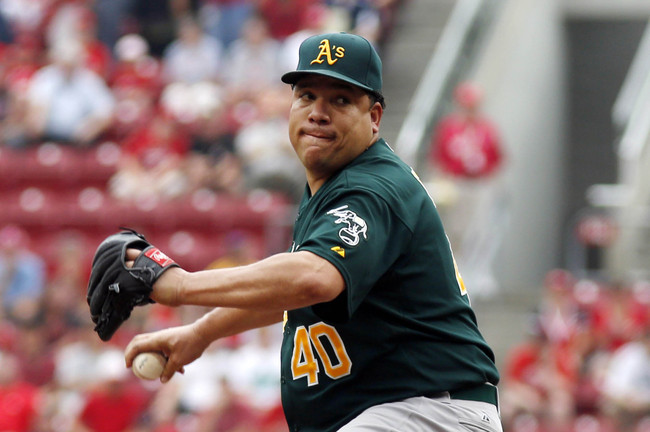 Bartolo Colon in 2013: 2.73 ERA, 3.24 FIP, 5.10 K/9 in 178.1 IP.
David Kohl-USA TODAY Sports
Rotation Co-Aces: RHP Bartolo Colon and RHP Jarrod Parker
Last time he took the mound, Parker struggled against the Los Angeles Angels and suffered a loss. That ended a four-month-long undefeated streak for the right-hander.
Neither he nor Colon possess sufficient pure stuff to pile up high strikeout totals, but their consistency is admirable.
The 40-year-old Colon masterfully paints the corners of the plate, which allows him to get ahead in the count and manipulate batters. The opposition winds up taking defensive swings, resulting in weak contact and explaining his microscopic home run rate (12 HR in 178.1 IP). Pounding the zone also ensures that Colon uses fewer pitches, which allows him to last into the later innings when the bullpen needs a break (hence three complete games).
The Rest: RHP Sonny Gray, RHP A.J. Griffin and RHP Dan Straily
None of these three have previously spent a full major league season in the rotation.
Adjusting to the lengthened season could affect Gray most of all. The rookie right-hander has been extraordinary with 56 strikeouts through 54 innings and a 2.50 earned run average, but what if he is pushing the physical limitations of his 5'11" frame?
8. Atlanta Braves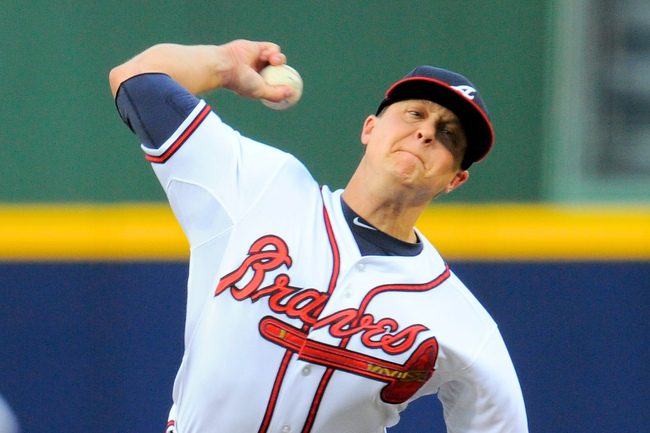 Kris Medlen in 2013: 3.32 ERA, 3.59 FIP, 7.13 K/9 in 181.2 IP.
Dale Zanine-USA TODAY Sports
Rotation Co-Aces: LHP Mike Minor and RHP Julio Teheran
Minor was the first-half ace of the Atlanta Braves, while Teheran has been closer to a No. 1 in recent months.
Neither guy pitches particularly deep into his starts, but they both have very good command.
Their high fly ball rates suit Atlanta's great defensive outfield. Of course, pitching that way also leaves them vulnerable to home runs.
The Rest: RHP Freddy Garcia, LHP Paul Maholm and RHP Kris Medlen
Medlen served as this team's rotation leader for much of 2012. He caught the baseball world off-guard with his terrific changeup and literally never lost (until the playoffs).
Since the All-Star break, the right-hander has led the staff in strikeout-to-walk ratio and Wins Above Replacement.
Brandon Beachy never fully returned to pre-surgery form while healthy this season, but he would still serve as a substantial upgrade over Garcia. Unfortunately, this Kevin McAlpin tweet suggests that he's a long shot to contributing during Atlanta's postseason run.
The soon-to-be 37-year-old Garcia owns a 4.52 earned run average in 16 total appearances with the Braves and Baltimore Orioles in 2013.
7. Texas Rangers
Yu Darvish in 2013: 2.79 ERA, 3.18 FIP, 11.90 K/9 in 193.2 IP.
Jim Cowsert-USA TODAY Sports
Rotation Ace: RHP Yu Darvish
The Japanese right-hander is responsible for elevating the Texas Rangers above their AL West rivals on this list. He's also a major reason why the division title hasn't been decided yet.
Darvish has certainly established himself as the top strikeout artist in the league this season. Moreover, with the exception of Randy Johnson, his 2013 strikeout rate is the highest by any pitcher this millennium.
He continues to pitch well down the stretch (3.32 ERA, 9.5 K/9 in September), but isn't receiving any run support.
The Rest: RHP Matt Garza, LHP Derek Holland, RHP Alexi Ogando and LHP Martin Perez
Texas apparently didn't learn its lesson last summer after overpaying for Ryan Dempster at the trade deadline after a hot first half.
Much like his former teammate, Garza has struggled since joining the Rangers rotation (4.94 ERA, 11 HR in 71.0 IP). Most of his poor performance is from this all-important month, although 3.47 strikeout-to-walk ratio in the American League suggests that better results are on the horizon.
Ogando and Perez hold the Rangers back from the top five because they haven't yet figured out how to generate strikeouts with their great repertoires.
6. Washington Nationals
Stephen Strasburg in 2013: 2.96 ERA, 3.18 FIP, 9.58 K/9 in 170.0 IP.
Scott Cunningham/Getty Images
Rotation Co-Aces: RHP Stephen Strasburg and RHP Jordan Zimmermann
Good news about Strasburg, courtesy of James Wagner of The Washington Post:
Stephen Strasburg threw a bullpen session on Monday and the right-hander said he had no issues. After dealing with tightness in his right forearm when trying to play catch last week, Strasburg said he was relieved to know that the discomfort he felt in his throwing arm was simply cramping.
This means he'll return to the mound on Thursday for what should be the most important start of his major league career. The Washington Nationals infamously shut down the star right-hander during the 2012 playoff race, and until the team's recent surge, qualifying for October this year didn't seem realistic.
A sub-.500 win-loss record spoils an otherwise awesome 2013 stat line: 2.96 ERA, 1.04 WHIP, 9.58 K/9 in 170.0 IP. Strasburg has also thrown his first career complete game for the Nats.
Zimmermann's pitching isn't quite as sexy, but he's arguably more valuable to the club due to his stellar pitch efficiency. The 27-year-old has not surrendered double-digit hits in any start since the beginning of June.
The Rest: LHP Gio Gonzalez, RHP Dan Haren and RHP Tanner Roark
Finishing third in 2012 NL Cy Young Award voting set unfairly high expectations for Gonzalez in his second season with the club. Although he's an elite strikeout pitcher with an excellent breaking ball, command issues prevent him from being completely trustworthy.
Haren is maddeningly inconsistent and vulnerable to the home run ball, while Roark has thrived in Ross Detwiler's usual rotation spot. Then again, three starts—two of them against the Miami Marlins and New York Mets—don't tell us much about him.
5. Tampa Bay Rays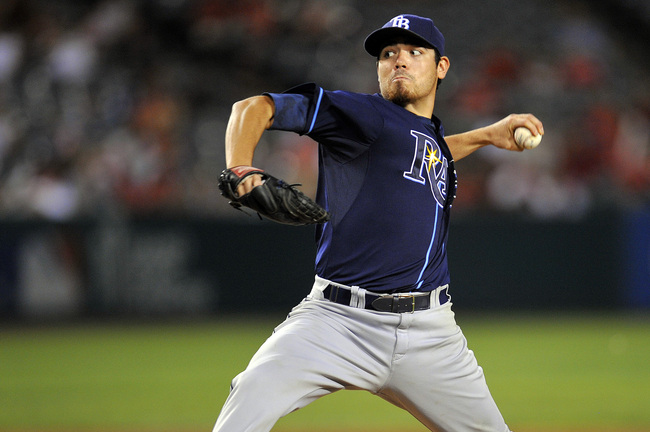 Matt Moore in 2013: 3.11 ERA, 3.75 FIP, 8.54 K/9 in 136.0 IP.
Gary A. Vasquez-USA TODAY Sports
Rotation Ace: LHP David Price
Price's midseason stint on the disabled list was a blessing in disguise. He owns a 2.52 earned run average and .225 batting average against since returning in July, and the reduction in total workload compared to previous years leaves him less likely to fade down the stretch.
The reigning American League Cy Young Award winner continues to miss plenty of bats, plus we've seen atypically excellent command from him. Price has issued only 11 walks in his past 15 starts.
The Rest: RHP Chris Archer, RHP Alex Cobb, RHP Jeremy Hellickson and LHP Matt Moore
The No. 2 slot in the Tampa Bay Rays rotation was Moore's for the taking, following the James Shields trade.
However, his 4.37 BB/9 in 2013 prevents him from making the leap from promising to productive. Cobb, in reality, is the next-best starting pitcher after Price, considering his 2.88 strikeout-to-walk ratio and average of nearly six-and-a-half innings per outing.
It's been an awful campaign for Hellickson no matter how you slice his stats. In his past 12 appearances, the right-hander has never ventured past the sixth inning (via Baseball-Reference.com).
Unlike those staffs that comprise the top four, this one lacks a second legitimate front-line starter.
4. Cincinnati Reds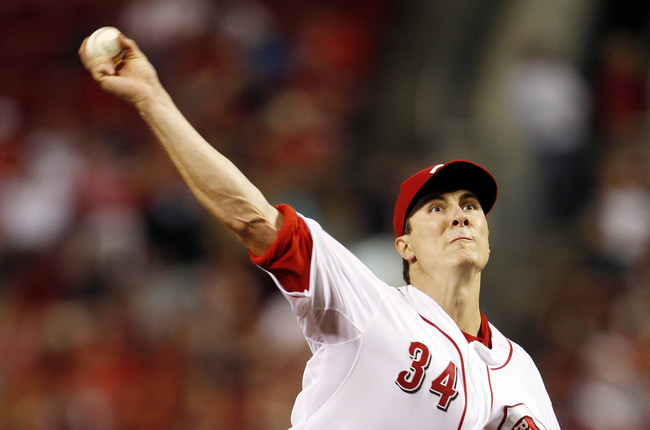 Homer Bailey in 2013: 3.40 ERA, 3.10 FIP, 8.76 K/9, 198.1 IP.
Frank Victores-USA TODAY Sports
Rotation Co-Aces: RHP Homer Bailey and RHP Mat Latos

Bailey's pair of no-hitters say more about his outstanding fastball than they do about his actual ability. It's his 3.10 FIP and 1.11 WHIP through nearly 200 innings that tell you he's a difference-maker on a consistent basis.
Latos has eerily similar numbers in those areas. Even his quality start percentage is an identical 66.7 percent.
You can't go wrong with either right-hander.
The Rest: RHP Bronson Arroyo, RHP Johnny Cueto and RHP Mike Leake
You'll find Arroyo's name at the very top of this MLB.com list, which ranks starters by their pitches per inning.
On the other hand, his efficiency is for naught when underwhelming fastballs get left up in the strike zone and deposited into the seats for home runs. The free-agent-to-be must be extremely careful with his location, and usually, he is.
After spending a few years leading this pitching staff, Cueto spent most of this summer on the disabled list with recurring lat problems. The Cincinnati Reds couldn't have been more pleased with his return from the DL on Monday night: five scoreless innings and no complications.
With that said, let's hold off a few weeks before singing too many praises. For the time being, Cincy's rotation still ranks second among National League contenders.
3. Boston Red Sox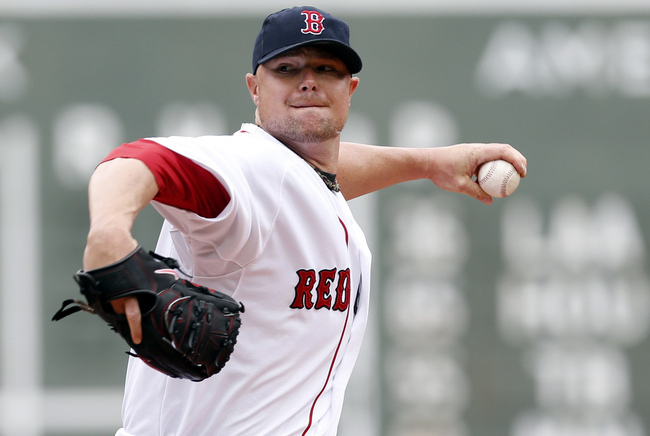 Jon Lester in 2013: 3.75 ERA, 3.61 FIP, 7.38 K/9 in 201.1 IP.
Greg M. Cooper-USA TODAY Sports
Rotation Co-Aces: RHP Clay Buchholz and LHP Jon Lester
Similar to Johnny Cueto, Buchholz has spent the majority of 2013 on the sidelines due to injury. The difference between the right-handers—and the tie-breaker between the Boston Red Sox and Cincinnati Reds on this list—is first-half performance.
Prior to going down with a nagging muscle strain, Buchholz boasted a 1.71 earned run average and .195 batting average against in a dozen outings. He has yet to surrender an earned run in two starts since rejoining the Sox.
After an un-Lester-like year-and-a-half, the veteran southpaw once again looks fearsome on the mound. His 2.38 earned run average since the All-Star break is among the best in the American League.
The Rest: RHP Ryan Dempster, RHP John Lackey and RHP Jake Peavy
What a comeback for Lackey.
The right-hander was a laughing stock before his 2011 Tommy John surgery, but improved conditioning revitalized his career. He ranks second on the staff to Buchholz in terms of ground ball percentage.
Meanwhile, Peavy isn't solidifying the No. 4 spot as anticipated. He's been dangerously dependent on fly balls and it's only a matter of time before they start landing on the wrong side of the fence.
2. Los Angeles Dodgers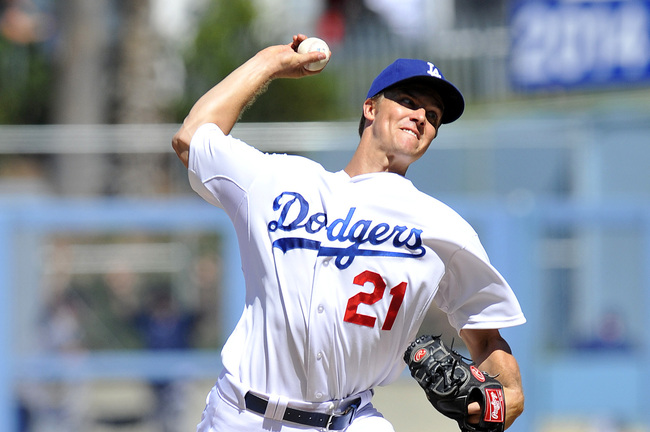 Zack Greinke in 2013: 2.75 ERA, 3.34 FIP, 7.45 K/9 in 166.2 IP.
Gary A. Vasquez-USA TODAY Sports
Rotation Ace: LHP Clayton Kershaw
Kershaw has the 2013 NL Cy Young Award sewn up for the second time in three years, and there's a zillion reasons why.
Bleacher Report's Zachary Rymer sums them up in the B/R MLB 500 list of top starting pitchers. He ranks the left-hander No. 1 overall.
Not only is Kershaw the only starter in baseball with a sub-2.00 earned run average, but he's maintained it despite an MLB-high 223-inning workload.
The Los Angeles Dodgers understandably have an advantage over the Boston Red Sox at the tippy top of their rotation.
The Rest: RHP Zack Greinke, RHP Ricky Nolasco, LHP Hyun-jin Ryu and RHP Edinson Volquez
L.A.'s depth is also remarkable.
There have been millions of humans born around the world since Jul. 25. That was the last time Greinke pitched without satisfying the requirements of a quality start. The right-hander doesn't whiff as many batters as he used to, yet a diverse pitch selection helps him wiggle out of tricky jams.
Ryu has proven many of the experts wrong by developing into an ultra-reliable starter in his rookie campaign without special velocity or sharp off-speed offerings.
Volquez is worse than Ryan Dempster, but neither has the necessary command to make a meaningful contribution.
1. Detroit Tigers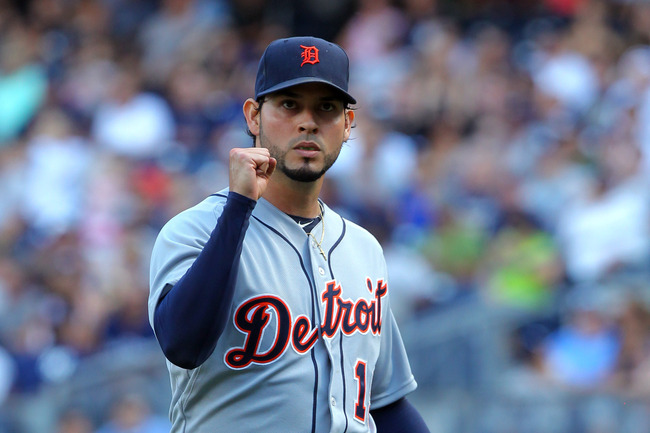 Anibal Sanchez in 2013: 2.51 ERA, 2.49 FIP, 9.84 K/9 in 172.0 IP.
Brad Penner-USA TODAY Sports
Rotation Co-Aces: RHP Anibal Sanchez and RHP Max Scherzer
Sanchez and Scherzer are present near the top of virtually every AL leaderboard, ranking among the top five in ERA, FIP, K/9 and fWAR.
It's not clear who the better option is, but without a doubt, the Detroit Tigers have a stronger one-two punch than any other contender.
The Rest: RHP Doug Fister, RHP Rick Porcello and RHP Justin Verlander
Only a few months ago, Verlander was thought of as one of the best starting pitchers in the world. He's not as far removed from that echelon as you may have been led to believe.
Although his velocity has dropped at age 30, he continues to provide plenty of length to spell the Tigers bullpen (199.1 IP, eighth in AL). Combining that with a 8.53 K/9 make him over-qualified for the No. 3 spot.
The back-end of Detroit's staff clinches their placement atop these rankings.
Fister and Porcello have each pitched in the previous two Octobers. They persistently attack the strike zone and boast two of baseball's highest ground ball rates.
The drop-off from the rotation leaders to the weakest links is negligible compared to what we've seen elsewhere. There won't be any encouraging matchups for lineups opposing the Tigers this fall.
Keep Reading