Saints vs. Buccaneers: Full Roster Report Card Grades for New Orleans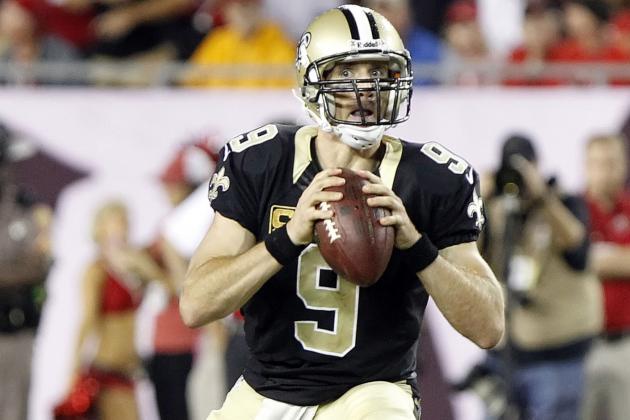 Kim Klement-USA TODAY Sports

The New Orleans Saints start out the 2013 season 2-0 with a 16-14 victory over the Tampa Bay Buccaneers. In a game that saw the offense struggle, it's the defense that deserves the proverbial game ball. Holding Tampa's offense to only one offensive touchdown—and limiting an explosive pass attack to 125 yards—the Saints flipped the script on what most people view their team as.
The Saints have a ton of positives to hang their collective hats on. Conversely, there are areas where they should hang their heads as well.
Let's see who stood out in victory. Here are the complete roster grades from Week 2.
Begin Slideshow

»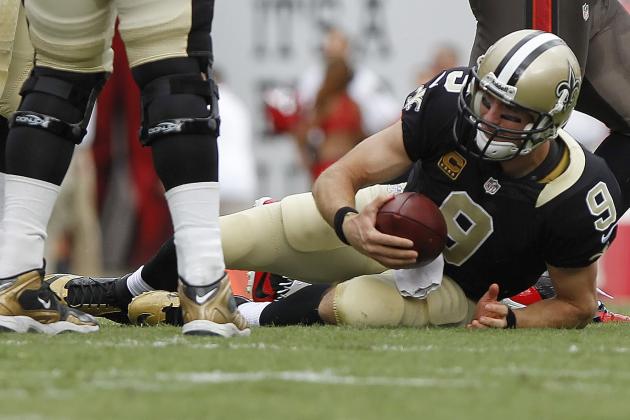 Kim Klement-USA TODAY Sports

I wasn't feeling Drew Brees' performance at all. If it weren't for the fact that he's clutch—and clutch is everything—this would've been considered one of the worst games Brees played.
His mechanics were off, he wasn't seeing the entire field and his pocket awareness was extremely shaky. I will give him the benefit of the doubt as he wasn't helped by spotty play-calling.

Overall Grade: C-
Kim Klement-USA TODAY Sports

Mark Ingram: F-
Mark Ingram is not very good. It's hard to blame it on the scheme when you really look at it.
Time to move on...
Pierre Thomas: A
Pierre Thomas is as solid as it gets. Great in the run (five carries for 29 yards) and pass game (four catches for 19 yards). Here's hoping he gets more opportunities.
Darren Sproles: B-
Darren Sproles did what Sproles does. He seemed to be the focal point of the run game early on but mostly maximized his production off of passes.
Overall Grade: C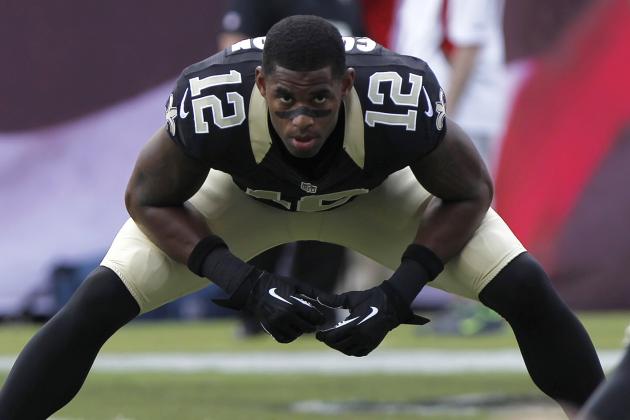 Kim Klement-USA TODAY Sports

Marques Colston: A
Marques Colston is the absolute truth. Has there been a quieter star than this guy? His presence opens things up for everyone else. His catch in the clutch may be the play that propels the Saints to greatness this season.
Lance Moore: D
He played? One catch for 15 yards says he did. But I barely noticed he was on the team this game. In his defense, QB Drew Brees had a rough day.
Kenny Stills: D
See above.
Overall Grade: D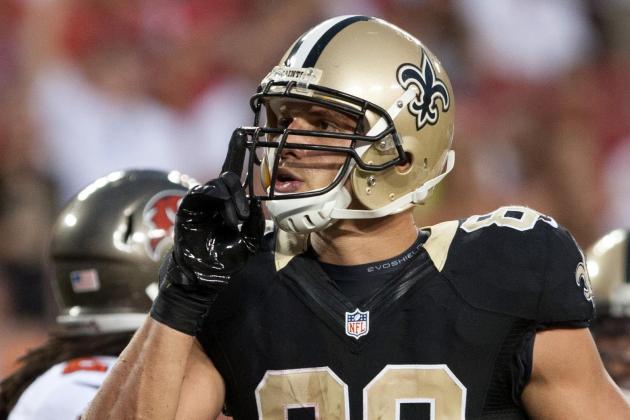 Rob Foldy-USA TODAY Sports

Jimmy Graham: A+
Best player on the field in this game. Best player at his position. His 10-catch, 179-yard performance is nothing to sneeze at. He's just scratching the surface on how great he will be.
Ben Watson: Incomplete
Ben Watson didn't show up on the stats sheet due to Sean Payton's penchant for "11 personnel" in this particular game. I'm pretty sure if given the opportunity, Watson would produce.
Overall Grade: A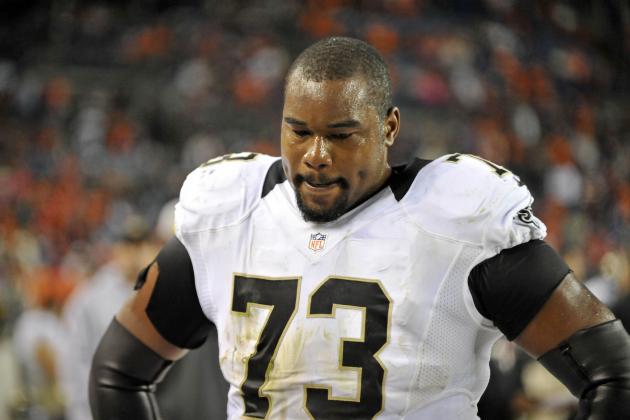 Ron Chenoy-USA TODAY Sports

Pass Protection: C-
Brees was sacked four times against Tampa. Half of it was on the offensive line, and half of it was on Brees himself. Jahri Evans is off to a bad start this season, uncharacteristic of such a talented player.
Run Blocking: D
This grade is mostly out of frustration. If you give an offensive line only 20 opportunities, it's really hard to gauge how good they are. As a group, I fear the Saints offensive line is inferior in many ways.
Overall: D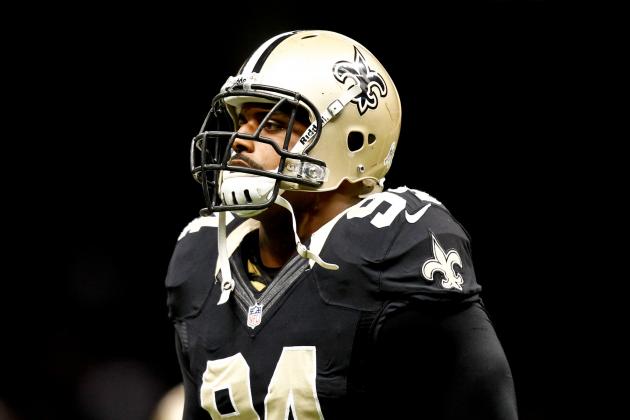 Derick E. Hingle-USA TODAY Sports

Cameron Jordan: A
Cam Jordan was everywhere! He's clearly the best player on the defense. He's a beast for the "Black and Gold."
Akiem Hicks: B-
Not as effective as last game, but Akiem Hicks is definitely a player to watch each game.

Tom Johnson: Incomplete
An injury ended Tom Johnson's night early. He's merely keeping Glenn Foster's seat warm until he returns anyway.

John Jenkins: B
John Jenkins looked very stout at the point of attack and as a stand-up nose tackle as well. He took an injured Brodrick Bunkley's job if you ask me.

Overall Grade: B+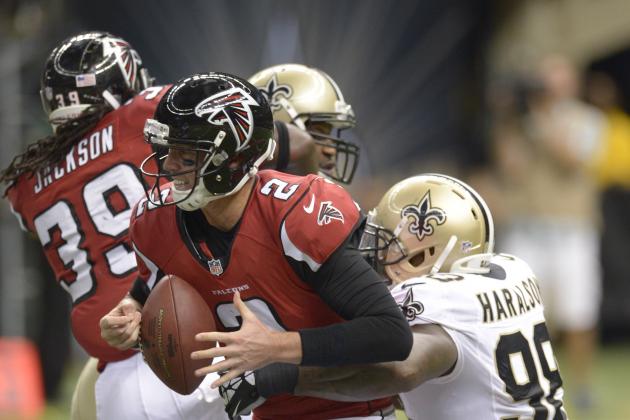 John David Mercer-USA TODAY Spor

Junior Galette: A
I really like Junior Galette's skill set. He seems to always be around the ball. His return on the Cam Jordan forced fumble was very timely.

Parys Haralson: A
Parys Haralson wasn't as prevalent as last game, maybe due to the return of both Jay Richardson and Martez Wilson. Haralson did have a nice tackle in the backfield.

Martez Wilson: C
I couldn't wait for Wilson to return from injury, and I was very satisfied from what I saw from him against Tampa. Despite an elbow injury, he looked to mix it up in traffic without hesitation. He looked stouter at the point of attack than I imagined as well.

Jay Richardson: Incomplete
Richardson got a few snaps but didn't seem to be a major part of the game plan after being signed earlier this week.
Overall Grade: A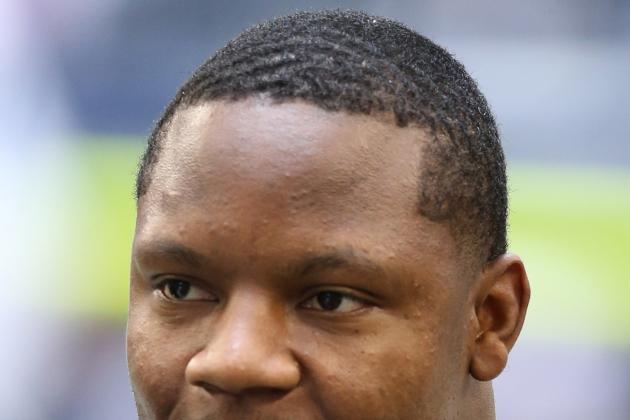 Matthew Emmons-USA TODAY Sports

Curtis Lofton: A
Curtis Lofton was back at home in the middle linebacker role as the Saints played a lot of even-front alignments. Lofton was a disruption the whole game as expected from a player with as much talent as him.
David Hawthorne: B+
David Hawthorne looks really good in the even-front part of the scheme. He's a natural outside linebacker in a 4-3-based scheme.

Will Herring: D+
I'm not impressed with Will Herring thus far. I want to see Ramon Humber and Kevin Reddick get his snaps on defense.
Overall Grade: B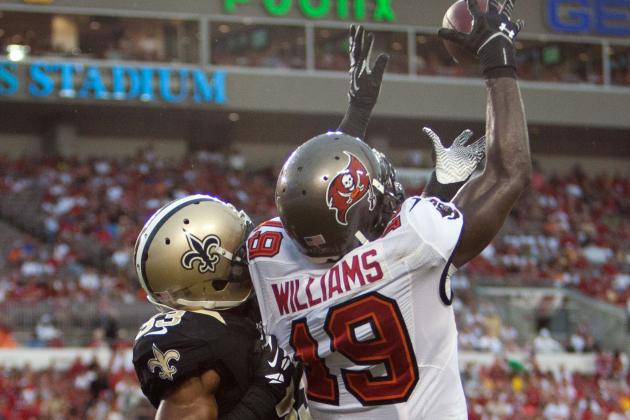 Rob Foldy-USA TODAY Sports

Keenan Lewis: C
Keenan Lewis has failed to impress thus far as a Saint. He doesn't make any impact plays and usually gives up one. This game was no different. He wasn't awful—I just expect more.

Jabari Greer: B
Jabari Greer was solid against Tampa. He had two pass defenses and five tackles to support that theory.

Patrick Robinson: Incomplete
This is the second straight game that Patrick Robinson gets an incomplete due to injury. This may be his final grade of the season as he suffered a pretty gruesome-looking leg injury.

Kenny Vaccaro: D
Kenny Vaccaro shows up as a corner because he played it a ton this game. He had a tough matchup with one of the premier receivers in the game in Vincent Jackson. Vaccaro was beat for a long touchdown that was negated due to penalty. If that play would've stood, he may have gotten an F.
Overall Grade: C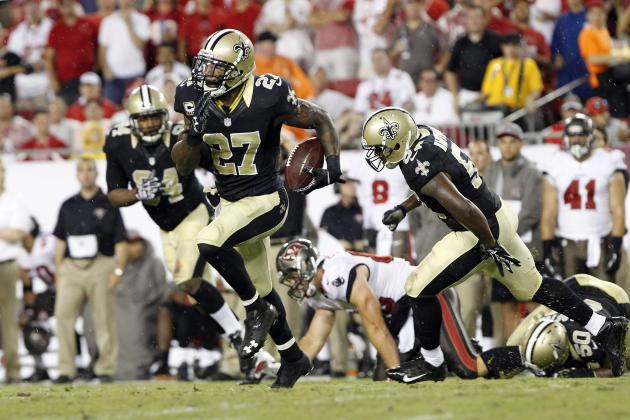 Kim Klement-USA TODAY Sports

Malcolm Jenkins: A
Malcolm Jenkins is having a career renaissance under Rob Ryan. His versatility may only be superseded by his production.

Roman Harper: A
Roman Harper is proving me wrong as being a misfit in the Ryan scheme. Ryan has taken him out of coverage and let him sniff around the line as sort of an extra linebacker.

Kenny Vaccaro: A
Vaccaro deserves another grade as a safety. I love how he fills running lanes. He's like a missile coming up to make a tackle. What an impressive rookie.

Rafael Bush: C
Rafael Bush needs to make some plays here soon. He seems to have talent but has yet to really stand out.
Overall Grade: A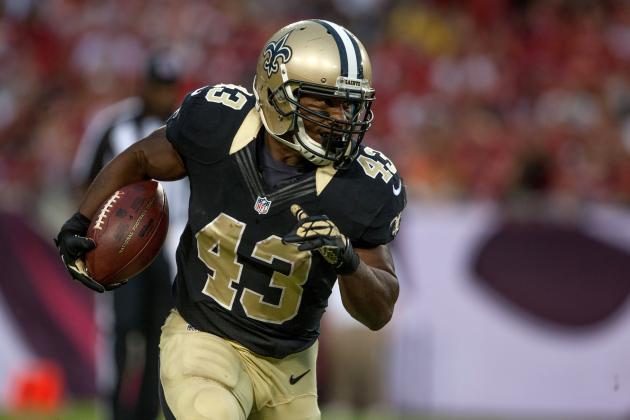 Rob Foldy-USA TODAY Sports

Special Teams: Incomplete
Both teams didn't really make an impact on special teams. The NFL sure has taken one of my favorite parts of the game away.
Both teams had one kick return apiece.

Garrett Hartley: B
Game-winning kicks always skew the scale.
Accept no imitations; follow me on Twitter!
Follow @UptownMurf