Week 2 NFL Predictions: Teams Sure to Win Key Division Matchups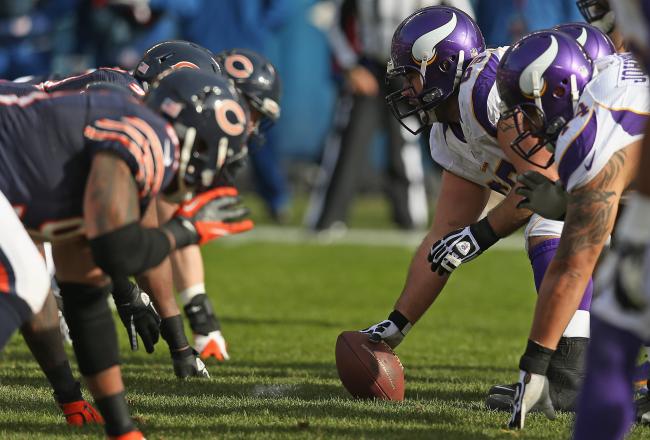 Jonathan Daniel/Getty Images
It's only Week 2 in the 2013 NFL season, and the Chicago Bears are one of the teams that will win key divisional games this weekend.
These games are more important for some teams than they are for the others. A team like the Minnesota Vikings is looking to avoid going 0-2 in division games, which would put the team in a big hole early.
Games early in the season are often overlooked, but divisional matchups need to be treated like late-season meetings. The intensity needs to be there. Players can't take plays off as any mistake could cost a team the game.
Although there are many great games on the schedule this week, including a classic Manning-brothers showdown, the divisional games will highlight the weekend.
Playing at home will give the teams on this list a big edge.
Let's take a look at the schedule for Week 2 and teams that are sure to win divisional matchups.
2013 NFL Schedule: Week 2

| | | | | |
| --- | --- | --- | --- | --- |
| Date | Time (ET) | Away | Home | Result |
| 9/12 | 8:25 p.m. | New York Jets | New England Patriots | Patriots |
| Date | Time (ET) | Away | Home | Prediction |
| 9/15 | 1 p.m. | St. Louis Rams | Atlanta Falcons | Falcons |
| 9/15 | 1 p.m. | San Diego Chargers | Philadelphia Eagles | Eagles |
| 9/15 | 1 p.m. | Dallas Cowboys | Kansas City Chiefs | Cowboys |
| 9/15 | 1 p.m. | Miami Dolphins | Indianapolis Colts | Dolphins |
| 9/15 | 1 p.m. | Tennessee Titans | Houston Texans | Texans |
| 9/15 | 1 p.m. | Washington Redskins | Green Bay Packers | Packers |
| 9/15 | 1 p.m. | Cleveland Browns | Baltimore Ravens | Ravens |
| 9/15 | 1 p.m. | Carolina Panthers | Buffalo Bills | Panthers |
| 9/15 | 1 p.m. | Minnesota Vikings | Chicago Bears | Bears |
| 9/15 | 4:05 p.m. | New Orleans Saints | Tampa Bay Buccaneers | Saints |
| 9/15 | 4:05 p.m. | Detroit Lions | Arizona Cardinals | Lions |
| 9/15 | 4:25 p.m. | Jacksonville Jaguars | Oakland Raiders | Raiders |
| 9/15 | 4:25 p.m. | Denver Broncos | New York Giants | Broncos |
| 9/15 | 8:30 p.m. | San Francisco 49ers | Seattle Seahawks | 49ers |
| 9/16 | 8:40 p.m. | Pittsburgh Steelers | Cincinnati Bengals | Bengals |
Kyle Newport
Chicago Bears (vs. Minnesota Vikings)
The Vikings lost to the Detroit Lions last week, and another loss inside their division could be too much to overcome. Unfortunately for them, they are on the road for a second straight week. Coming away with a victory at Soldier Field will take a strong performance out of Greg Jennings and Cordarrelle Patterson at wideout.
Adrian Peterson carried the team last season, but Christian Ponder will have to get his receivers involved in order to beat the Bears.
Chicago won a thriller last week over the Cincinnati Bengals. Jay Cutler and Brandon Marshall hooked up for a fourth-quarter touchdown that gave the team a win, and the Bears gave new coach Marc Trestman a victory in his debut.
Corner Charles Tillman was able to pick off two passes last week, and he should be able to handle Greg Jennings after getting matched up against A.J. Green. Although Green won the battle throughout the game, Tillman didn't allow his receiver to beat him when it mattered.
The Bears held Adrian Peterson to 262 rushing yards in two games. Yes, that's a lot of yards. However, it matched his season average of 131 yards per game, so the Bears didn't do too bad of a job.
Cutler and Marshall will continue to work well together, so the offense will move the football. A good showing from Alshon Jeffery, especially in the red zone, will take the pressure off Marshall. The passing game will be dynamic, but Matt Forte could be the deciding factor. He has the ability to pound the ball inside, or he can catch the ball out of the backfield.
Don't sleep on the Bears defense. It ranked fifth in the NFL last season, and it came up with big stops in the second half of last week's game.
Baltimore Ravens (vs. Cleveland Browns)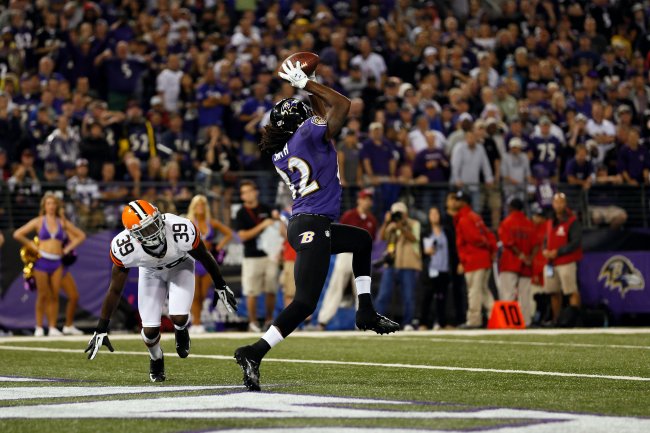 Rob Carr/Getty Images
The Ravens weren't able to open the season at home last week, but they will be motivated to come out strong in this game. After having a lead at halftime last week, the defense allowed 35 points in the second half as the Broncos stormed past the Ravens.
Since Joe Flacco entered the league in 2008, he has not lost to the Cleveland Browns. He is a perfect 10-0 and has led the team to 25.4 points per game in those wins.
Baltimore has made it to the postseason in five straight seasons, and it has won consecutive division titles. Starting 0-1 in the division would not be a good way to get back to the playoffs as division champions.
Trent Richardson averaged only 76 rushing yards per game and scored only once last year against the Ravens. He did add 88 receiving yards in two games, but the Ravens will take those numbers any day. If they can limit him again, the Browns won't stand a chance.
Sunday's game will mark Paul Kruger's return to Baltimore, but he won't be enough for the Browns to stop the Ravens offense.
The Ravens had a few extra days to rest and recover, so they will be well prepared for this game.
Baltimore is the more talented team, and it will get its first division win to stay atop the AFC North.
Cincinnati Bengals (vs. Pittsburgh Steelers)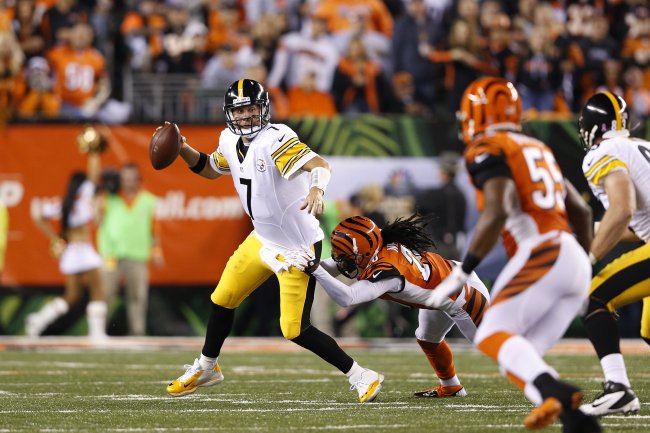 Joe Robbins/Getty Images
Like Baltimore and Cleveland, both teams come into this game at 0-1. One team looked really bad and suffered injuries last week, and the other team should have won its opener.
The Pittsburgh Steelers already had an inexperienced offensive line, and losing center Maurkice Pouncey for the season will only add to the line's problems. Pittsburgh was already without rookie running back Le'Veon Bell due to injury, but it lost LaRod Stephens-Howling for the season as well.
Thanks to a safety on the opening kickoff, the Steelers actually led 2-0 last week. The score would turn out to be 16-2 in favor of the Tennessee Titans until a touchdown in the final minutes got Pittsburgh's offense on the board. The Steelers have a lot of issues to work on.
Cincinnati has a terrific defensive line. Geno Atkins, Michael Johnson and Carlos Dunlap can all get to the quarterback. The Bengals had seven sacks in two games against Pittsburgh last season.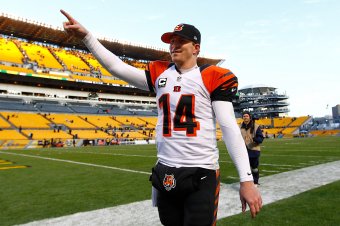 Jared Wickerham/Getty Images
Quarterback Andy Dalton failed to beat the Steelers in his first three attempts, but he came through at Heinz Field with everything on the line. If his team won, it returned to the playoffs and Pittsburgh was eliminated. If Pittsburgh won, the Steelers went to the playoffs and Cincinnati went home.
A late interception by Reggie Nelson set the offense up for a dramatic final drive, and Dalton found superstar receiver A.J. Green to set up a game-winning field goal.
BenJarvus Green-Ellis ran for only 83 yards on 33 carries in two meetings, but the Bengals won the second game because Dalton made big improvements.
Cincinnati has a strong defense and more playmakers on offense. Green is going to have another big game. Jermaine Gresham and Tyler Eifert should show that they are a dynamic duo at tight end, so Dalton will have a strong game.
This rivalry is always close, so look for a tight game heading into the fourth quarter. Eventually the Bengals will pull away as they look to head to the postseason for the fourth time in five seasons.
*All stats are courtesy of NFL.com
This article is
What is the duplicate article?
Why is this article offensive?
Where is this article plagiarized from?
Why is this article poorly edited?