Teams that lost their opener are facing virtual must-win games in Week 2, and the Baltimore Ravens are one of the teams that are sure to bounce back this week.
Losing its first two games does not eliminate a team from postseason contention, but it certainly makes it tough to get back into the race. According to NFL.com, teams that start the season 0-2 have made the playoffs only 11.6 percent of the time since 1990.
One way to be able to bounce back is to play at home this week. All three of the teams on this list will be at home after starting the season on the road.
Here is a complete schedule for Week 2 along with a list of teams that will rebound to get to 1-1 on the season.
2013 NFL Schedule: Week 2

| | | | | |
| --- | --- | --- | --- | --- |
| Date | Time (ET) | Away | Home | Result |
| 9/12 | 8:25 p.m. | New York Jets | New England Patriots | Patriots |
| Date | Time (ET) | Away | Home | Prediction |
| 9/15 | 1 p.m. | St. Louis Rams | Atlanta Falcons | Falcons |
| 9/15 | 1 p.m. | San Diego Chargers | Philadelphia Eagles | Eagles |
| 9/15 | 1 p.m. | Dallas Cowboys | Kansas City Chiefs | Cowboys |
| 9/15 | 1 p.m. | Miami Dolphins | Indianapolis Colts | Dolphins |
| 9/15 | 1 p.m. | Tennessee Titans | Houston Texans | Texans |
| 9/15 | 1 p.m. | Washington Redskins | Green Bay Packers | Packers |
| 9/15 | 1 p.m. | Cleveland Browns | Baltimore Ravens | Ravens |
| 9/15 | 1 p.m. | Carolina Panthers | Buffalo Bills | Panthers |
| 9/15 | 1 p.m. | Minnesota Vikings | Chicago Bears | Bears |
| 9/15 | 4:05 p.m. | New Orleans Saints | Tampa Bay Buccaneers | Saints |
| 9/15 | 4:05 p.m. | Detroit Lions | Arizona Cardinals | Lions |
| 9/15 | 4:25 p.m. | Jacksonville Jaguars | Oakland Raiders | Raiders |
| 9/15 | 4:25 p.m. | Denver Broncos | New York Giants | Broncos |
| 9/15 | 8:30 p.m. | San Francisco 49ers | Seattle Seahawks | 49ers |
| 9/16 | 8:40 p.m. | Pittsburgh Steelers | Cincinnati Bengals | Bengals |
Kyle Newport
Atlanta Falcons (vs. St. Louis Rams)
Chris Graythen/Getty Images
The Falcons were in a tough spot last week. They had to go to New Orleans for Sean Payton's return to the sidelines, so the Saints played with a lot of emotion. Payton rarely loses in the Superdome, and that didn't change in Week 1.
Atlanta nearly pulled off a come-from-behind victory in the final minutes, but it was stopped three yards short.
The St. Louis Rams will visit the Georgia Dome this week. The Falcons won their first seven games at home last season and went 8-2 there on the season. Since Matt Ryan debuted in 2008, the Falcons have lost only nine home games, including two playoff losses. Simply put, they don't lose at home.
St. Louis had an average pass defense last season, and it allowed Carson Palmer of the Arizona Cardinals to throw for 327 yards last week. Ryan has more weapons than Palmer. He has Roddy White, Julio Jones and Tony Gonzalez who can all take over a game.
This will also mark the first time that Steven Jackson faces his former team. The running back rushed for at least 1,000 yards in each of the past eight seasons for the Rams, and he rushed for 77 yards on 11 carries in his first game as a Falcon.
Atlanta will continue to dominate at home, and Jackson will be looking to have a big game against his former team.
Baltimore Ravens (vs. Cleveland Browns)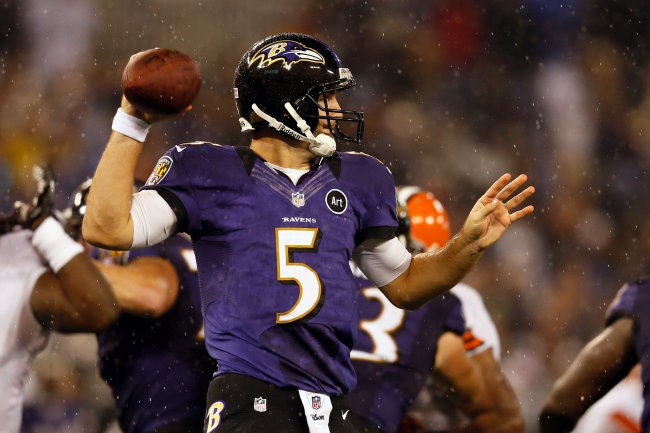 Rob Carr/Getty Images
The Ravens looked good in the first half of their opener against the Denver Broncos, but the defense allowed 35 points in the second half as Peyton Manning had his way with it.
After starting the season on the road, the Ravens return to Baltimore to celebrate their Super Bowl title. It's going to be a day filled with emotions, and the Browns are the perfect opponent for the occasion.
Like Ryan and the Falcons, quarterback Joe Flacco doesn't lose when the Ravens play at home. They have lost only seven games in Baltimore since he entered the league in 2008.
The Ravens are 10-0 against the Browns since Flacco was drafted, and he has led them to an average of 25.4 points per game in those wins. Torrey Smith, Dallas Clark and Ray Rice give Flacco help on offense, so they should put up points.
Cleveland struggles to throw the ball. Brandon Weeden threw three interceptions last week, and Josh Gordon will again be out of the lineup. If Baltimore can contain Trent Richardson, the Ravens will cruise to a victory. Even if Richardson gets his yards, the Ravens have more talent and will cap the celebration off with a victory.
Green Bay Packers (vs. Washington Redskins)
Robert Griffin III looked rusty in his first game back, and that's not a good sign as the Redskins head to Lambeau Field.
Green Bay lost its home opener last season to San Francisco, and then it won its final eight home games. The Packers have lost only three home games since 2011, and they haven't lost games in consecutive weeks since the 2010 season.
Aaron Rodgers is going to want to prove to the rest of the league that the Packers are one of the league's best. He threw for 333 yards with three touchdowns last week against the 49ers, and he even led Green Bay to a fourth-quarter lead. San Francisco scored 10 straight to end the game.
Now the Packers return to a place that they rarely lose. Receivers Jordy Nelson and Randall Cobb had good performances last week as they combined for 238 yards and two touchdowns on 14 total receptions.
Rodgers will need to get James Jones involved this week. He led the league with 14 touchdowns a season ago but was targeted only twice last week. The 29-year-old did not get on the stat sheet.
Green Bay has a lot of playmakers on offense. Washington ranked 30th in pass defense and 22nd in points allowed last season, so Rodgers is going to have a good game and lead his team to a lot of points.
Griffin won't be able to keep up as he continues to recover from his knee injury, and the Packers will get their first win of the season.
*All stats are courtesy of NFL.com