WWE Worst of the Week: Santino, Jerry Lawler and More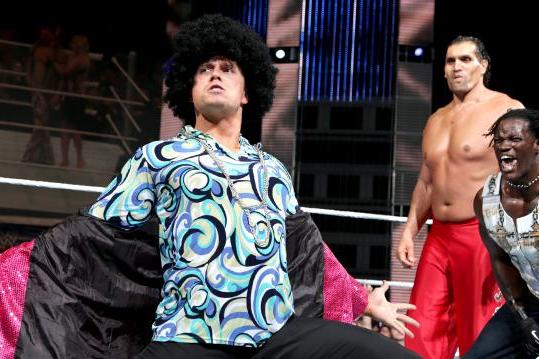 photo via wwe.com
WWE Worst of the Week may have never drawn a dime, but it has still buried less people than Triple H.
The final build towards Night of Champions was on this week, and WWE did its best to convince fans to order.
In some strange reverse psychology, WWE gave us some segments that were so bad that perhaps it tricked us into buying the show just to get the bad taste out of our mouths.
We also witnessed CM Punk cane an innocent man in the face, The Big Show lose 1/365th of his year's salary and saw why Edge should permanently replace The Miz as the WWE's de facto talk show host.
Also, a fun fact: HHH was in the main event of Night of Champions five years ago. It's comforting to know that this show will still revolve around him too.
With that out of the way, it's time to celebrate WWE's Worst of the Week!
Begin Slideshow

»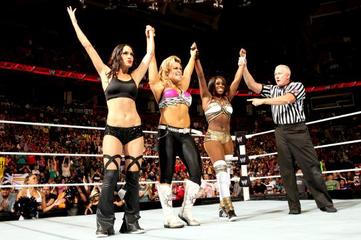 photo via wwe.com
On Raw and on SmackDown, we saw the crew of Total Divas teaming up to take on the anti-Total Divas team, which basically consists of people that were hired for the same reasons the Total Divas crew was.
Confused? So is everyone else, which is why this angle smells worse than the garbage behind Mantaur's house.
So far, the fans aren't sure what to think. The crowd actually booed on SmackDown when the babyfaces won!
AJ is the one who appears to be the face here. First, she's not on an annoying show. Second, she speaks the truth. Third, she isn't afraid to take on an entire group of women by herself.
Wasn't it just a few weeks ago that Natalya and The Bellas were slapping each other in the face for fun? Didn't they just wrestle at the last pay-per-view? Now they're friends because someone insulted the fake reality show they appear on together.
Is Natalya really that proud of millions of people watching her husband not want to boink her that she'll fight someone over it?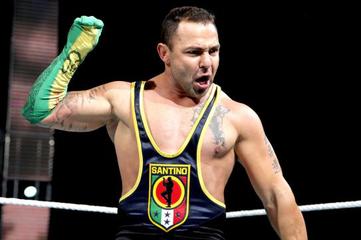 photo via wwe.com
When you hear a good joke once, it's funny. When you hear that same joke twice, it's less funny.
When you hear the same joke 500 times, it's negative funny, and could possibly cause irreversible brain damage.
Santino Marella, who was at one point genuinely funny as a character, has worn out his welcome for many. He returned from injury for a good hometown pop and was able to defeat Antonio Cesaro.
Now, Cesaro hasn't really been protected well the past year, but you can't tell me that a properly pushed Cesaro couldn't draw more money for WWE than Santino.
Okay, even if you give Santino the feel good win on Raw, I guess I can see that. I don't like it, but I'll go along with it. But then having him beat the guy holding the Money in the Bank contract in two minutes on SmackDown? That just doesn't make a lick of sense.
While watching his matches this week, it became clear that Santino makes John Cena look like he has the moveset of Dean Malenko.
His entire repertoire consists of wacky punches, doing the splits into an armdrag, the fall down headbutt and The Cobra. That's it. That's every Santino match of the past three years.
Prepare for 30 years more of increasingly stale Santinoisms, or until Vince McMahon goes to that great wrestling ring in the sky.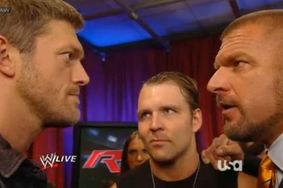 photo via tumblr.com
Besides making the entire roster look like a bunch of collective wusses lately, Triple H keeps appealing too much to insider fans to further stroke his own ego.
On Raw, he told Edge that he "never drew a dime" in wrestling.
Why does that need to be brought up ever? HHH may think it creates heat, but talk of drawing money and ratings should have no place in the context of a wrestling program.
While watching the show, we're supposed to believe that the guys on top are there because they are the best wrestlers. That's it. That's how you should earn title shots and main event shows. It's because you win.
WWE likes to complicate things though, and it just makes things frustrating.
It would be like Dana White talking about how a champion shouldn't be on top because he doesn't bring in a big buyrate. It would be like the announcers at a Packers game saying Aaron Rodgers should be replaced as quarterback because Eli Manning draws better ratings than he does.
It would be like Edge responding by saying that Hunter was the one on top while ratings continued to slide over the years, along with pay-per-view buyrates falling. Oh, and that his wife was the head writer all that time too. But let's not bring that up.
On Raw, AJ Lee zinged Jerry Lawler with a joke about how she was too old for him.
To counterattack that, Lawler responded with "you're a little too ugly for me."
For the company that continually, and shamelessly, promotes its anti-bullying efforts, they once again stepped into jerk wad territory. There were a million things that Lawler could have said about AJ in terms of her character. He could have just said she's crazy, or that she's already dated half the male roster.
Instead, he went for her looks. Classy.
Considering that AJ is more attractive than roughly 98 or 99 percent of the human population, he also kind of insulted anyone who isn't as pretty as her. I didn't turn into Raw to have my looks made fun of Jerry! I'm trying to lose weight!
Kids, sometimes you just shouldn't listen to Uncle Jerry.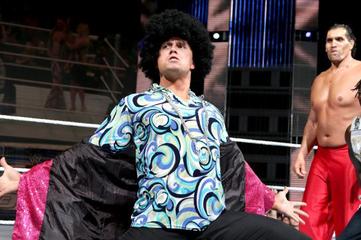 photo via wwe.com
I will never understand Vince McMahon's obsession with making his wrestlers dance. It's honestly kind of creepy.
Is it some sort of weird sexual thing? What other reason is there to air a segment of wrestlers dancing two days before a pay-per-view featuring a group of wrestlers who aren't on the show?
How about they have Dean Ambrose, one of the best talkers in the company, promote his upcoming match with Dolph Ziggler? How about letting any of the tag teams in the turmoil match talk about why they want the titles? How about we watch Brodus Clay and Tensai have a triple threat tickle fight with Hornswoggle?
Anything. Just no more dancing. Please.
And Mizco Inferno. How dare Miz besmirch the Disco Inferno?
This was one of those segments that make you want to turn off the TV, never watch wrestling again and decide to take up reading instead.
Please Vince, we've seen The Great Khali dance at least 750 times now. It's not funny. It was never funny. It's embarrassing and stupid, and thinking about this any longer hurts my head. I need a nap.
Time to kick out.
Well, that's all for this week. Agree? Disagree? What was your worst moment of the week? Sound off below and thanks for reading!