A State of Flux: Jacksonville's Coaching Staff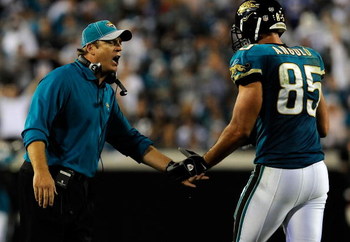 When you think about the Jacksonville Jaguars' coaching staff, the word "stability" doesn't immediately come to mind.
Sure, Head Coach Jack Del Rio has been at the helm for the last six years and is only the second coach in team history. But the former NFL linebacker has taken turns being on and off the hot seat in the past four years.
Perhaps Del Rio's "big chair" has never been warmer than it is this year. The team languished through a 5-11 season that included a great deal of turmoil in the locker room.
The losing season, just his second in six years, couldn't have come at a worse time. With the economy in shambles and an already lukewarm fan base, the Jaguars are in the midst of a perfect storm that is keeping ticket sales at a standstill.
The bottom line is Wayne Weaver cannot afford to have another season like 2008, and neither can Del Rio if he wants to keep his job.
The head coaching position is not the only one with some buzz around it. Jacksonville goes into the season with its third defensive coordinator in as many years.
Mel Tucker will try to tinker with a unit that was ranked 17th (330.9 yards per game) in total defense last year.
The team will also have a new special teams coach, as Russ Purnell takes over for Joe DeCamillis, who joined the Dallas Cowboys in the off-season.
At the end of the day, all that a coach can do on any level is put his team in the best position to win.
It is up to the players to execute the game plan and make the necessary plays to be successful.
However, we all know that the coach shoulders the blame when things go south, and Del Rio will be a sacrificial lamb if the Jaguars don't excel in 2009.
Here's a look at the key members of Jacksonville's coaching staff, starting at the top.
Head Coach
Name: Jack Del Rio
Years in Jacksonville: Entering his seventh, all as head coach
Notable Experience: Defensive Coordinator, Carolina Panthers (2002); Linebackers Coach, Baltimore Ravens (1999-2001); Linebackers Coach, New Orleans Saints (1998); four-year starter at Southern Cal (1981-84); 11-year NFL veteran.
Looking back at the numbers on Del Rio, it's somewhat surprising that he's in such dire straits regarding his future in Jacksonville. In his six years at the helm, he's posted a very respectable record of 50-46.
He's only had two losing seasons (2003 and 2008) while posting three winning campaigns (2004, 2005, 2007) and two playoff berths.
But the cliche about the NFL (Not For Long) applies to everyone. To go from the divisional playoffs against one of the most talented teams in the NFL to last place in your division is definitely cause for concern.
Many of the issues with last year's team are not Del Rio's fault (injuries, Stroud's departure, etc). However, there are two major blunders he committed that made 2008 an especially lackluster season.
First, the team shouldn't have brought in Gregg Williams if Jacksonville wasn't interested in letting him run his defense. Del Rio reportedly put the clamps down and Williams and wanted him to run a vanilla defense. Everyone in Jacksonville saw how that worked out.
Jacksonville does have a new defensive coordinator in Mel Tucker, but it has been reported that Del Rio will have his fingerprints all over this year's defense.
The second gaffe was his dust-up with Mike Peterson after the Cincinnati game. Del Rio blew his stack after a disappointing loss and directed his ire at Peterson, one of the most respected and well-liked guys in the locker room. That ill-fated decision forced a break in what was already a fractured clubhouse.
Offensive Coordinator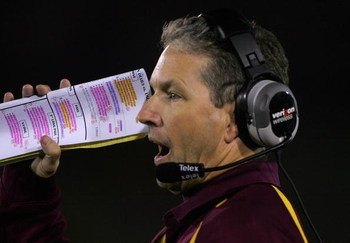 Name: Dirk Koetter
Years in Jacksonville: Entering his third, all as offensive coordinator
Notable Experience: Head Coach, Arizona State University (2001-2006); Head Coach, Boise State University (1998-2000); Offensive Coordinator, University of Oregon (1996-97)
Koetter made an instant splash when he joined the Jaguars in 2007. That year, Jacksonville set franchise records for points in a season (411), touchdowns (50), passing touchdowns (28) and yards per play (5.6).
Fast forward to 2008, and the offense was a wreck. The team only averaged 319.1 yards a game (20th in the NFL) and scored a dismal 18.9 points per game.
To put that last number in perspective, the Bears, Bills and 49ers all had higher scoring averages than the Jaguars.
The biggest difference between the two offenses was the ability to run the ball effectively. In 2007, Fred Taylor and Maurice Jones-Drew tore through opposing defenses, which allowed the play-action passing game to flourish.

In 2008, with a decimated offensive line, Jacksonville couldn't run the ball as effectively (the team averaged 4.2 yards a carry, almost half-a-yard less than 2007). Because of that, defenses had a much easier job containing the Jags.
With a bolstered offensive line, Jacksonville should have more success running in 2009. But with the loss of Fred Taylor, don't be surprised if Jacksonville has to throw the ball to get things going in the running game.
The problem is that the Jaguars don't appear to be built for that. Sure, Torry Holt was a nice addition, but who else is going to catch passes from David Garrard?
Defensive Coordinator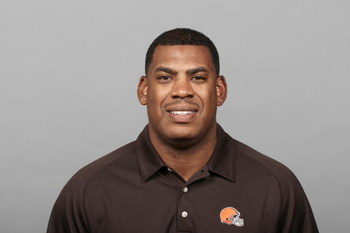 Name: Mel Tucker
Years in Jacksonville: Entering his first as defensive coordinator
Notable Experience: Defensive Coordinator, Cleveland Browns (2008); Defensive Backs Coach, Cleveland Browns (2005-07); Co-Defensive Coordinator, Ohio State University, (2004)
If Del Rio is determined to become more involved on defense, then Mel Tucker was probably a perfect hire.
In Tucker, you have a guy who had only coached in the NFL for four years and was only a DC for one of those.
When Tucker was hired, it was said that Cleveland Head Coach Romeo Crennel had a lot of input on the way the defense was run. If that assessment is correct, it was logical for the team to hire Tucker.
His background is with defensive backs. Prior to his stint in Cleveland, he was a DB coach at Ohio State and LSU.
Three of his defensive backs at Ohio State, Mike Doss, Will Allen and Chris Gamble, have gone on to make a name for themselves in the NFL.
Tucker's expertise could definitely be used in the secondary. Tucker will likely make Reggie Nelson a full-time project.
Despite showing tremendous athleticism and ball skills, Nelson gets lost way too much for Jacksonville's defense to be successful.
If Tucker can get Nelson to understand the way things work in the NFL, Jacksonville could have a ferocious defense again.
Special Teams Coordinator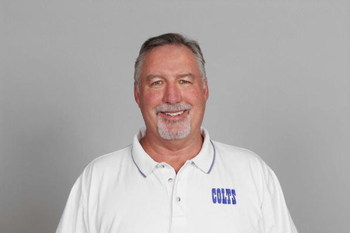 Name: Russ Purnell
Years in Jacksonville: Entering his first as special teams coordinator
Notable Experience: Special Teams Coordinator, Indianapolis Colts (2002-08); Special Teams Coordinator, Baltimore Ravens (1999-2001); Special Teams Coordinator, Houston Oilers/Tennessee Titans (1995-98)
There is no other coach on the staff who has been more successful at what he does than Russ Purnell. You look at his coaching experience, and the names just jump out at you.
Names like Mike Vanderjagt, Adam Vinatieri, Matt Stover, Jermaine Lewis. The list goes on and on. So many of Purnell's pupils have gone to the Pro Bowl and earned boatloads of awards. That can't be a coincidence.
Purnell was in Baltimore during the Ravens' Super Bowl win. Lewis had an 84-yard kickoff return for a touchdown in that game against the Giants.
Teams that approach special teams like the third phase of the game, as opposed to an afterthought, tend to have more success.
Look for Jacksonville's special teams units to be lights out under Purnell.
Rising Star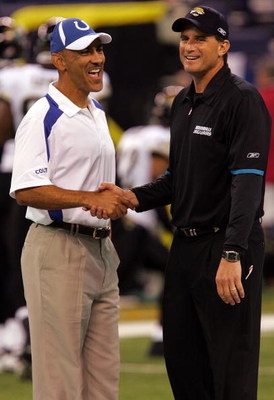 Name: Mike Shula
Years in Jacksonville: Entering his third, all as quarterbacks coach
Notable Experience: Head Coach, University of Alabama (2003-06); Quarterbacks Coach, Miami Dolphins (2000-02); Offensive Coordinator, Tampa Bay Buccaneers (1996-99)
If there was one coach on Jacksonville's staff who probably wouldn't be in town for too much longer, that coach would be Mike Shula.
There are a number of reasons that Shula could be a hot commodity in the coming years. First, he's still relatively young (he is 43).
He worked under one of the most respected coaches in all of football, Tony Dungy, when he was Tampa Bay's offensive coordinator. A recommendation from Dungy would go a long way.
Shula became the head coach at his alma mater, Alabama, during a lull in the team's illustrious history. In four years as head coach, Shula had a record of 26-23.
His best year came in 2005, when the Crimson Tide finished 10-2 and beat Texas Tech in the Cotton Bowl. But in 2006, Alabama went 6-6 and Shula was fired after the season.
One other thing that could make Shula attractive is the name. Don Shula was one of the best coaches in the history of the league. His son has shown he's very capable. That might be enough for some owner (I'm thinking a senile Al Davis maybe?) to give Shula a shot at running an NFL team.
While the coaching gene seems to often skip a generation (Wade Phillips didn't get much help from Bum, and Dave Shula got even less help from Don), Mike Shula has shown an ability to thrive around the game of football.
Don't be surprised if he gets another head coaching gig, college or pro, sooner rather than later.
Keep Reading

Jacksonville Jaguars: Like this team?