If the Cleveland Browns trade wide receiver Josh Gordon this year, a future first-round pick should be part of the return package.
ESPN's Adam Schefter broke word on Sunday that the Browns were exploring a trade for two of their top receiving targets:
Cleveland fielding offers for and open to trading WRs Josh Gordon and Greg Little. At least one team has made a quality offer for Gordon.

— Adam Schefter (@AdamSchefter) September 22, 2013
In fantasy football and the Cleveland front office, the asking price for Gordon should start extremely high. Hypothetically speaking, CBS Sports' Dane Brugler posed a question on Twitter that sums up where we're at when it comes to Gordon's trade prospects:
Hypothetical: If you're 49ers GM Trent Baalke, would you trade your 2014 1st round pick for WR Josh Gordon?

— Dane Brugler (@dpbrugler) September 24, 2013
Fresh off a two-game suspension for violating the NFL's substance abuse policy, Gordon's 2013 debut was phenomenal. He caught 10 passes for 146 yards and a touchdown on Sunday, an effort that helped Cleveland down the Minnesota Vikings in one of the most shocking upsets of the young season.
As noted by Mary Kay Cabot of the Cleveland Plain Dealer, Gordon was playing with a chip on his shoulder:
#browns josh Gordon on if he was making the statement 'don't trade me': "it was kind of that sense."

— Mary Kay Cabot (@MaryKayCabot) September 22, 2013
On Monday, Cleveland head coach Rob Chudzinski's words to the media didn't paint a picture of Gordon being shipped away to the highest bidder. His Week 3 performance—with Brian Hoyer at quarterback, no less—might have something to do with it.
"We have no plans on any other trades," said Chudzinski, as reported by Cabot for Cleveland.com. "The rumors, the things that swirl around, are just all noise."
Cabot is also reporting that a "league source" has informed Cleveland.com that Gordon is unlikely to be traded.
ESPN's John Clayton doesn't see it in the cards, either:
Are the Browns really serious about shopping Josh Gordon after his three plays for 99 yards in the first quarter? Come on, man

— John Clayton (@ClaytonESPN) September 22, 2013
A third first-rounder in the 2014 NFL draft might turn that thought process around.
The Trent Richardson-to-Indianapolis domino escalated trade chatter surrounding some of the Browns' top stars. Gordon, certainly in that category, is sure to garner league-wide interest if he ends up on the block before the Oct. 29 trade deadline.
Cleveland sent Richardson to join up with fellow 2012 first-rounder Andrew Luck last Wednesday, a move that netted the Browns Indy's top pick in the 2014 draft.
It also signaled the start of a serious rebuild.
If the Richardson trade wasn't enough to sway general thinking in that direction, any discussion about trading one of the most talented young receivers in football for future talent should do the trick.
On the surface, trading Gordon might seem crazy. In just 14 career NFL starts, the 22-year-old has 60 receptions for 951 yards and six touchdowns. He averages 15.9 yards per reception for his career, and he finished eighth in the league in that category (16.1) during his rookie season.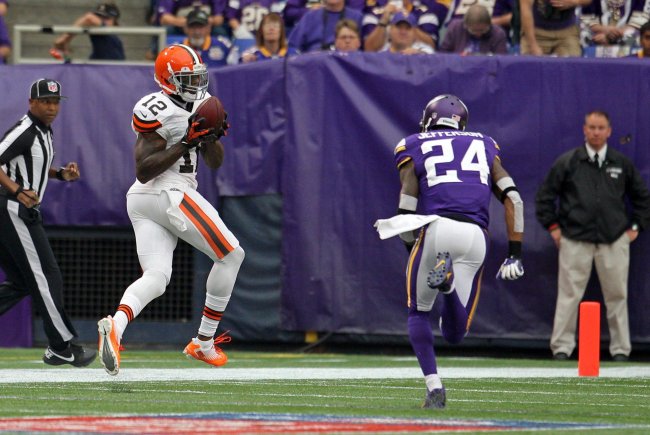 Brace Hemmelgarn-USA TODAY Sport
The off-the-field issues Gordon has struggled with in his career are the biggest reason why he might be a trade casualty as the Browns continue to look toward the future.
In addition to his NFL suspension, Gordon has been in trouble in the past. He was suspended by Baylor in 2011, and shortly after, he left the program for good. That series of events led to the Browns eventually using a second-round pick in the 2012 NFL supplemental draft for his rights.
ESPN's Chris Mortensen posted an important tweet that is telling as to why the Browns might take an opportunity to trade Gordon now, as well as why receiving a first-round pick for his services will be no easy task:
Also for Browns, take into account that WR Josh Gordon, a 2nd round pick, is one strike away from a year-long substance abuse suspension

— Chris Mortensen (@mortreport) September 18, 2013
In the event of a trade, Cleveland would have to sell interested parties on Gordon being a changed man. Surrendering a first-rounder for someone with no wiggle room for trouble of any kind is a high-risk move, even for a player as dynamic as the former Baylor standout.
If you're Cleveland management, what is the minimal return you would accept for Josh Gordon?
Cleveland is in a win-win position on the trade front. The Browns should be in no hurry to sell. They now have two first-rounders in 2014, and the victory over the Vikings should boost morale heading into a tough matchup with division rival Cincinnati.
That said, it would be foolish if the Browns didn't keep all of their options open. By the same token, teams with needs at wide receiver would be foolish to avoid picking up the phone and inquiring as to Gordon's availability.
If Gordon is still in his No. 12 Browns jersey on Oct. 30, then Chudzinski and Norv Turner will have an emerging star to work with for the rest of the season. A decision not to sell would likely mean that no team met the asking price.
If Gordon does change addresses this year, then a first-round pick should be headed Cleveland's way. It's a high price to pay—especially in today's NFL—but the Browns must capitalize on Gordon's strong start and potential talent to squeeze the most return out of any deal.
Follow B/R's Ethan Grant on Twitter.