Mayweather vs. Canelo: Why Fight Will Not Live Up to the Hype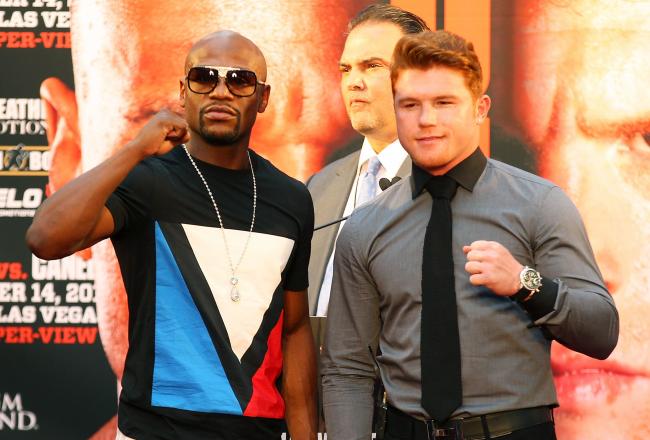 Mike Stobe/Getty Images
The fight between Floyd "Money" Mayweather and Saul "Canelo" Alvarez is getting a ton of hype and, according to Yahoo! Sports, could net over $2 million in sales.
Despite the incredible hype that surrounds any Money fight, this one will not live up to the hype.
While Canelo is an awesome power puncher, Mayweather is one of the best defensive boxers ever. Mayweather's opponents have just a 21 percent contact rate on power punches, according to ESPN Stats & Info. Further, in his last 10 matches, Money's opponents have landed an average of just eight punches per round, also per ESPN Stats & Info.
This means that Mayweather can drag this fight out as long as he wants. Canelo, who does not have the best stamina, will tire out as his punches miss.
This will allow Mayweather to bide his time, pick his spots, and hit Canelo when he's most vulnerable.
Mayweather is an incredibly technically sound boxer, and for all his bravado, he has proven to be one of the smartest boxers in recent memory. But smart doesn't always translate to flashy. He's not going to win with an one-punch knockout and he's not going to punch Canelo until he calls uncle.
No, Mayweather is going to simply outlast Alvarez. Using his smarts, his wicked shoulder roll and his great counterpunches, Money will wear down Canelo.
Will the Fight Exceed Expectations?
This will appeal to hardcore boxing fans who can look past Money's big mouth and focus on his technical skill. But if the fight really wants to net over $2 million in sales, it needs to attract more than just the hardcore boxing fans. They need to attract everyone who's home Saturday night who has even a remote interest in boxing. And those fans who have just a remote interest in boxing are not interested in technical skill or a savvy, well-thought out bout. No, fans want knockouts and they want devastating right hooks.
They're not going to get that here. Canelo may hit on a few of his power punches, but not that many, since Money is just incredible at dodging punches. Mayweather probably won't knock out Canelo—he's only had one knockout in his last five matches. If anything, Money will probably win this one on a decision.
If you're a hardcore boxing fan, tune in. You're going to love this fight. But this match is not for hardcore fans. It's for casual fans. And based on the matchup, a lot of casual fans are going to quickly change the channel.
This article is
What is the duplicate article?
Why is this article offensive?
Where is this article plagiarized from?
Why is this article poorly edited?