Air Force vs. Boise State: Live Scores and Highlights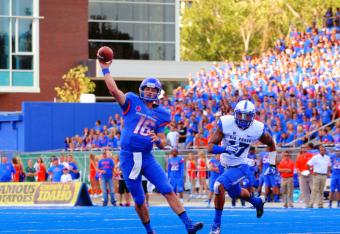 Brian Losness-USA TODAY Sports
Final: Boise State 42, Air Force 20

It wasn't pretty in the first half, but the halftime adjustments looked great for Boise State (2-1, 1-0 MWC). The Broncos led at the half 21-17, but held the Air Force Falcons (1-2, 0-2 MWC) to a single field goal in the second half meanwhile scoring 21 additional points with relative ease.
Boise did turn the ball over twice however, in the red zone. Had they held on to the ball, this could have been an even more dominant win. Something to work on this week in practice.
Boise State heads to Fresno next week to take on the high-powered offense of the Bulldogs. Air Force will host Wyoming in Week 4.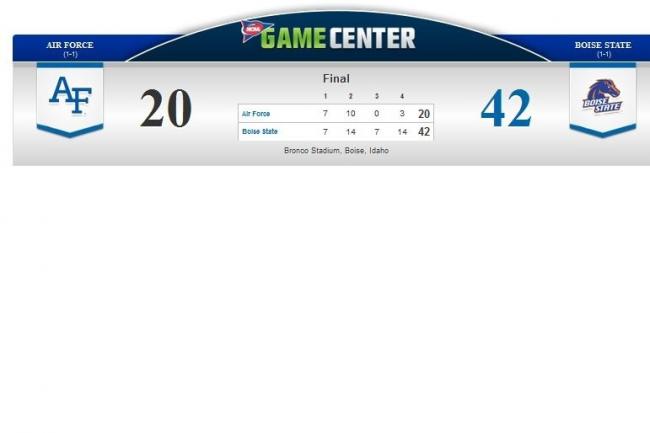 Final Score from Boise, Idaho: Boise State 42, Air Force 20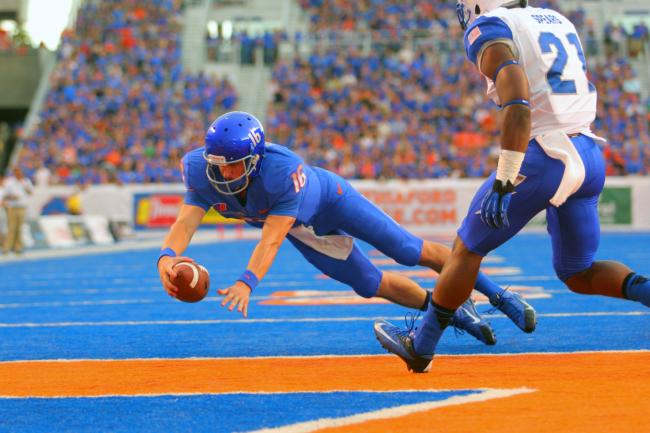 Players of the Game
Senior Quarterback Joe Southwick (and his mustache)
Passing: 27-of-29 (a school record), 287 yards, 1 TD, 1 Int.
Rushing: 6 carries, 53 yards, 1 TD
Sophomore Running Back Jay Ajayi (and his pickle juice)
Rushing: 17 carries, 125 yards, 4 TD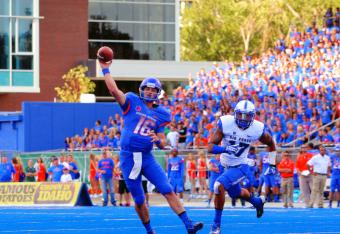 This game is winding down. Boise State will get the win.
It was a mixed bag tonight for the Broncos. They looked rough on defense in the first half, but the offense seems to be clicking.
Second half adjustments by the Boise State D looked great, and they held Air Force to just 3 points in the second half. Let 17 on them first half.
BIG HIT by redshirt freshman Ben Weaver.
Might want to call him "Dream Weaver" after putting that Air Force ball carrier to bed.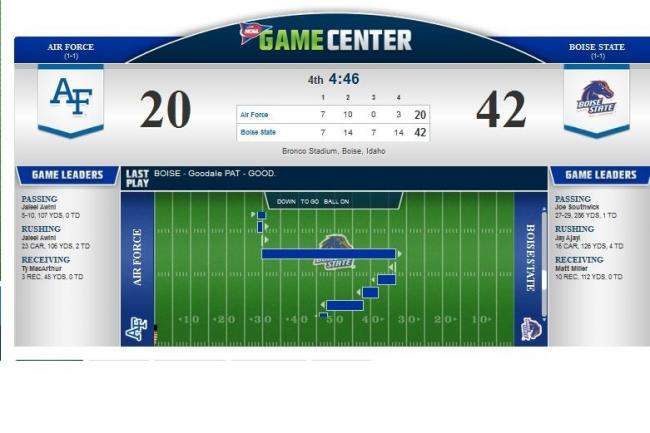 Score: Boise State 42, Air Force 20 4th Quarter: 4:46
#PickleJuice BOISE STATE!!!

— Bronco Nation News (@BSUBroncoNation) September 14, 2013
Joe Southwick's mustache and Jay Ajayi's pickle juice have to be considered for "Players of the Game."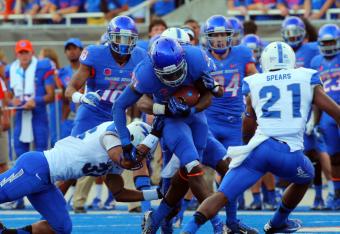 So, I predicted a 48-21 win by Boise State.
It's now 42-20, so disappointed in myself.
This is the "slow-down," "hurry-up" offense being displayed by Boise State right now.
Joe Southwick proves he should jump, not slide.
True freshman Aaron Baltazar is impressing me more and more. This guy looked special before coming to Boise State, but he just keeps confirming it time and time again.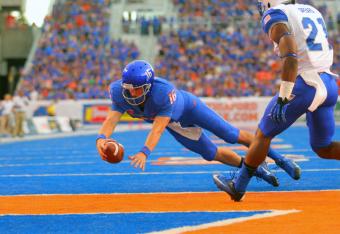 Boise State can seal the deal on this drive. If they score a touchdown, it is highly unlikely Air Force could come back from 22 down in less than seven minutes.
For I could pack up, Darian Thompson with his second INT of the season. #BoiseState ball at the #AF 47.

— Jay Tust (@KTVBSportsGuy) September 14, 2013
Thompson gets his second of the season.
Boise State takes 35-20 lead and Darian Thompson immediately grabs INT with 8:00 left in the game.

— Bronco Beat (@IDS_BroncoBeat) September 14, 2013
There is a BIG turnover for Air Force.
First of the night, and Boise State takes over.
That 9-run TD run by #BoiseState RB Jay Ajayi gives him a new career-high of 119. Also, career-high 3 TDs in the game.

— Jay Tust (@KTVBSportsGuy) September 14, 2013
Interesting fact about Jay Ajayi.
Southwick's last 15 drives: 41/49 (84%) 490 yards, 6 tds, 1 int. #BoiseState offense: 84 points, 110 plays, 871 yards (7.91 yards per play)

— Times-News Bronco FB (@TN_Broncos) September 14, 2013
More impressive stats.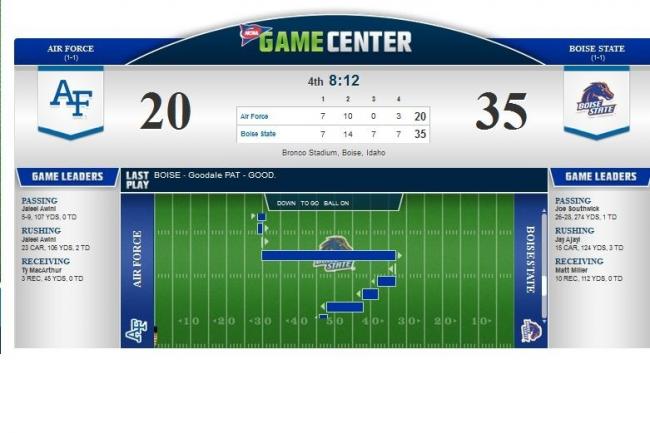 Score: Boise State 35, Air Force 20 4th Quarter: 8:12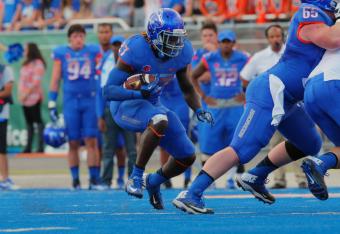 Touchdown Jay Ajayi!
Boise State goes up by two scores.
Boise state driving. Now, can they complete?
A touchdown here is what Boise State desperately needs.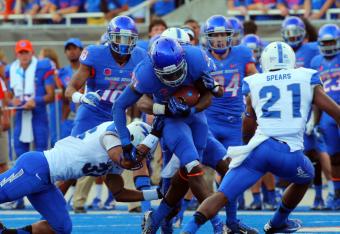 Probably the biggest drive of the night so far right now.
Boise State has to answer if they want to win.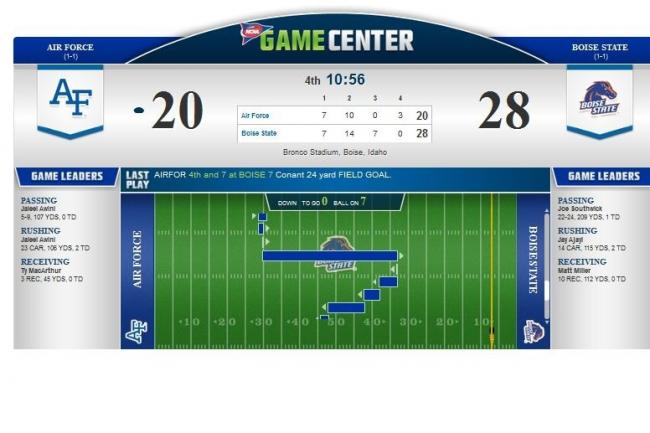 Score: Boise State 28, Air Force 20 4th Quarter: 10:56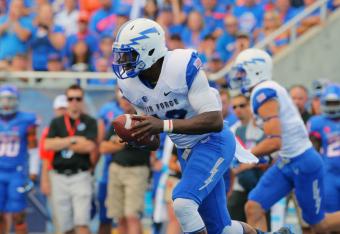 FG is good. Boise State leads 28-20 with 10:56 to play

— Bronco Beat (@IDS_BroncoBeat) September 14, 2013
Air Force gets 3.
However, the penalty on Bell was costly. Boise State could have held them to 0 and got the ball back.
Now, can Boise State answer?
Boise State gets stop on fourth-and-1 but Corey Bell gets roughing penalty

— Bronco Beat (@IDS_BroncoBeat) September 14, 2013
Instead of Boise State 1st and 10 going the other way, Air Force 1st and goal.
That is going to get someone in trouble next week. Corey Bell called for personal foul.
Air Force goes for it on 4th Down.
They don't convert, but Boise State called for roughing the passer.
That is HUGE.
Another dropped pass by Air Force. That was a problem last week too.
If he catches that, Air Force is 1st and goal. Now, 2nd and 10.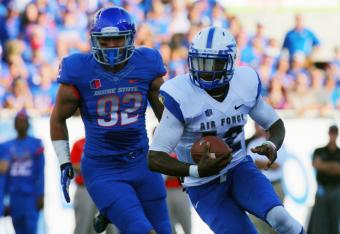 Air Force gets another big pass play.
The coverage was there, but the defenders of Boise State didn't seem to react to the ball.
This article is
What is the duplicate article?
Why is this article offensive?
Where is this article plagiarized from?
Why is this article poorly edited?

Boise State Football: Like this team?