WWE Night of Champions 2013 Matches: Bouts That Will Live Up to the Hype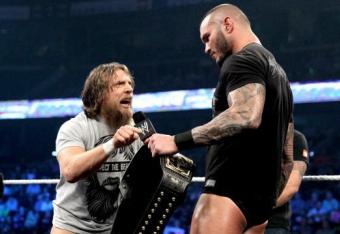 Photo Credit: WWE.com

Sunday evening, World Wrestling Entertainment will attempt to add to its impressive streak of high-quality monthly events with its annual September offering, Night of Champions.
Headlining the pay-per-view extravaganza is the main event between WWE champion Randy Orton and No. 1 contender, Daniel Bryan.
Joining that much-anticipated bout are two matches featuring some of the most talented individuals on the roster.
In a two-on-one handicap elimination match, CM Punk will look to finally gain revenge for Paul Heyman's betrayal of him back at July's Money in the Bank. In order to do that, he will have to go through intercontinental champion, and Heyman client, Curtis Axel.
World heavyweight champion Alberto Del Rio will face the toughest challenge of his current title reign when he meets the man once dubbed "Mr. Pay-Per-View," Rob Van Dam.
With so many major matches meeting or exceeding expectations this year, there is a great deal of hype surrounding the headlining bouts.
Which begs the question: Which matches on Sunday's card will live up to the hype?
Here is what you can expect to meet your expectations.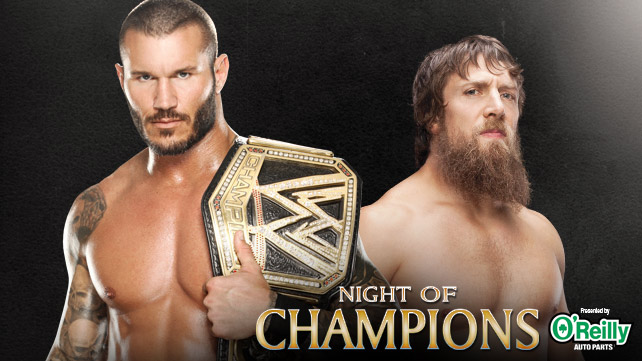 WWE Championship Match: Daniel Bryan vs. Randy Orton
Preview
On the June 24 edition of Raw, fans caught a glimpse of just how well Bryan and Orton work together as they did battle in a No Disqualification match. Bryan picked up the submission win there, using a kendo stick to enhance the pain Orton already felt as he was trapped in the No Lock.
That victory, over one of the most protected stars in WWE, legitimized Bryan as a main event babyface and continued the build of one of the best rivalries of the year.
Since then, the feud between the two has taken a wild and crazy left turn.
Bryan defeated John Cena for the WWE title in an exceptional main event at SummerSlam. Confetti fell from the rafters and fireworks exploded in celebration of the improbable win.
The "Voices" played and Orton rushed to the ring, ready to cash in his Money in the Bank briefcase. Bryan egged him on, daring him to step into the ring. Orton stopped and began heading back up the aisle.
That's when the unthinkable happened. Triple H, who was guest referee for the Bryan-Cena match, spun the new champion around and dropped him with a Pedigree. Orton returned to the ring, handed over the briefcase and captured the WWE title for himself three seconds later.
Since then, Orton and Triple H have held Bryan down and made his life a living hell, all in the name of what is "best for business."
Sunday, Bryan has the opportunity to prove The Game and the WWE champion wrong when he tries to regain a title that was unjustly taken from him a month ago. Will he be able to overcome the odds to realize his dream or will the odds be to great?
Keep an eye out for The Shield, Triple H and The Big Show, all of whom could potentially appear during the match.
Why It Will Match the Hype
History dictates that, as mentioned above, champion and challenge have outstanding chemistry with one another. The matches against each other over the spring and early summer were outstanding and planted the seeds for Sunday's main event.
There is no doubt that the match, which is Night of Champions' greatest hope for a legitimate show-stealing performance, will deliver from a ring-work standpoint.
Add to it the excitement and unpredictability that the potential interference from any number of fringe players will add to the contest and you have all the makings for a newsworthy pay-per-view main event.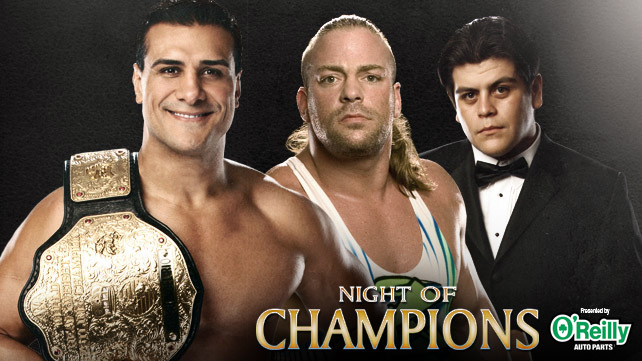 World Heavyweight Championship Match: Rob Van Dam vs. Alberto Del Rio
Preview
Alberto Del Rio continues a stellar 2013 with another defense of his World Heavyweight Championship on WWE pay-per-view.
At SummerSlam, Del Rio delivered a smart, underrated performance against Christian that, on any other show, would have been the best of the night. After defeating Captain Charisma, he appeared to be unstoppable.
Enter Ricardo Rodriguez, Del Rio's former personal ring announcer and friend.
A month earlier, the World champion brutally assaulted Rodriguez, bringing an end to their longtime friendship and breaking out on his own for the first time in his WWE career.
Rodriguez would gain a measure of revenge by introducing his new friend, a man he claimed would stand up to people like Del Rio: Rob Van Dam.
Since returning at July's Money in the Bank pay-per-view, Van Dam has been outstanding between the ropes. Matches with the likes of Randy Orton, Chris Jericho and Del Rio have reaffirmed how special a performer he is motivated.
Now, with the opportunity to win a title he has never worn throughout his decorated career, expect the high-flying Van Dam to pull out all stops on Sunday night.
And, in the process, avenge new confidant Rodriguez.
Why It Will Match the Hype
Like him or not, Alberto Del Rio has been one of the most consistently great in-ring performers in 2013. Matches against The Big Show, Jack Swagger, Dolph Ziggler and Christian have showcased his ability to adapt his style to accommodate various types of performers.
He will have to reach deep into his bag of tricks for what promises to be an extended, lengthy title defense against the often-times unorthodox Van Dam.
RVD's combination of hard strikes and high-flying offense makes him the type of performer who excels when fighting from underneath. His exciting offensive arsenal lends itself well to the babyface comeback.
Del Rio has showcased the ability to work well as a babyface or a heel throughout 2013, but he is usually at his best as the heel who wears down his opposition, keeping them grounded and unable to utilize his full skill set.
In short, non-title matches on Raw and SmackDown, Van Dam and Del Rio have shown an ability to work well together.
If they can sure up their work and keep from getting too sloppy, which should not be an issue given that more time is allotted for matches to develop on pay-per-view, Del Rio will once again be looking at a potential show-stealing performance.
In his first opportunity to win heavyweight gold on a WWE pay-per-view since 2006's ECW One Night Stand, Van Dam will re-establish himself as one of the sport's must-see performers.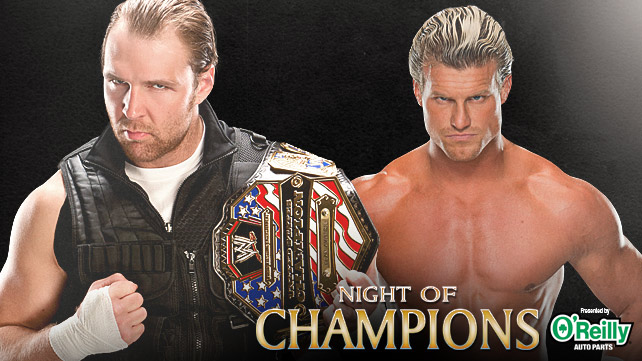 WWE United States Championship Match: Dolph Ziggler vs. Dean Ambrose
Preview
After Triple H's shocking actions at SummerSlam, which saw him flatten Daniel Bryan with a Pedigree and help Randy Orton win the WWE title in a move he claims was "best for business," Dolph Ziggler was one of the more vocal Superstars on the roster.
He spoke out against the WWE's COO, saying he never really trusted him.
This earned Ziggler repeated beatings at the hands of The Shield, most notably U.S. champion Dean Ambrose, who seemed to be hellbent on destroying the Showoff.
Ziggler never gave up, continuing to fight until he was physically unable to do so.
After Friday night's SmackDown, which saw him team with The Usos to take on Ambrose and Shield teammates Seth Rollins and Roman Reigns, it appears as though Dolph will have the opportunity to stick it to his boss, and Ambrose, by winning the United States Championship.
Why It Will Match the Hype
The moment a match between any two Internet favorites is announced, there is a certain level of hype surrounding the bout, regardless of the storyline or its background. Ziggler vs. Ambrose is one of those matches.
Ziggler is an outstanding professional wrestler who, like fine wine, has gotten better with time. He goes out of his way to make others look good, and that is something Ambrose can always use.
Ambrose may very well be the most unique in-ring performer on the roster, thanks to a brawling style that sees him utilize open-palm strikes as well as much more. Ziggler, on the other hand, is seemingly at his best when he is taking a beating and making others look like world-beaters.
He is a master seller and a hell of a bumper who relishes in the opportunity to showcase his skills. A veteran of dozens of WWE pay-per-view events, Ziggler will do everything in his power to get the very best out of the highly talented yet still very raw Ambrose.
If these three matches can live up to the hype, can match the expectations placed on them ahead of Sunday's show, Night of Champions will continue one of the hottest pay-per-view streaks in WWE history.
This article is
What is the duplicate article?
Why is this article offensive?
Where is this article plagiarized from?
Why is this article poorly edited?