With three games left in the 2012 regular season, the Detroit Lions were served what should have been a wonderful meal: The Arizona Cardinals started the season 4-0 then dropped nine straight, including a 58-0 blowout against the Seattle Seahawks a week prior to facing the Lions.
The feast couldn't have been on a better platter for Detroit. The table was set, and dinner was served.
Unfortunately, that meal was inedible.
Arizona scored 21 straight points in the second quarter and never looked back. Detroit had four turnovers, including three Matthew Stafford picks, and despite leading and having the advantage in most offensive categories, Arizona still earned a 38-10 victory.
Needless to say, the December 16th, 2012 loss is still on the minds of Stafford and the Lions going into Sunday. Look for Detroit to have a big game on offense at University of Phoenix Stadium.
The Lions played well offensively against the Minnesota Vikings with Stafford going 28-of-43 for 357 yards and two touchdowns. While Stafford looked sharp, to avoid any repeat of last season, he'll need to be more accurate with his throws.
That is where Reggie Bush will have to shoulder some of the load offensively—which he managed to do fine in Week 1. Despite dislocating his finger, Bush had an amazing first game as a Lion.
Bush came up with 191 total yards in the victory against Minnesota—100 on the ground and 91 through the air, including a TD. After the game, Bush told Mike Florio of ProFootballTalk.com, "We just scratched the surface today."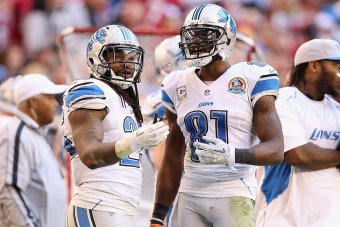 Christian Petersen/Getty Images
Detroit needs to scratch that surface a little more Sunday, so to will Calvin Johnson, who was limited to four catches and 37 yards against Minnesota. Wide receiver Nate Burleson filled Megatron's proverbial shoes with six catches for 78 yards, but Johnson needs to be more of a force against the Cardinals.
In the 2012 loss to the Cardinals, Johnson had 10 catches for 121 yards. After a quiet first game, Johnson needs to feast on Arizona's defense to gain momentum for the rest of the season.
Detroit shouldn't have a problem building a win streak against Arizona; however, they will have to play a strong game to assure a victory.