Jets vs. Patriots: Takeaways from New York's 13-10 Loss to New England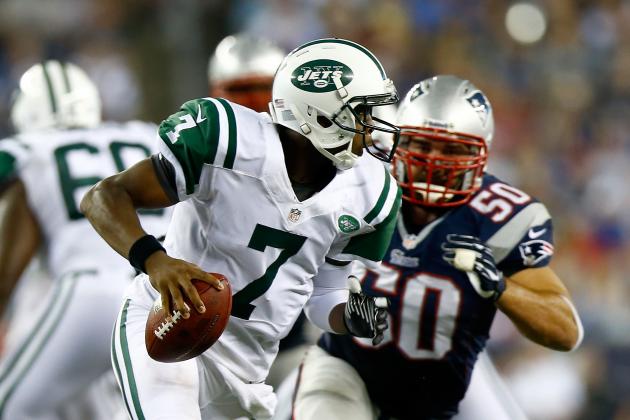 Jared Wickerham/Getty Images

The New York Jets, unable to pull off the upset for the second week in a row, dropped an ugly affair to their archrival, the New England Patriots, 13-10.
While New York's defense was able to stop Tom Brady in his tracks, miscues on offense turned out to be the team's undoing. The Jets had a chance to win the game at the end, but they were not able to overcome a fourth turnover.
Here are some critical takeaways from the Jets loss to New England.
Begin Slideshow

»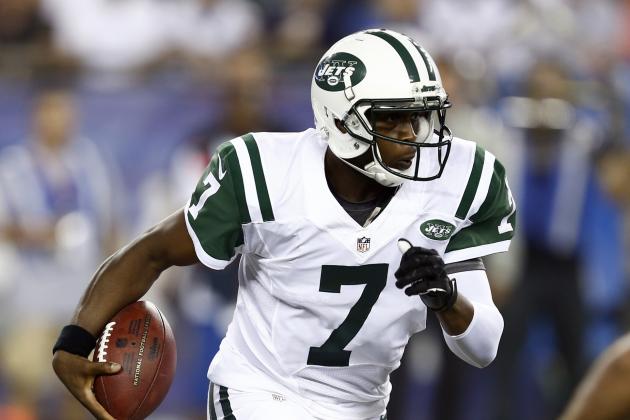 Mark L. Baer-USA TODAY Sports

Geno Smith actually looked very sharp early in the game, taking advantage of great pass protection to make some accurate throws with a lot of velocity. He also had a few excellent throws that were dropped.
However, when the Patriots started to get more pressure on Smith as the game went on, he failed to adapt. He took far too long to get rid of the football, which led to four sacks, and he was pressured into three interceptions. Early in the game, he missed a wide-open Stephen Hill in the end zone.
To be fair, Smith was the victim of drops that killed drives and fumbles, that in one instance, transformed an impressive completion by Smith into a turnover. If his receiving corps does at least an average job catching and holding onto the ball, the Jets probably win this game.
Smith has all of the tools to develop into a quality quarterback. Though he was victimized by dropped passes, he still must learn to get rid of the football more quickly. Using his legs to buy time may be a comfortable thing for him to do at this point in his career, but doing so continually won't help his long-term development.
This was a bit of a step back for Smith, but he has plenty of time to fix his problems.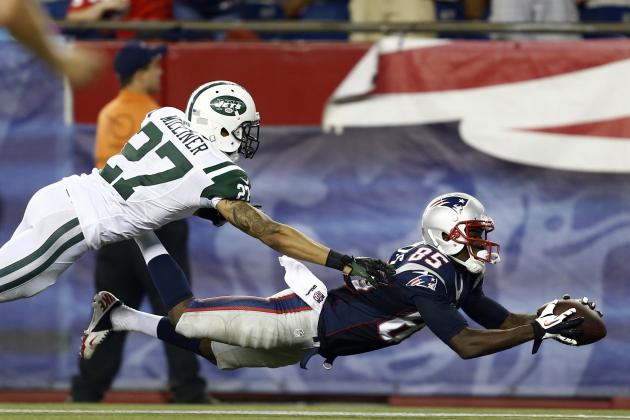 Mark L. Baer-USA TODAY Sports

Like Geno Smith, rookie cornerback Dee Milliner could very well turn out to be a tremendous player in the NFL.
For now, however, he may be better off sitting on the sideline.
The Patriots did not complete many passes, but when they did, Milliner was usually running a few yards behind whoever caught the ball. As a result, Rex Ryan benched Milliner in the second half in favor of Kyle Wilson and Darrin Walls.
One of the biggest issues for Milliner is that he is somewhat timid in press coverage. Because he was not taught how to backpedal at Alabama, he prefers to avoid having to do that technique by giving the receiver some room—which is not how Ryan wants his corners playing.
Milliner, who has yet to make many plays, will need to use this tough period as a learning experience.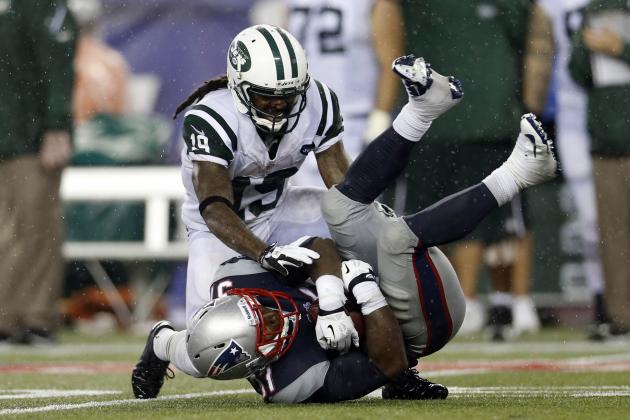 Greg M. Cooper-USA TODAY Sports

Geno Smith had a very up-and-down performance, and the second-half rain certainly did not make it easy on the Jets receivers (nor on New England's receivers, to be fair).
But there was simply an inexcusable amount of drops by New York's wideouts.
Drops can be a very tricky problem to solve. Too great a preoccupation with them can result in even more dropped passes, as the receiver starts putting too much pressure on himself to catch every throw that comes his way.
Clyde Gates dropping a touchdown and Stephen Hill fumbling away a big play early in the game are just two examples of receivers not coming through at crucial moments. Even the sure-handed Ryan Spadola was guilty of a critical drop.
Still, something must be done about this issue, as drops can be deflating for a team. Having drops end a drive or take points off the board—both of which happened during this game—can be as negative as a turnover.
Somehow, the Jets need to find a way to fix this problem and give their young quarterback some of the help he needs.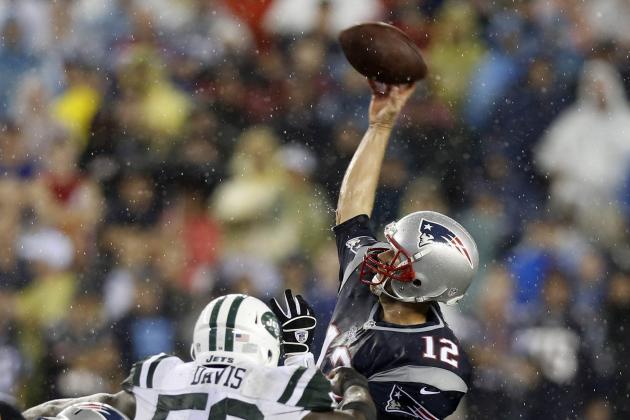 Greg M. Cooper-USA TODAY Sports

It was an ugly game for both offenses, and the Jets' defensive front was a big reason why the Patriots looked more like...well...the Jets.
Rookie Sheldon Richardson shined more than anyone else, as at times he dominated on run defense and got pressure on Tom Brady. The Jets did not get many sacks, but they held the Patriots to just 4-for-18 on third down.
Demario Davis shined as well at inside linebacker, making a few key stops and disrupting New England's running game. Muhammad Wilkerson was his usual disruptive self, but his status for next week is likely up in the air after he left the game with an ankle injury. He, Damon Harrison and Kenrick Ellis were all a huge part of holding Pats RB Stevan Ridley to just 2.5 yards per carry.
It took a lot of high draft picks, but the Jets have built themselves one of the most athletic defensive fronts in football.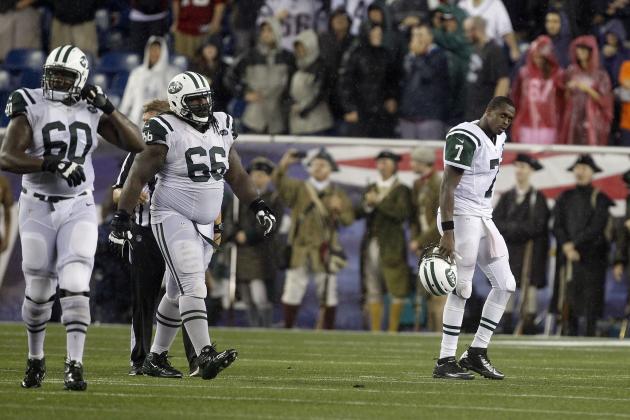 The Star-Ledger-USA TODAY Sports

Geno Smith and his receivers were less than perfect, but the offensive line was light years better than they were a week ago.
Putting up over 100 yards on the ground, the Jets pushed the Patriots line around, which is impressive against a unit that is usually rather stout against the run. While the line struggled with protection at times in the second half, early in the game Smith had a ton of time to throw.
The most shocking performance of the game was how well Vladimir Ducasse handled Vince Wilfork. Ducasse, a former second-round pick now entering his fourth season, was dubbed by many fans as a bust. But if this game is any indication, it appears that he has finally turned the corner and is living up to the promise his athletic potential suggests.
The Jets still have a number of problems at the skill positions, but they appear to have found a combination of players along the OL that can make this unit dominant at times. It is rather unfortunate that a late-game altercation that involved the ejection of tackle D'Brickashaw Ferguson and Willie Colon might overshadow the offensive line's performance.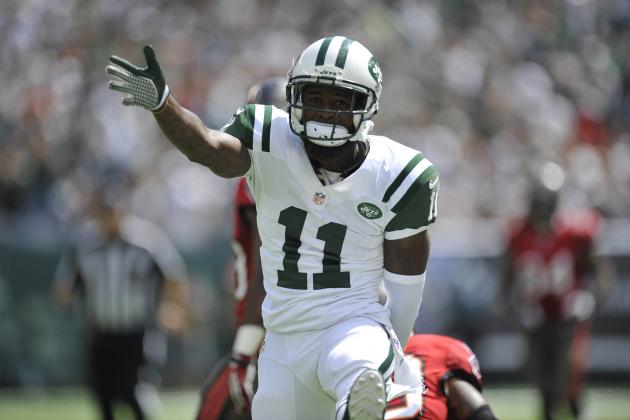 Joe Camporeale-USA TODAY Sports

Perhaps the Jets' drop total would not have been so bad if their trusty slot receiver was not out with a concussion.
Because Kerley was not available, Geno Smith was forced to look to receivers on the outside, where his accuracy can get spotty. Smith is at his best throwing between the numbers to inside receivers, and the Jets could have used a crafty slot receiver to make a few tough catches over the middle.
Kerley was also missed in the return game. Not only was Kyle Wilson ineffective, there were instances in which the Jets forgot to field a return altogether.
If Kerley can return next week, his presence will be a huge boost to a struggling passing attack and will help resolve their lingering drops issue.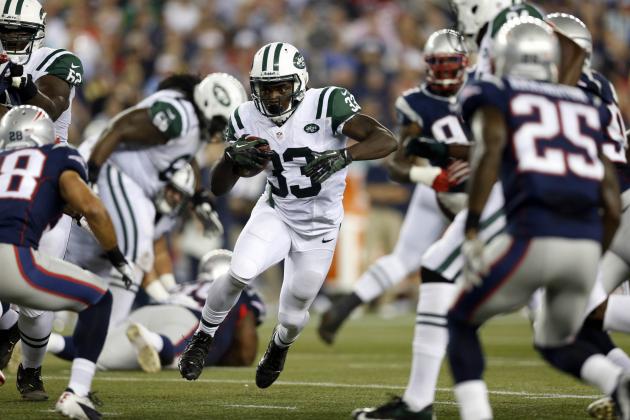 Greg M. Cooper-USA TODAY Sports

This was a coming out party for Chris Ivory, who has had a quiet start to his career in New York. After averaging a mere 2.7 yards per carry in Week 1, Ivory posted a team-high 4.3 yards per carry.
Ivory's numbers were better because of the fantastic play of his offensive line, but more than anything, the Jets' new running back showed off his physical style that made him so attractive to the team in the first place. He finished runs well, often grinding out extra yards on his own.
Ivory is not as adept in the passing game as Powell, which limits his value on third down, but he proved to be a stronger runner between the tackles Thursday night.
Ivory has not done enough to earn the full-time starting role, but the Jets are starting to get a return on their investment.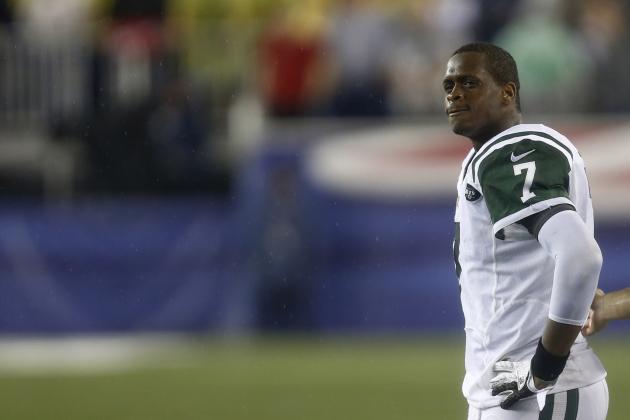 Mark L. Baer-USA TODAY Sports

Through two games, the Jets are far from being the complete dumpster fire everyone thought they would be—but they are still a ways away from being serious Super Bowl contenders.
Unfortunately for Rex Ryan, who is coaching for his job this year, his team is simply too young at key positions to knock off the heavyweights, even when they are at their most vulnerable. The Patriots tried to lose this game in every possible way—but the young Jets offense simply could not take advantage.
Obviously, Geno Smith's development will have the biggest impact on how close the Jets get to returning to the playoff hunt. Smith has already shown that he has the talent and poise to make it as an NFL quarterback. Now, he needs to adjust to the speed of the game—something only time and repetition can teach.
The Jets also need this year's top draft pick, Dee Milliner, to find his way back into the starting lineup and play like the lockdown cornerback he was drafted to become.
The Jets do have a defense that can compete with any other defensive unit in the league, but until they make improvements on the offensive side of the ball, the Jets are just not quite ready to be considered a team to be reckoned with.