2013 College Football Teams That Will Blow Their BCS Hopes in September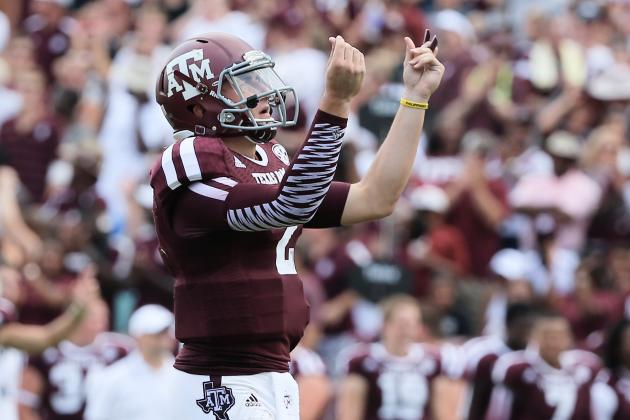 Scott Halleran/Getty Images
Money? The only thing being shown to Manziel and the Aggies will be the door.
Every game counts in college football.
Sure, there are still many games to be played this season. However, some losses are just too much to overcome. Even more so if it isn't the first time.
Nobody said the process of reaching the BCS title was going to be easy.
Here are some of the teams that will see their national-title hopes shattered before the month's end.
All rankings are based off the current AP Top 25
Begin Slideshow

»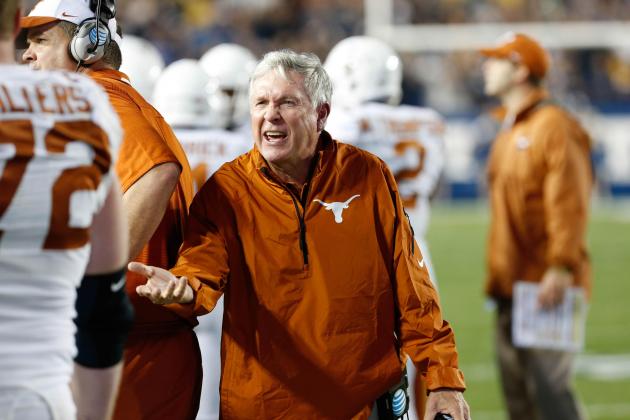 Chris Nicoll-USA TODAY Sports
Mack Brown's hot seat will only get hotter if the Horns fall again in September.
Remaining September Schedule
Sept. 14 vs. No. 25 Ole Miss
Sept. 21 vs. Kansas State
The Lowdown
OK, the argument could be made that the Longhorns have already blown their shot at playing for the national title.
But while loss to BYU was astonishingly embarrassing, it was also a non-conference game. If Texas were to come out of conference play with an unblemished record and just one overall loss, it's hard to argue against giving the Longhorns a BCS shot.
Then again, the team would be lucky to remain with just one loss heading into conference play.
On Saturday, the team squares up with No. 25 Ole Miss. It's a game that could complete the demise of the program.
Sure, the game will be played in Austin and the Rebels haven't beaten Texas since 1958. However, that was also the last time Ole Miss came in as the higher ranked team.
Furthermore, the Longhorns rush defense has been so bad this season that it's questionable they could slow down even an old lady crossing the road. The unit ranks No. 121 (out of 123) in rush defense, allowing an average of 327 yards per game.
Any they're expected to slow down the Rebels' tandem of Jeff Scott and Barry Brunetti in the backfield?
Good luck.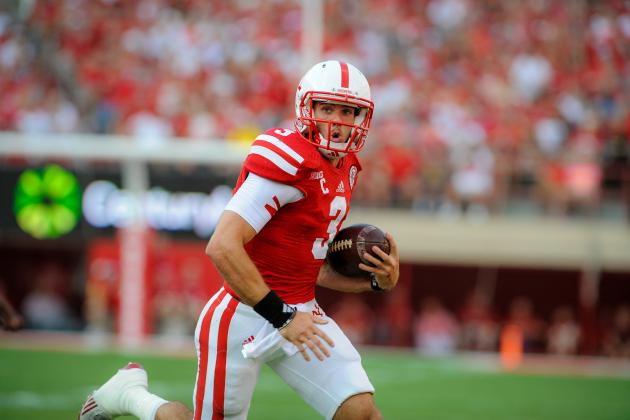 Eric Francis/Getty Images
Taylor Martinez won't be able to do enough to keep the Cornhuskers from losing to UCLA again.
Remaining September Schedule
Sept. 14 vs. No. 16 UCLA
Sept. 21 vs. South Dakota State
The Lowdown
The Cornhuskers begin their Big 10 schedule with a grueling five-game stretch.
Starting with Illinois on Oct. 5, the team also plays at Purdue, at Minnesota, vs. No. 17 Northwestern and at No. 12 Michigan. Those five teams currently have a combined record of 9-1.
Nebraska will be fortunate to escape that stretch with just one loss. However, after this weekend's tussle with No. 16 UCLA, the Cornhuskers won't be able to afford one.
If you recall, the Nebraska defense was pretty awful last season.
The unit allowed opponents to score 20 or more points nine times in 14 games. That includes 70-, 63- and 45-point performances by opposing offenses.
On a defense that only returns five starters from last year, things should only be worse this season.
During last year's 36-30 victory over the Cornhuskers, Bruins quarterback Brett Hundley—in only his second start of his career—had himself a game.
The then-freshman threw for 305 yards and four touchdowns on 21-of-33 passing. He also added another 53 yards on the ground.
Another year older, Hundley is expected to be even more dominant. In the team's season-opening victory over Nevada he tossed for 274 yards and two touchdowns while rushing for 63 yards and another two scores.
It's not setting up well for Nebraska.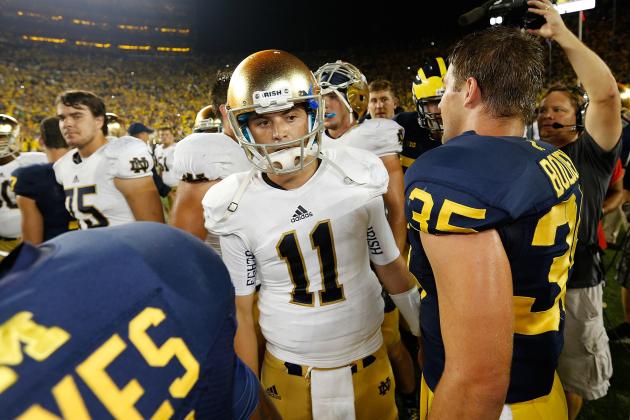 Gregory Shamus/Getty Images
Tommy Rees (center) must do more if he hopes to keep the Irish's slim BCS hopes alive.
Remaining September Schedule
Sept. 14 @ Purdue
Sept. 21 vs. Michigan State
Sept. 28 vs. No. 14 Oklahoma
The Lowdown
The Irish were exposed last weekend during their 41-30 loss to Michigan.
Starting quarterback Tommy Rees showed he lacks what it takes to deliver a BCS run.
Although he totaled 314 yards and two touchdowns, the senior was just 29-of-51 (56.8 percent) through the air and also threw two interceptions. Furthermore, he completed just 30 percent of his passes thrown 15 yards or longer—that includes going 0-of-5 in second half.
Not to mention, the Notre Dame defensive unit was also exposed, giving up 460 yards of total offense and allowing four touchdowns on four trips to the red-zone.
The Irish should—keyword "should"—beat their next two opponents, at Purdue and against Michigan State. However, the matchup with No. 14 Oklahoma on Sept. 28 will be the team's undoing.
The Sooners have averaged 310.5 yards per game this year, ranking 11th in the country. With an easy matchup against Tulsa on Saturday and a week off before facing Notre Dame, the team should be well prepared for the showdown.
Oklahoma's defense has also been surprisingly good. The unit has allowed just 3.5 points and 276.5 yards per game. That's good enough for rankings of No. 5 and No. 5 in the nation respectively.
The Sooners D should gobble Rees up.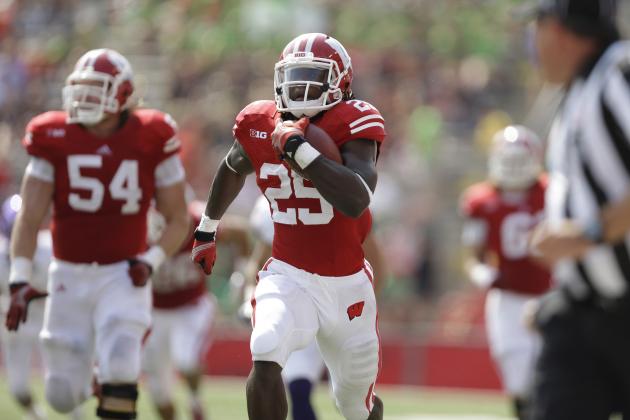 Mike McGinnis/Getty Images
Melvin Gordon's production on the ground won't be enough to stop the Badgers from losing once, maybe twice, in September.
Remaining September Schedule
Sept. 14 @ Arizona State
Sept. 21 vs. Purdue
Sept. 28 @ No. 4 Ohio State
The Lowdown
The Badgers have had a good run, outscoring their first two opponents 93-0. However, that's where it ends.
Over the next four games, the team will be fortunate to come away with just two losses. Wisconsin visits Arizona State on Saturday before hosting Purdue, traveling to No. 4 Ohio State and hosting No. 17 Northwestern.
While the road ahead looks daunting, it's actually this weekend's matchup against a solid Sun Devils team that will trip up the Badgers.
Quarterback Taylor Kelly was phenomenal for Arizona State in its 55-0 Week 1 victory. The junior threw for 300 yards and five touchdowns on 23-of-31 (74.2 percent) passing.
But what was most impressive about Kelly was the way he distributed the ball. Five different receivers scored the touchdowns while five receivers had a total of 40 yards or more.
Did we mention that it's a home game at night for the Sun Devils?
Even if Wisconsin gets by Arizona State a trip to Columbus to face the Buckeyes on Sept. 28 doesn't look too promising either.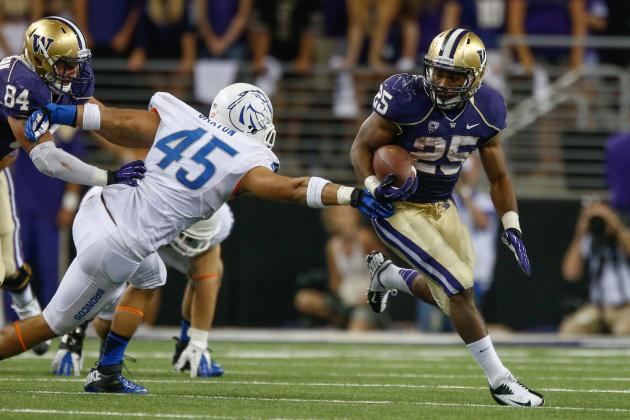 Otto Greule Jr/Getty Images
Bishop Sankey alone won't be enough to keep the Huskies afloat past September.
Remaining September Schedule
Sept. 14 @ Illinois
Sept. 21 vs. Idaho State
Sept. 28 vs. Arizona
The Lowdown
The Huskies 38-6 thumping of then-No. 19 Boise State was certainly impressive. However, it would be jumping the gun to think that means the team is ready to start contending for BCS titles.
In fact, Washington might not even make it to October without suffering a loss.
This Saturday's matchup at 2-0 Illinois is no cupcake. In fact, the team has slowly put together the No. 11-ranked passing attack in the nation, averaging 363.5 yards per game.
That's all thanks to quarterback Nathan Scheelhaase, who has thrown for 728 yards and six touchdowns on 54-of-73 (74 percent) passing. It certainly helps that he has four receivers who have totaled more than 100 yards.
But even if the Huskies hurdle that obstacle, the Sept. 28 Pac-12 opener against Arizona could be quite difficult. Especially given the fact that it precedes matchups at No. 5 Stanford and against No. 2 Oregon.
While the Wildcats struggle through the air—they only average 84 yards passing per game—the team is No. 6 overall in rushing (351.2 yards per game).
Arizona has three players with over 100 yards rushing—including quarterback B.J. Denker—who have combined for 523 yards and six touchdowns.
It doesn't look good for Washington.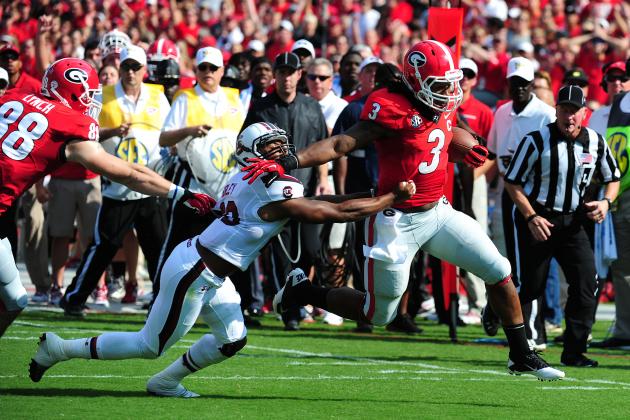 Scott Cunningham/Getty Images
Even Todd Gurley can't prevent the Bulldogs from slumping.
Remaining September Schedule
Sept. 14 vs. North Texas
Sept. 21 vs. No. 8 LSU
The Lowdown
A tough schedule can be your best friend or your worst enemy. In the Bulldogs' case, it's the latter.
With games against then-No. 8 Clemson and then-No. 6 South Carolina, Georgia has already faced two Top 10 opponents. The team will be set to add a third one to that list when it hosts No. 8 LSU on Sept. 28.
Unfortunately, it might just prove to be too much for the Bulldogs. And with just one more ranked opponent on the schedule—No. 18 Florida—it's a matchup the team can't afford to lose.
For the Tigers, starting quarterback Zach Mettenberger comes in with surprisingly good production thus far.
Through two games, the senior has thrown for 533 yards and six touchdowns with no interceptions. He is aided by junior wide receivers Odell Beckham (254 yards and three touchdowns) and Jarvis Landry (180 yards and three touchdowns).
LSU has already proven they can win big games, toppling then-No. 20 TCU 37-27 on a neutral field.
Georgia's defense has been far too vulnerable in the first two weeks. Expect Mettenberger and the Tigers to take advantage of it.
Bob Levey/Getty Images
The Aggies won't beat the Crimson Tide two years in a row.
Remaining September Schedule
Sept. 14 vs. No. 1 Alabama
Sept. 21 vs. SMU
Sept. 28 @ Arkansas
The Lowdown
Yes, I know. The Aggies are undefeated, ranked No. 6 in the country and have media darling Johnny Manziel at quarterback. How could a loss to the No. 1 team in the nation set them back?
Simple: Not only is Texas A&M going to lose, but it will lose badly.
The Aggies can blame a defensive unit that has allowed 449.5 yards and 29.5 points per game over the first two weeks of the season. The team ranks No. 96 and No. 84 in those categories respectively.
Furthermore, Texas A&M have conceded an average of 273 yards per game on the ground—a mark that has the school ranked No. 115 in the nation.
This is the unit that is supposed to slow down A.J. McCarron and T.J. Yeldon? I don't think so.
Sure, the Aggies defense is set to return several starters after being riddled by injuries and suspensions over the first two weeks. However, against Alabama isn't really the best debut.
Not to mention, Nick Saban and his team have won 15 straight games away from home since 2010.
Normally, one loss—to the top-ranked team in the country, no less—wouldn't be enough to eliminate a team from BCS title contention. However, Texas A&M just so happen to be in the same division with the Crimson Tide. Therefore, Alabama would need to lose twice for the Aggies to even have a shot at playing in the SEC Conference title game.
But with only a home game against No. 8 LSU being the only realistic hurdle in the team's way of a perfect season, that's unlikely.
Although the Crimson Tide pulled off the same feat in 2011 after losing to the Tigers during the regular season, a lot had to occur to make that happen. Lightning doesn't strike twice.
All stats used in this article are courtesy of ESPN.com and NCAA.com
For complete coverage and everything college football, you can follow Sebastian on Facebook and on Twitter