Wide receiver Santonio Holmes is now in his fourth season with the New York Jets.
If you have followed the team over the past couple years, you've probably felt a few times that Holmes would never make it this long.
It certainly hasn't been all smiles and sunshine for Holmes and the Jets.
His well-publicized dispute with quarterback Mark Sanchez in 2011 might have cost him a job with a team less accustomed to locker room turmoil.
The Lisfranc foot injury that cut Holmes' 2012 season short after just four games might have caused a different franchise to give up on the receiver.
Whether due to loyalty or simply a lack of better options (sorry, Braylon Edwards), the Jets have shown enough faith in Holmes to keep him around for another run.
The question is, can the Jets trust Holmes to be the same player the team traded for back in 2010?
Okay, that might be a bad example, considering Holmes was suspended for the first four games of the 2010 season for violation of the league's substance abuse policy.
Still, Holmes accomplished a lot during the early stages of his career.
In his four years with the Pittsburgh Steelers, the former Ohio State star hauled in 235 passes for 3,385 yards and 20 touchdowns. He also earned Super Bowl MVP honors when the Steelers won a championship in the 2008-09 season.
Holmes was equally effective during his first two seasons with the Jets, amassing 1,400 yards and 14 scores on 103 receptions.
Santonio Holmes' first three seasons with the Jets

| | | | | |
| --- | --- | --- | --- | --- |
| | Games | Receptions | Yards | Touchdowns |
| 2012 | 4 | 20 | 272 | 1 |
| 2011 | 16 | 51 | 654 | 8 |
| 2010 | 12 | 52 | 746 | 6 |
Injured in Week 4 of 2012
However, last year's injury brought Holmes' future with the Jets—and in the NFL—into question.
Holmes underwent surgery last October and again in February. As recently as late August, Holmes himself was unsure of if/when he would be able to return to the field in 2013.
While he may not be quite back to 100 percent, Holmes is a player the Jets are likely very glad to have back.
Holmes had just one reception for 13 yards in Week 1, a game that resulted in a win for the Jets and rookie quarterback Geno Smith. However, his impact was felt even more in Thursday night's game against the hated division rival New England Patriots.
Though the Jets dropped a nailbiter of a game to New England, 13-10, the team did prove that it might not be as bad as everyone anticipated prior to the season.
Smith hung in with Tom Brady and the Patriots for the better part of four quarters, and it appears that Holmes has forged a solid rapport with his new quarterback. He was the team's second-leading receiver on the night with three catches for 51 yards.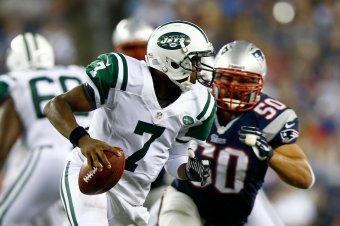 Jared Wickerham/Getty Images
If the Jets are intent on rolling with Smith as their full-time starter for the rest of 2013 (and it appears that they are), the young signal-caller can certainly benefit from the presence of a veteran like Holmes.
Only time will tell if Holmes will ever be able to regain his pre-injury form, or if his relationship with the Jets' new quarterback will be more amicable than his relationship with the previous one.
However, as long as Holmes continues to produce on the field and handles himself professionally off of it, there is enough reason for the receiver and the Jets to put his troubles behind them and look to the future.
Holmes' time away from the game might have even granted the two parties a newfound appreciation for one another.