Fantasy football owners may be panicking, but Tom Brady will still be a top-tier quarterback once his weapons finally get healthy.
It wasn't a very productive night for the New England Patriots signal-caller against the New York Jets on Thursday. He finished the Patriots' ugly 13-10 win by going 17-for-37 for 176 yards and a touchdown. In New England's 23-21 Week 1 win over the Buffalo Bills, Brady went 29-for-52 for 288 yards, two touchdowns and an interception.
While it hasn't been the best two games to start for Brady, keep in mind that he did have some quieter games last season as well. There were three games where he had just one total touchdown and three other games where he had multiple interceptions.
Brady's "Bad" Fantasy Performances of 2012

| | | | | | |
| --- | --- | --- | --- | --- | --- |
| Game | Comp | Att | Yds | Total TD | INT |
| ARZ | 28 | 46 | 316 | 1 | 1 |
| DEN | 23 | 31 | 223 | 1 | 0 |
| @MIA | 24 | 40 | 238 | 1 | 1 |
| @JAX | 24 | 41 | 267 | 2 | 2 |
ESPN.com
The Patriots' Week 2 matchup against the Jets should have been one where Brady was able to put up a lot more points than he did, but his absence of healthy targets forced a few younger players into the lineup and they looked lost.
Julian Edelman was the lone bright spot while Aaron Dobson and Kenbrell Thompkins looked lost out there, failing to execute on several plays and combining for way too many drops.
There was some obvious confusion on this play in the second quarter, as the ball went right to Dobson, but he didn't have his head turned in time to see it coming.
While Brady tried to stay positive, he showed his frustration more than a few times throughout the game.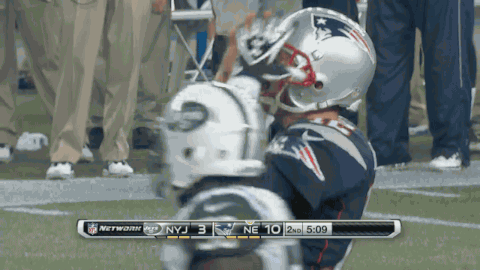 The Patriots are desperate for some playmakers at the receiver position, especially with Danny Amendola missing due to a groin strain he suffered in Week 1. He did not play against the Jets, but according to Ian Rappoport of NFL Network (via Chris Wesseling of NFL.com), it looks like Amendola could miss some significant time.
From @RapSheet: 'Danny Amendola could miss 2-6 weeks for the Patriots'

— NFL Network (@nflnetwork) September 12, 2013
Losing Amendola will be a huge hit for the New England offense. The Patriots were hoping that he could replace Wes Welker, but now the younger receivers will have to continue to step up.
To be fair, these young receivers have been put into a tough situation in a complex offense. It will take time, but once they get comfortable, they could be serious weapons for Brady.
Tight ends have also been big in the offense for Brady, who played against the Jets without the injured Rob Gronkowski and Zach Sudfeld.
Sudfeld is dealing with a hamstring injury, and he should be back in the next week or two. Meanwhile, it appears that the Patriots are hoping Gronkowski will be back next week, via Kevin Patra at NFL.com.
'The hope is that Rob Gronkowski will be back for Week 3.' - @RapSheet

— NFL Network (@nflnetwork) September 12, 2013
Let's not forget that Brady is still going to have good stats. While the Patriots were dealing with a number of injuries last season, Brady still put up 4,827 yards, 38 total touchdowns and just eight interceptions.
Even when some of his key weapons aren't playing, Brady can put up good numbers. While they may not be the numbers of a top-tier fantasy QB, he can still be a very reliable and consistent option.
Once his weapons return, however, Brady is going to be a big-time fantasy stud once again.