Where Santino Marella Fits in Today's WWE Landscape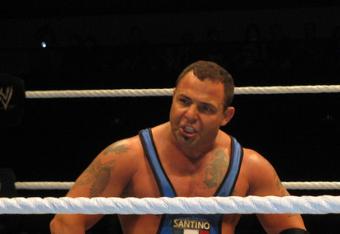 Photo Credit: Snerkie, Flickr.com

Behold! Santino Marella has returned!
Marella made his comeback on the September 9 edition of Monday Night Raw. He defeated Antonio Cesaro in a good match, which was poetic since Marella lost the United States title to Cesaro at the SummerSlam 2012 pre-show.
It would be the last title for Marella, who is also a former tag team champion and Intercontinental Champion. He missed about eight months due to a neck injury, which he talks about in-depth in a podcast interview on Live Audio Wrestling.
Here's an excerpt from Marella's interview discussing his neck:
My neck was bad in March; I had a procedure done called a facet rhizotomy, where they do these injections, and there's a little axillary nerve that comes off. I basically had several things wrong with my neck; bulging discs, herniated discs, stenosis, degenerating discs, but the one thing that was bugging me at the time was arthritis. Out of all that, arthritis doesn't even sound cool.
Marella's return couldn't have come at a better time. The current WWE landscape is surrounded with drama and a lack of comedy. It's embroiled in heavy stories, including Daniel Bryan's war with the McMahon family and CM Punk's feud with Paul Heyman.
Marella's character excels at comedy, and humor is exactly what the WWE needs at this time. Yes, Marella can sometimes be corny or even over-the-top with his trumpet celebration victory and his power walk to the ring. However, the WWE fans in Toronto proved Marella is still needed in today's WWE landscape.
Take a look at his match with Cesaro, who deserves a lot of credit, especially for the big swing that garnered a standing ovation. But the match was far from over. Marella got to display his judo background, even winning with a judo flip into a pin cover for the three-count. The crowd roared, and Marella got to do his trumpet celebration at the top of the ramp.
We know what Santino Marella can provide with comedy. What role can he play in the wrestling circuit? Will Santino Marella finally reach that main event level? In my opinion, he won't.
Even with John Cena's absence, the main event picture is already crowded with the current crop of WWE Superstars. Marella is fine where he is, in the midcard role. Maybe he reforms his tag team with Zack Ryder. Maybe he tries to regain either his Intercontinental title or U.S. title.
Nonetheless, Santino Marella couldn't return at a more opportune time. We need a little levity in-between our serious stories. Frankly, who is the WWE's comedy relief? It's none other than Santino Marella. He's the man for the job.
This article is
What is the duplicate article?
Why is this article offensive?
Where is this article plagiarized from?
Why is this article poorly edited?