NBA Teams with the Most Work to Do Heading into Training Camp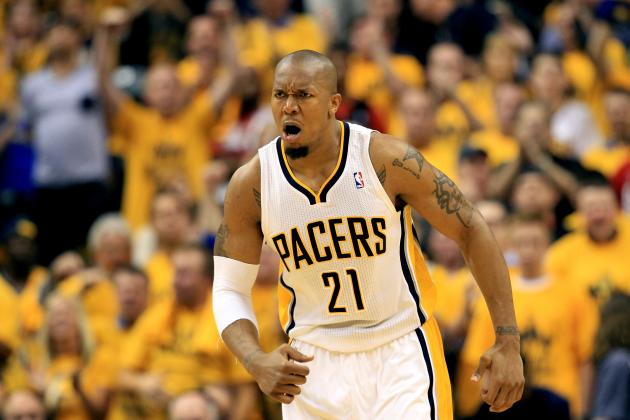 Ronald Martinez/Getty Images
That's right. The Pacers have work to do.
The NBA is always changing and never (well, almost never) has there been a better example than this summer.
There was a massive amount of turnover around the league this offseason, and it affected everybody. Players, coaches—even front offices. There are a lot of very new-looking teams right now. And as you might imagine, many of those teams have some work to do before they can be at their best. Let's see what some of those squads will need to work on when training camp finally kicks off.
(Note: For the sake of fairness, no surefire lottery teams were included on this list.)
Begin Slideshow

»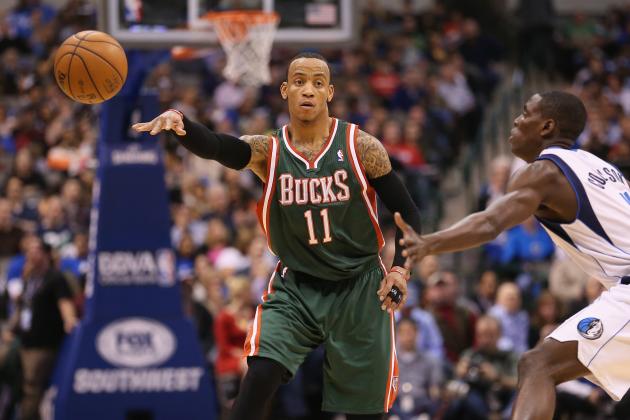 Ronald Martinez/Getty Images
Monta Ellis has his flaws, but he'll be fun to watch alongside Dirk.
Dallas Mavericks
This summer, the Dallas Mavericks added three new starters to join Dirk Nowitzki and Shawn Marion: Monta Ellis, Jose Calderon and Samuel Dalembert. But despite the amount of turnover on the roster, the Mavs don't have all that much to work on.
The new Mavs are veterans whose games and roles are static at this point. Dalembert is going to be responsible for protecting the rim, Calderon will provide shooting and passing and Ellis will be the creative slasher who gets to the basket (when he's not firing up terrible jumpers).
Still, with that many new starters, there's guaranteed to be a learning curve, and it'll take a while until the little stuff (like Ellis-Nowitzki pick-and-rolls) really clicks.
Portland Trail Blazers
The Portland Trail Blazers have completely overhauled their bench. This summer, the Blazers snatched up Dorell Wright, Mo Williams, Thomas Robinson and Earl Watson, and they added a stud rookie in C.J. McCollum. Whew.
That's a lot of new faces, but like the Dallas Mavericks, it's pretty easy to settle on what each player's role will be on the team.
The one wild card might be McCollum, who could push for huge minutes if he meshes well with Damian Lillard (and the two don't get stopped defensively). It'll take some time for the Trail Blazers' bench situation to shake out, but once it does, it should be fairly smooth sailing for this group.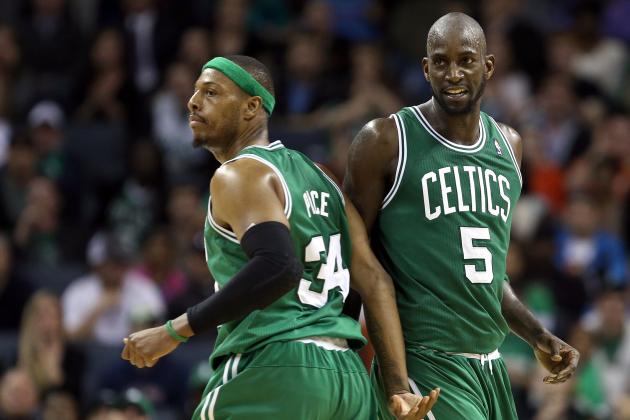 Streeter Lecka/Getty Images
Brooklyn could be very, very good this season.
The Brooklyn Nets are maybe the most interesting team on this list because while they really shook up their roster over the offseason, it shouldn't take much more time for the team to start clicking.
Paul Pierce, Kevin Garnett and Andrei Kirilenko are such great, versatile players that they should have no problem fitting right in with the rest of the Nets. Heck, even having a rookie head coach in Jason Kidd shouldn't be all that big of an adjustment.
The Nets played plodding, grind-it-out basketball last season (28th in pace per Basketball-Reference), and considering how old Garnett and Pierce are, they'll probably do the exact same thing under Kidd this year.
With that being said, Brooklyn made radical changes to its roster, and there's still going to be an adjustment period. Garnett, Pierce, Kirilenko and Jason Terry are obviously going to be big contributors this season, and it's going to take a while for them to get used to the other Nets' tendencies.
On the other hand, the Nets' holdovers are going to have to adjust to Garnett's maniacal intensity/craziness (probably way easier said than done). The Nets are talented, and they'll mesh sooner rather than later, especially if given time to smooth out the rough edges.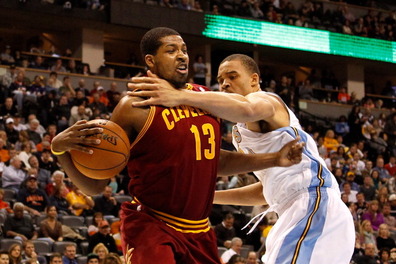 Chris Chambers/Getty Images
What will Tristan Thompson's role be this season?
For the Cleveland Cavaliers, it's all about the bigs.
The Cavaliers have (health permitting) five very good frontcourt options—Andrew Bynum, Anderson Varejao, Tristan Thompson, Anthony Bennett and Earl Clark. That's not a bad problem to have, but it is something that the team will need to address.
For starters, none of the players mentioned above are ideal fits at the 3. Clark seems the most natural choice—about a third of his minutes came at small forward last season (per 82games.com)—but he's not a true 3, and his lack of an outside shot (34 percent from three last year) could really hurt the Cavs' spacing offensively.
But with all due respect to Clark and also to the Varejao-Bynum dilemma, how Mike Brown juggles minutes at the 4 is the most interesting Cleveland subplot. Bennett is clearly a player the Cavs are looking to build around, and Brown has been very vocal about playing him at his natural 4 spot rather than trying to fit him in as a wing (per The News-Herald's Bob Finnan).
That's probably best for Bennett's development, but how on earth can he be expected to see real floor time considering how well Thompson is playing in the same spot? Last season, Thompson averaged 13 points and 11 rebounds per 36 minutes to go along with some much improved rim-protecting/overall defense (per Basketball-Reference).
Again, having too much young talent can never be construed as a bad thing, and Brown has the potential to throw out a lot of intriguing lineups with this combination of players. But there's no doubt he's got some work to do figuring it all out.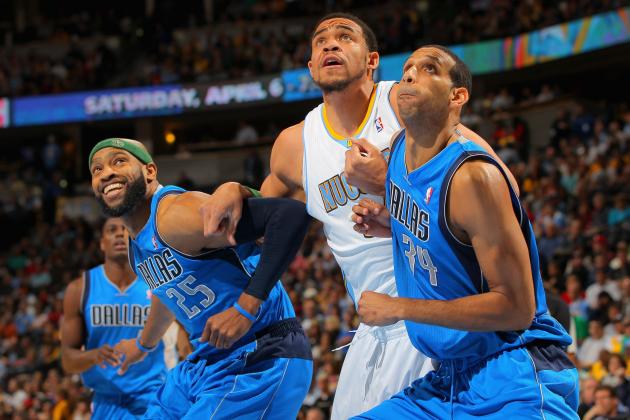 Doug Pensinger/Getty Images
JaVale McGee's stepping into a new role this season.
The Denver Nuggets are a tough team to peg because it's hard to tell how new head coach Brian Shaw is going to change the team stylistically. Under George Karl, the Nuggets played an up-tempo style that put less of a focus on half-court execution. But Shaw recently told The Denver Post's Benjamin Hochman that he wanted to make some changes:



I know from my experience playing and coaching against the Phoenix Suns when they were winning 60 games, playing an up-and-down style — that doesn't necessarily translate well when you get to the playoffs. So, one area I want to strengthen is the ability to attack and get up and down, but to play in the half court and execute in the half court, because you get judged on what you do in the playoffs.



The Nuggets won 57 games last season and led the league in fast-break points and points in the paint (per NBA.com). That's pretty impressive stuff, and it's hard to picture Denver completely overhauling its style. But even a slight change in pace would give the Nuggets plenty to work on, and it sounds like some kind of slowdown is a certainty at this point.
Even if you ignore whatever new scheme Shaw is cooking up, there's plenty going on in Denver. The Nuggets' top two perimeter defenders last season—Andre Iguodala and Corey Brewer—are both gone, and with no great wing defenders left on the squad, the Nuggets might have to rely on sheer firepower to overcome their loss.
The trio of Nate Robinson, Randy Foye and Evan Fournier (who was tremendous in limited time last season) should be able to score like crazy, but they're all relatively new to the Nuggets, and filling the shoes of someone like Iguodala is a tough task.
JaVale McGee is another interesting case. McGee is the unquestioned starter at center now that Kosta Koufos is in Memphis, and he put up awesome numbers last season (18 points, 10 rebounds and four blocks per 36 minutes via Basketball-Reference). But many advanced metrics like him less than his base numbers would have you believe, and he's got work to do on both ends.
Throw in the uncertainty surrounding the roles Darrell Arthur and J.J. Hickson will play, and you're looking at a team with a lot of talent, but a lot of question marks to go with it.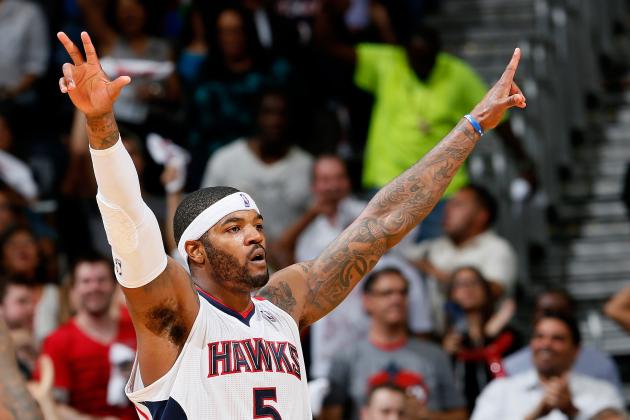 Kevin C. Cox/Getty Images
Will Josh Smith's inability to shoot haunt the Pistons?
Virtually everyone on earth has heard about the potential spacing issues the Detroit Pistons will face this season, so let's keep this brief, shall we?
It goes without saying that an entire frontcourt unable to shoot from beyond 10 feet is going to run into some issues, but with a little workshopping, Maurice Cheeks should be able to squeeze a solid offense out of the Pistons.
Don't get me wrong, short of Josh Smith or Greg Monroe morphing into knockdown shooters from mid-range/three, elite defenses are going to have no problem grinding the Detroit attack to a halt.
Still, Smith, Monroe and Andre Drummond are all talented players and as Joe Dumars pointed out to Grantland's Zach Lowe, talented players tend to work these things out. In all honesty, the best thing to do may just be to stagger the rotation so that Drummond, Monroe and Smith don't get huge chunks of minutes together.
Detroit's best offensive weapon is without question the Brandon Jennings—Drummond pick-and-roll. For all his flaws, Jennings is a creative passer and pick-and-roll player, and if Drummond can post elite numbers with Brandon Knight at the helm, he should be a monster alongside Jennings (per Synergy Sports Technology).
Unfortunately, it's hard to see that pick-and-roll getting off the ground if opposing teams are allowed to pack the paint because Smith and Monroe (as opposed to say, Charlie Villanueva) are both out there.
Even if Cheeks chooses not to go that route, the Pistons should be okay so long as their sets play to their player's strengths. There are few small forwards in the league that Smith can't bully on the low block, and Monroe's sneaky good passing should help as well.
The spacing issues Detroit will face are real, and there are no easy solutions. But the Pistons have tons of talent, and with enough time, Cheeks should be able to set up a decent offense.
(And yes, believe it or not, that was the short version).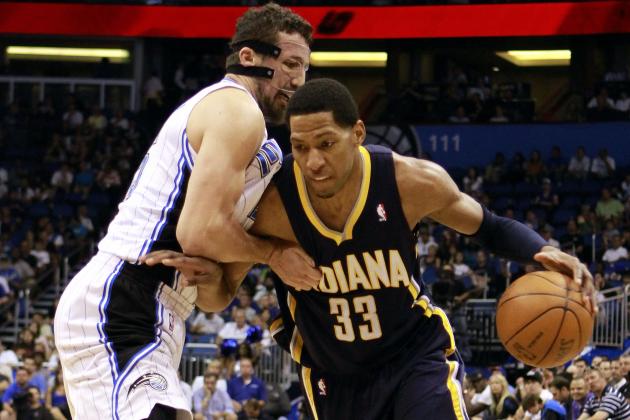 Marc Serota/Getty Images
A healthy Danny Granger would be huge for the Pacers.
The Indiana Pacers made a few nice additions this offseason. Luis Scola will give them some solid low-post scoring, Chris Copeland is a knockdown shooter who will space the floor and C.J. Watson is a productive backup who won't be nearly as inconsistent as D.J. Augustin was last season.
Still, it's the promise of a healthy Danny Granger that makes the Pacers so scary, and getting him ready is all the Pacers really need to focus on at the moment.
All the pieces are in place for Granger to make a massive dent on the Pacers' season, but they'll have to make some adjustments for that to happen. Lance Stephenson recently mentioned that he's willing to come off the bench this year (per Indystar.com via ProBasketballTalk), but in all honesty, that's a non-issue—either he or Granger would be effective as subs.
Really, the big question is how Paul George and Granger will play together now that George is the Pacers' de facto offensive leader.
Before Pacers fans go nuts, let me just point out that George and Granger shouldn't have much trouble meshing. George played the 2 (and played it very well) for most of the 2011-12 season, he can guard multiple positions with ease, and Granger shoots well enough to excel off the ball (per 82games.com).
What it's really going to come down to is Granger adjusting to just that—spending most of his time without the ball.
Granger has spent most of his career scoring primarily through isolation, pick-and-roll and post-up sets, and he's not going to get nearly as many of those with this year's Pacers squad (per Synergy Sports Technology). Obviously, he'll still get chances to go one-on-one with defenders, but he'll likely be doing a lot of his scoring on spot-up jumpers or coming off of screens.
The good news for Pacers fans is that Granger has already shown an ability to make those adjustments. In the 2011-12 season (George's second with the team), 35 percent of Granger's plays came from spotting up or running off screens compared to just 24 percent the year before (per Synergy Sports Technology).
There's no question that Granger and the Pacers are going to have to work to fit him back into the offensive scheme, but they have plenty of time to do so, and he'll be a dangerous weapon under the right circumstances.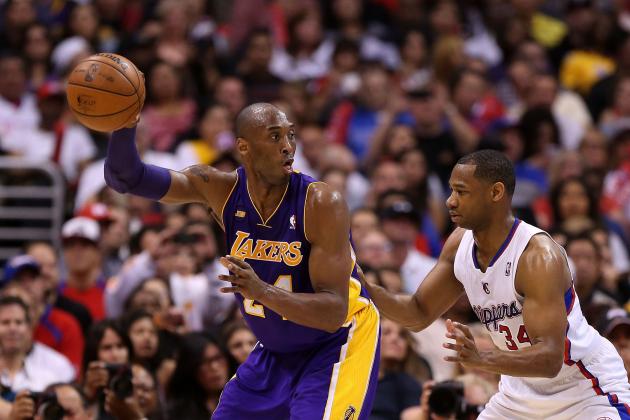 Christian Petersen/Getty Images
At the very least Kobe will be fun to watch this season.
The Los Angeles Lakers are going to be able to score—they're coached by Mike D'Antoni and have Kobe Bryant, Steve Nash and Pau Gasol on the roster, after all. But defensively...yikes. They've got a lot of work ahead of them.
The Lakers ranked 20th in the league defensively last season, and it's hard to see any way they don't tumble down the rankings now that Dwight Howard is in Houston (per Basketball-Reference). When Dwight was on the bench last season, the Lakers gave up 111 points per 100 possessions—just a shade under the last-ranked Charlotte Bobcats (per 82games.com).
To make matters worse, the Lakers also cut ties with Metta World Peace this summer.
World Peace was aging and erratic on the offensive end, but he was also Los Angeles' top wing defender, and there's really no one on the roster to replace him. Wesley Johnson and Xavier Henry both have the physical tools to be solid stoppers, but neither of them have made good on that potential yet, and both are limited offensively.
Jordan Hill and Pau Gasol should give the Lakers a bit of rim protection, but elite offensive teams are going to carve the them up unless D'Antoni (not exactly known as a defensive guru) puts together some genius schemes. Not a great look for a team pushing for one of the last playoff spots in the West. Hopefully training camp runs extra long this season.
Mike McGinnis/Getty Images
Larry Sanders could be devastating in the pick-and-roll.
The Milwaukee Bucks aren't done chasing the eighth seed quite yet, but this year they'll have to do it with a whole new backcourt.
The most important thing for the Bucks to work on is developing pick-and-roll chemistry between their bigs and one of either O.J. Mayo or Brandon Knight. And unfortunately, that might prove to be easier said than done.
Neither Mayo nor Knight are very good pick-and-roll guards (in terms of both scoring and setting up plays for their bigs), but if they can improve at all, you can begin to see the framework of a solid offensive attack.
Both Knight and Mayo can hit from outside, and a combination of those three and Ersan Ilyasova should be able to spread the floor effectively for Larry Sanders and John Henson. That's where the pick-and-roll would really come in handy.
Sanders and Henson aren't really back-to-the-basket bigs, but both have the potential to be very good roll men who could suck defenders into the paint and create open shots for others.
Heck, two of the other new Bucks—Gary Neal and Carlos Delfino—could be a perfect fit for an attack made up of pick-and-rolls and threes (basically exactly what the New York Knicks do) as well.
Obviously, something like that would be a best-case scenario for the Bucks. Again, Mayo and Knight have never shown to be strong pick-and-roll players in the past.
But they're both young, and you can't rule out the idea that one of them will suddenly start to get it. It's certainly what the Bucks are hoping for and probably what they'll be working on in camp.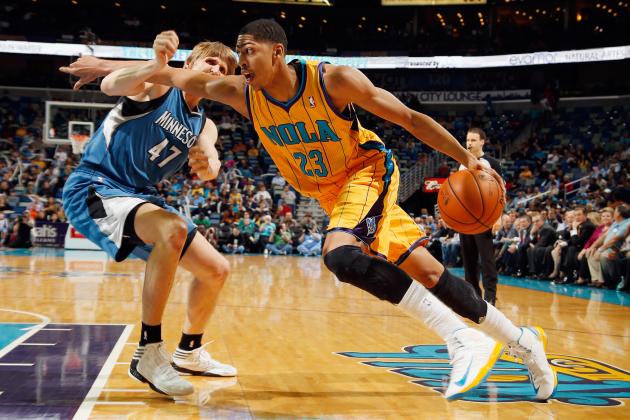 Chris Graythen/Getty Images
Anthony Davis is going to be awesome someday.
The New Orleans Pelicans have a bright future thanks to an intriguing cast of young players and a future superstar in Anthony Davis. But they're also welcoming two new pieces to the starting lineup (Jrue Holiday and Tyreke Evans) and weren't exactly a well-oiled machine on either end of the floor last season.
There's a lot of work to be done here.
A lineup of Holiday, Eric Gordon, Evans, Ryan Anderson and Davis seems to be the team's future, but improvements will have to be made if they're to be truly dangerous. Offensively, the 1-2-3 combo of Holiday, Gordon and Evans presents a problem, as none of the three is accustomed to playing significant time off the ball.
The Pelicans will undoubtedly let all three run the offense at times, but Holiday is set to be at the helm the most. If Gordon's outside jumper gets back on track (he hit just 32 percent from deep last year), then he should be able to adjust to that fairly easily, but Evans is going to have a more difficult time.
Evans actually hit a decent rate on spot-up threes last season (37 percent), but 40 percent of his offense came from isolation or pick-and-roll situations, and he simply won't get those kinds of opportunities on the Pelicans (per Synergy Sports Technology).
The Davis-Anderson pairing also has a ways to go. The two will probably be fantastic together someday—bigs who can shoot like Anderson are rare, and Davis is going to be a two-way monster in a few years.
But they got absolutely shredded defensively last season, posting a defensive rating of 115 (per NBA.com). Davis is an unbelievable athlete, but he's not yet strong enough to handle true centers on the low block, and Anderson isn't quick enough to stay in front of smaller, more athletic wings.
New Orleans is young and talented and will improve with time. The roster has some real flaws at the moment though, and they'll have to start addressing them immediately if they're hoping to compete for the playoffs this season.