Mayweather vs. Canelo Showtime All Access: Biggest Lessons from Episode 4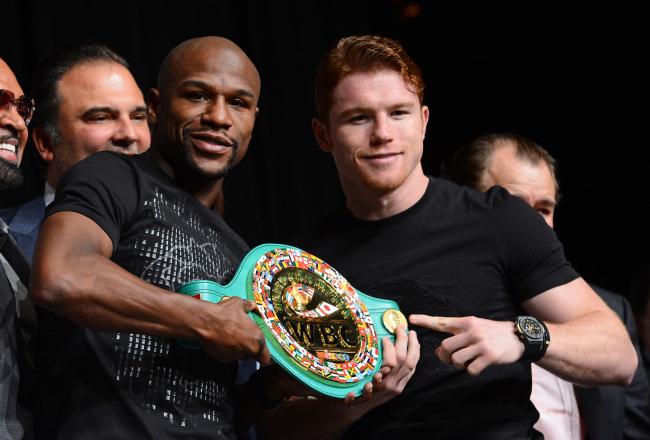 In addition to bragging rights, the winner of Saturday's fight will get a custom-made gold belt from the WBC.
Ethan Miller/Getty Images
The last dramatic element of the Floyd Mayweather-Canelo Alvarez saga, before the two men actually share a ring together on Saturday night in Las Vegas, comes a night earlier when both will approach the scale with the intent of weighing at or below the agreed-upon limit of 152 pounds.
Much of the Showtime All Access documentary series has focused on the sniping he-said/he-said battle between the camps over which side suggested the catchweight, which side accepted it and which might be put at a greater disadvantage because of it.
The fourth and final episode was no different, with Alvarez shown checking in at 157.4 pounds at the mandatory WBC weight check seven days before the weigh-in. The sanctioning organization requires fighters be within a certain weight range a week out, which in this case was no more than 159.
Predictably, the Alvarez camp suggests it is right on schedule in getting within a stone's throw of the agreed-upon weight, while Team Mayweather claims inside information indicates more suffering than satisfaction. "He doesn't think I know he's wearing that plastic suit and he ain't had any food for the last two days," Mayweather said. "But I know I'm eating pizza tonight."
Alvarez and his manager, Chepo Reynoso, insist that the last several hours before fight night will be about relaxation, not scrambling. "Our dream is coming true because the fight is getting closer," Reynoso said. "We had a specific plan for Canelo's training and we executed it perfectly. The whole team feels very relaxed because of that."
The fighter agreed.
"The truth about these last days is that there's nothing left to do but get in the ring and fight," Alvarez said. "We come to the gym just to stay active, but we're ready to fight."
Inside Information?
Former three-division champion Shane Mosley—one of two men who's fought both Mayweather and Alvarez—implied Mayweather would run into difficulty if he underestimates Alvarez due to his youth and relatively non-threatening appearance.
Mosley lost a wide 12-round decision to Alvarez in May 2012, two years and four days after he lost unanimously to Mayweather. "Sugar" Shane won one round each on two scorecards and two rounds on a third scorecard against the then-21-year-old Alvarez, and he lost by precisely the same margin when he fought Mayweather, who was then 33.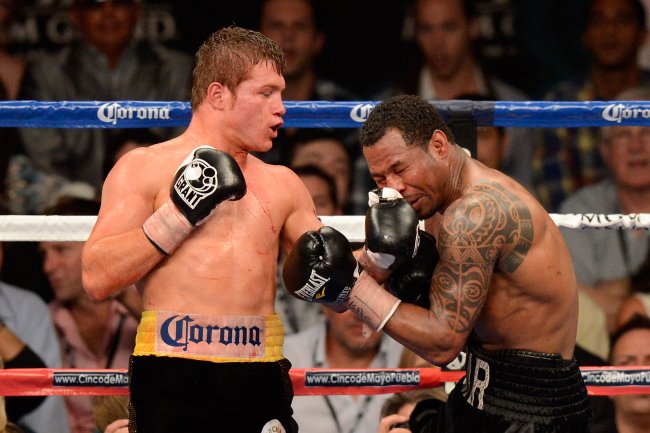 Ethan Miller/Getty Images
The fight with Mayweather produced a memorable moment in the second round, however, when he blasted his opponent with a straight right hand and followed up with a looping right that buckled the favorite's legs and yielded what Showtime referred to as the "worst round of his pro career."
Mosley was unable to follow up, and he never mounted another serious threat.
By the time he fought Alvarez, Mosley had gone three years, three months and 12 days without a win. One fight before he'd faced Mayweather, Mosley stopped Antonio Margarito to win the WBA welterweight championship. He's now considered a close ally of Alvarez and was shown earlier in the Showtime series letting Team Alvarez use his training facilities in Big Bear, Calif.
"Mayweather will beat you with speed. He might cheap-shot you. He does all things necessary to win a fight," Mosley said. "You can underestimate Canelo Alvarez because of his baby face, thinking this guy can't be on the same level, and he can fool you. He does have a lot of speed and the sort of power that Mayweather hasn't seen in a few years."
The assessment is something of a thought-reversal for Mosley, who was quoted in late December saying, "(Alvarez) has a lot of strength. I think they hit about the same."
Argentine Carlos Baldomir is the only other man to fight both Mayweather and Alvarez. The former beat him via wide 12-round decision in 2006, and Alvarez stopped him in six rounds in 2010.
The Main Event
Though he's headlined a show that drew nearly 40,000 fans in San Antonio, the Saturday encounter with Mayweather will be Alvarez's first atop a truly significant pay-per-view event.
He fought on the undercard of the Mayweather-Mosley fight in 2010 against Miguel Cotto's brother, Jose, and he's scored consistently strong ratings on Showtime—against Josesito Lopez last September in Las Vegas and against Austin Trout in April in San Antonio.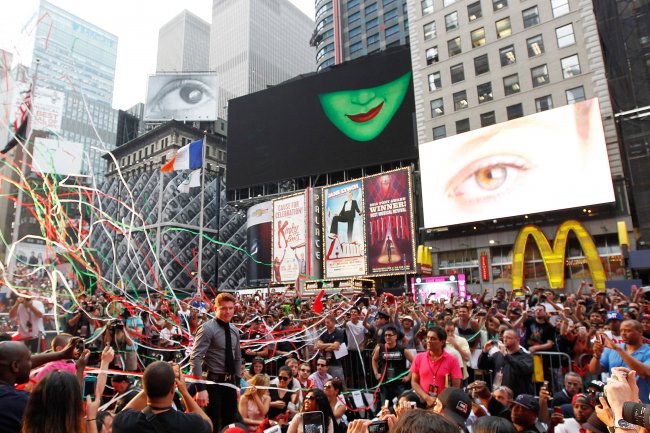 Mike Stobe/Getty Images
Not surprisingly, the Mayweather team appears decidedly unimpressed with the track record.
"We're the smart ones," Mayweather said. "We build a guy up, put him on my undercard to make him into something he's not, then beat him. If they say I handpicked my opponents all my career, then whatever team I've had with me is a smart team. I'm gonna keep handpicking my opponents and keep stealing money."
Showtime labeled the 40,000 who attended the Trout fight as "a small part of one of the biggest fanbases in boxing today" and "one of the largest U.S. boxing crowds assembled in decades."
It replayed footage of its broadcast close in April in which analyst Mauro Ranallo said, "(Canelo) left the building with his perfect record intact and immediately became the most intriguing opponent for the pound-for-pound king."
The Next One
In a filmed interview with Yahoo! Sports boxing writer Kevin Iole, Mayweather was quick to assume credit for using his promotional influence to get the main semifinal bout—matching Danny Garcia and Lucas Matthysse for the WBA and WBC 140-pound titles—onto the card.
And though he took the managerial high ground in claiming it was a Mayweather Promotions decision to "give the people what they want to see, excitement," it's more likely an up-close-and-personal audition for the two men to get the next spot in line with Mayweather himself.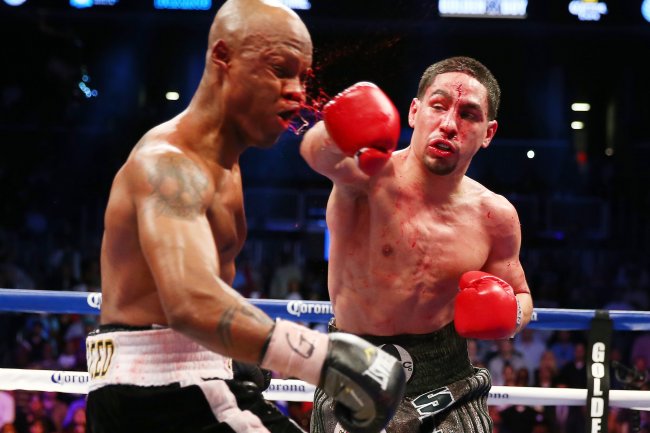 Elsa/Getty Images
Showtime executive Stephen Espinoza, in a one-on-one interview during the media press tour earlier this summer, named Matthysse as one of the fighters being considered as potential opponents for Mayweather through the end of the six-fight deal he signed with the network in the spring.
The Argentine-born Matthysse is 34-2 with 32 knockouts, while Garcia, a Philadelphia native, is 26-0 with 16 knockouts.
"That's a main event fight," Mayweather said. "I think it's great for fighters to be on this stage, so that they someday might become pay-per-view stars. That's the ultimate goal."
Unless otherwise noted, all quotes were obtained from Showtime's All Access Mayweather vs. Canelo Episode 4, which aired on Sept. 11, 2013.
This article is
What is the duplicate article?
Why is this article offensive?
Where is this article plagiarized from?
Why is this article poorly edited?