Predicting the NBA's Best Rivalries in 2013-14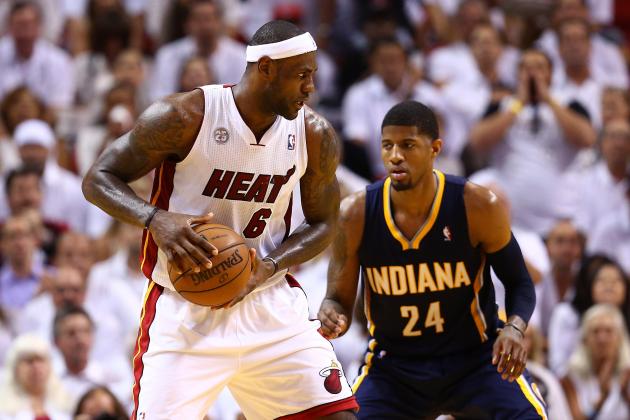 Streeter Lecka/Getty Images
Where does Heat-Pacers rank among the league's top rivalries?
The NBA is experiencing a rise in rivalries, but which of these bitter matchups will be the best?
Most have the vitriol centered around a handful of title contenders, but that is to be expected. After all, the best teams will push each other hardest and produce the most dramatic games. But it takes more than that to create a truly great rivalry.
A history of animosity and great play between two teams helps. Proximity does, too, fostering more jawing between fans and raising the stakes across more meetings. After all, with more opportunities to clash, conference rivals have better odds of developing some real emotion behind their play.
Ultimately, you know the best rivalries when you see them, but we have a sense of what they will be based on what we have recently witnessed.
Begin Slideshow

»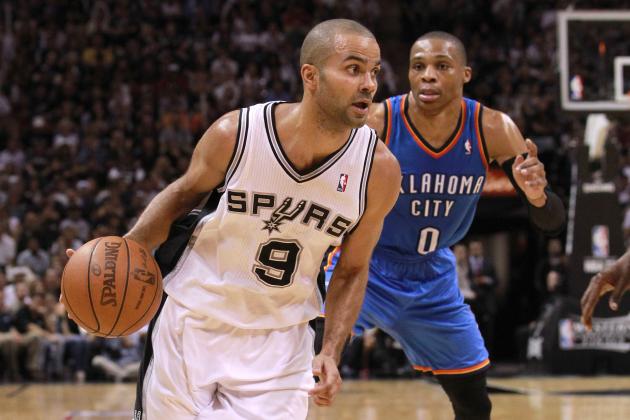 Ronald Martinez/Getty Images

It's possible that the Oklahoma City Thunder are still going to win the Western Conference this season, but they lost some luster during the 2013 playoffs.
Without Russell Westbrook, they were a shell of their explosive, athletic selves. The strategy devolved to working through Kevin Durant alone offensively, and OKC's vaunted attack suffered. When the Thunder fell to the Memphis Grizzlies, it seemed less like the downing of a juggernaut and more like an inevitability.
This was supposed to be a huge showdown last spring, but the San Antonio Spurs just seem like they're on a different level now. That's not to say they're definitely better than OKC with Westbrook back, but the Thunder seem mainly like they're competing against themselves.
In the past, San Antonio has dealt with the Thunder like they were precocious youngsters, negating their energy and gliding past them. OKC seems even more fallible now, so the bitterness surrounding this matchup will not really measure up to the quality of play.
Rivalry Intensity: DEFCON 3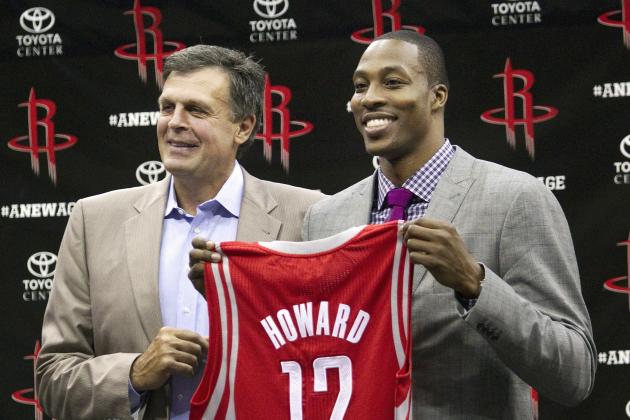 Bob Levey/Getty Images

We're primed to have to great Lone Star State teams battling it out again.
Since the Dallas Mavericks began their descent towards mediocrity, the Spurs have stood alone as the toast of Texas. Now Dwight Howard has joined forces with James Harden on the Houston Rockets, giving them a chance to compete with the Spurs.
Tim Duncan versus D12. Tony Parker versus James Harden and his beard. Gregg Popovich's coaching wizardry versus Daryl Morey's Moneyball designs. The individual battles are as good as they can get, and the intrastate aspect takes it up another notch.
The Texas element tips this past Spurs-Thunder, but Houston and San Antonio haven't had a lot to be bitter about recently. This rivalry will grow, but it's not there yet.
Rivalry Intensity: DEFCON 3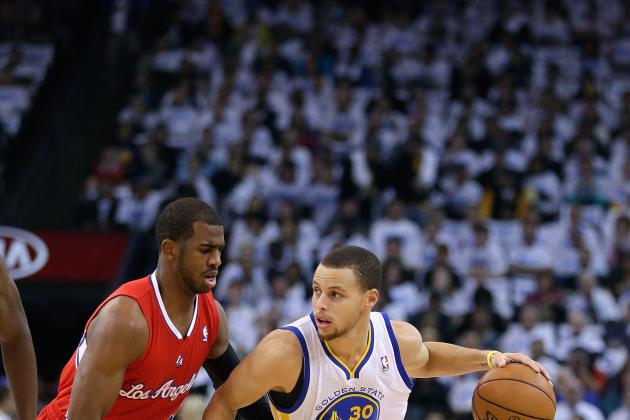 Ezra Shaw/Getty Images

Between their tough games last season and the Golden State Warriors' breakout in the playoffs, this already had the makings of a fantastic rivalry.
Then both the Dubs and Los Angeles Clippers went out and got even better this summer.
Beyond the core tandem of Chris Paul and Blake Griffin, the Clips are stacked on the wings. Jamal Crawford and Matt Barnes are back, and L.A. traded for J.J. Redick and Jared Dudley, which makes an embarrassment of swingmen.
Over in the Bay Area, the Warriors can match that firepower. They can still rain with Steph Curry, Klay Thompson and Harrison Barnes, but have added Andre Iguodala for his two-way play and bolstered their interior depth behind David Lee and Andrew Bogut.
It was a surprise when Golden State challenged the Clippers last season, but now we'll all be eager for their games.
Rivalry Intensity: DEFCON 3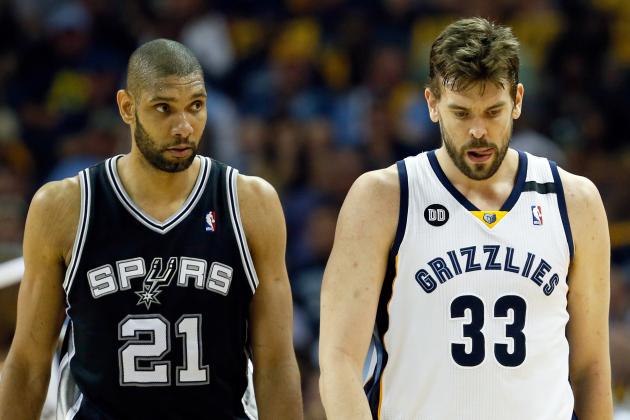 Kevin C. Cox/Getty Images

We thought this was going to be a thrilling matchup when these two teams met in the last postseason, but the Spurs swept the Memphis Grizzlies without much difficulty.
So why are the Grizz going to be so tough this time around?
First of all, they will learn from their mistakes. Grit and grind is a fine and valid philosophy, but the steady pace that goes with it doesn't mean you should let an elderly Duncan outrun you. The Grizz are not dumb; with months to lick their wounds, they'll be prepared to counter San Antonio next time.
And when Memphis does, it will do it with the same physicality that has defined this organization in recent years. Mike Conley and Tony Allen will lock down on D, Marc Gasol and Zach Randolph will take no prisoners and this series will turn into the slugfest it was when Memphis took San Antonio to seven games in 2011.
Rivalry Intensity: DEFCON 3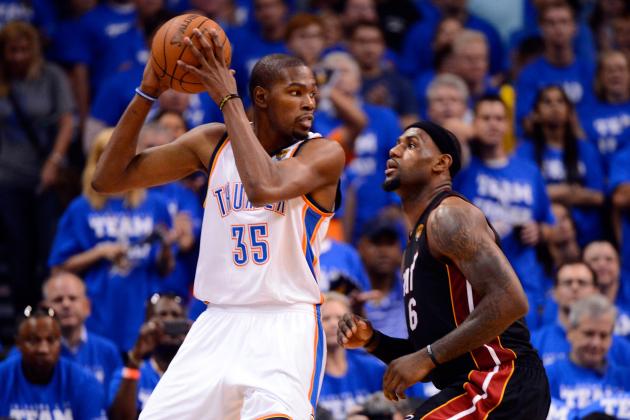 Ronald Martinez/Getty Images

These two teams feature the two best players in the world faced off for the NBA championship just two seasons ago. They have to be on this list.
Given that context, this might seem low for the Miami Heat's rivalry with the Thunder. However, this goes deeper than just OKC's internal issues. There's also the matter of the great many franchises that hate the Heat.
The Thunder can't match Miami's Eastern Conference foils right now considering the bruising nature of those bouts and don't get as many shots at playing an instant classic. Besides, given the makeup of the two powers, Miami is the better team at a very similar game.
If OKC firmly reclaims its place as the team to beat out West, we'll have to reconsider this ranking. For now, Miami has more frustrating foes.
Rivalry Intensity: DEFCON 2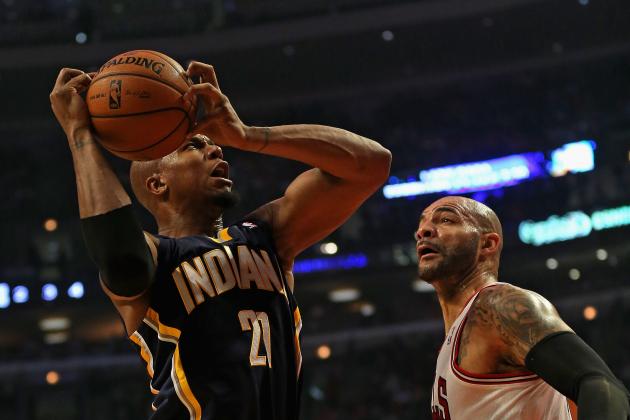 Jonathan Daniel/Getty Images

Now that the Indiana Pacers and Chicago Bulls are both juggernauts, these Center Division meetings will feature both great basketball and some nasty brawling.
The two superstars here have something to prove. Derrick Rose needs to reestablish his standing as an elite point guard after losing a year to ACL surgery, while Paul George is a newcomer to the highest echelon of NBA talent.
But any game between Chicago and Indy is going to come down to the type of play Tom Thibodeau and Frank Vogel crave: defensive and physical.
Both teams have bigs that can score, but Roy Hibbert, David West, Joakim Noah and Carlos Boozer are mainly just going to bang bodies until one side gives. That mentality extends to the backcourt, destining this rivalry to be something surprisingly reminiscent to football for two elite NBA squads.
Rivalry Intensity: DEFCON 2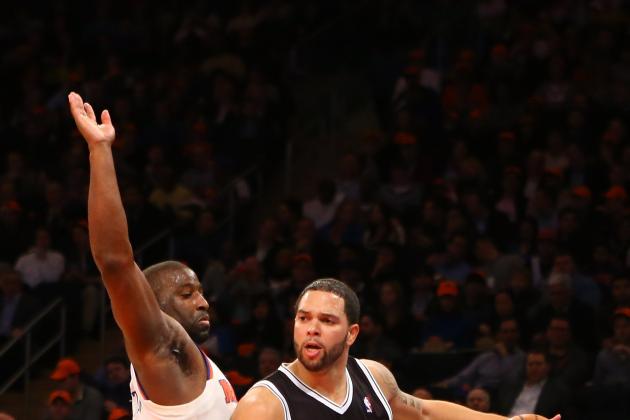 Al Bello/Getty Images

It's still mostly smack talk and media hype, but that gives the New York Knicks and Brooklyn Nets more than enough bad blood for an intense rivalry.
There's certainly a ton of big-name players in place. Carmelo Anthony, J.R. Smith and the Knicks offense can blow a team out with their scoring on any given night, while every member of the Nets starting lineup has made an All-Star team and can still maintain that caliber of play.
In fact, it's the arrival of Paul Pierce and Kevin Garnett that vaults the NBA's version of the Subway Series so high. The jawing hit an all-time high once Pierce and KG were introduced, and they bring enough hatred towards the Knicks from their years with the Boston Celtics to make it even more acrimonious.
Mike Woodson has no qualms about playing rough if he has to, and we can assume a defensive-minded former point guard like Jason Kidd feels much the same way. These can be shootouts, defensive struggles or something in between, but we know the loathing is there.
Rivalry Intensity: DEFCON 2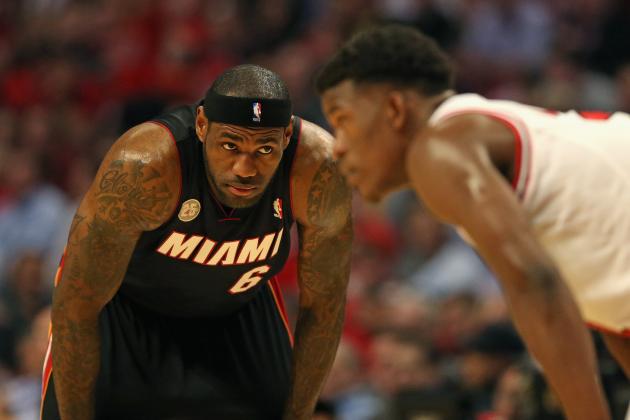 Jonathan Daniel/Getty Images

Because of D-Rose's injury, we're a year removed from the struggle for Eastern supremacy between the Bulls and Heat, but it should be back at full strength in 2013-14.
Do you remember what happened in the 2011-12 regular season? Miami went on to win its first title of the Big Three era, but the Bulls won the East and had the best record in the lockout-shortened campaign. Rose went down in the opening round of the playoffs and Chicago was promptly knocked out, but before that, Miami was by no means the consensus team to beat.
Now Chicago has its recent MVP to challenge the great LeBron James, Jimmy Butler is flourishing into a nice swingman and Thibodeau's approach to the game has always given Miami fits. From James to Dwyane Wade and down through the roster, the Heat have more talent, but the Bulls won't make it easy.
Back in the spring of 2012, we were robbed of the chance to see the two beasts of the East face off once and for all. Two seasons later, they are even stronger.
Rivalry Intensity: DEFCON 1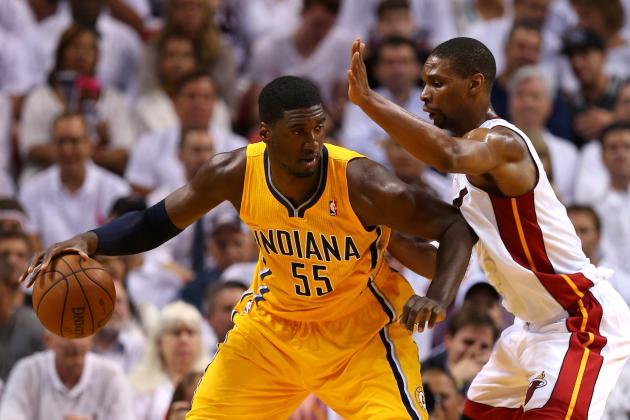 Mike Ehrmann/Getty Images

The Pacers pushed the Heat to the brink in the Eastern Conference Finals with a pretty pathetic excuse for a bench. They won't have that deficiency when they face Miami again.
Paul George and Roy Hibbert are both stars who set a great tone for Indy, and George Hill and David West are perfect complements to the two. Last season, the only useful player beyond that core was a much-improved Lance Stephenson. Now their once-punchless second unit boasts a healthy Danny Granger, Luis Scola, Chris Copeland and C.J. Watson.
With that much scoring and Frank Vogel's defensive philosophy, this is a frightening group of talent that arguably matches, if not exceeds, Miami's.
Of course, the Heat would give Indy a much tougher fight if Chris Bosh and Dwyane Wade were at full strength. And if Greg Oden and Michael Beasley can have mid-career revivals in Miami, the two-time defending champs will be downright unfair.
There is plenty of residual hate from last spring, and these teams both have very strong cases to be the league's best. It will be extraordinary when they try to prove it on the court.
Rivalry Intensity: DEFCON 1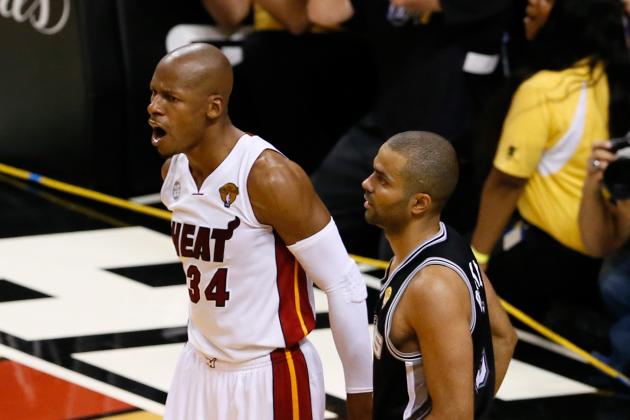 Kevin C. Cox/Getty Images

Opposite conferences be damned—there can be no better rivalry right now than Heat-Spurs.
Look at the intensity on Ray Allen's face and the stunned look on Parker's. Now watch the stunning play in question again. San Antonio was 5.2 seconds away from the 2013 NBA title, but Game 6 slipped away on the most clutch shot in NBA history, and the championship slipped away with it.
Miami will play more games against Indy and Chicago. Those games might be even better. But there is no way any matchup can be as dramatic as the Spurs trying to exorcise last season's demons and avenge their lost ring.
These franchises both belong to the canon of NBA dynasties. As long as LeBron is having his way with opposing players and Duncan and company are making Pop's system look like magic, their games will recall the high drama that was the 2013 Finals.
There is no better backstory for a rivalry in the NBA today. It is better than locality or any basic dislike. This touches a deeper and more profound place in every player involved and every fan watching. It's the type of rivalry the league was made for.
Rivalry Intensity: DEFCON 1