TCU vs. Texas Tech: 10 Things We Learned in Horned Frogs' Loss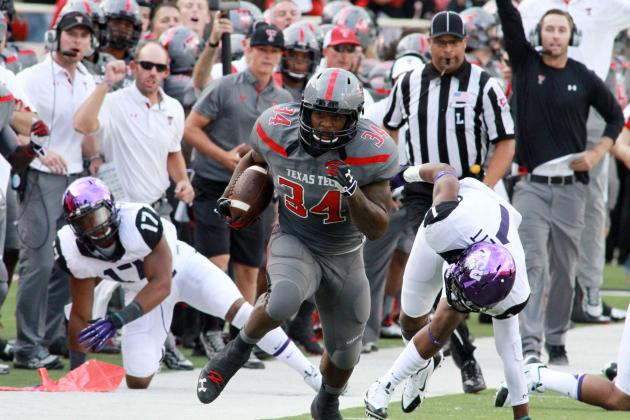 Michael C. Johnson-USA TODAY Sports

What a wacky game in which Texas Tech came out victorious 20-10 over TCU. It included just about anything and everything you can hope to witness in a college football matchup. Even a few things you would have never imagined were included in this bizarre Thursday night contest.
In all seriousness, there was plenty to take away from this fairly competitive Big 12 game. TCU learned it still has plenty of work to do if it is going to compete for a conference title, while the Red Raiders quickly reminded folks not to write them off just yet.
Begin Slideshow

»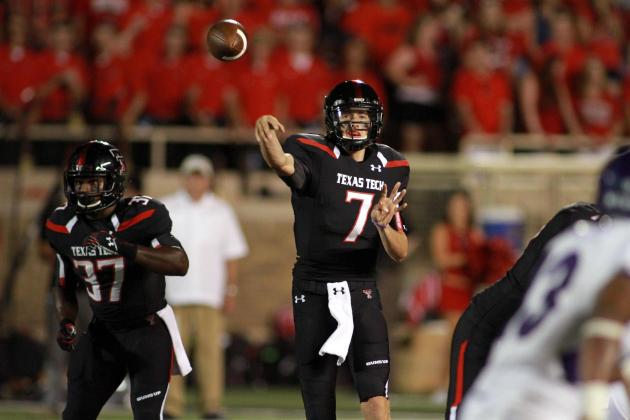 Michael C. Johnson-USA TODAY Spo

Texas Tech quarterback Baker Mayfield left the game late in the second half with an injury.
Amazingly, freshman Davis Webb stepped in without even missing a beat. While most coaching staffs would take it easy on the young player, Texas Tech called a passing play on third down. Davis connected on a 19-yard pass to Bradley Marquez for the touchdown that put the game away.
Mike Graham of Red River Sports is reporting that Mayfield is fine, but if the offense ever needs to make a change at quarterback, Webb has proven in one quarter that he has the goods to keep the team on track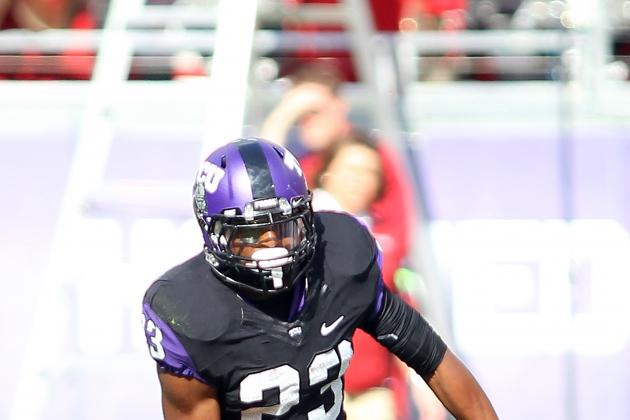 R. Yeatts/Getty Images

The offensive game plan for TCU was questionable at best. Running backs B.J. Catalon and Waymon James are one of the best one-two punches in the country.
Why in the world did they touch the ball 19 combined times? Quarterback Trevone Boykin led the team with 20 carries. This simply cannot happen.
Last season, Catalon averaged nearly five yards a carry, while James averaged a ridiculous 9.9 yards per carry in limited playing time. They both have game-changing speed and are capable of taking some of the pressure off of a nervous quarterback.
TCU must go to its playmakers until Boykin can gain more confidence.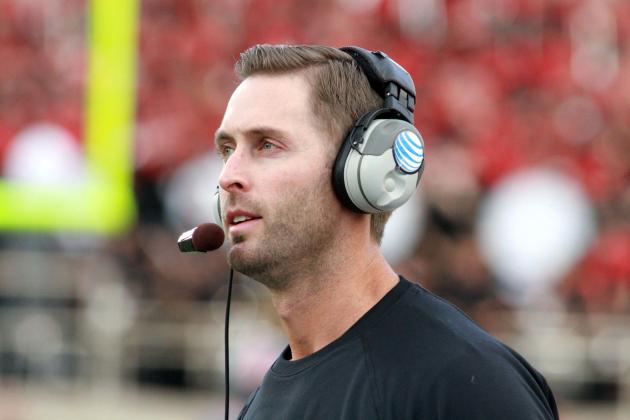 Michael C. Johnson-USA TODAY Sports

Just when you think you have discovered the Big 12 favorite...
They let you down.
Seriously, who is the team to beat in this conference?
Texas is a mess. TCU has just shown flaws. Oklahoma is shaky at best. Is anybody really ready to believe in Baylor? Is the new team of the week Texas Tech?
Well, I guess we'll have to wait and see. Until then, every team in this conference has a chance to win the title. Yes, even 1-0 Kansas, for now.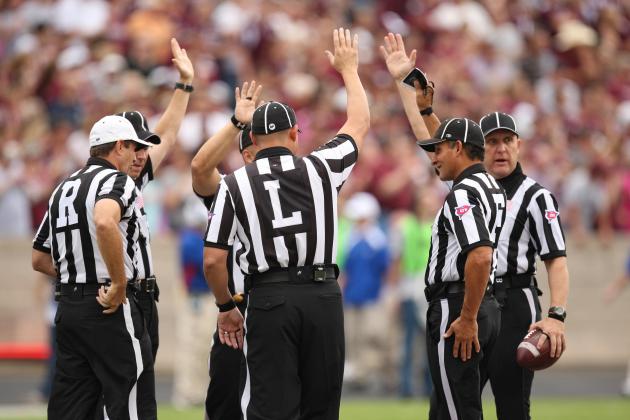 Thomas Campbell-USA TODAY Sports

Even if it has been said before, it needs to be said again.
That helmet rule where a player must sit out a play if his lid comes off is absolutely ridiculous. It cost TCU a chance to pick up a first down in the first quarter, as quarterback Trevone Boykin had his helmet pop off, so quarterback Tyler Matthews was forced to step in on 3rd-and-6.
There was also a bizarre play when running back DeAndre Washington scored a touchdown but dropped the ball before crossing the end zone. Instead of it being TCU's ball on a touchback, Texas Tech gets the ball where he dropped it off.
Why?
These rules need to be discussed with the NCAA rules committee.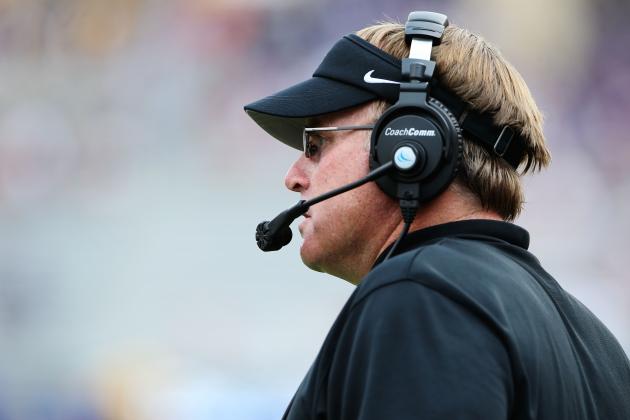 Kevin Jairaj-USA TODAY Sports

TCU fans have every right to be upset with plenty of questionable calls that went against them in every direction. However, the players did nothing to help themselves.
Not only was the offense inept, but there were also 13 penalties for 115 yards. There were two turnovers as well. When you add up everything, the Horned Frogs consistently shot themselves in the foot and left the margin for error quite slim.
Were there horrendous calls? Yes. But it's tough to blame this entire game simply on the zebras. TCU didn't show up for all 60 minutes.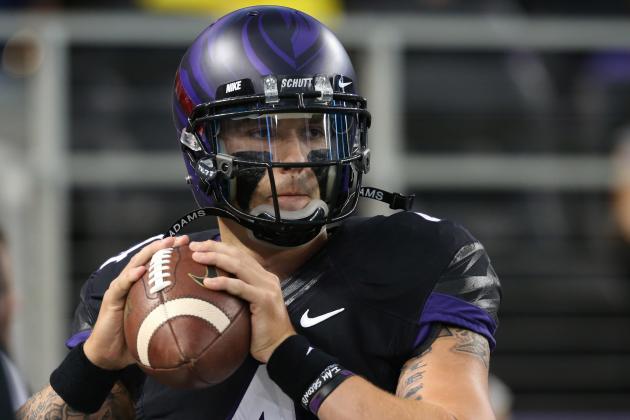 Matthew Emmons-USA TODAY Sports

Casey Pachall will be sidelined for the next eight weeks with a broken arm. TCU fans are hoping for an even faster recovery, as Trevone Boykin can't carry the offense by himself.
He gets happy feet, doesn't seem confident on the field at times and can be a little careless with the ball. He finished the game with 194 passing yards, 101 rushing yards and two interceptions.
Is he a playmaker? Yes. Is he a legit starting quarterback? Doesn't seem like it.
TCU needs to have a more consistent passer running the offense, which is Pachall. Boykin is cool for certain packages, but he seems to be holding this offense back. Well, at least in this game.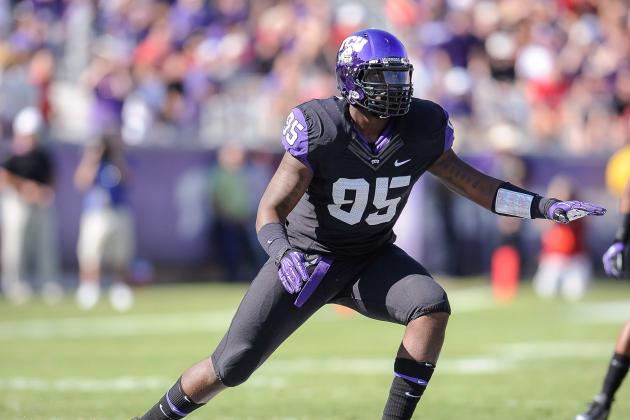 Jerome Miron-USA TODAY Sports

What happened to the TCU defense that picked up nine sacks in the final four games of last season?
Did Devonte Fields even play in this losing effort?
The Horned Frogs couldn't get any penetration up front, which put a ton of pressure on the secondary. Fields seemed so afraid of Mayfield making a play with his legs that he hesitated on the pass rush.
With all of the talent on this defense, it seemed like a lackluster performance from the defensive line. Remember, Texas Tech allowed four sacks coming into this game against lousy opponents. TCU should have had more success in this department.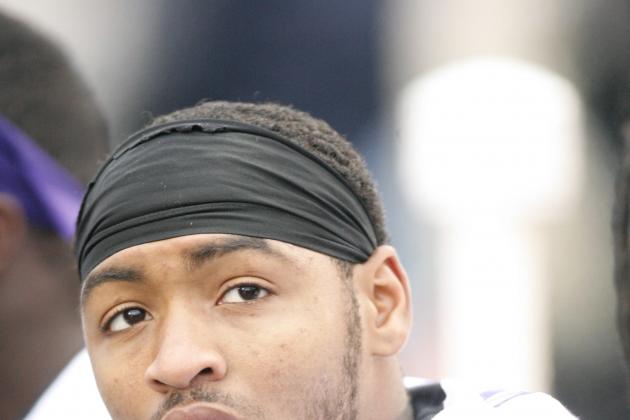 Charles LeClaire-USA TODAY Sports

Many folks were expecting a shootout much like last year's meeting. Not so fast.
Although Texas Tech passed for 293 yards, the TCU defensive backs made every yard through the air difficult to come by. The defenders were physical with receivers, batting balls away and lowering the boom to jar the ball loose. Chris Hackett, Kevin White and Derrick Kindred also came away with an interception.
There are plenty of talented secondaries in college football, but TCU may truly be the best and most aggressive of them all. After all, we're talking about a Texas Tech passing attack that topped well over 400 passing yards in each of the first two games.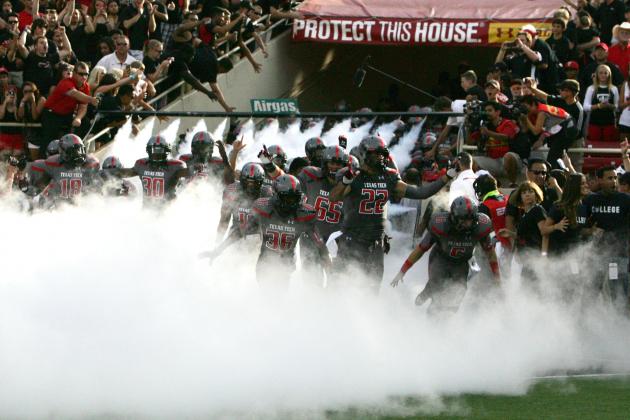 Michael C. Johnson-USA TODAY Sports

Well, this wasn't expected.
Texas Tech's defense came to play and did a wonderful job for the most part. The Red Raiders flew to the ball and did an incredible job of making sure tackles in the open field. After allowing 490 yards to Southern Methodist in the season opener, many didn't have high expectations for this unit.
But the defense was all over the talented TCU receivers, the defensive front generated solid pressure, and players did a good job of tackling.
If this performance can continue, Texas Tech is a legit contender in the Big 12.
Michael C. Johnson-USA TODAY Sports

Baker Mayfield isn't a perfect quarterback after all.
He completed just 52.5 percent of his passes and threw three interceptions. He also struggled with pressure in his face and made some very questionable decisions with the ball. He could have had more than three turnovers if Horned Frogs defenders were in the right position.
Mayfield still had a solid game, throwing for 216 yards and a touchdown. He also made some solid plays with his legs. However, TCU did show there is a chink in his armor, and there are other defenses that will likely use a similar game plan against the freshman.