UFC 165: Jon Jones vs. Alexander Gustafsson Head-to-Toe Breakdown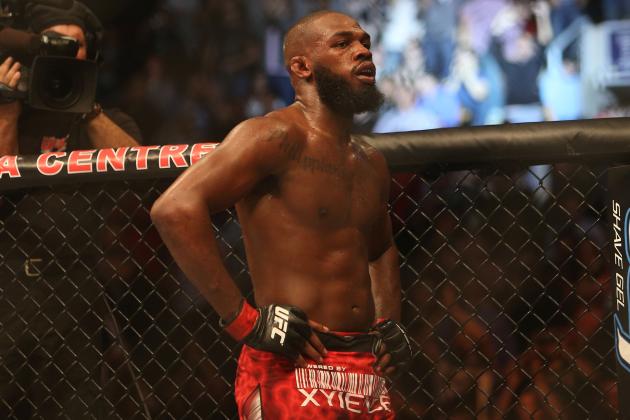 Tom Szczerbowski-USA TODAY Sports

At UFC 165, Jon Jones will take aim at the UFC record for consecutive light heavyweight title defenses.
Currently tied with Tito Ortiz at five straight title defenses, Jones will look to further cement himself as the greatest 205-pound fighter ever by beating Alexander Gustafsson. Following back-to-back title defenses over Chael Sonnen and Vitor Belfort, a pair of middleweights who moved up to challenge him, Jones will finally meet an opponent of comparable size in Gustafsson.
Since suffering the lone loss of his career to Phil Davis, Gustafsson has won six straight fights. Most recently, the Swedish light heavyweight defeated former champion Mauricio Rua to earn his first shot at UFC gold.
As this potentially history-making matchup approaches, it's time to take a look at how Jones and Gustafsson stack up against one another in all areas.
Begin Slideshow

»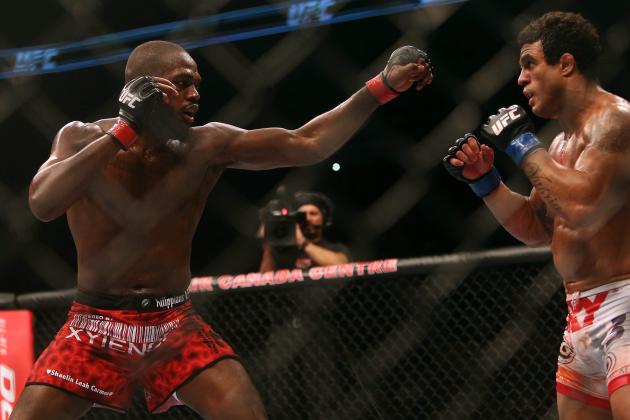 Tom Szczerbowski-USA TODAY Sports

Jones came from a wrestling background, but he's developed into one of the best strikers in the light heavyweight division. Some of that has to do with the champion's incredible reach, but it is more so a product of his opponents having to worry about the takedown while Jones comes at them with strikes.
The threat of a double-leg takedown forces Jones' opponents to carry their hands lower in preparation to defend. Gustafsson already has a tendency to drop his guard when standing, so his striking defense likely won't undergo much change at UFC 165.
However, Gustafsson's bad habit in past fights provides some examples of how successful Jones should be on Saturday.
In his fight with Rua, Gustafsson carried his lead hand low and in position to counter (top left). When "Shogun" pressed forward, though, Gustafsson would drop his right hand while countering with the lead hook (top right). That allowed Rua to land his left hook (bottom left) and follow up with a right hook (bottom right), as Gustafsson didn't bring his counter back to his chin.
Jones frequently throws a left straight that will punish Gustafsson for this type of mistake at UFC 165.
Worse than simply dropping his hands while countering, Gustafsson moved straight backward, while dropping his hands against Rua. He got away with it on occasion against Rua due to a reach advantage, but Jones will be able to move forward much more quickly than Gustafsson retreats.
The yellow line in the above shot stills indicates Rua's line of attack during a second-round combination. Notice how close Gustafsson stays to that line throughout the barrage that sees him hit by a left hook and straight right hand.
Remaining on that plane allows Rua to tee off without having to shift direction, meaning he's able to maintain power throughout the combination due to his carrying momentum.
More notably, though, Gustafsson's backpedaling eventually leaves him trapped against the fence with his hands down. This is a bad place to be against any opponent, but Jones is especially dangerous when his adversary is backed into a corner.
It's where he put Lyoto Machida to sleep. It's where he forced Rua to tap due to strikes. And it's where he's taken many an opponent down. Jones essentially does what he wants with opponents in this situation.
When Jones has foes trapped against the fence, he forces them to stay put.
As Rua tried to circle away from the bad position (top right), Jones landed a lead-leg side kick that buckled the Brazilian's knee. Immobilized, "Shogun" then ate a 1-2 combination without being able to touch Jones with a counter (bottom).
Gustafsson is a solid offensive striker, but he leaves too many openings defensively that a fighter like Jones can exploit repeatedly. Despite his reach, Gustafsson gets hit at a higher percentage than Rashad Evans and Quinton Jackson, two opponents whom Jones picked apart when standing.
If you exclude his knockout win over Rua, which began with ground-and-pound, Jones is still looking for his first standing knockout victory. Despite all the talk that Gustafsson's length could be the answer to Jones' dominance, this matchup actually provides the champion with a fairly realistic chance of scoring a stand-up knockout win.
Joe Nicholson-USA TODAY Sports

Gustafsson proved to be a dangerous striker against non-ranked light heavyweights, scoring three knockouts in his first six UFC bouts. However, once he stepped up into top-10 competition, Gustafsson revealed some offensive shortcomings that could hurt him against Jones.
The challenger misses with his strikes frequently, landing only 36 percent of the strikes he throws. To put that in perspective, Jake O'Brien is Jones' only UFC opponent with worse striking accuracy.
Part of the reason for Gustafsson's inaccuracy could be his tendency to drop his non-striking hand when attacking. Doing so leaves the Swedish light heavyweight open for counters that ruin his aim.
Above, Gustafsson lines up for a straight right on Rua (top left). As he throws, though, Gustafsson lowers his lead hand (top right). Rua smartly counters with a right hand (bottom left), which causes Gustafsson's straight right to miss low.
The missed strike leads to a clinch (bottom right), which wasn't a problem against Rua, but it's one of the last places Gustafsson wants to end up when he faces the wrestling of Jones.
If Gustafsson runs into trouble with his boxing, kicking won't be a great second option against a wrestler like Jones. The challenger hasn't mixed kicks into his striking very well in the past, so it's unlikely he'd find a way to chop down the champion with multiple leg kicks on Saturday.
The effectiveness of kicks is greatly decreased when they are not set up properly, and that is not something Gustafsson has mastered.
Against Rua, Gustafsson threw a kick in the first round without setting it up. "Shogun" easily countered with an overhand right and caught Gustafsson's right leg to record a takedown. Jones is a better wrestler than Rua and has caught kicks from more experienced kickers than Gustafsson.
In his title shot against Rua, Jones caught an outside leg kick and toppled the former champion to the canvas. Although Rua lost to Gustafsson, his Muay Thai is much more highly regarded. If Jones had little problem dealing with Rua's kicking, he shouldn't have any issues turning Gustafsson's potential kicks into takedowns.
While Jones can't get by strictly on reach against Gustafsson, he's rarely been hit cleanly, despite facing more accurate strikers.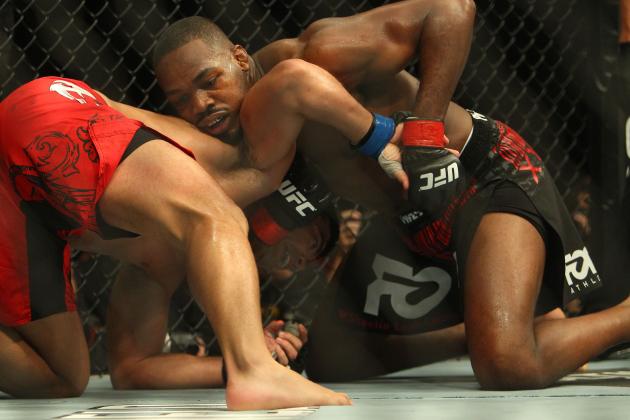 Tom Szczerbowski-USA TODAY Sports

With the exception of Jake O'Brien, who he didn't need to take down, Jones has grounded every opponent he's faced inside the Octagon.
Although Gustafsson has stopped 84 percent of takedown attempts he's faced, it's tough to see the "The Mauler" being an exception to Jones' rule, especially when lesser wrestlers than Jones have found a way to take him down. In addition to Davis, Rua and James Te-Huna have put Gustafsson on his back inside the Octagon.
A Greco-Roman All-American, Jones is most noted for his wrestling from the clinch. However, the 205-pound champion is also perfectly capable of taking Gustafsson down with a double-leg from outside the challenger's striking range.
It's been mentioned that Gustafsson likes to counter with a lead hook, so it's worth taking a look at how Jones dealt with a similar attack from a more accomplished wrestler in Chael Sonnen.
At UFC 159, Sonnen attacked Jones with a lead right hook right away (top left). Jones easily ducked the punch (top right), drove through the double-leg (bottom left) and took one of MMA's best wrestlers to the ground (bottom right).
If Jones can make it look so easy against a wrestler like Sonnen, he should be able to take Gustafsson down repeatedly at UFC 165.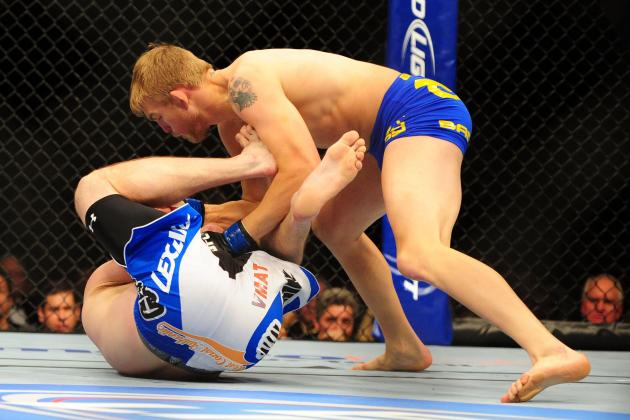 Mark J. Rebilas-USA TODAY Sports

Since he began working with former opponent Phil Davis, Gustafsson's wrestling has improved significantly.
At UFC on Fox 5, Gustafsson's offensive wrestling looked better than ever against a former light heavyweight champion. In the second round, the 205-pound Swede timed an overhand right perfectly and brought Rua down.
Gustafsson has scored seven takedowns in his past two outings. However, Rua and Thiago Silva don't compare to Jon Jones when it comes to defensive wrestling.
While the above double-leg worked on Rua, it'd be shocking to see Jones grounded by a takedown with such form. Gustafsson shoots in for a double-leg with his head inside and his left ear on Rua's torso. With proper form, Gustafsson's head would be on the outside with his right ear on Rua's hip.
Not only does Jones infrequently throw looping overhands like the one Rua used in the sequence above, the champion would also likely use a whizzer to shut down this takedown by overhooking Gustafsson's left arm and turning his hip counterclockwise.
Jones has never been taken down, despite meeting the likes of Sonnen and Evans. It'd be stunning to see Gustafsson accomplish what those two couldn't.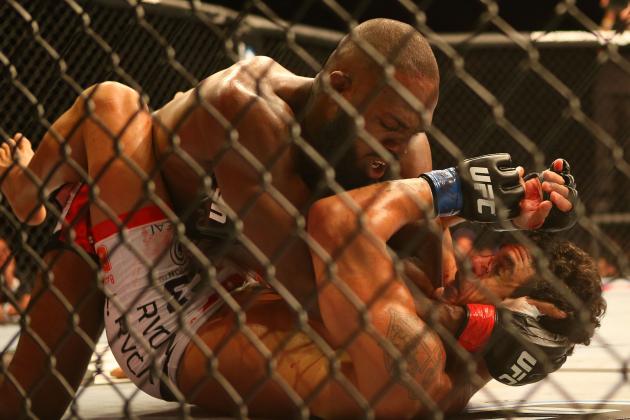 Tom Szczerbowski-USA TODAY Sports

Aside from a scare against Belfort, Jones has been nearly flawless on the ground.
Much of Jones' success on the ground has to do with his hand control, which will be touched on soon. However, it is clear Jones is well-schooled on his opponents' grappling tendencies, which has been equally vital to his strong performances.
Rua often gives up full-guard to attack leg locks from bottom half-guard. When he tried going for his signature submission against Jones, Rua was completely shut down.
From half-guard, Rua turned his right hip down and began to reach for Jones' left leg (top left). Jones prevented Rua from getting to his leg with strong forearm pressure to the Brazilian's neck.
When "Shogun" adjusted and tried to lift his challenger's left arm, Jones kept his elbow tight to his body (top left) and peeled Rua's hand away by grabbing at the wrist (bottom left). With both of Rua's arms under his control, Jones was able to land a damaging left elbow (bottom right).
It's that control of his adversary's hands that has allowed Jones to cause so much devastation with his ground-and-pound.
Jones' finishing sequence against Sonnen was started by the trapping of one hand.
Once Jones controlled Sonnen's left hand with his left hand (top left), the champion was free to attack from his right side. Jones landed two right elbows while blocking Sonnen's right hand from guarding with his head (top). When Sonnen had enough space to block the left side of his head, Jones circled clockwise to create an opening for his left elbow to be dropped (bottom).
Three brutal elbows in a span of seven seconds was the beginning of the end for Sonnen, and it all started with some simple hand control by Jones.
Gustafsson's lone loss came after being taken down by Phil Davis. If he is taken down by Jones, who has already finished three challengers from the top position, Gustafsson could be looking at his second career defeat.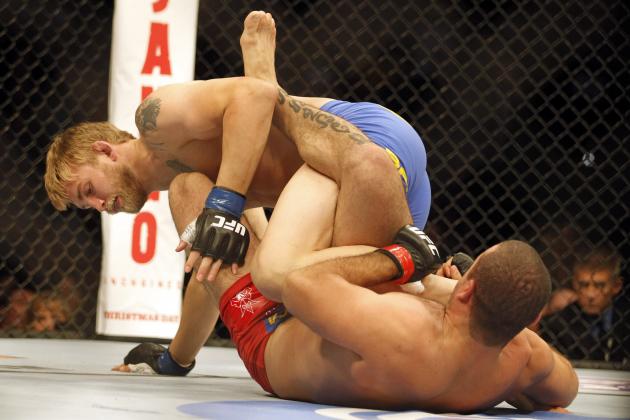 Joe Nicholson-USA TODAY Sports

Jones has only spent a couple seconds on his back inside the Octagon, and that was because he pulled guard at the end of his fight with Evans.
Despite his six takedowns against Rua in his last outing, Gustafsson spent little time on top of the former champion. It appeared as though Gustafsson was only looking for takedowns as a way to score points before allowing Rua to return to a standing position.
While Gustafsson has spent enough time on top throughout his UFC career to examine strengths and flaws, Jones' grappling off the bottom is still very much unknown. Gustafsson may want to test Jones in that area, but it's going to be extremely difficult bringing the champion down.
Gustafsson may have a good chance of beating Jones from the top position, but Jones may also be perfectly capable of submitting the challenger from the bottom. Until someone takes Jones down, it'll remain a mystery, and Gustafsson likely isn't going to be the one to clear things up.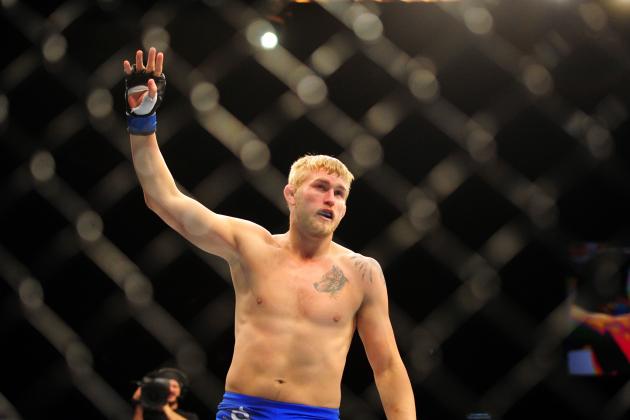 Mark J. Rebilas-USA TODAY Sports

Much has been made of Gustafsson's reach coming into this matchup, but the challenger will still be at a disadvantage in that area against Jones. With an 84.5" reach, Jones still holds an eight-inch reach advantage over Gustafsson.
Gustafsson may be the most physically imposing fighter Jones has faced since becoming champion. However, he'll still need to find a way around Jones' oblique kicks to get into punching range.
It has also been over nine months since Gustafsson last competed. That time away could have allowed the challenger to make needed improvement, but he may also be rusty heading into Saturday's matchup.
Outside of Gustafsson's skills, the only object of concern for Jones will be the toe he badly dislocated in his April title defense against Sonnen. There have been no reports of setbacks during his recovery from that injury, but it's still something that could be in the champion's head as he returns to action.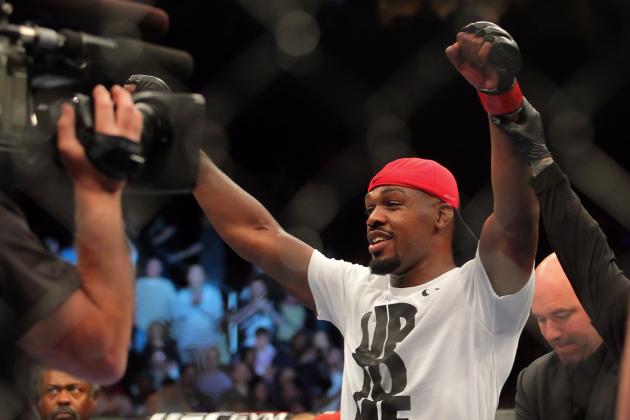 Brad Penner-USA TODAY Sports

Gustafsson may be a light heavyweight champion sometime down the road, but he's probably going to have to wait until Jones makes a move to heavyweight for that to happen.
Jones has taken down better wrestlers than Gustafsson, and Gustafsson has been taken down by lesser wrestlers than Jones. If he does take the challenger to the ground, Jones has submitted black belts, which Gustafsson is not.
Even if this fight stays standing, Jones has not showed any signs of having a weak chin, and Gustafsson has not knocked out a top-10 light heavyweight. Without a high probability of scoring a flash knockout, the deficiencies in Gustafsson's striking defense also make him an underdog in a striking match with Jones.
A calculating champion, Jones almost always beats opponents where they are weakest. So, while he could win this one standing, look for him to beat Gustafsson the only way the challenger has been beaten.
Prediction
Jones defeats Gustafsson by submission in the second round.
Statistics via FightMetric.com.