Early Grades for Top 12 September Call-Ups' First Weeks in MLB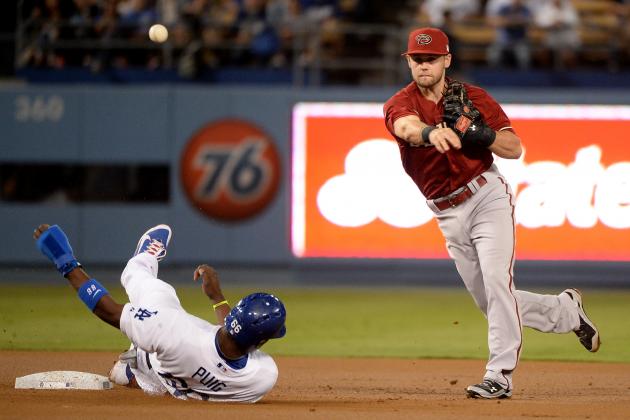 Harry How/Getty Images
SS Chris Owings has five hits over his last three starts.
It's been less than two weeks since teams announced their initial September call-ups. But in that short amount of time, some of baseball's top prospects have made their presence felt in the major leagues.
Billy Hamilton quickly proved that he was baseball's fastest player with four stolen bases (in four attempts) and three runs scored as a pinch runner during his exciting first week with the Reds. Meanwhile, Twins' catcher Josmil Pinto has been hitting everything in sight, batting .467 with six extra-base hits through his first nine games.
And let's not forget about Nick Castellanos and Chris Owings, who both have made the most of their recent playing time by collecting at least one hit in three consecutive starts. However, the aforementioned prospects represent only a small portion of the young talent on display in the major leagues this month.
Here's a look at the early grades for the top 12 September call-ups.
Begin Slideshow

»
2013 Stats: 8 IP, 12 H, 9 ER, 9 BB, 6 K (2 GS)
Flynn, a 6'7", 240-pound left-hander, turned in a breakout season in his first year with the Marlins, posting a 2.63 ERA and 147/43 K/BB ratio in 161 innings between Double-A Jacksonville and Triple-A New Orleans. As a result, he was rewarded with a promotion to the major leagues on September 1.
The 23-year-old made his major league debut last Wednesday when he started against the Cubs at Wrigley Field. The southpaw ultimately took a no-decision but allowed three earned runs on six hits (including two home runs) over four innings. He walked three batters and struck out a pair and needed 81 pitches (44 strikes) to get through his outing.
Unfortunately, his second outing wasn't any better. Making his home debut on Thursday afternoon against the Braves, Flynn picked up the loss after yielding six earned runs on six hits and six walks over four innings. He also struck out four batters.
Grade: C
2013 Stats: 2-for-11 (.182), RBI, 6 K (4 G)
Semien made his major league debut on September 4 at Yankee Stadium, starting at third base and batting ninth. The 22-year-old got his first hit out of the way quickly with an opposite-field single off CC Sabathia in his first career at-bat. And after striking out his next two times to the plate, Semien capped his impressive debut with an RBI single in the eighth inning.
Unfortunately, that's been the extent of his impact so far. In both of Semien's subsequent starts in the past week, he went 0-for-3 with two strikeouts. He was a patient hitter in the minor leagues prior to the call-up, so expect him to settle in at the dish as he gains experience.
Grade: C
2013 Stats: 0-2, 9.2 IP, 14 H, 11 R (5 ER), 6 BB, 5 K (2 GS)
In Johnson's first major league start on September 4 at Yankee Stadium, he allowed five runs (three earned runs) on seven hits and three walks over six innings. While he struggled to get through the first inning and then committed a throwing error in the fourth that ultimately led to a pair of unearned runs, the 23-year-old right-hander handled himself well.
In his follow-up outing and home debut on Tuesday, Johnson was once again the victim of poor infield defense by the White Sox, as he allowed six runs (two earned) on seven hits and lasted only 3.2 innings.
Despite Johnson's general bad luck in both starts, his inconsistent command hasn't exactly helped his cause. He's also struggled mightily against left-handed hitters, whom are collectively batting .500 against him thus far.
Grade: B-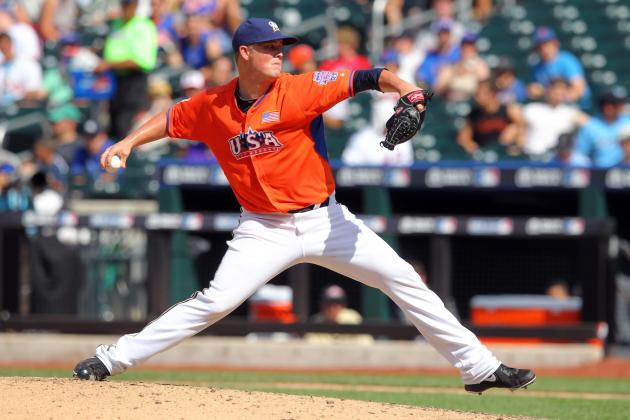 Brad Penner-USA TODAY Sports

2013 Stats: 2 IP (1 G)
Opening the 2013 season at Double-A Huntsville, Nelson turned in a strong first half with a 2.74 ERA and 72/15 K/BB ratio in 69 innings (12 starts). However, the 24-year-old's command was inconsistent following a promotion to Triple-A in early June, as he posted a 91/50 K/BB ratio in 83.1 innings.
After joining the club as a September call-up, Nelson made his major league debut last Friday on the road against the Cubs. Coming out of the Brewers' bullpen, the right-hander needed only 19 pitches (12 strikes) to complete two perfect innings. While he's expected to work exclusively as a reliever, I wouldn't be surprised if the organization offers him a spot start before the end of the season.
Grade: B
2013 Stats: 3 IP, H, 2 BB, 3 K (3 G)
Hembree might have already reached the major leagues if not for a lengthy stay on the disabled list in 2012. While he struggled with his command at times this season at Triple-A Fresno, the 24-year-old turned the corner in July with 15 saves, a 2.50 ERA and 24/5 K/BB ratio in 21.2 innings prior to his call-up. Overall, Hembree has recorded 31 saves and posted a 4.07 ERA, 1.27 WHIP and 63/16 K/BB ratio in 55.1 innings spanning 54 appearances.
In his major league debut on September 3, Hembree struck out two batters in a perfect inning out of the Giants' bullpen. Since then, he's added two more scoreless innings.
Grade: B
2013 Stats: 2-for-9 (.222), 2B, BB, 3 K (4 G)
Choice made his major league debut on September 2 against the Rangers, going 0-for-2 with a walk and a run scored as the A's designated hitter. He received his first career start the following day and picked up his first big league hit as a part of a 1-for-3 effort. He also made a nice sliding catch in right field.
The 23-year-old notched the first extra-base hit of his career, a double, on Tuesday night against the Minnesota Twins. So far, a majority of Choice's at-bats have come against left-handed pitching. However, considering the right-handed hitter fared as well against same-side pitching (.825 OPS) as he did southpaws (.871 OPS) this season at Triple-A Sacramento, he should continue to receive moderate playing time as the A's push for a postseason berth.
Grade: B
2013 Stats: 1-for-4, HR, 2 K (1 G)
The Padres purchased the contract of first baseman Tommy Medica, a 14th-round draft pick in 2010 out of Santa Clara University, from Double-A San Antonio on Tuesday. He put himself on the big league radar last year by posting a 1.029 OPS with 37 doubles and 19 home runs in 93 games at High-A Lake Elsinore, though his production was inflated (to an extent) from playing in the hitter-friendly California League.
In his first taste of Double-A this season, the 25-year-old proved that his bat was the real deal by batting .296/.370/.593 with 20 home runs. And had he not been limited to only 81 games due to injury, Medica may have already reached the major leagues.
Starting at first base in his major league debut on Wednesday night, Medica, a right-handed hitter, struck out in his first at-bat against Cliff Lee. However, he got the veteran left-hander's number in his second trip to the plate, as he turned around a 1-1 fastball for the first hit and home run of his career.
The Padres went out of their way to add him to the 40-man roster for a reason, so expect Medica to see regular playing time down the stretch.
Grade: B+
2013 Stats: 6 IP, 4 H, 2 R (1 ER), BB, 3 K (1 GS)
The Mariners promoted Paxton to Triple-A Tacoma for the 2013 season with the hope that his command would improve with the challenge of a more advanced level. However, the 24-year-old once again struggled to harness his swing-and-miss stuff and owned a 4.45 ERA and 131/58 K/BB ratio with 158 hits allowed in 145.2 innings at the time of his promotion to the major leagues.
Paxton was impressive in his major league debut last Saturday, as the left-hander held the Rays to two runs (one earned) on four hits over six innings and picked up the first win of his career. Showcasing a fastball that topped out at 98 mph and hammer curveball in the mid-80s, he walked only one batter and fanned three batters while throwing 59 of 95 pitches for a strike.
Grade: B+
2013 Stats: 3-for-11, K (6 G)
The Tigers didn't wait around to get Castellanos, their top prospect, into a game. The 21-year-old made his big league debut as a pinch hitter on September 1, the day of his promotion to The Show, against the Indians and took over in left field for the final few innings. He finished the game 0-for-2.
Castellanos received his first start on Saturday against the Royals, and picked up the first hit and run scored of his career as part of a 1-for-2 effort. In Detroit's series against the White Sox this past week, he made a pair of starts and collected a knock in each contest.
It appears he's overtaken the slumping Matt Tuiasosopo as the team's left fielder when facing a left-handed pitcher, so expect him to receive frequent playing time in the upcoming weeks.
Grade: B+
2013 Stats: 5-for-16 (.313), 2 SB, 3 BB, 3 K (7 G)
Owings had a monster year at Triple-A Reno, batting .330/.359/.482 with 180 hits, 51 extra-base hits (12 home runs), 81 RBI and 20 stolen bases in 125 games. As a result of his overwhelming success, the 22-year-old was named both the Rookie of the Year and MVP of the Pacific Coast League, and subsequently called up to the major leagues by the Diamondbacks.
Owings entered the game as a pinch hitter on both Sept. 3 and 4, and grounded out in each at-bat. In the first start of his big league career last Friday, he went 0-for-3 with a strikeout.
Since then, however, the shortstop has hit safely in all three of his starts and has five hits in his last 11 at-bats. And considering Didi Gregorius owns a pedestrian .646 OPS since the All-Star break, Owings should continue to see consistent playing time down the stretch.
Grade: A-
2013 Stats: 0-for-2, 3 R, 4 SB (5 G)
In his first week with the Reds, Hamilton entered the game as pinch runner on four separate occasions and promptly stole a base each time. He also scored three runs. Yeah, I know—impressive.
However, it wasn't until September 10 that manager Dusty Baker got Hamilton his first at-bat. Facing right-hander Edwin Jackson in the seventh inning with the Reds trailing the Cubs, 9-1, the 22-year-old switch-hitter lined a 1-1 fastball to shortstop Starlin Castro.
While he's already proven to be a late-inning weapon off the bench, it's doubtful that Hamilton will see significant playing over the remainder of the regular season. However, he'll continue to get at-bats when appropriate and could even see a start or two.
Grade: A-
2013 Stats: .467/.515/.733, 6 R, 5 2B, HR, 4 RBI, 3 BB, 5 K (9 G)
Since getting the call to join the Twins on August 31, Pinto has been one of the hottest-hitting catchers in the game.
In his major league debut on September 1, Pinto was 2-for-4 with a double and RBI against the Rangers, and then followed with a 4-for-5 performance against the Astros two days later. A few days later against the Blue Jays, the right-handed hitter launched the first home run of his big league career.
Pinto has continued to rake in his second week as a major-league ballplayer, highlighted by a 3-for-4 performance with three doubles, two runs scored and an RBI on Monday against the Angels. The 24-year-old has emerged as the Twins' everyday backstop with Joe Mauer out indefinitely due to concussion-related symptoms. Who knows; with a strong finish to the season, Pinto could make the organization's decision to move Mauer from catcher to first base significantly easier.
Grade: A