Only one week into the season, it's much too early to write off any teams hoping to snatch a playoff spot.
There's still plenty of time to right the ship. A team could lose seven or even eight games and still possibly have a shot at postseason football. Losing once is nothing to get bent out of shape about.
Losing twice, however, could be a bit more worrisome. It would still be much too early to hit the panic button, but it just gives you that much more work to do. The fans start getting a little more uneasy, too.
Plus history isn't exactly in your favor, either (h/t ESPN Stats and Info).
NFL teams at 0-1 should show a sense of urgency in Week 2. Since 1990, 12 pct of teams to start a season 0-2 have reached the playoffs.

— ESPN Stats & Info (@ESPNStatsInfo) September 12, 2013
Here are three teams with postseason hopes that will lose in Week 2.
Week 2 Predictions

| | | | |
| --- | --- | --- | --- |
| Time | Home Team | Away Team | Winner |
| Thursday, Sept. 12 | | | |
| 8:25 p.m. ET | New England Patriots | New York Jets | Patriots |
| Sunday, Sept. 15 | | | |
| 1:00 p.m. ET | Atlanta Falcons | St. Louis Rams | Falcons |
| 1:00 p.m. ET | Philadelphia Eagles | San Diego Chargers | Eagles |
| 1:00 p.m. ET | Kansas City Chiefs | Dallas Cowboys | Chiefs |
| 1:00 p.m. ET | Indianapolis Colts | Miami Dolphins | Dolphins |
| 1:00 p.m. ET | Houston Texans | Tennessee Titans | Texans |
| 1:00 p.m. ET | Green Bay Packers | Washington Redskins | Packers |
| 1:00 p.m. ET | Baltimore Ravens | Cleveland Browns | Browns |
| 1:00 p.m. ET | Buffalo Bills | Carolina Panthers | Panthers |
| 1:00 p.m. ET | Chicago Bears | Minnesota Vikings | Bears |
| 4:05 p.m. ET | Tampa Bay Buccaneers | New Orleans Saints | Saints |
| 4:05 p.m. ET | Detroit Lions | Arizona Cardinals | Lions |
| 4:25 p.m. ET | Oakland Raiders | Jacksonville Jaguars | Raiders |
| 4:25 p.m. ET | New York Giants | Denver Broncos | Broncos |
| 8:30 p.m. ET | Seattle Seahawks | San Francisco 49ers | Seahawks |
| Monday, Sept. 16 | | | |
| 8:40 p.m. ET | Cincinnati Bengals | Pittsburgh Steelers | Bengals |
Schedule via NFL.com
New York Giants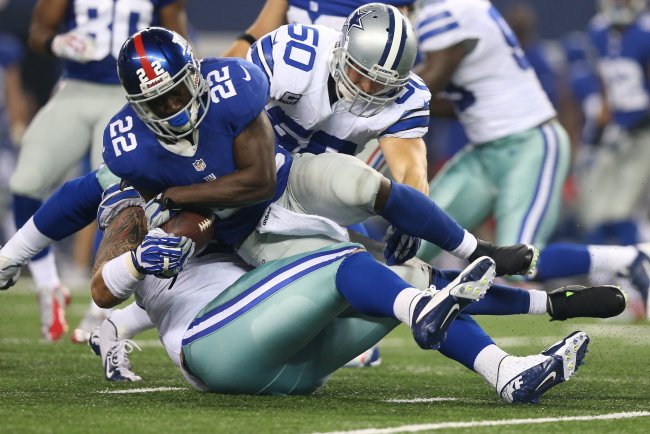 Matthew Emmons-USA TODAY Sports
Eli Manning couldn't have put in more of an Eli Manning performance on Sunday night against the Dallas Cowboys. He had it all—Manning faces, plenty of both big plays and stupid decisions, a boatload of yards and a possible fourth-quarter comeback that would have undone all of his mistakes.
Until that final pick-six, you thought it was yet another late drive by Eli to win the game and another game where the Cowboys would choke it away late. Instead, neither happened.
Now the Giants welcome in the Denver Broncos for Manning Bowl III. Denver is about the exact opposite team New York will want to be seeing. There are still some major question marks over the Giants secondary, and those issues will be laid bare by Peyton Manning and his merry band of wide receivers.
Even without Von Miller, the Broncos should be able to handle Manning and the Giants offense. New York's lack of a stable running game will really hurt in Week 2.
Minnesota Vikings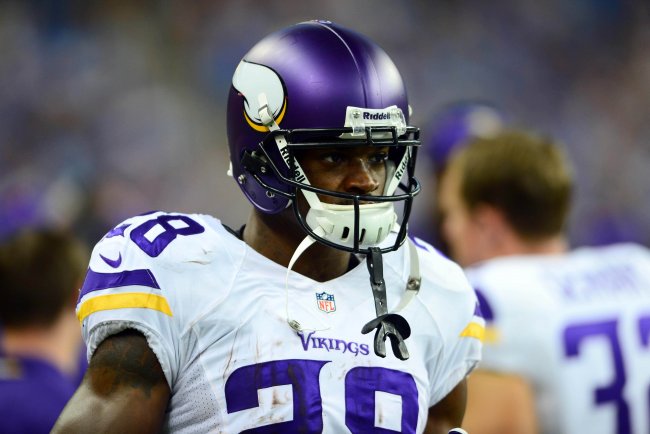 Andrew Weber-USA TODAY Sports
The Minnesota Vikings weren't given any breaks by the scheduling gods as they had the Detroit Lions in Week 1 and the Chicago Bears in Week 2. Facing inter-divisional opponents this early in the season is a pretty rough start.
This will be the kind of game that Vikings fans should get used to for the rest of the year. Adrian Peterson does his most to win the game, while Christian Ponder did his most to un-win the game. The third-year QB had three interceptions and a fumble to negate Peterson's 93 yards and two touchdowns in the loss to the Lions.
Against a vulturous Bears secondary, Ponder will have a hard time makings plays, and Chicago is too good to let Peterson alone prove the deciding factor.
The Bears got a big win against the Cincinnati Bengals last Sunday, and if they play that way against the Vikings, it will be a perfect start for Marc Trestman.
Washington Redskins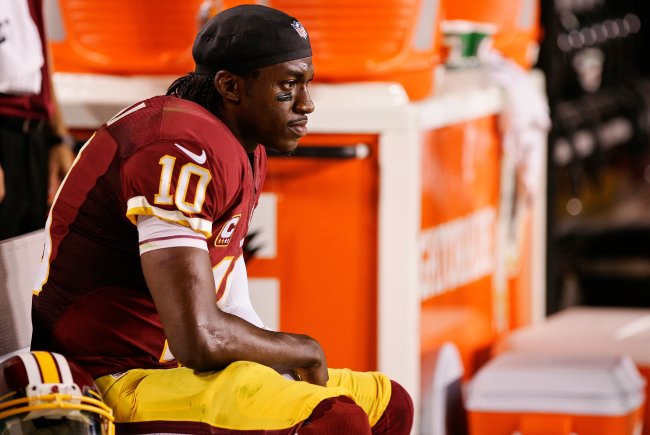 Geoff Burke-USA TODAY Sports
Robert Griffin III looked like a quarterback who missed the entire preseason when the Washington Redskins lost, 33-27, to the Philadelphia Eagles. He came on strong in the second half, but it wasn't enough to make up for how poor he was in the first two quarters.
Although he had 329 yards and two touchdowns passing, it was the worst performance of his career (h/t ESPN Stats and Info).
Robert Griffin III had a 15.7 Total QBR on Monday, the lowest of his career.

— ESPN Stats & Info (@ESPNStatsInfo) September 10, 2013
Griffin has approached his rehabilitation with the perfect attitude and worked his tail off to get back on the field. However, that doesn't mean that his body is able to recover so quickly. Not everybody can return as quickly and effectively as Adrian Peterson.
Griffin struggles for the second week in a row, as the Green Bay Packers look to rebound after their Week 1 loss to the San Francisco 49ers.