The Making of a World Series Champion: 1986 New York Mets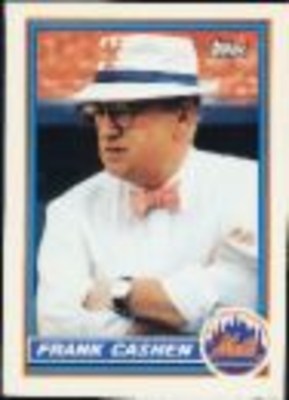 While reviewing the Mets transactions during the '80s, I couldn't believe the abundance of trades that favored the Mets during that period.
Between the trades and the successful draft picks, Frank Cashen turnaround a fallen club and created a World Series Champion.
Hired by Nelson Doubleday in 1980, Cashen's first move was to hire a well known PR company to change the team's perception.
The hired company was behind "The Magic Is Back" slogan which aired on commercials, showing past stars.
This slide show will take a look at the starters who formed the '86 Mets and list how they were obtained.
Hope you enjoy.
First Base: Keith Hernandez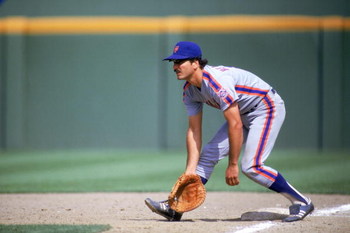 My favorite Met ever. Genuine nice guy.
Before joining Ron Darling and Gary Cohen on the Mets successful broadcast team, Hernandez was the leader of the Mets and one of the most popular Mets players ever.
Hernandez may be the best defensive first baseman ever, supported by his 11 gold gloves.
Offensively, Keith was an on base machine and was a clutch hitter.
1986 Stats - .310 - 94 runs - 13 hr - 83 rbi - .413 obp
Transaction - Trade with the Cardinals for Neil Allen and Rick Ownbey
Second Base: Wally Backman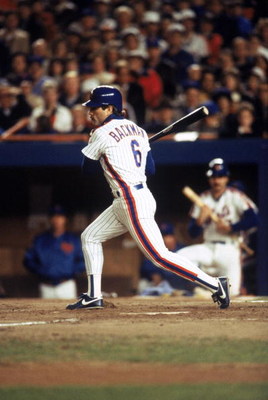 One half of the "Wild Boys", you were always able to count on Wally Backman's uniform being filthy.
1986 Stats - .320 - 13 sb - .376 obp
Transaction - 1st Round Draft Pick in 1977
Shortstop: Rafael Santana
Before being the first base coach with the White Sox, Rafael Santana was the slick field - no hitting shortstop with the Mets.
1986 Stat - .218 - 1 hr - 28 rbi
Transaction - Free Agent Signing in '84
Third Base: Ray Knight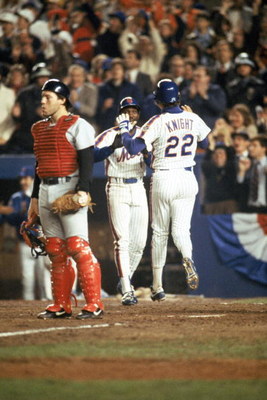 Ray Knight brought toughness, leadership, and knowledge to the club.
Who remembers the fight with Tom Niedenfeur or the brawl with the Reds after punching Eric Davis?
That was the edginess that the current Met team needs.
1986 Stat - .298 - 11 hr - 76 rbi
Transaction - Trade with the Astros for Gerald Young, Manny Lee, and Mitch Cook
Left Field: Mookie Wilson and Kevin Mitchell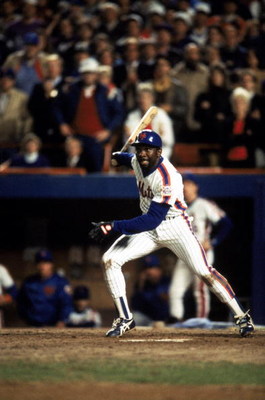 Mookie Wilson will always be remembered as the player who hit the groundball to Bill Buckner in Game Six.
Due to a spring training injury to Wilson, left field was a void which Kevin Mitchell successfully filled.
Mitchell added toughness and pop from the bottom of the lineup. His stats were good enough for him to finish third in the NL Rookie of the Year award.
1986 Stats - (Mookie Wilson) .289 - 61 runs - 9 hr - 45 rbi - 25 sb in 381 ab
(Kevin Mitchell) .277 - 51 runs - 12 hr - 43 rbi in 328 ab
Transaction - (Mookie Wilson) Second Round Draft Pick in 1977
(Kevin Mitchell) Signed as an amateur free agent
Centerfield: Lenny Dykstra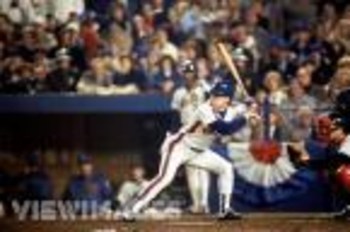 The other half of the "Wild Boys" duo. Similar to Backman, Dykstra's uniformed was known to be filthy. He was dubbed "Nails" for his style of play and became the ideal leadoff hitter.
Lenny Dykstra also came up big in crucial situations, especially against the Astros in the playoffs.
1986 Stats - .295 - 77 runs - 8 hr - 45 rbi - 31 sb
Transaction - 13th Round Pick in 1981
Right Field: Darryl Strawberry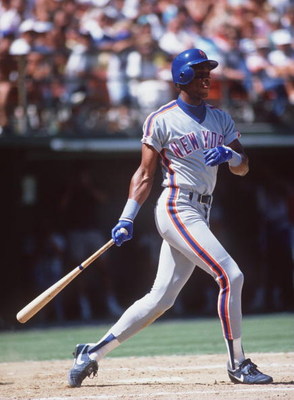 Strawberry's ticket to Cooperstown was stamped after his rookie season. Unfortunately, Darryl's career derailed due to drug usage.
But in 1986, he was the premier slugger in baseball. He was known to hit bullets off the scoreboard in Shea.
Stats - .259 - 76 runs - 27 hr - 93 rbi - 28 sb
Transaction - First pick in the 1980 draft
Catcher: Gary Carter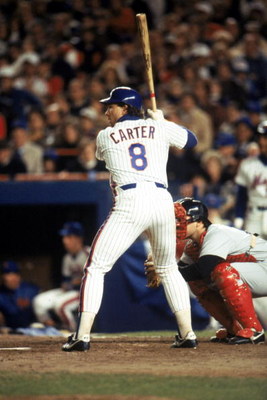 Gary Carter was the clean up hitter and the best catcher during the 80s.
1986 Stats - .255 - 81 runs - 24 hr - 105 rbi
Transaction - Trade with the Expos for Hubie Brooks, Mike Fitzgerald, Herm Winningham, and Floyd Youmans
Pitcher: Rotation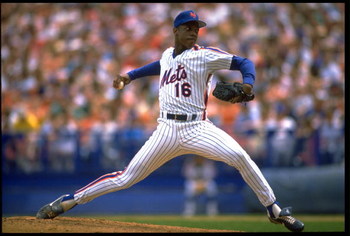 The Mets strength was their pitching, especially their starting rotation. The team ERA (including relievers) was 3.11 and no starting pitcher had an ERA higher than 3.88 (Rick Augliera).
The staff was led by 21 year old Dwight Gooden.
Lefty Bob Ojeda led the team with 18 wins.
1986 Stats
Dwight Gooden 17-6, 2.84, 200 k, 250 IP
Bobby Ojeda 18-5, 2.57, 148 k, 217 IP
Ron Darling 15-6, 2.81, 184 k, 237 IP
Sid Fernandez 16-6, 3.52, 200 k, 204 IP
Rick Augliera 10-7, 3.88, 104 k, 141 IP
Transactions
Gooden - First round pick in 1982
Ojeda - Trade with Red Sox for John Christensen, Calvin Schiraldi, Wes Gardner, and La Schelle Tarver
Ron Darling - Trade with the Rangers for Lee Mazzilli
Fernandez - Trade with Dodgers for Bob Bailor and Carlos Diaz
Aguilera - Drafted in the 3rd round in 1983
Pitcher: Relievers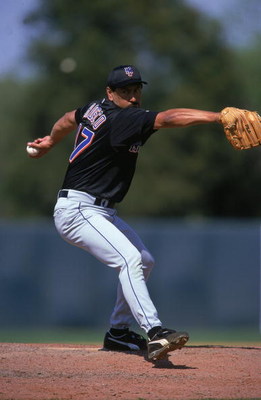 The Mets closing situation was platooned by Jesse Orosco and Roger McDowell.
Orosco had a nasty slider and McDowell threw a terrific sinker. With these two relievers, most games were over by the seventh.
1986 Stats - 8-6, 2.33, 21 saves for Jesse Orosco
14-9, 3.02, 22 saves for Roger McDowell

Transaction - Traded Jerry Koosman to the Twins for Orosco and one other
Drafted in the 3rd round in 1982 (McDowell)
Years Later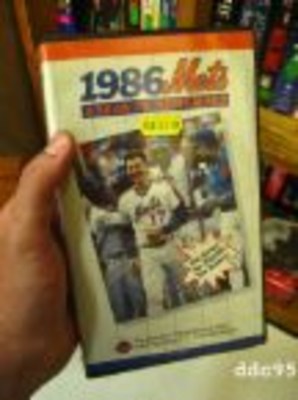 After winning the Championship, the Mets fell to second place in '87. They would win the division in '88, with a team that some say were better than the '86 team.
Unfortunately they lost to the Dodgers in the playoffs.
Cashen was as good in breaking apart the team as he was in creating the team.
This Met team had all the talent it needed to create a dynasty.
Keep Reading

New York Mets: Like this team?