6 Committed 2014 College Football Recruits Who Plan to Visit Other Schools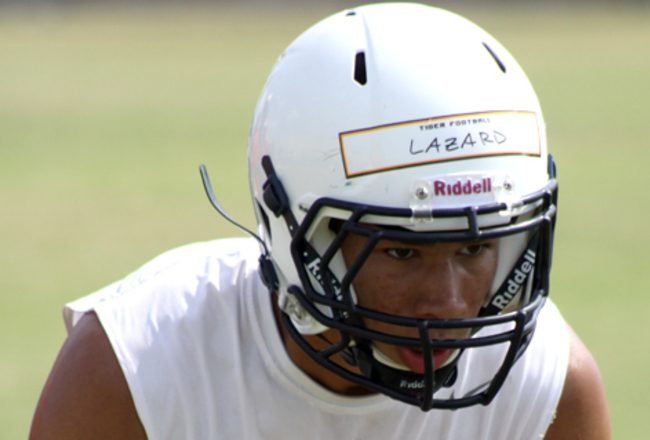 247Sports

A growing trend in recruiting for prospects is to make an early commitment.
However, a negative to making an early commitment is that it leads to more decommitments. Recruits have more time to re-think their decisions, plus college coaches seem to increase their efforts when going after a player who made an early commitment.
Several committed recruits who made early decisions in the 2014 class will take visits to other schools. A receiver committed to a Big 12 school will make a few trips. An SEC program needs to be worried about its stud safety commitment, plus a receiver is solid in his Pac-12 pledge, but he will look around to be sure.
Player evaluations are based on review of tape at Scout.com, Rivals, 247Sports and ESPNU.
Jojo Robinson, ATH
A 6'0", 175-pound 4-star athlete, Jojo Robinson is one of the best players in Florida. He is committed to Florida State, but he is from Miami.
Robinson has great quickness, athleticism and speed. He could become a receiver in college, but do not be shocked if Robinson plays cornerback, safety or perhaps running back.
His commitment to Florida State is soft, according to Amy Campbell of Scout.com (subscription required). LSU, Alabama, Florida and Arkansas will receive visits.
Jeff Jones, RB
Jeff Jones is a 4-star running back who is 5'11" and 196 pounds. He is the headliner of Minnesota's class, as his combination of speed and power make him as talented as any running back currently on the Gophers' roster.
Head coach Jerry Kill has to be excited about Jones' pending arrival, but the bad news is that he may not sign with Minny. Jones told Allen Trieu of Scout.com (subscription required) earlier this summer that he will take a trip to Iowa State.
Rahshead Johnson, WR
A quick and speedy receiver from California, Rahshead Johnson has the skills to develop into one of the better receivers in the Pac-12. He is committed to Washington, and his 5'11" and 165-pound frame will be utilized well by head coach Steve Sarkisian.
Johnson appears to be strong with his commitment to the Huskies, per Greg Biggins of Scout.com (subscription required).
However, he could take a trip to Arizona State, plus USC is increasing its pursuit of him.
C.J. Hampton, S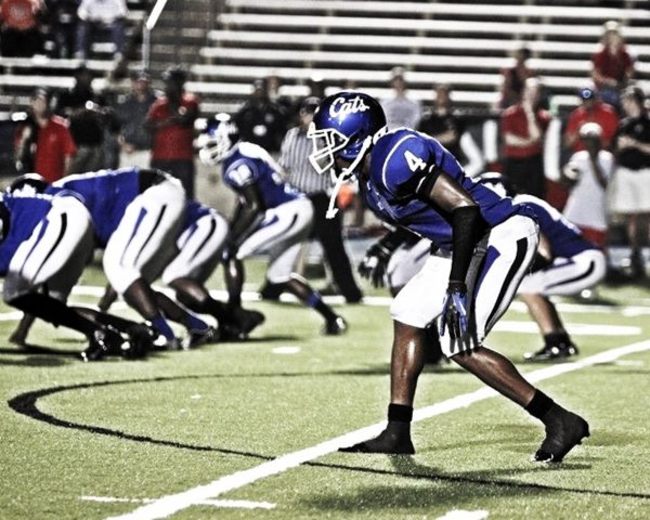 247Sports

A talented 4-star safety, C.J. Hampton is one of the top players in Ole Miss' recruiting class. He stands 6'1", weighs 195 pounds and will be a starter early in his career.
Yet, the Rebels may have to fend off several schools to make sure their stud defensive back arrives in Oxford. Hampton informed Yancy Porter of Scout.com (subscription required) that he plans on tripping to Auburn and Alabama, along with Ole Miss.
Allen Lazard, WR
The top commitment for Iowa State, Allen Lazard is a 4-star receiver who stands nearly 6'5" and 210 pounds. He has good body control, great ball skills and flashes quicker-than-expected athleticism for a tall receiver.
The Cyclones have their fingers crossed about Lazard, as he could be a program-changing prospect. However, their concern comes from the stud prospect telling Anna Hickey of Scout.com (subscription required) that he plans to visit Notre Dame, Stanford and Oregon.
Davion Hall, S/WR
Davion Hall is a 4-star recruit who has a ton of athleticism. He is 6'2", 186 pounds and could develop into a talented safety. However, with Baylor being a school known for its offense, playing receiver could be likely for the Texan.
But it is not a done deal that Hall ends up in Waco, as Alabama is in the mix, per John Garcia Jr. of BamaMag.com (subscription required). The appeal of playing for Nick Saban, Alabama's winning ways and new facilities could be enough to pull Hall away from the Bears.
2014 Bleacher Report College Football Recruiting Heat Map
Several committed recruits who plan to visit other schools can be located on the 2014 Bleacher Report College Football Recruiting Heat Map!
Use this interactive tool that is mobile-ready to find these recruits and many others across the country.
Edwin Weathersby is the College Football Recruiting Analyst for Bleacher Report. He has worked in scouting/player personnel departments for three professional football teams, including the New York Giants and Cleveland Browns.
Keep Reading